Last weekend, Travis surprised me with a trip to Charleston, South Carolina to celebrate my birthday. I'll be writing a full recap post on that soon! But first, I want to tell you about Patriot's Point.
Patriot's Point is a naval and maritime museum where you can walk through the USS Yorktown, an air-craft carrier known as "The Fighting Lady," as well as the USS Laffey, a battleship, and the USS Clamagore, a submarine.
This was Travis' favorite part of our trip, not surprisingly. I really enjoyed it too!
For those of you thinking about visiting, I want to share some photos and some tips with you!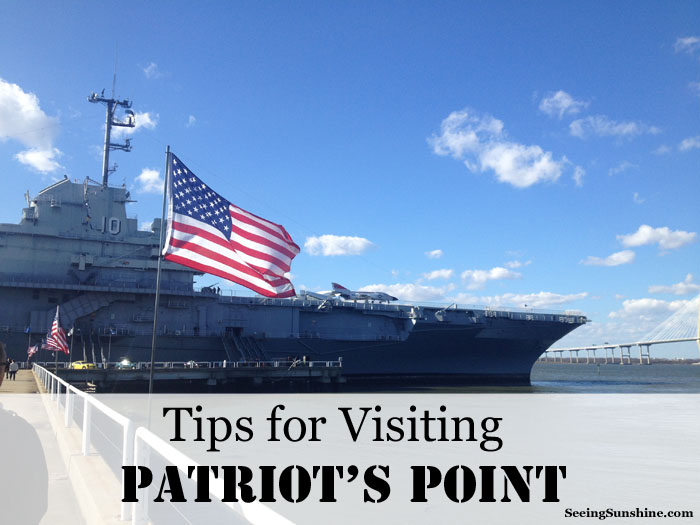 During the tour of the air-craft carrier, there is an information desk at the main entrance. Be sure to stop by here to get a tour guide — a piece of paper that shows you what you'll see on each floor and how to follow the arrows for a self-guided tour through the many decks of this ship.
During our tour of the ship, we were able to see the dentist offices, a butcher shop, where the seamen did their laundry, the mess hall, the sick bay, the pilot's quarters, the radar rooms, the barbershop and so much more. It was really neat to see how the military members of WWII lived on this air-craft carrier. I hadn't thought about how they would need a place to do laundry or how many ingredients it would take to make a batch of chocolate chip cookies for everyone on board!
Patriot's Point could be an all-day visit, especially if you take the ferry or helicopter ride over to Fort Sumter. However, it could also be just a couple hours of entertainment — it's up to you!
One of my favorite parts was getting to be up on the flight deck and imagining all those planes and helicopters landing up there. They had so many different planes and helicopters to look at it. You could walk all around them and touch them even! You were even able to get inside one of the planes on the hangar deck.
Here are some photos from our trip to give you a better idea of the things you'll see.


Here I'm inside the F9F Cougar.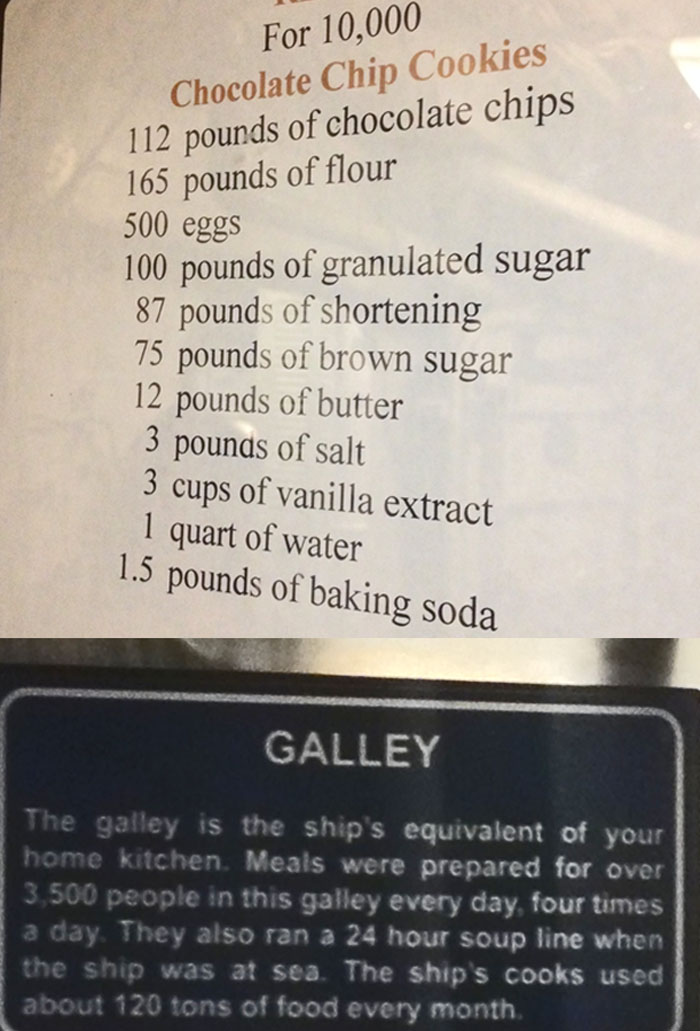 Now that's a lot of food!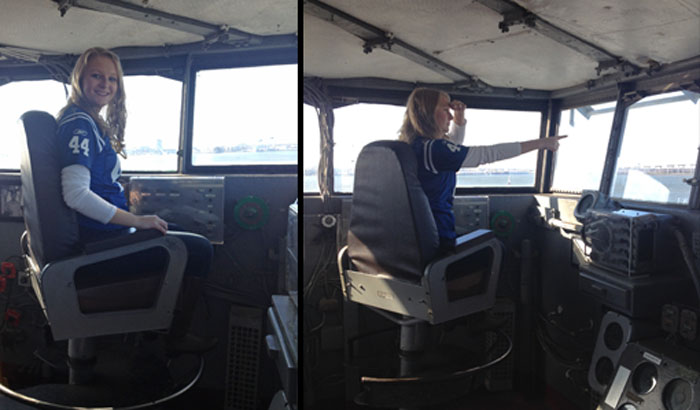 Land ahoy! You get to sit in the captain's chair and imagine yourself out on the open waters.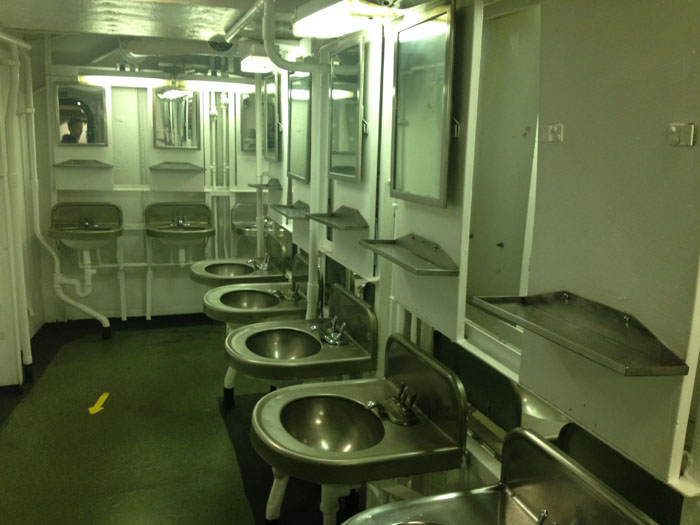 Just imagine all those guys standing around these sinks shaving every morning.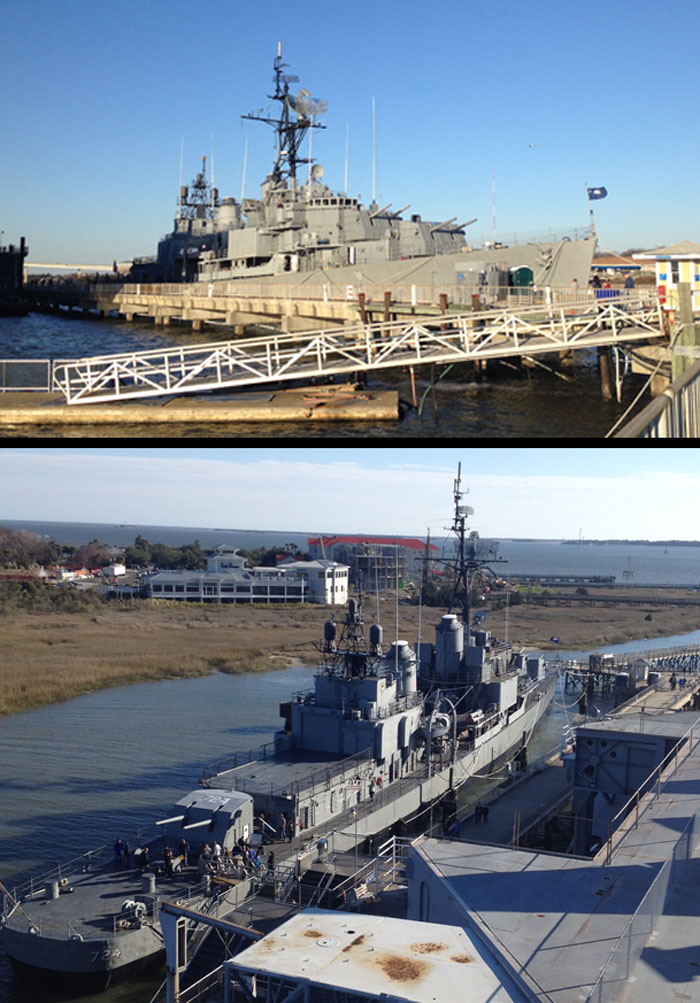 The Destroyer USS Laffey
Tips for Your Trip
Let me be clear — if you can't handle stairs for whatever reason, this might not be the best place to visit. We walked up and down an estimated 17 flights of stairs to see all of the rooms on this ship. Granted, these aren't long staircases, but they are steep. Be sure to hold onto the hand rails and watch your head when going up and down. If you cannot handle the staircases, the Yorktown has limited handicap accessibility to the 3rd deck, the hangar deck, and the flight deck. You would still be able to see many of the neat things about this air-craft carrier, but not all of it.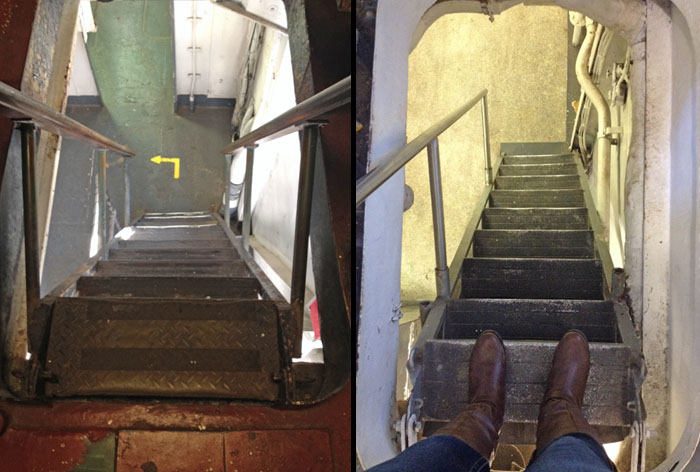 On that note, be sure to wear comfortable shoes. There's a lot of walking.
Bring a sweatshirt or jacket. And definitely a hair tie! Of all the days I could forget to throw a hair tie on my wrist, it had to be the day we climbed on board an air-craft carrier. The flight deck is windy! You may want a sweatshirt if you are there in the winter months and especially if it's raining. For anyone with long hair, I recommend you throw your hair up in a ponytail. My hair was whipping all around and was very tangled afterward.
Bring a water bottle or snacks. If this is an all-day excursion, be sure to bring a water bottle so you can re-hydrate after all those stairs! A snack is a good idea too. However, they do have two different restaurants on the hangar deck of the air-craft carrier and vending machines too.
If you have children, please keep them supervised. I was unhappily surprised by all the children we saw running around this ship by themselves. Please remind your children to show respect considering this is a part of our military's history.