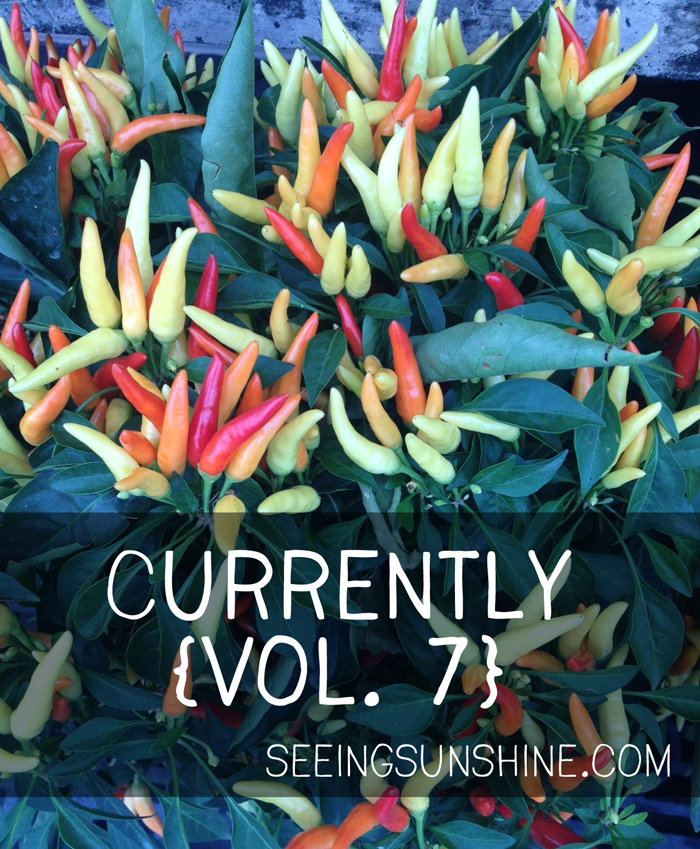 Here's what I've been up to currently …
Thinking about: ALLUME. As you are reading this, I'm on my way to a Christian blogger conference called Allume in South Carolina. I am so excited to learn and grow as a blogger, as well as meet other bloggers and make friends. Since I'm writing this a couple days before I leave, I'm thinking about what to bring, what to wear, what to pack, how to get there, where I'll park, who I'll meet, what I'll learn, … a ton of stuff. There are a few nerves, but for the most part I'm so excited that I get this opportunity and I can't wait to see what God has in store for me.
Shouldn't we feel that about every day? Excited for the opportunity to live one more day for Him, looking forward to seeing what God has in store for us. Hmm sounds right to me.
Praying about: Travis' eye to heal. He had surgery this week on one of his eyes, so I'm praying for healing and recovery and rest. And since I'll be gone at my conference, praying that he can take care of himself while I'm gone. I'm also praying that God directs us to the right church for us to call home. We thought we had found it, but alas, it isn't the one for us. I'm very disappointed and so ready to have a community we can fellowship with.
Listening to: My new favorite song right now is Florida Georgia Line's song "Dirt." My favorite lines are, "Makes you wanna build a 10 percent down, white picket fence house on this dirt. You know you came from it, and some day you'll return to it." Watch the music video here. It makes me think of my home (where I grew up) and how I hope to move back there someday to raise my family.
Reading: I'm reading "Let's All be Brave" by Annie F. Downs right now, along with a group of awesome women who I've never even met. We are in a book study called The Intentional Filling. Ya'll should check it out when the next book study starts up! I'm loving this book! Annie has such a great way of writing, like you are just sitting with her talking.
Watching: Chicago Fire is my favorite show ever. And now Chicago PD is right behind it!
Eating: I made Travis' favorite treat this week to help him recover from his eye surgery. I can't say I wasn't happy to make it! Cookie dough pizza — get the recipe here and thank me later.
Working on: This week I went to the Seafood Festival in Richmond Hill. It's a pretty big deal — like tens of thousands of people come to this event! I did a story about it for the newspaper. It was really cool because Travis and I got in for free, with free up-close parking. We got to go in the VIP tent and eat free food. And I got to interview a couple guys from the headliner band — Blues Traveler! I felt really important, which was nice because I was kind of hating my job that day. So this event made up for it and made me feel good again.
What have you been up to currently?
Check out other Currently posts over at Joyful Life. Or take a look at my past Currently posts here.