I haven't wrote a Currently post in a bit, so here it goes!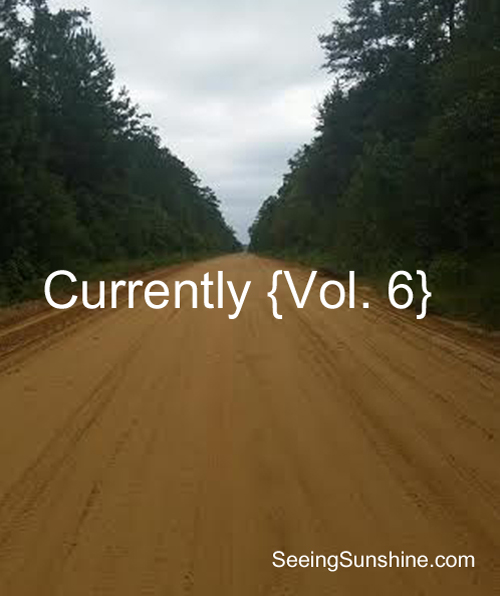 Here's what I've been up to currently …
Thinking about: How God provides. And speaks. How He takes care of us.
I'm the type of person who loves having control, who needs it. I hate situations where I don't know what to expect because it means I have absolutely no control. I get scared of the what ifs and the unknowns. Uncertainty is not my friend. And I feel like there's a quite a bit of uncertainty in my life right now.
But God loves me and takes care of me. He's got this in His hands. My whole future, all the what ifs and unknowns. And even if the uncertainty turns into something I don't want, even something heartbreaking, I know God brings good out of all things. God knows what's best and He wants the best for me and my future. As hard as it is for me to let go of having control, I know God can handle it even better than I ever could.
He's pretty darn awesome. And not just because I'm in this season of joy where so many new and happy things are taking place. No, He's good all the time. He loves me all the time. Even in the uncertainty.
Reading: I just finished a book called "The Revealing" that was very good. It took me awhile to get into it, but once I was, I read the second half of the book in one day. I'm also currently reading the book of 1 Samuel in the Bible.
Watching: I watch The Today Show every morning. Love me some Kathie Lee and Hoda!
Listening to: My sister-in-law introduced me to this song called "In The End" by Natalie Grant and it is so good. I love listening to it!
Eating: I'm really hoping to share about three new recipes with you guys soon! I made some absolutely divine honey garlic rolls last week, and Travis and I ate the entire pan in basically one sitting. I'm planning to try another new recipe soon — Chicken N' Dumplings! I'm realizing that I don't really love cooking, but I do love baking. So I'm planning to make a couple new cookie recipes to share with you for the fall season. Stay tuned!
Praying for: Guidance and provision. I'm hoping to clue you guys into what we've been praying about lately. Hopefully, we'll be able to share in a couple weeks!
Working on: My body. I used to go to the gym almost every day to work out, but for the last few months I haven't been going at all. Working out has always happened in phases for me — I'm into it, then I'm not, then I am, then I'm not… But I am trying to get back into it now. Lots of crunches and squats going on!
This post is linked up to a Joyful Life where others are sharing their currently posts.
Share with us what you are currently up to!