If you live anywhere in the Midwest of America, you are probably experiencing a drought. At least where I live we are. The last time I remember having a real rain was about three months ago. So everything here is very dry, and the plants aren't growing much. In fact, I have a hay field right next to my house. The first time the farmers baled the hay from that field, they got 11 bales. They cut and baled it again this past week, and they only got one bale out of it. That's a huge difference. I'm sure it doesn't help that we've had temperatures in the 100's. Talk about hot!
My county just issued a burn ban, and I think most of the counties in my state are on one too. The city I work in has asked residents to conserve water, and the grass in my yard is no longer green but brown. We are definitely in the midst of a drought.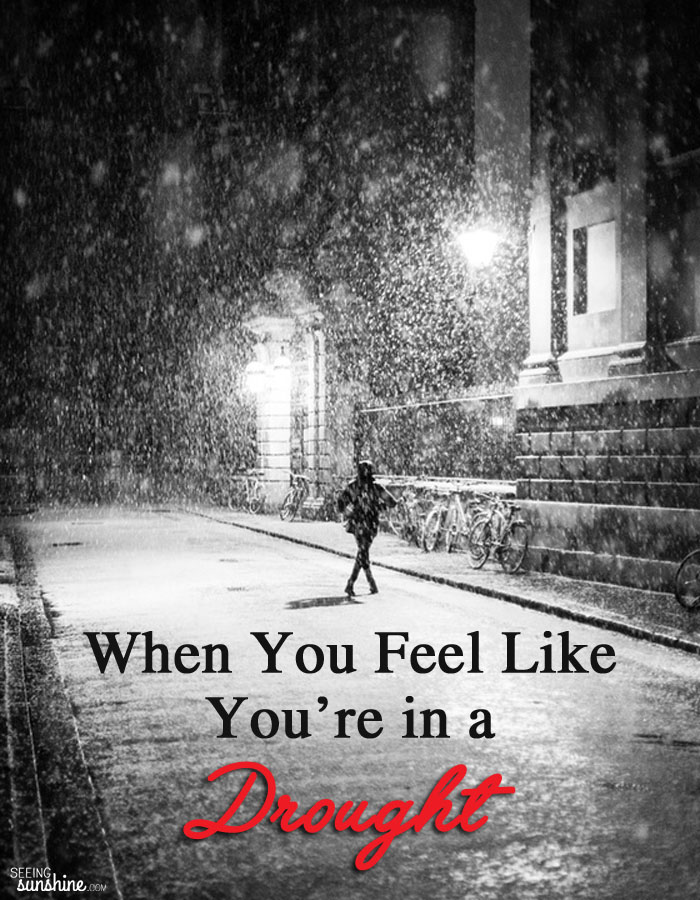 Are You in a Drought?
Have you ever felt like you are in the midst of a life drought? Feeling dry and withered, stuck in a heat wave without any rain?
During a drought, you can't expect plants to be fruitful. Just like during a life drought, you can't be fruitful. Plants need rain to grow, and you need the living water to grow — you need the Word of God. Just as we water our gardens and flower beds, we need to be watering our souls. By reading our letter from God, the Bible, we can begin to feel the rain again. We can be nourished and grow stronger. But sometimes, we need even more than that.
I most definitely went through a drought this year. I was reading my Bible every morning, but it wasn't enough. The peace you are supposed to feel — well, I just wasn't feeling it. I don't know how to explain how I felt, other than using the word weary. My soul was weary without the living water, leaving it dry, withered and unable to grow.
One Sunday at church, the pastor talked about being near to or far from God. At one point, he said, "In the middle of chaos, if you are near to God, you can have unreal peace." And I realized, that is me — in the middle of chaos, but I wasn't feeling that unreal peace. I figured out I must not have been feeling God's peace because I'm not close to Him anymore. I'm in a drought. I cried a lot that Sunday, especially when I knelt at the altar, asking God to move me closer to Him and bring me peace once more. I asked God for His peace and His joy. I asked Him to give me the living water once more and bring me out of this drought.
I encourage you to take your situation to God if you are in a drought. Ask Him to send His rain into your life. Ask Him for a downpour of the Holy Spirit. Whatever you are missing, ask Him to restore it — whether it be healing, peace, comfort, joy or strength.
And before you know it, the rain drops will begin to fall. If you are truly asking God with a sincere heart, He will send a downpour and your drought will be over.
Send your peace. Send your joy.
Let it rain. Let it pour.
For more faith-based posts, follow my Pinterest board Faith: Christian Living.