Are you looking for a way to bless others? A way to spend a day with friends, family, or your children? A friend and I recently spent a day performing random acts of kindness for strangers. It was a lot of fun, and we loved spreading the sunshine! Here's what we did throughout the day, and at the bottom of this post I'm sharing other random acts of kindness ideas.
Our Random Acts of Kindness Day
We woke up early to bake cookies and fill out post-it notes with encouraging messages or Bible verses. We then delivered the cookies to residents at a local nursing home. We visited with a few of them and talked with one of the residents for about an hour. We know that it must have been nice for her to have someone to talk to, even if she didn't know us at all. She told us about her family, her roommate, her breakfast that morning, and a story of when she was fired from a job. It was a very interesting conversation!
Next, we went through a McDonald's drive-thru so I could get a drink … and to perform my favorite act of kindness! When I gave the cashier the money for my drink, I said I would like to pay for the person behind me as well. Her order (I could see she was a woman in a mini van with kids) was over $11. I paid, and as I grabbed my drink I could see the woman's face in my mirror as she was handed a note that read, "Random Acts of Kindness. Pass it on!" She was definitely surprised! I drove away quickly with a happy heart!
Next, we drove further down the road to another area of town. We went to another McDonald's so my friend could get a drink. She ordered and paid for the older man behind us in his truck. He had only ordered a tea, but I'm sure the act of kindness happily surprised him. Who doesn't want a free drink?
We took the leftover cookies to my friend's church. We left a bag of cookies in the pastor's office with a note of appreciation, as well as in the church office.
In the afternoon, we stopped at every fast food restaurant down a strip of highway to post all the notes in each bathroom. We placed them on mirrors, doors and toilet paper dispensers. We also went into a couple grocery stores and put the notes in their bathrooms, as well as in books and magazines on the stands. I really hope the strangers who find those notes will be uplifted, challenged, encouraged or cheered up by such a small act.
While at one of the grocery stores, we also grabbed as many carts as we could and put them away instead of leaving them out in the middle of the parking lot. We hoped it made it a little easier for the workers on such a hot day.
Finally, to end the day, we wrote letters to some of our mutual friends. We drew silly cartoons and added fun stickers to each letter. This idea is sure to put a smile on our friends' faces.
No matter which act we were performing, there was one thing each of them required — prayer. None of our acts meant anything without having God involved.
If you plan to do your own Kindness Day, be sure to pray for each activity and those involved. We prayed for those in the nursing home that we met. We prayed that God would send the right person to be behind us at the drive-thru. We prayed for the church members to feel appreciated and for the grocery store workers to notice and be cheered up. We prayed for each friend we wrote a letter to and asked God to make sure they received them at the exact moment they needed them most. We also prayed for those who found or saw the post-it notes. We asked God to encourage them and to pass on the kindness. And we thanked God for giving us the time and resources to spend a day full of kindness.
There are two ways you can handle a Kindness Day — nameless or nearness. By having a nameless Kindness Day, you do everything with anonymity. No one knows who did the act of kindness for them. Or you can have a nearness Kindness Day, where you use your acts to create and build relationships. You invest in people. My friend and I did both. We used the nearness approach with the nursing home and letters and the nameless approach with everything else.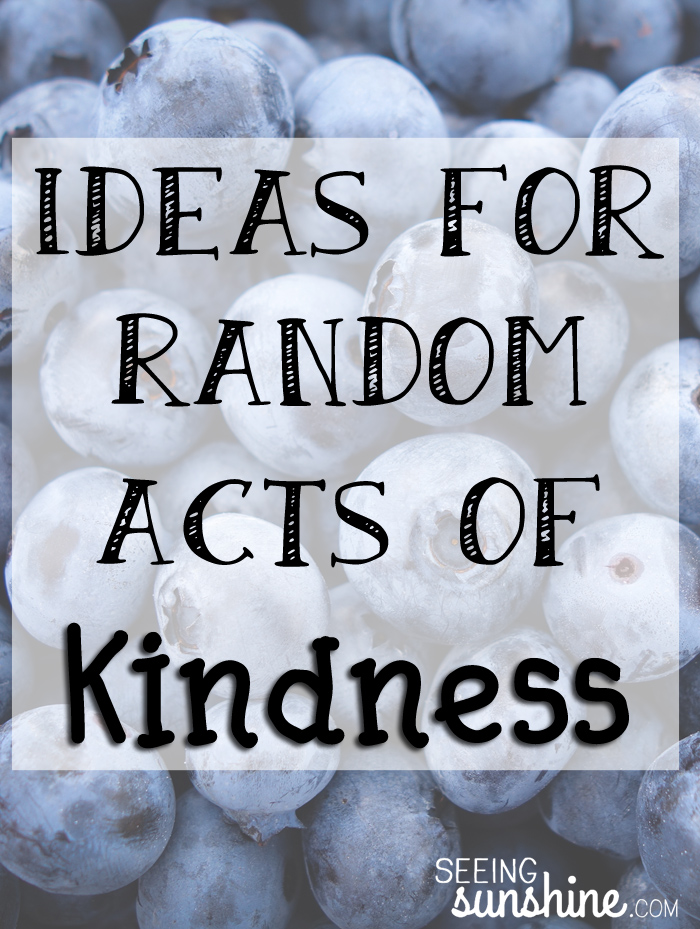 Other Ideas for Random Acts of Kindness
Pick up trash along a street or in a park.
Send thank you cards to those who probably rarely receive any thanks.
Leave a note or small gift for your mailman.
Rake leaves for someone, mow someone's lawn, or shovel someone's snow.
Call random customer service offices just to thank them or tell them you enjoy their service or project. (I can guarantee those workers don't hear from happy customers very often!)
Leave dollar bills in the toy section of the dollar store.
Make care packs with things such as toothpaste, soap or healthy snacks, and give them to homeless people.
Buy a meal for a homeless man or woman.
Pay for the meal of someone in a restaurant.
Make treats for your local law enforcement agencies.
Send a care package or letter to a soldier overseas.
Make a meal for someone — deliver it to their house or invite them over to your house.
Pray for strangers, local leaders, friends, and family.
What other ideas do you have for random acts of kindness?
For more great posts like this, follow my Pinterest board Hospitality & Kindness.