In my job as a journalist, I have had the opportunity to write a some really neat articles. One about a little girl who celebrated her birthday by raising money for a Crisis Pregnancy Center. "I wanted to do it for all the kids that will never get a birthday," the little girl told me. One about a couple who have spent the last two years traveling the country on horseback while praying for our country and its leaders. And another of a couple who built a ship in their backyard with their own hands and plan to use it for mission work.
My job has brought me a few really inspiring stories. I'm very thankful that God gave me the opportunity to share those stories with others. But in my job, I also deal with a lot of negativity. It can be incredibly discouraging sometimes and often leaves me feeling frustrated.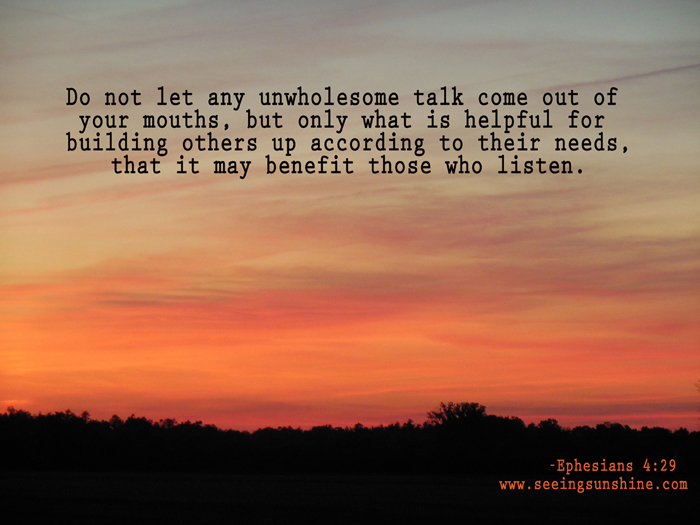 I go through and read comments on my articles online. Very rarely do people take the time to write a comment if they like something, agree with it, or want to be positive. But people definitely take the time to write their disagreements or complaints. And often different readers will get into arguments through their comments. I see it on my work's website, but I also see it on Facebook. I see it on Twitter. I see it in person too.
I covered a town council meeting for work recently. The citizens who attended the meeting came only to complain about other citizens. I left feeling like the clouds were covering every inch of sunshine.
Negativity can really bring us down. And it is much easier to share our disagreements, frustrations, or complaints online with wonderful websites like Facebook, Twitter, and Tumblr. When others are negative, it's easy for us to fall into the spell and become negative too, joining in the rantings and ravings. Especially if we disagree or feel we are being attacked. Then the defensive claws come out.
So I guess, what I'm trying to say is, lately or maybe even for quite a while now, I feel like the world is growing darker, as people use their negativity to cover the sunshine. So I have a challenge for you.
My challenge is for you to spread sunshine — it's a challenge to be positive in a negative world. Push aside the clouds by commenting on things with positive feedback.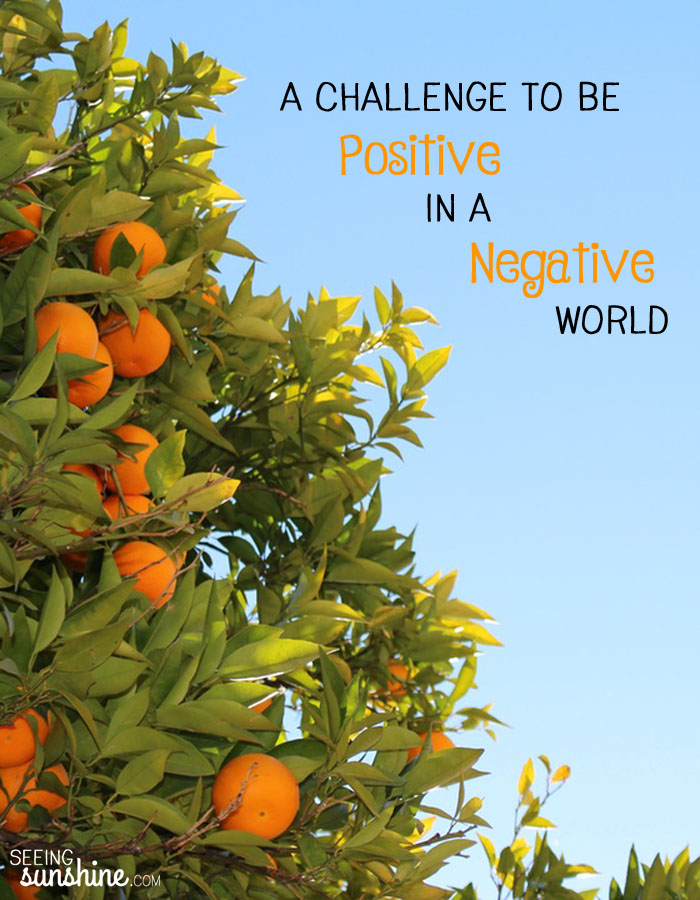 Ideas to Be Positive
Tell people when you agree with them or like something they've posted it. Thank people for their hard work rather than pointing out the one mistake they made. Attend your town council meeting just to say thanks for all the council does, even if you don't always agree with some of their decisions.
Call the customer service office to that store and tell them how great your cashier was. No one ever takes the time to call and say thanks or call and say they love the product. What a nice change for that person who is constantly hearing complaints! Write a letter or send a thank you card to someone. Spread the sunshine.
I would love to hear how you are spreading the sunshine in your home, town, or community. I encourage you to share the ways you were positive in a world of negativity. Please comment and tell us how you pushed the clouds away and give us more ideas for spreading sunshine.
Follow my Pinterest boards Encouragement and Hospitality & Kindness for more ideas.