In my opinion, the very best thing you can do for your spouse, the very best way to truly love someone, is by praying for them.
I truly believe prayer is one powerful thing that can change a person deep down into their core. If your spouse is struggling, if you are not getting along, if you are beginning to hate each other, if you are hurt and broken because of something they've done, if you are struggling financially, if your marriage just seems to be spinning out of control: PRAY.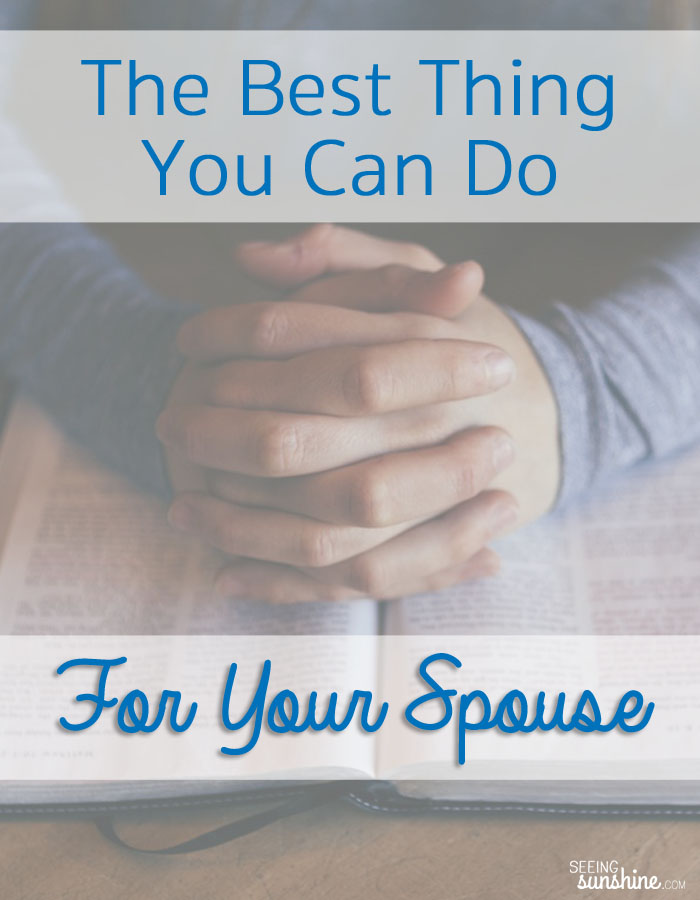 Find time to be alone, even if it's just for 10 minutes every day. Take that time to kneel by your bed or hide in your closet. Park your car on the side of a random street, stand in the shower a little longer. Whatever you have to do. Then take that time to talk to God one-on-one, honest and open. Tell Him everything that's going on, get it all off your chest. Cry, scream, whisper, or even just pray with your heart in silence. God hears it all. Pray for your spouse like you've never prayed before.
You want this marriage to be healed and restored and saved? Pray that. Ask God to restore your relationship. Ask Him to come near and be a part of your marriage.
Pray for your husband. Pray for your wife. When there is someone I truly truly love, deep down to my core, I like to pray this prayer that I found in Colossians during one of my morning times with God. The first time I read it, I realized it was exactly what I wanted for that person I love. In the actual scripture, Paul is writing a letter to the church in Colossae, while he was in prison. He tells the people how he and others have been praying for them. Here is the scripture:
We have not stopped praying for you. We continually ask God to fill you with the knowledge of His will through all the wisdom and understanding that the Spirit gives, so that you may live a life worthy of the Lord and please Him in every way: bearing fruit in every good work, growing in the knowledge of God, being strengthened with all the power according to his glorious might so that you may have great endurance and patience, and giving joyful thanks to the Father, who has qualified you to share in the inheritance of His holy people in the kingdom of light. -Colossians 1:9-12
I turn those words into a prayer, inserting the person's name into the scriptures and turning the words like "Father" and "God" into "You," since I'm praying to God. I've included this pray that I use below.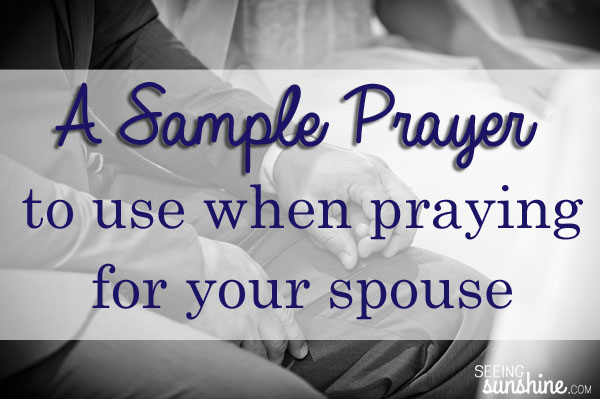 A Sample Prayer for Your Spouse
Fill in the person's name where it goes and add on anything you feel you need to add.
Dear God, I keep praying for _____. I keep asking You to fill him with the knowledge of Your will, with all the wisdom and understanding that the Holy Spirit can possibly give someone.

God, I want him to live a life worthy of You and be able to please You in every way. I pray that he can bear fruit in every good work he does, that he can grow in Your knowledge. Strengthen _____ with all the power of Your glorious might so that he may have great endurance and patience.

Let him give You joyful thanks, being grateful that You have shared Your kingdom with him.

(And I usually tack this on the end) Please protect _____ and watch over him. I pray that you will always take care of him. God, please help _____ to have a joyful, successful and fulfilled life, where he grows closer to You each day and furthers Your kingdom.

And God, please help _____ to see Your will and path for his life, and give Him the courage to walk that path. (Then I go on to pray about my relationship with that person — so for you're trying this out, you should end it with praying about your marriage and improving yourself.)
In my opinion, praying for your spouse, or whoever it is you love with all your heart, is the very best thing you can do for them. And the number one thing you can pray about is that they will grow closer to God, that their relationship with Christ will strengthen and their faith will be big enough to move mountains. I think the prayer from Colossians is so powerful.
Have you heard the quote that says, "You know you are in love when that person is the last thing you think about before falling asleep and the first thing you think of when you wake up" — or something like that? Well to that I say, yeah right. Praying for someone every single day — that's true love.
Be sure to follow my Pinterest boards Loving My Hubby and Love for more inspiration.
You may also like: