Sometimes I just get in the mood to cook/bake. I say sometimes, because other times I'm in the exact opposite mood. I'd rather do anything than cook or bake. But when you get something like Oreo brownies, I'm all about whatever it takes to make them so I can eat them!
When I am in that in-the-kitchen-housewife-wearing-an-apron-kind-of-mood, I really like trying new recipes that I find on Pinterest. And I enjoy sharing the final product with friends, family and co-workers. And I think they enjoy it too!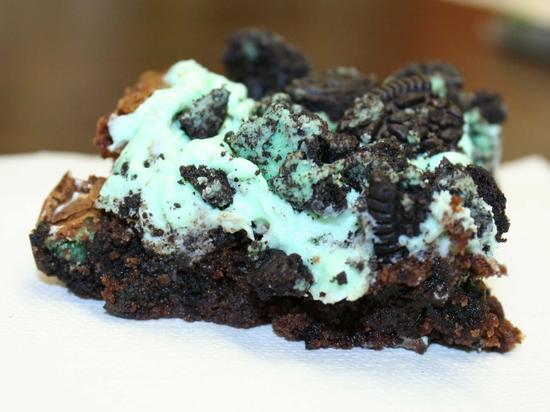 How delicious does that look?! Last summer, I tried what I'm calling Triple Mint Marshmallow Oreo Brownies. It's a mouth full — the name and the actual brownie! But I think they are delicious and definitely a success. And I love chocolate and mint together!
I think these are great cold, so you can definitely keep them in the fridge or freezer before serving. In fact, it might help them set up better because mine were pretty mushy and could be eaten with a spoon or fork. But, in my opinion, who really cares how it gets into your mouth?
Here's the recipe so you can try them yourself.

Triple Mint Marshmallow Oreo Brownies
Serves:
Makes 24 brownies
Ingredients
7 oz. Marshmallow Creme
⅛ teaspoon mint extract
Green food coloring
1 Brownie mix + ingredients needed for mix (eggs, oil, water)
1 Package of Cool Mint Oreos
¾ cups White Chocolate Chips
1 cup vanilla frosting
Instructions
Preheat oven to 350 degrees
Make a regular box of brownies by mixing in water, oil and eggs. Then before pouring the batter into the 9 x 13 pan, fold in 12 crumbled up Cool Mint Oreos. Pour that into your greased 9 x 13 pan.
Take a 7 oz. jar of Marshmallow Creme and mix it with ⅛ teaspoon of mint extract and 8 drops of green food coloring.
Take ½ cup of that mixture and put it on top of your brownie batter. Take a knife and swirl the mixture around on top of the brownies.
Bake the brownies at 350 degrees for about 24 minutes.
While the brownies are cooling, make your second layer.
Take the marshmallow mixture and add in one can of vanilla icing. Then melt 1 cup of white chocolate chips. Be very careful not to scorch the white chocolate.
Mix the melted chocolate with the icing mixture. Add in about 5 more drops of green food coloring.
Once your brownies are completely cool, spread the mixture over the brownies. Then take the rest of the package of Cool Mint Oreos and crumble them up. Cover the dessert with these Oreo crumbs. You kind of have to push them into the icing to make sure they stay in place. Let it all sit for a while before cutting.
Notes
Be very careful not to scorch the white chocolate, which is easy to do I found out! I finally got it right when I put them in the microwave for 15 seconds, stirred, microwaved for 15 more seconds and then stirred until it was smooth. I put the Oreos in a Ziploc bag and used a rolling pin to keep the mess to a minimum when crumbling the Oreos. If you have more time or just like things homemade, then you can make your brownies from scratch and instead of using a can of vanilla icing, you can make your own. But I see no problem with shortcuts.
Check out my
other recipes here
and be sure to follow my
Pinterest board
!