A lot goes into a bridal shower. Not that I would know since I've never planned one. But based on how awesome mine was, I can only assume it takes a lot of work. If you are planning a shower, check out these bridal shower ideas that come from my own shower.
My maid of honor, along with my aunt and grandma, hosted a bridal shower for me recently. I absolutely loved it — from the decorations to the food to the games to the guests, oh and not to mention the opening of dozens of presents! My bridal shower was everything I could have hoped. So let me share with you.
Bridal Shower Ideas from my Bridal Shower
Let's start with the decorations. My wedding colors are navy blue and bright yellow. My hosts went with the yellow and a country theme for my shower. It was really perfect considering yellow is becoming one of my favorite colors thanks to Seeing Sunshine. They used yellow table cloths with burlap runners. Aubrey made awesome vases for real flowers using Mason jars, burlap, and yellow ribbon.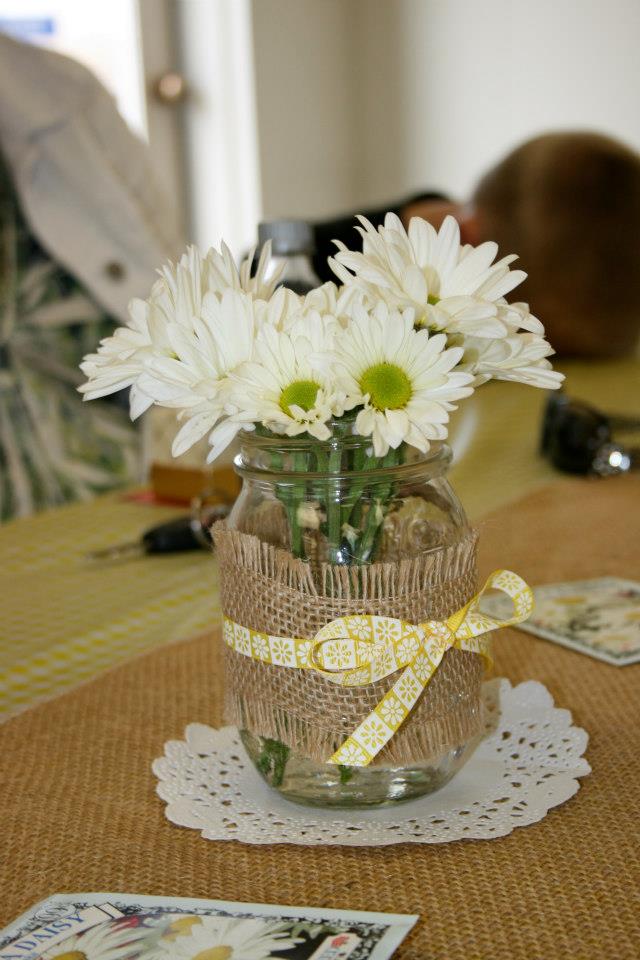 See those flower seed packets on the table? Those were spread out across the runners on the tables for guests to take with them after the shower. My favorite parts of the decorations were the banners up on the walls. One said "Love" and another said "Getting Hitched." They also had decorated a wall as a sort of backdrop for photos using yellow streamers. The whole room looked fantastic – so cheery and full of sunshine.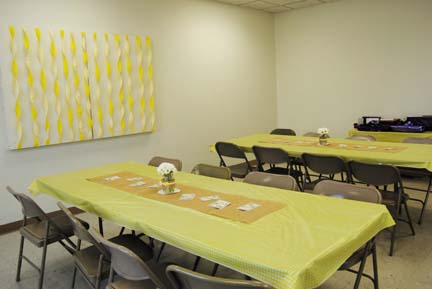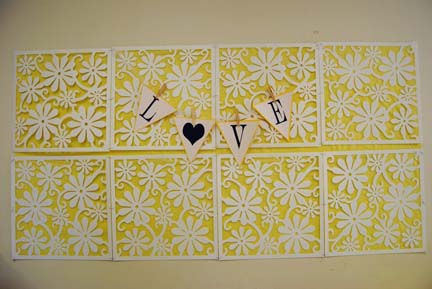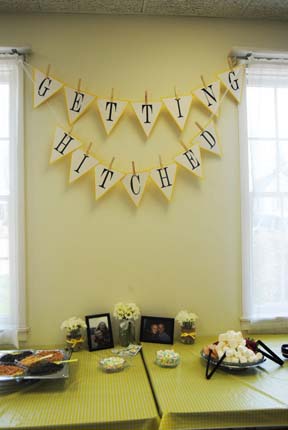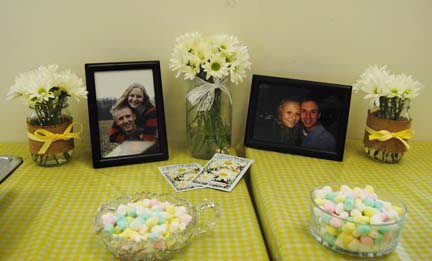 After all that decoration talk, are you getting hungry? I know I am. Let's talk food! My hosts did a great job of knowing exactly what I like. They had chocolate nachos. Yes, you heard me right. Those baked cinnamon and sugar tortilla chips with all sorts of toppings from a fruit salsa to chocolate chips to caramel sauce. I covered them in a Dutch chocolate sauce and that was good enough for me!
They also had fondue! Yes, more chocolate dipping sauce! That's what I'm talking about! Fondue was always something I loved growing up, and I had it for several parties in middle school and high school. My hosts had strawberries, angel food cake bites, marshmallows, and graham crackers to dip in the warm chocolate. To drink, we had water, tea, and lemonade. Oh, and, of course, we had those little mints you see at every bridal shower. That was a must in my opinion!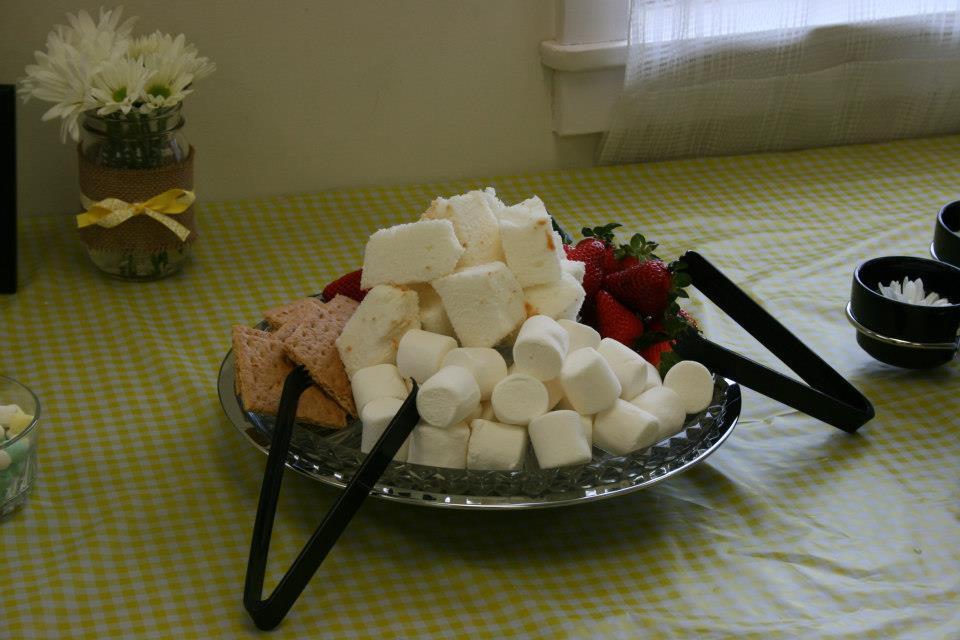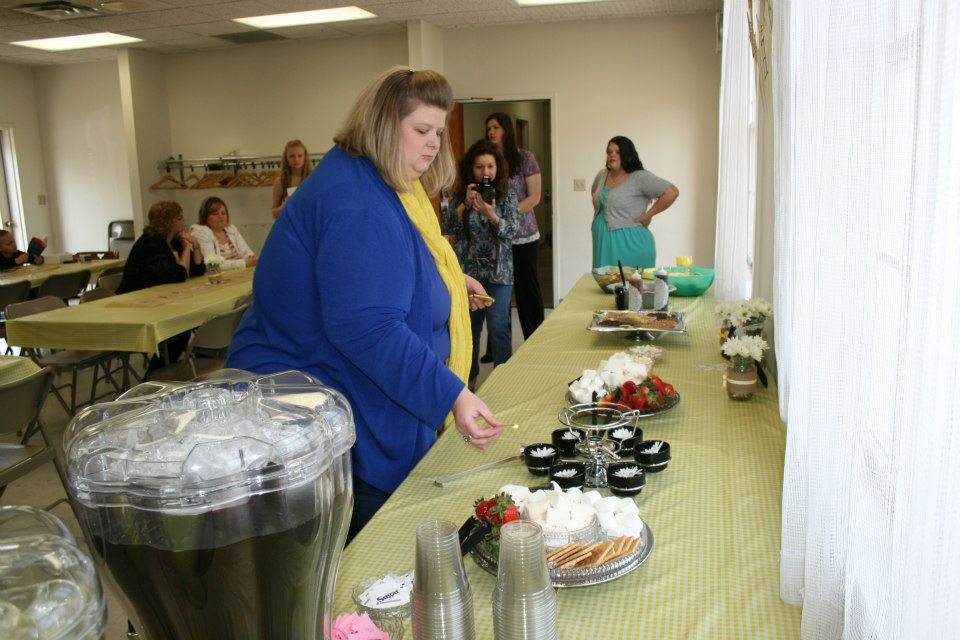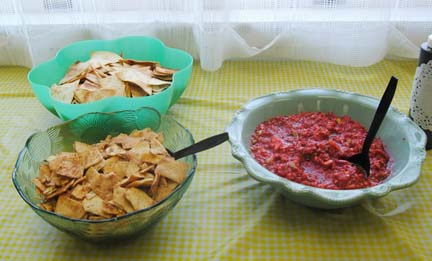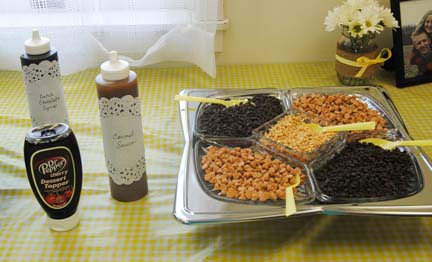 After we chatted, ate all the chocolate we could handle and everyone introduced themselves, we started the games! My hosts came up with three great games that were a lot of fun. First, we played a "How Well Do You Know the Bride and Groom?" game. They had questions like, "What year was Tiffany born in? What is Travis' favorite food? Where did they meet?" and stuff like that. It was fun to see what people answered. This person got only one question right! But some of their answers were pretty funny to me.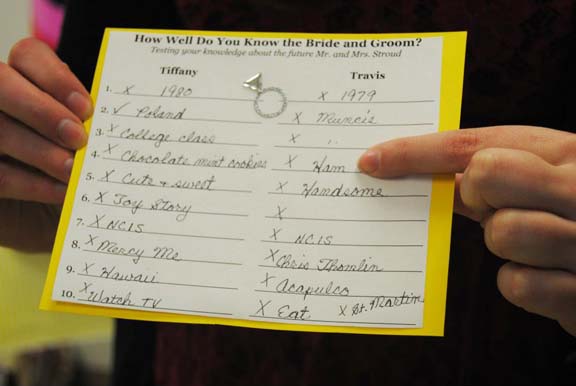 Next, we played a game called "The Sounds of Marriage" where Traci, my aunt and one of the shower hosts, played audio bites of different sounds. We had to write down what we were hearing. All the answers had to do with marriage. This was really funny considering there was a squeaky bed sound. The sound I knew best was of a skype call coming in. Travis and I are experts at that sound thanks to our long distance relationship.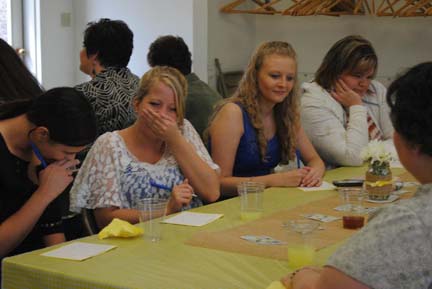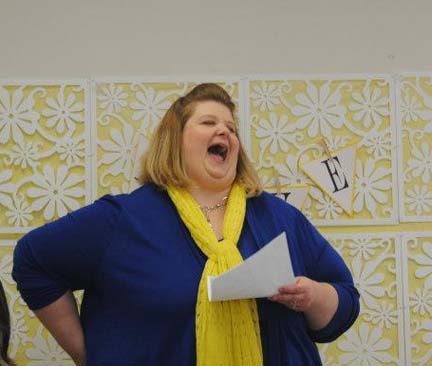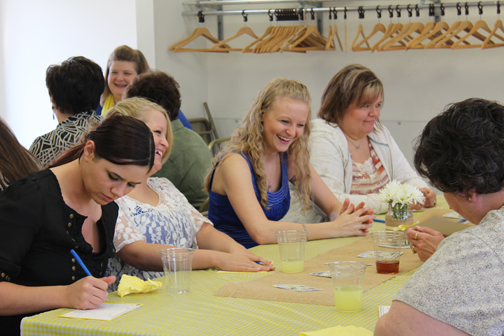 The last game we played involved your sight rather than your hearing. My grandma, one of the hosts, taped photos that related to our story to cardboard and taped paper over the photo with one section of the photo showing. We had to guess what the photo was based on the small section we could see. I really liked this game, and I only missed two of the answers.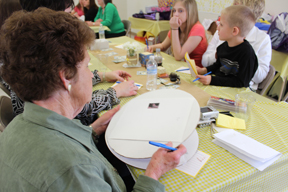 What other bridal shower ideas do you have?
Check out more on my bridal shower or go to my wedding page to see all my wedding fun! You can also follow my Wedding Pinterest board.