Comfort food. That's what this recipe is all about. Travis loves cheesy potatoes, so he loves when I make this hash brown casserole. And so do I!
I found this recipe on Nancy Creative. The problem was, and I have this problem with most recipes, it was a recipe for a whole family. A family of four or five people plus leftovers. Travis and I like to eat, definitely, but I really needed the recipe to be for just two. So I cut the recipe in half to fit our needs. And we still have leftovers!
While I was editing these photos, I was getting so hungry. Just looking at it makes my mouth water! It's ooey gooey cheesy deliciousness with crunchies on top! As you might be able to tell, I used an 8×8 square glass dish instead of a 9×13 pan since I cut the recipe in half. So, want to know how to make it?
Hash Brown Casserole Recipe
Here's what you'll need:
Hash browns
Onion
Butter
Sour Cream
Cream of Chicken Soup
Cheddar Cheese
Corn Flakes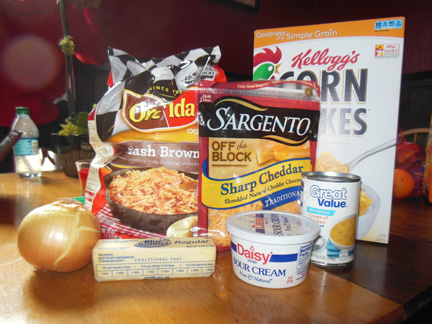 Travis was helping me make this dish. He's always the onion cutter, hence the manly hands in this photo. He doesn't really cry when cutting onions, but they really mess with my eyes so anytime I can pawn that job off I do! While he's cutting the onions, I am defrosting the hash browns in the microwave. I think I put them in for 1 minute and 30 seconds, off and on.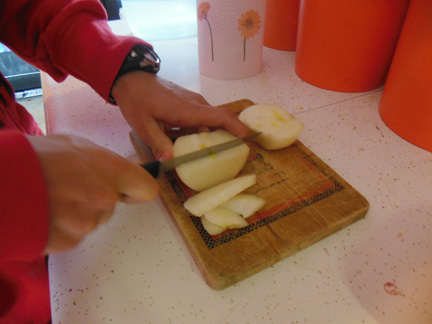 Once the hash browns are thawed, add in the melted butter, salt, and pepper.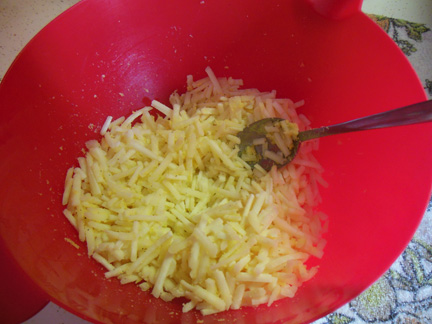 Then add in the chopped onion. Mix in the soup, sour cream, and don't forget the cheddar cheese!  The first time I made this, I completely forgot the cheese. Luckily, I realized it as I was putting it in the oven so I still had time to fix it.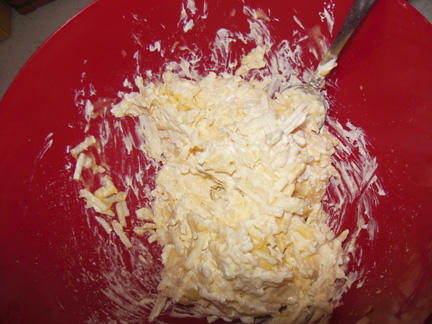 Spread the mixture into your greased baking dish.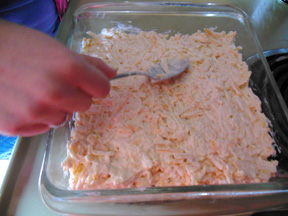 Now take your Corn Flakes and put them into a baggie to crunch up. I love the crunchies at the top, so I always put some extra in there. (Oh yeah, check out that rock!)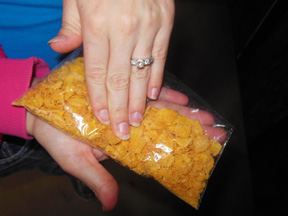 Mix the crunched Corn Flakes with the remaining melted butter and sprinkle on top of your dish. I bake it for 30-40 minutes at 350 degrees.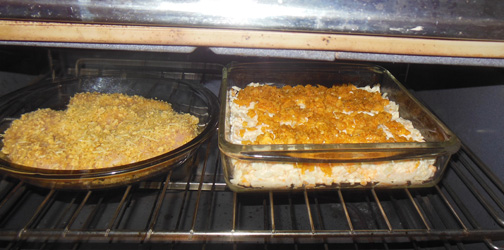 We had baked chicken with our hash brown casserole that day. When it comes out, it should be golden and gooey and yummy.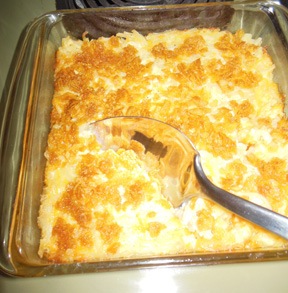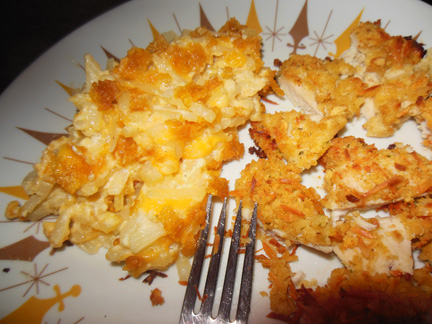 Hash Brown Casserole
Prep time:
Cook time:
Total time:
A delicious gooey cheesy side dish most anyone would enjoy.
Ingredients
1 lb. hash browns
¼ cup melted butter (1/2 stick)
⅛ tsp pepper
½ tsp salt
¼ cup chopped onion
½ can cream of chicken
1 cup sour cream
1 cup shredded cheddar cheese
2 cups Corn Flakes mixed with 4 tbsp melted butter
Instructions
Grease an 8x8 baking dish and preheat the oven to 350 degrees.
Thaw the hash browns using the microwave.
Chop the onion.
Mix the thawed hash browns with the ½ cup melted butter, salt, pepper and onion.
Mix in the soup, sour cream and cheddar cheese.
Spread the mixture into the baking dish.
Put the Corn Flakes into a baggie and crunch them up.
Mix the Corn Flakes with the remainder of the melted butter.
Sprinkle the Corn Flakes on top of the baking dish.
Cook in the oven at 350 degrees for 30-40 minutes.
Serve warm.
Check out all of my recipes on my Pinterest board called
My Recipes
.