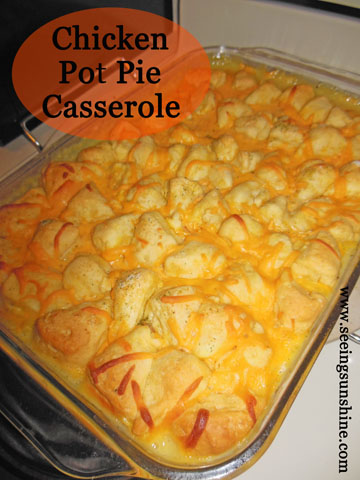 Travis and I have found our favorite meal! Just look at that golden ooey-gooey cheesy garlicy biscuity deliciousness. Yes, it is all of those things and more! This recipe definitely qualifies as comfort food. So let me share the recipe so you can make it yourself and fall in love.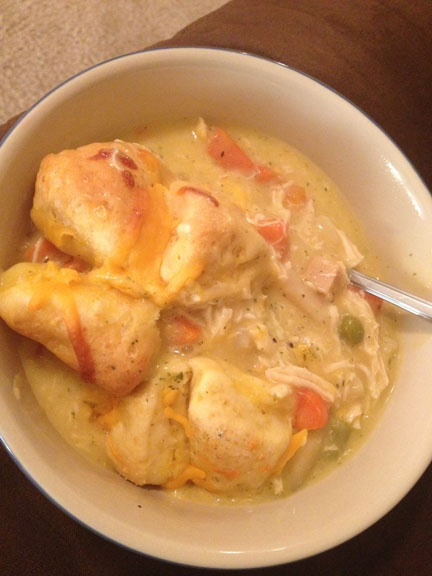 First bake 4-6 chicken breasts. Shred the chicken. I put it in my Kitchen Aid mixer to shred. While it was in the mixer, I sprinkled it with the ranch mix (excluding 1/2 tsp to be used for later) plus salt and pepper. Mix the seasonings in and set aside.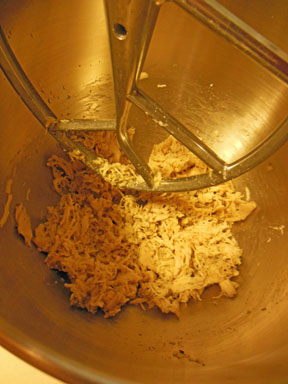 On medium heat, whisk together the soup, broth and milk in a saucepan. Stir in the mixed veggies and then the shredded chicken. Use a cooking spray to grease a 9×13 baking dish. Sprinkle the cheese on top. Sorry these pictures aren't so great; my kitchen lighting isn't any good for photos.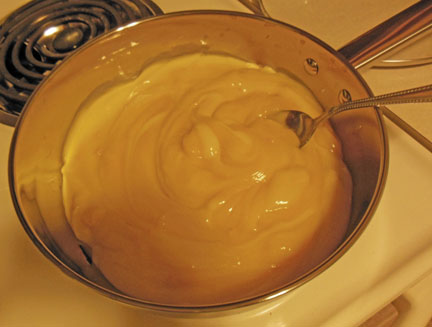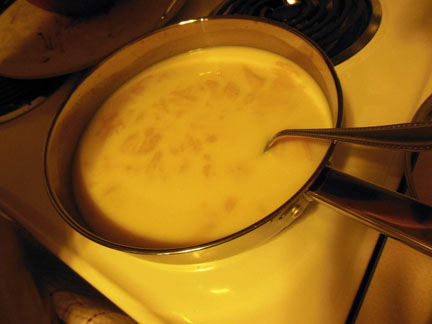 Open the can of biscuits and use a cutting board to cut each one into pieces. I cut them in half, cut each half in half and then cut each fourth in half. Get all that? Basically, just cut it up into lots of small triangles.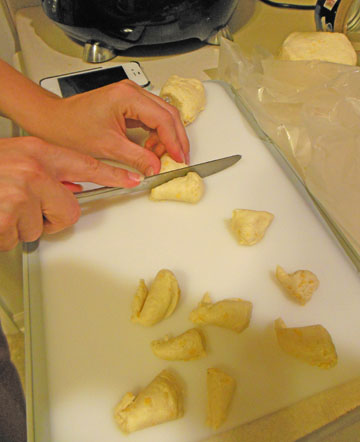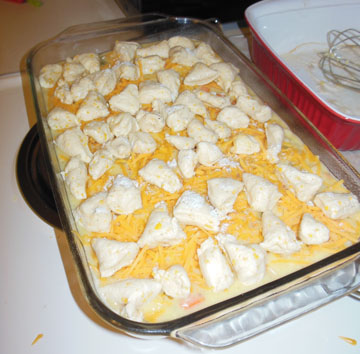 Place the cut up biscuits on top. Next, sprinkle with the remaining ranch mix, garlic salt and the rest of the cheddar cheese.
Bake at 350 degrees for 40-50 minutes. For the last 20 minutes, cover the dish with foil to keep the biscuits from getting too done. It comes out golden and full of flavor!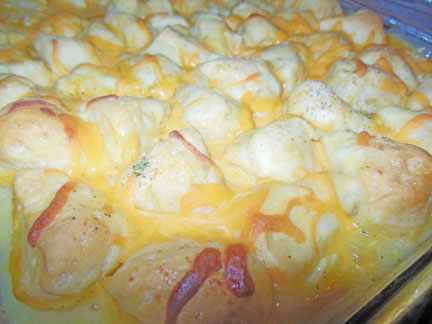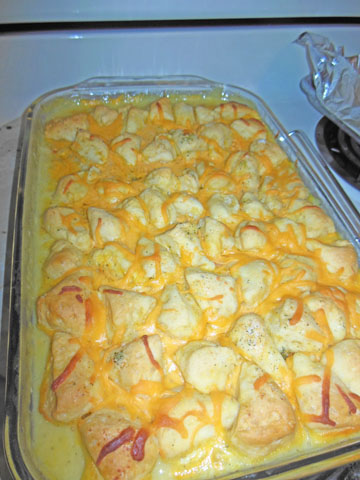 Chicken Pot Pie Casserole
Prep time:
Cook time:
Total time:
Ingredients
4-6 chicken breasts, baked and shredded
1 packet dry ranch dressing mix, ½ tsp set aside
½ tsp salt
¼ tsp pepper
2 10 oz cans cream of chicken soup
1 10 oz can cheddar cheese soup
1 cup chicken broth
1 cup milk
2 15 oz cans mixed veggies, drained
1½ cup shredded cheddar cheese, ½ cup set aside
1 6 count can Pillsbury homestyle biscuits
½ tsp garlic salt
Instructions
Bake and shred the chicken breasts
Preheat oven to 350 degrees
Add ranch mix, salt and pepper to shredded chicken (reserve ½ tsp ranch mix)
In a saucepan on medium heat, whisk together the soups, broth and milk
Once combined, add mixed veggies and shredded chicken
Grease a 9x13 baking dish with cooking spray
Sprinkle cheese on top (reserve ½ cup)
Cut biscuits into 8 triangles each, place on top of chicken mixture
Sprinkle ranch mix, garlic salt and ½ cup cheese
Bake at 350 degrees for 40-50 minutes, cover with foil during the last 20 minutes
I adapted this recipe from one of my favorite recipe blogs
Picky Palate
.