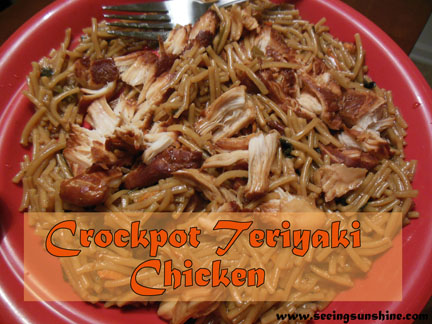 This is probably going to be the easiest recipe I'll ever write about. And it turns out really good. Travis said it was the best meal I've ever made. Granted, he says that every night after licking his plate clean. Luckily for me I don't have too picky of a husband.
Anyways, for this recipe you'll need:
Boneless, skinless chicken breasts (I used 5 so we could each eat 2 1/2)
Pineapple juice
Soy sauce
Brown sugar
Pasta Sides Teriyaki Noodles (optional)
Now I'm going to let you in on a little secret of mine. I use Crock Pot Liners

to make clean-up a breeze! Have I told you how much I hate doing dishes? These liners really work! You just put your food inside them and when you are all done, throw the liner in the trash. I sometimes have to wipe down the inside of the crock pot with a paper towel, but that's easy compared to putting it in the sink and using soap and water and blah blah blah. I don't understand how these things don't melt in the crock pot. I guess they are magic! That's what I like to think anyway. So I start by lining my crock pot with the liners. Then defrost the chicken and set it inside the crock pot.
Next, mix together the brown sugar, pineapple juice and soy sauce. Pour the mixture over the chicken. Let it cook on low for 8 hours or on high for 4-6 hours.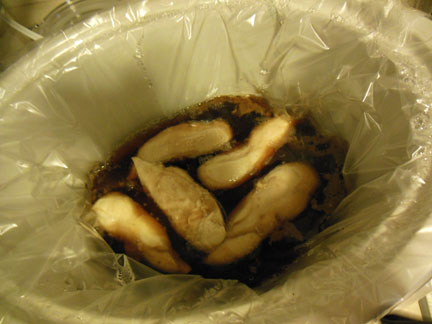 We ate our chicken with Pasta Sides Teriyaki Noodles. It went together perfectly! I poured some of the sauce/juice from the crock pot onto the noodles on my plate. The chicken basically fell apart. Yum!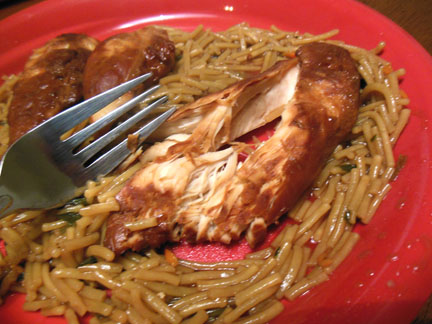 Crockpot Teriyaki Chicken
Prep time:
Cook time:
Total time:
Ingredients
4-6 boneless, skinless chicken breast, thawed
1 cup pineapple juice
½ cup brown sugar
⅓ cup soy sauce
Pasta Sides Teriyaki Noodles (optional)
Instructions
Thaw the chicken, place in crockpot
Mix together juice, sauce and sugar
Pour mixture over chicken
Cook on low for 8 hours or on high for 6 hours
Serve with teriyaki noodles
Check out more of my
recipes here
.
Disclaimer: An affiliate link is used in this post, meaning I get a portion of the profits if a sale is made. But I promise I really do love the product and everything I said is my actual opinion.