I've sorta been on a health kick lately. I say sorta because I also still like my ice cream. I can't help it. We're supposed to have dairy in our diet anyways, right? So while I haven't stopped eating ice cream, I have tried to start eating more vegetables. Lately, we've had green beans, asparagus, broccoli and now zucchini.
I really like zucchini, and there are tons of things you can make with it. Travis and I tried something new for us though — baked zucchini fries — and they turned out awesome! They are crunchy but soft on the inside with lots of flavor on the outside. We didn't even need a sauce to dip them in!
Here's what you'll need:
Zucchini
Eggs
Bread crumbs (We used garlic and herb)
Grated Parmesan cheese
Cut the zucchini into strips. Really they can be any size you want, but here's what we did. They look like pickles in this picture!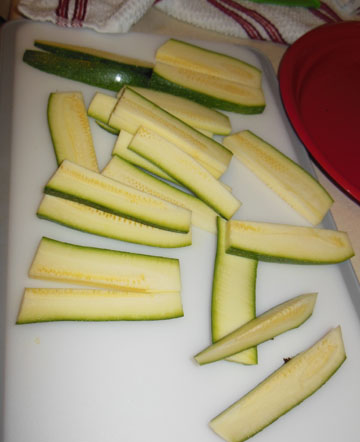 Whisk together two eggs (that's how many we used).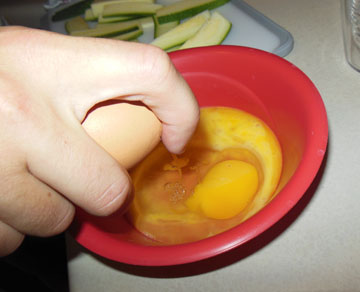 Pour some bread crumbs into a bowl or onto a plate. Set it up like an assembly line to make it easy. Your zucchini slices, the bowl of eggs, the bowl of breadcrumbs and your baking sheet. Dip each zucchini slice into the egg. Then cover each with bread crumbs. Then set them on your baking sheet. Your hands are sure to get messy!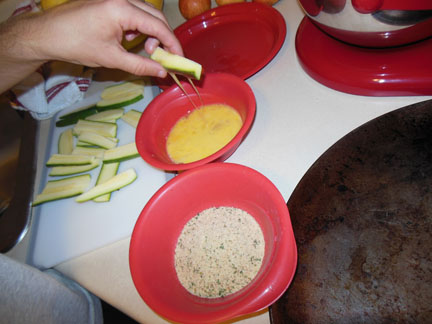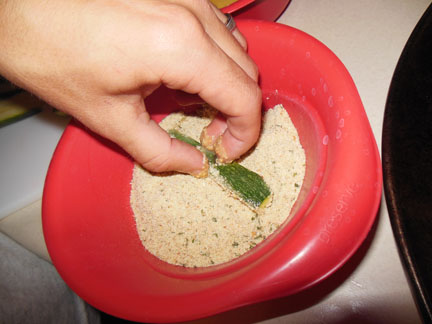 Once all your zucchini sticks are on the baking sheet, spray them with cooking spray (not a lot).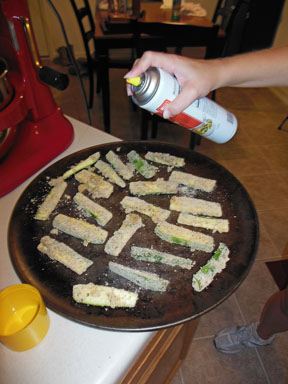 Bake the sticks for 30 minutes at 425 degrees. When they come out of the oven, sprinkle grated Parmesan cheese on top.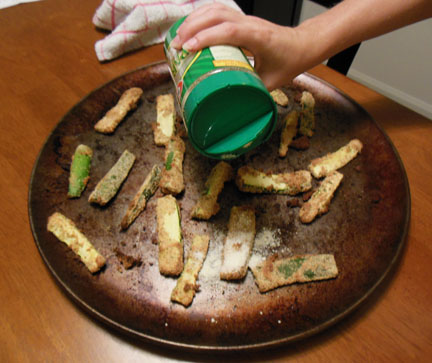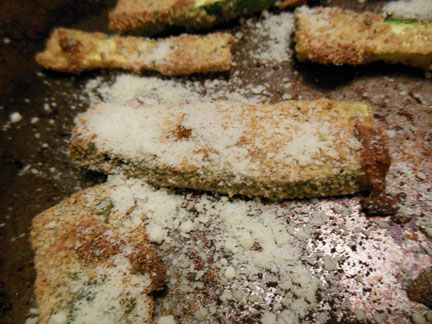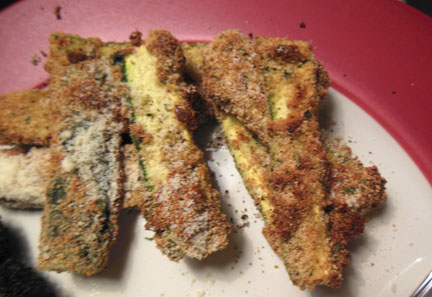 Baked Zucchini Fries
Prep time:
Cook time:
Total time:
Ingredients
1 medium-sized zucchini
2 eggs
2 cups bread crumbs
1 cup grated Parmesan cheese
Instructions
Preheat oven to 425 degrees
Slice zucchini into sticks
Whisk together the eggs
Dip zucchini sticks into egg mixture
Dip zucchini sticks into bread crumbs
Bake for 30 minutes
Sprinkle Parmesan cheese on top of sticks
For more recipes, check out my
recipe page
!