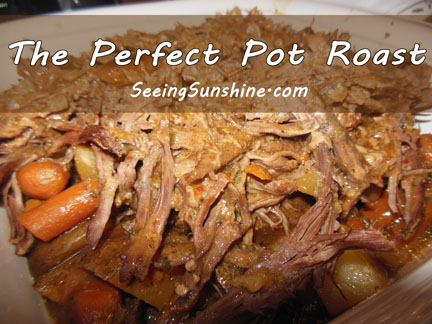 The first time I made this meal, Travis practically broke out in applause he loved it so much. And If I could do a back flip I would have in celebration of such an amazing success of a meal. I love roast beef. I love potatoes. ( I don't think there's a starch I don't like!) I love carrots. And this recipe puts all those things together, but it's not just your normal pot roast recipe. This one is SOOOOO flavorful! It's one of those meals that makes you want to eat slowly to savor each and every bite. My mouth is watering just thinking about it! So let's get on with it, shall we?
Here's what you'll need:
Roast, thawed
Potatoes, chopped
Carrots, chopped
Brown gravy mix
Ranch dressing mix
Italian dressing mix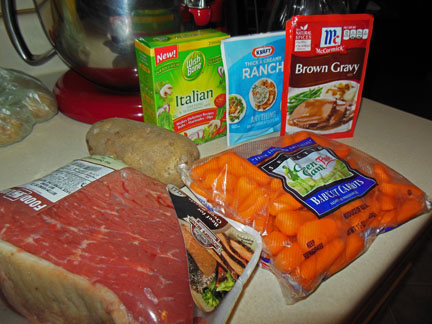 You know how Kathie Lee and Hoda do a Favorite Things segment? (I love that show!) Well, one of my favorite things are Crock Pot Liners
! I know I've talked about them before, but they really work and you never have to wash your crock pot! So stick one of those babies in there!
Chop up the potatoes. Cut the carrots in half — this is completely optional. I just think if you cut the carrots in half, it seems like you have even more carrots than you have! Plus, they are easier to eat in one bite.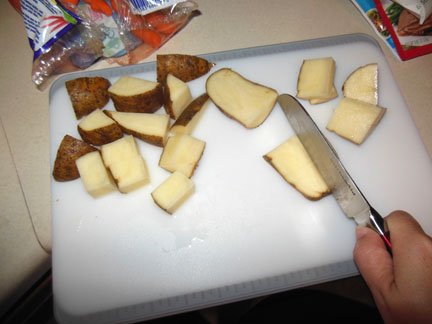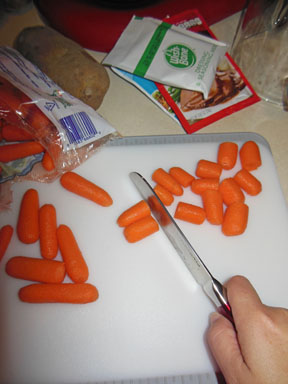 Pour some of the potatoes and carrots into your crock pot. Then set your thawed roast inside. Pour the rest of the potatoes and carrots around the roast.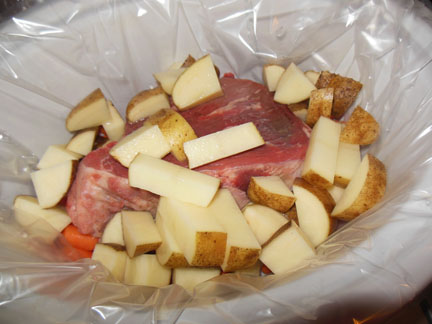 Now, mix together the three mixes with 1/2 cup of water. Yes, that's all the water you need! Because the roast will create these amazing juices all on it's own. Pour the mixture over the roast. Cook for 6 hours on high or 8 hours on low, depending how early you got started that morning!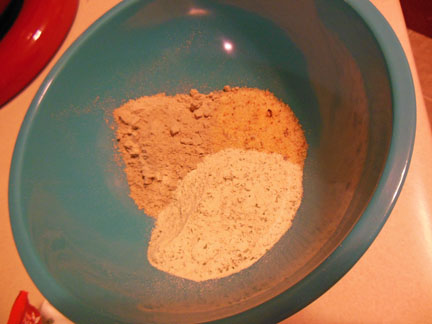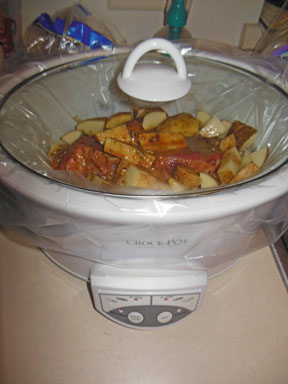 When it's all done, I take the roast out and shred it with a knife and fork. It should be pretty easy to pull apart. Cut out any of that icky fat! I'm really picky when it comes to meat. I'm a stickler for making sure there's no fat before I eat it. I put the shredded roast and veggies into a baking or serving dish. Then I spoon the liquid in the crock pot on top, trying to keep any of the meat's fat out of the dish.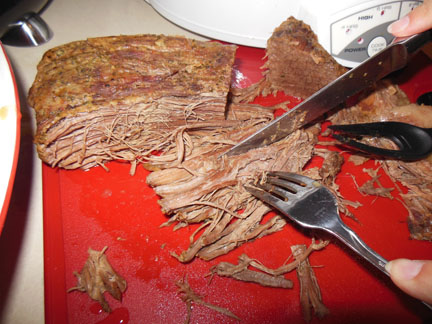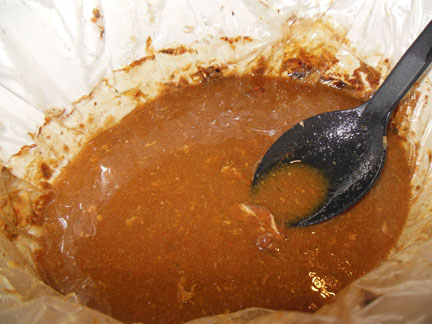 Like I said before, we LOVE this meal! So juicy, flavorful and healthy!
The Perfect Pot Roast
Prep time:
Cook time:
Total time:
Ingredients
1 roast, thawed
2 potatoes, chopped
2 cups carrots, chopped
1 brown gravy mix
1 ranch dressing mix
1 Italian dressing mix
½ cup water
Instructions
Chop the potatoes and carrots
Place some of them in the crock pot
Place thawed roast in crock pot
Place remaining veggies around roast
Mix together the three dry mixes with ½ cup water
Pour mixture over roast and veggies
Cook on low for 8 hours
Shred roast with fork and knife, cutting off any fat
Place in serving dish with veggies
Spoon liquid over roast and veggies
To see more of the recipes I've made myself, check out my
recipe page
!
Disclaimer: An affiliate link was used in this blog, meaning I will be compensated a percentage of the product profit. However, I really do love crock pot liners! Everything in this blog is my actual opinion. I promise.
Linked to: Good Taste Tuesdays and Sundays at Home.