I can pretty much guarantee this will be the best pizza you've ever had. Why? Because it has ice cream in it. And cookie dough. Yes, you heard me right. Best. Pizza. Ever.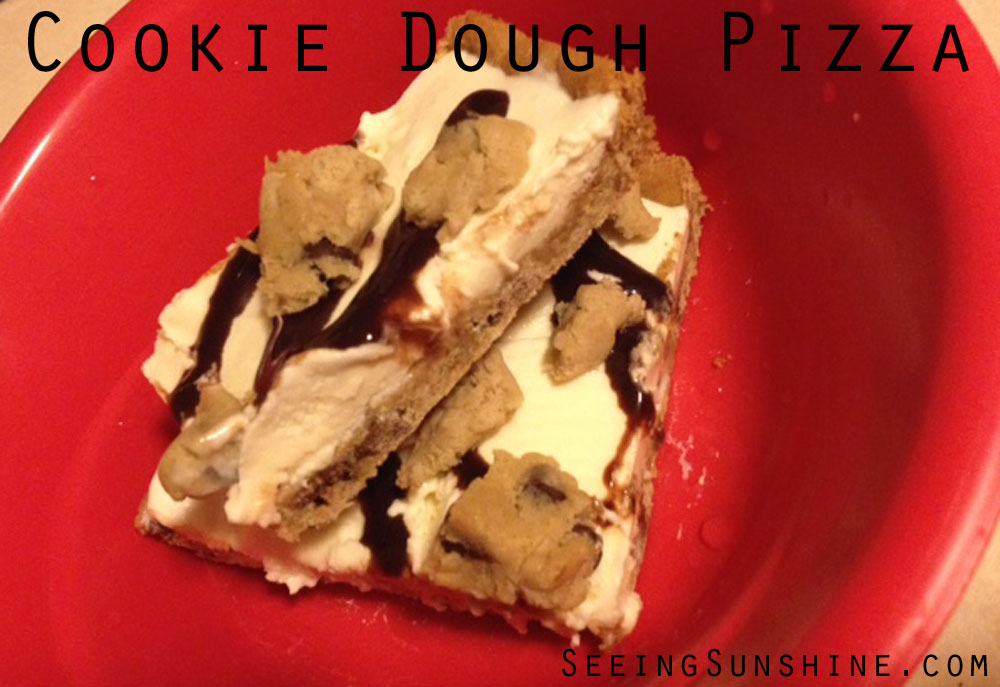 With my hubby still recovering from his eye surgery, I knew this would be a treat that would cheer him up. So while he slept in the closet (it's the darkest room in the house and his eyes were very light sensitive) all knocked out from his pain meds, I worked on this pizza.
Let me clarify here — it looks a lot more like a pizza if you use a round pan and cut it into slices. I didn't have a good round pan to use, so I used square and cut it into squares. Some pizzas are like that! Plus, it still has a crust, "sauce" and toppings! Travis absolutely loved it, and so did I! I think we ate the entire pan within two days.
Here's what you'll need:
Cookie dough
Vanilla ice cream
Chocolate syrup (optional)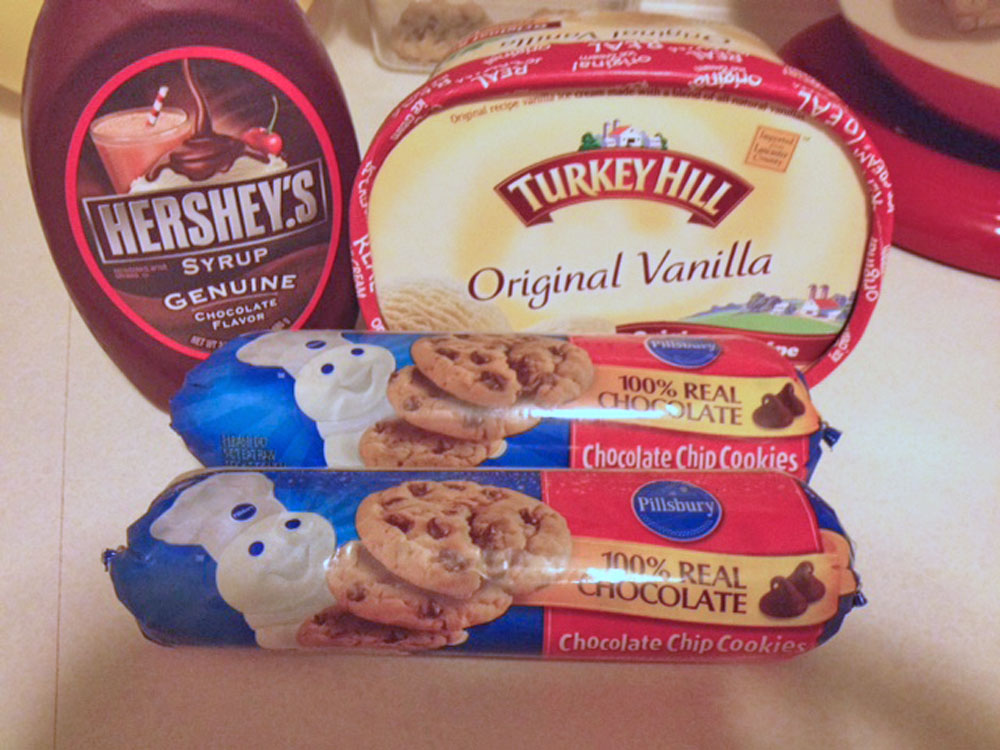 Yep, that's it! Open up your first cookie dough package. Of course you can make your own, but I always opt for easy and buying it already made is definitely easy. Take that cookie dough and push it down into your baking sheet. If you use a rimmed baking sheet, you can make the crust go up toward the top. I like that idea.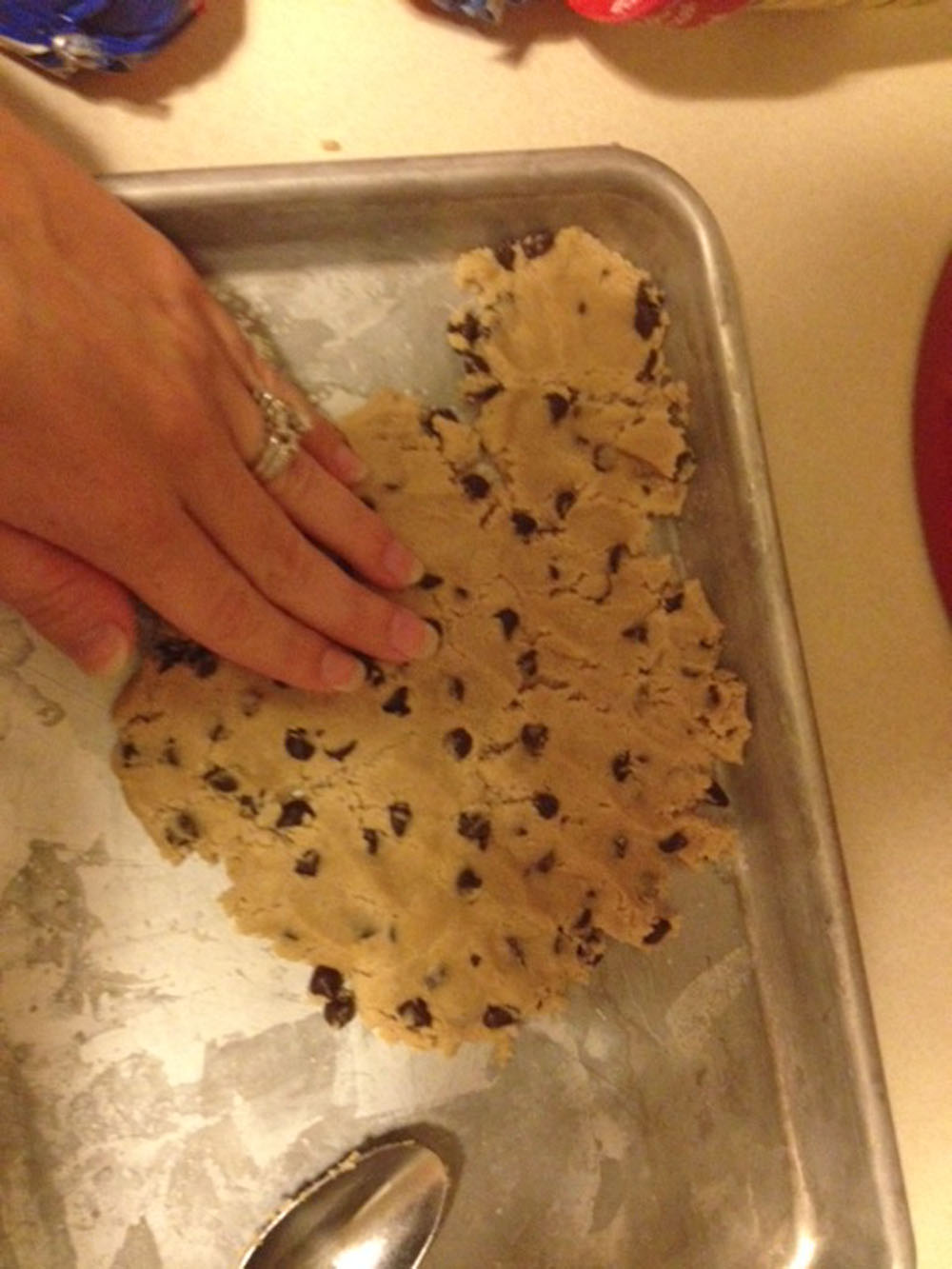 I remember making cookies at my grandma's house. I'm pretty sure that's all we did every time I went to visit when I was little. And I loved it! The best part, of course, was sneaking a bite of the cookie dough when Grandma wasn't looking. I don't think she would have minded all that much, but I guess the idea of sneaking in those bites made it taste so much better! It seemed like every single time we made cookies and the dough was right at that stage where it's perfect for eating, the phone would ring. Grandma would go answer the phone, and it was always the perfect opportunity to grab a bite of dough! Good memories … now where was I going with this? Yes, it may be tempting to take a bite of this dough but you will need almost all of it for your crust. I only had enough at the end for just one bite. Since Travis was asleep, I got to eat it!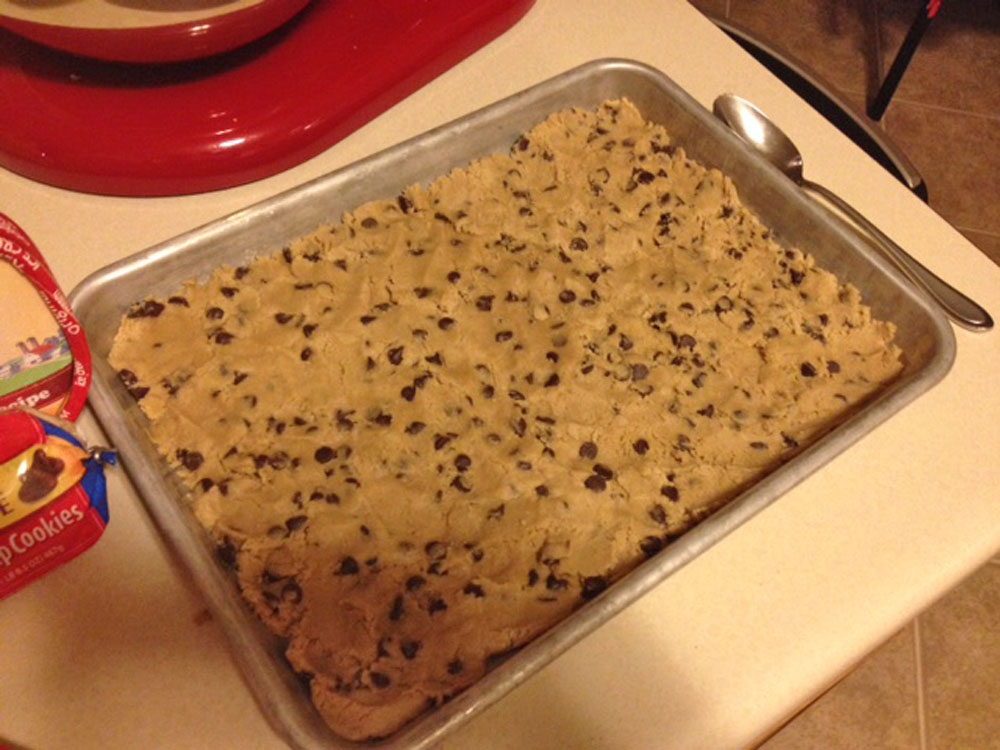 Pressing the dough into the pan is also a perfect opportunity to bring your kids and let them help you. They can lick their fingers afterward! Just don't eat too much of the dough. This is all I had left over after I covered the sheet with the dough. (But I only used about half of the second package, so you will have more dough leftover.)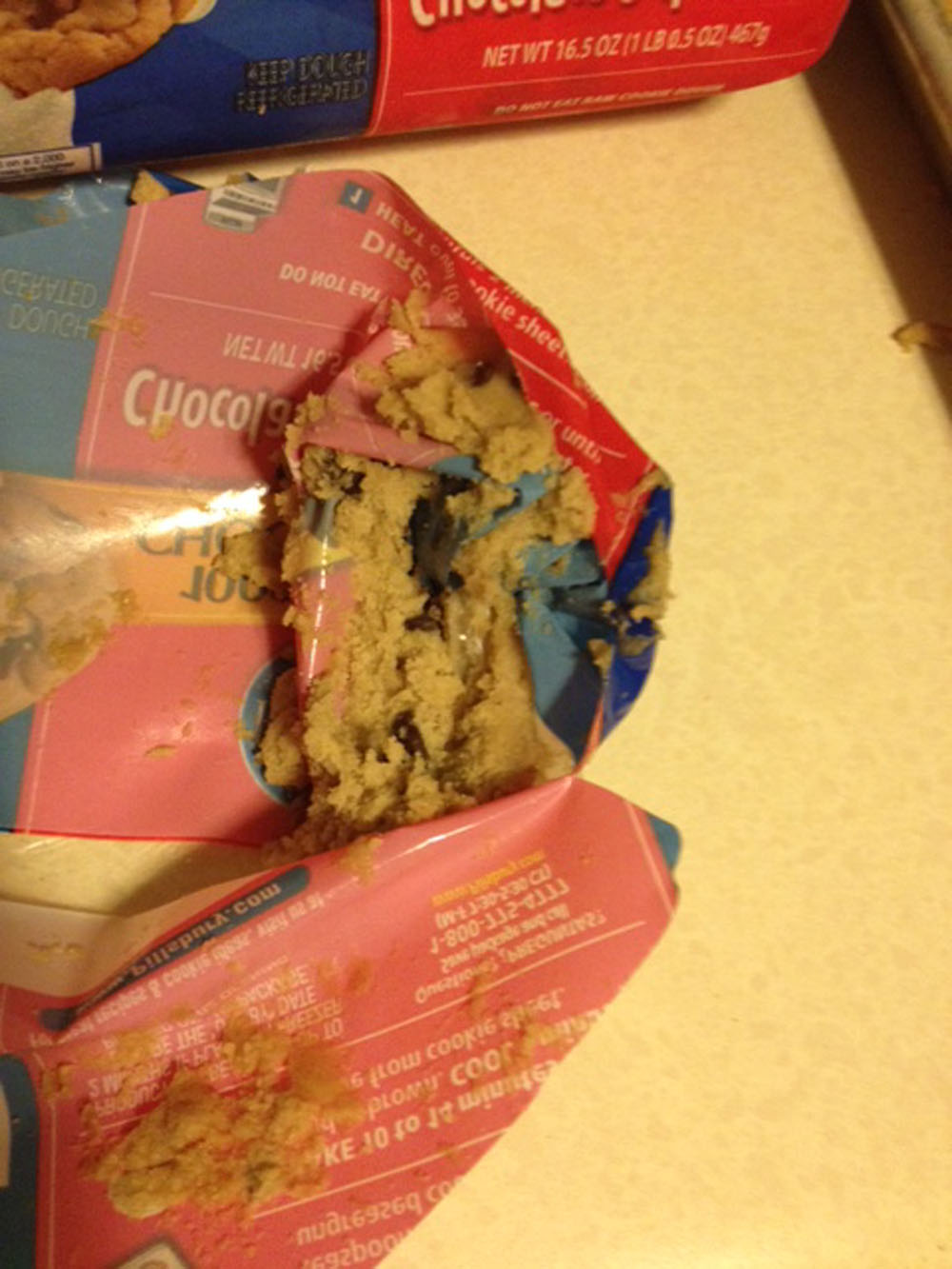 Bake the cookie dough crust at 350 degrees for about 15 minutes. Let it cool completely.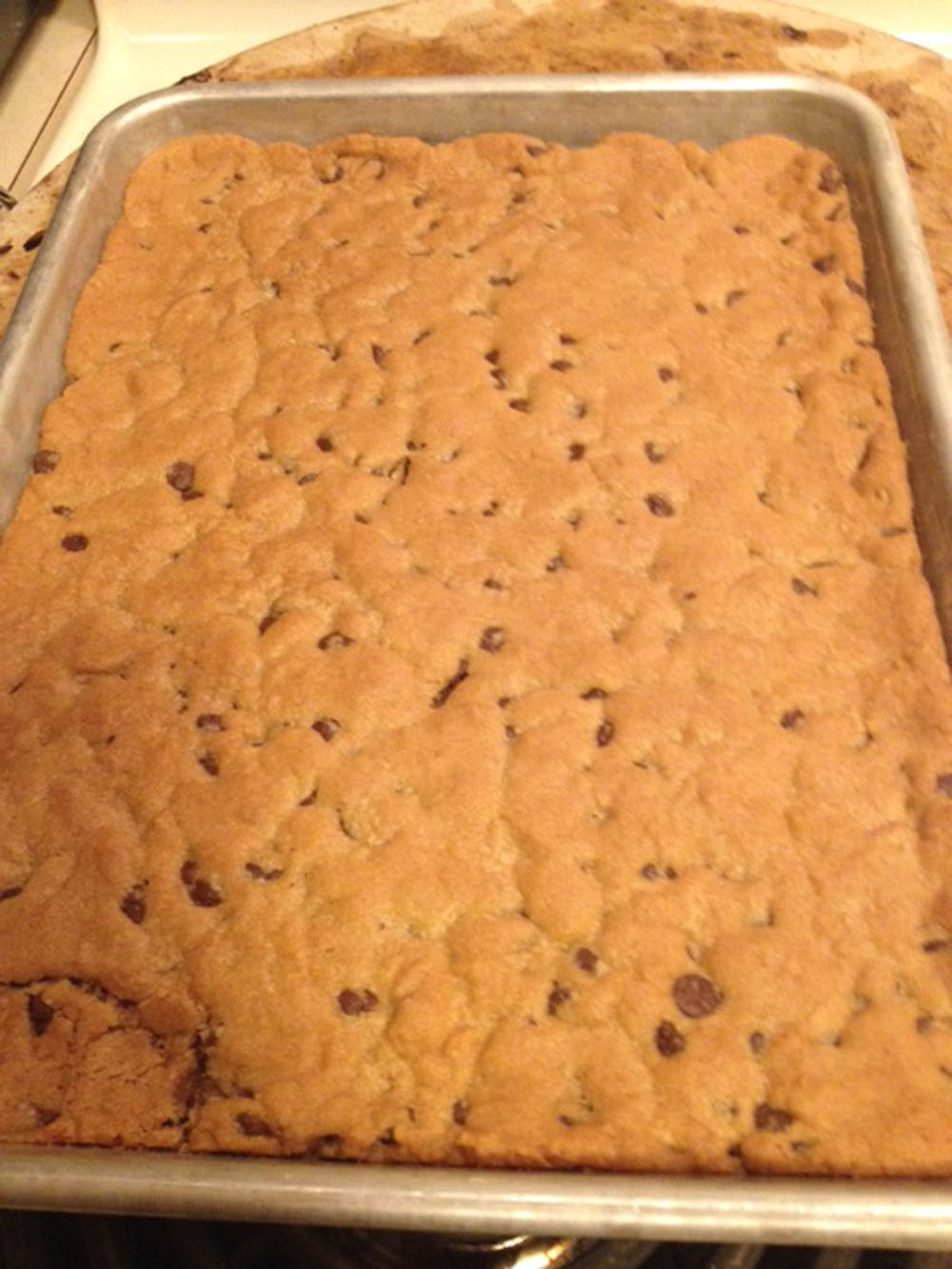 Now, while your cookie crust is cooling, set out your ice cream so that it thaws a little and will be easier to spread. You are going to spread it on top of the crust. This is like your pizza sauce.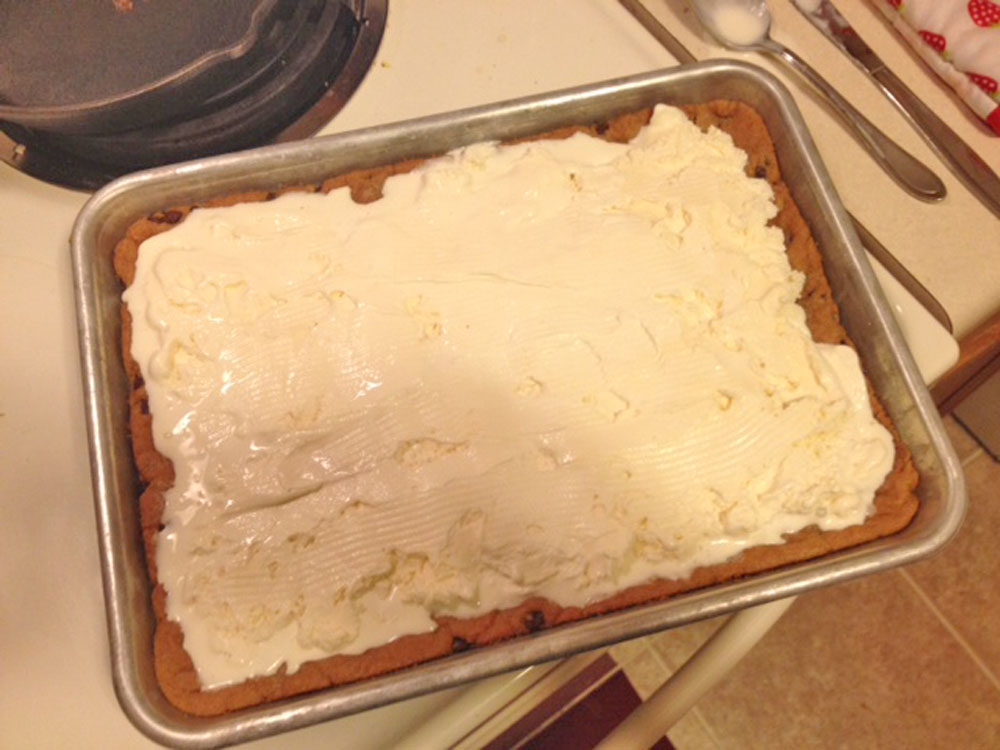 Next, chop up the other cookie dough package. You can make big or small chunks and sprinkle them on top of the ice cream. For me, I just used my hands to break it into big and little pieces. If you want, you can drizzle chocolate syrup onto the ice cream or on top of your cookie dough topping. Since my husband is not a fan of chocolate, I only added a little chocolate to one side of the pizza — this is a great way to ensure I get to eat some!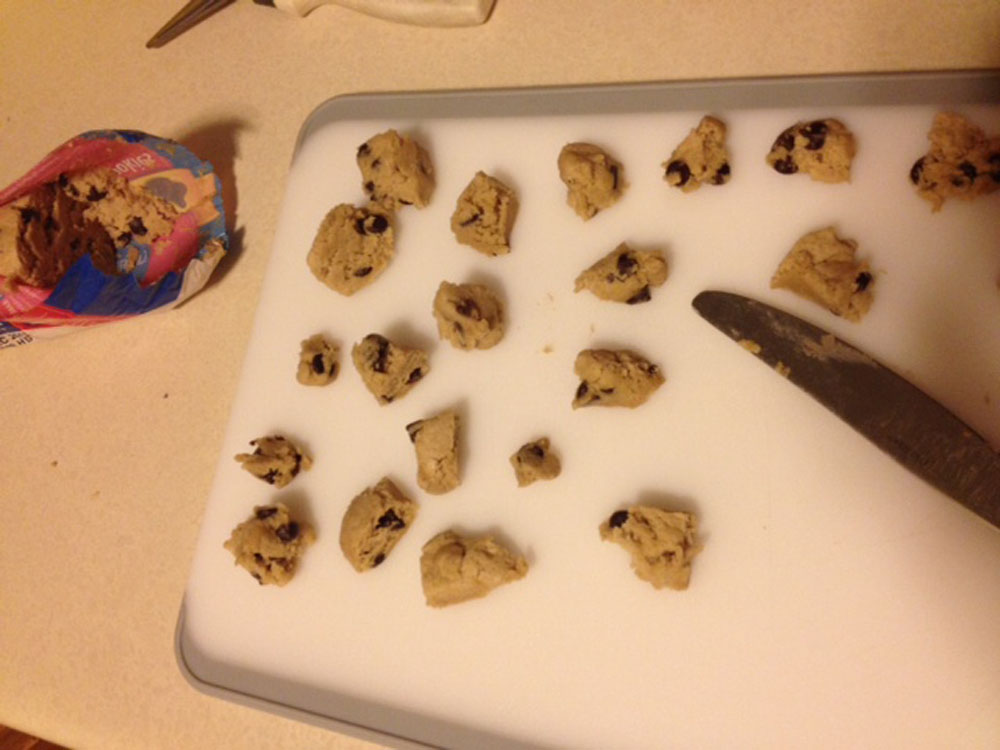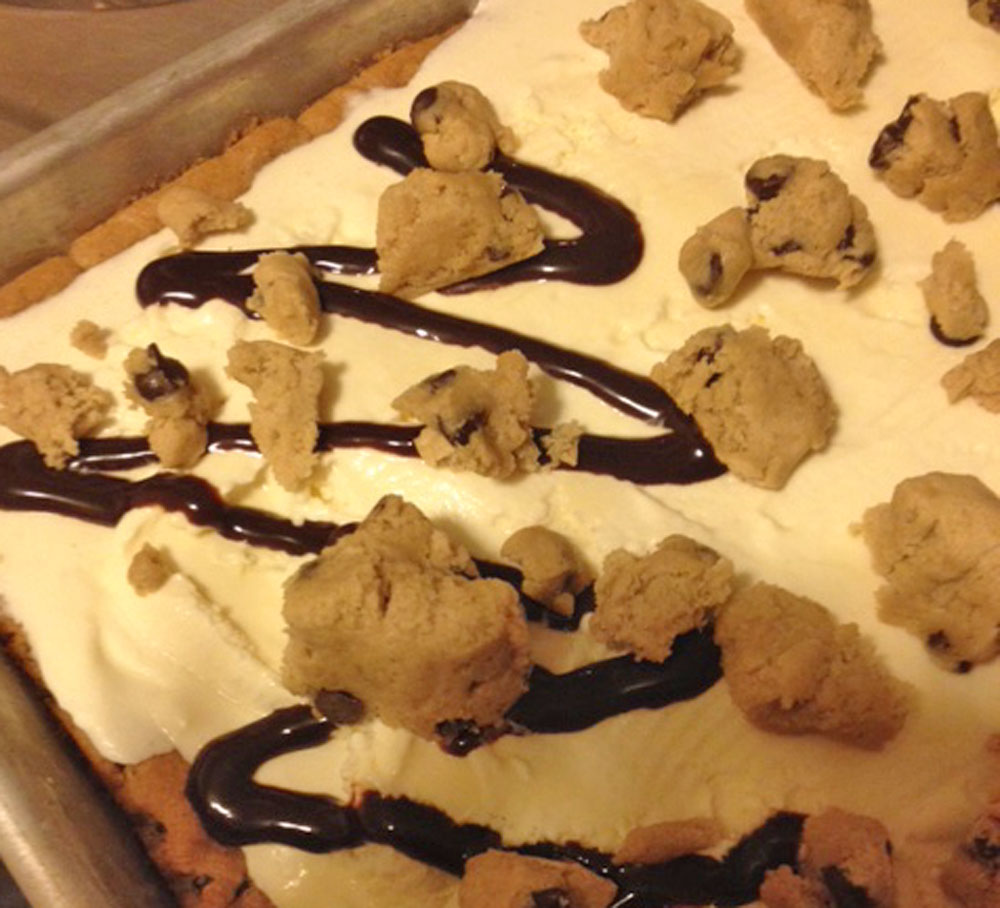 Put your pizza in the freezer until your ice cream is all set up again … or until you just can't wait anymore!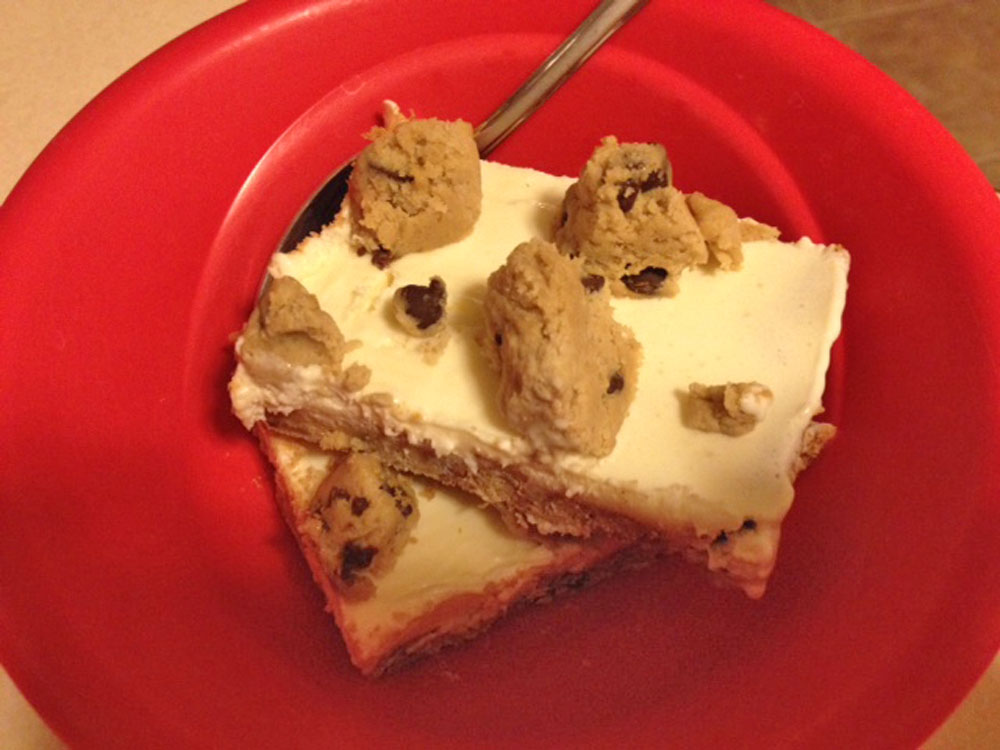 Cookie Dough Pizza
Prep time:
Cook time:
Total time:
Ingredients
2 16.5 oz packages cookie dough
½ quart vanilla ice cream
1 Tbs chocolate syrup (optional)
Instructions
Preheat oven to 350 degrees
Press one cookie dough package onto baking sheet until covered
Bake at 350 degrees for 15-20 minutes
Let cool completely, set ice cream out to thaw a little
Spread ice cream over top of crust
Place in freezer to let ice cream reset
Cut up remaining cookie dough into chunks, place as topping over ice cream
Drizzle chocolate syrup on top, if desired
Place in freezer until ready to serve