Welcome to my Holiday Cookie Series! I'm sharing some holiday cookie recipes with you every Monday throughout the holidays. If you missed it, last week I shared a chocolate mint cookie called Grasshoppers. But this week, I'm showing you how to make Swirl Butter Cookies!
Travis was excited that I was finally making a type of sugar cookie instead of some kind of chocolate cookie! He doesn't like chocolate — crazy I know, but it means more for me. 🙂 I was really nervous that these cookies wouldn't turn out right. Making the cookies have a swirl within the dough sounded like a failure waiting to happen. But I was happily surprised when these cookies turned out perfect! I love that I was able to make two dozen baked cookies, while still having dough leftover to use on another day!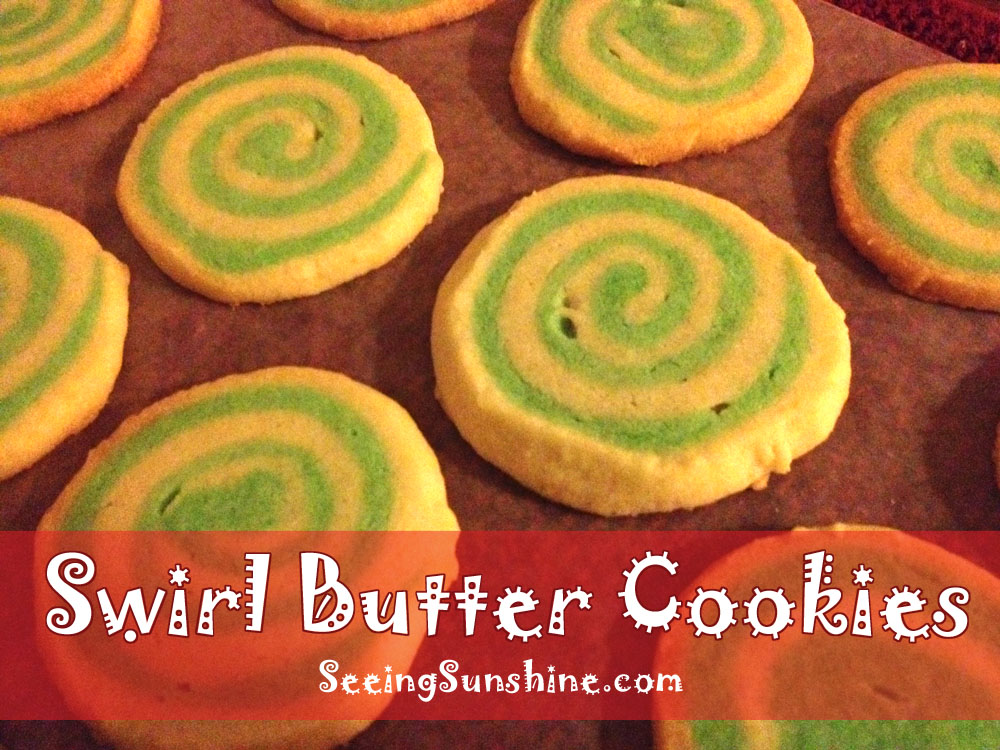 Here's what you'll need:
Flour
Baking powder
Powdered sugar
Granulated sugar
Salt
Butter
Vanilla
Food coloring (green)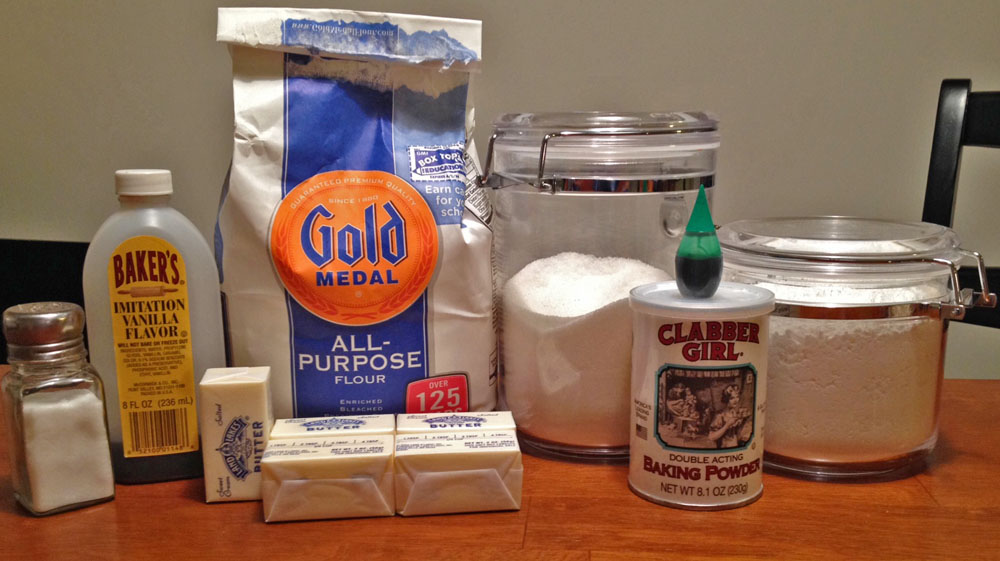 Using my Kitchen Aid mixer, I mixed together the flour, baking powder, sugars and salt.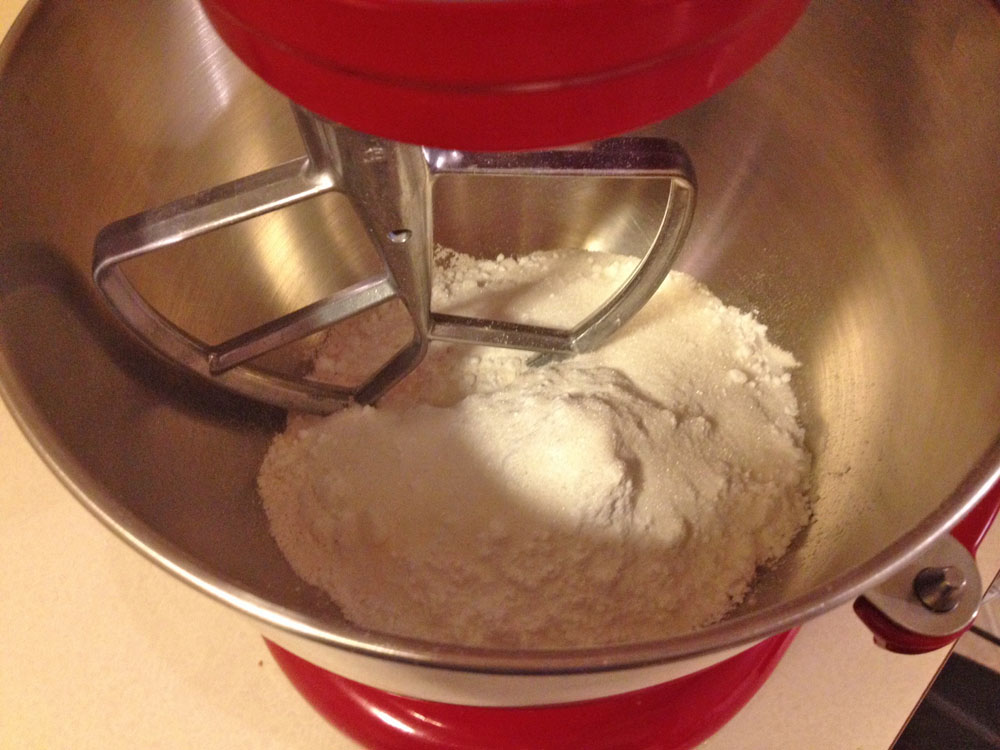 Make sure your butter is slightly softened. I let mine sit out for a little bit before starting this recipe. When you're ready, cut the butter up in chunks. There is a lot of butter, so these cookies aren't healthy at all — but cookies aren't supposed to be healthy!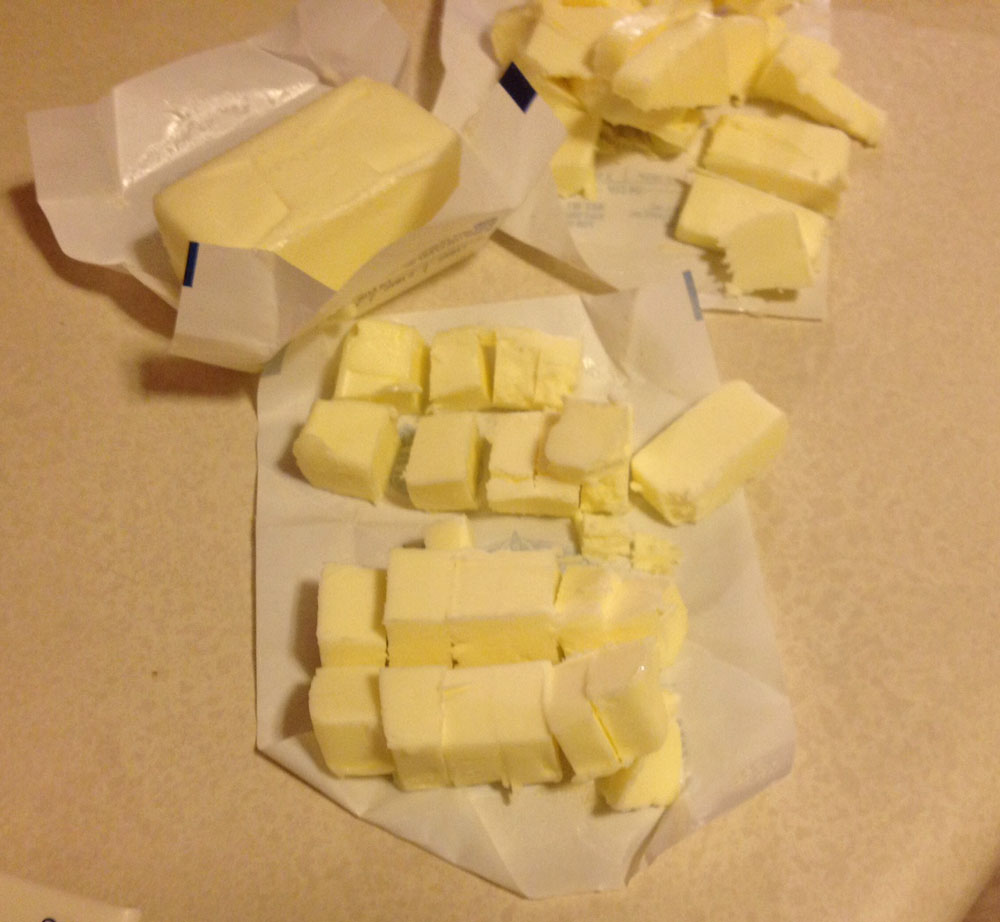 While it's mixing, gradually add in the butter chunks. Add the vanilla at this point too. At first, you'll wonder if it's working. But hold tight, soon you'll see dough forming!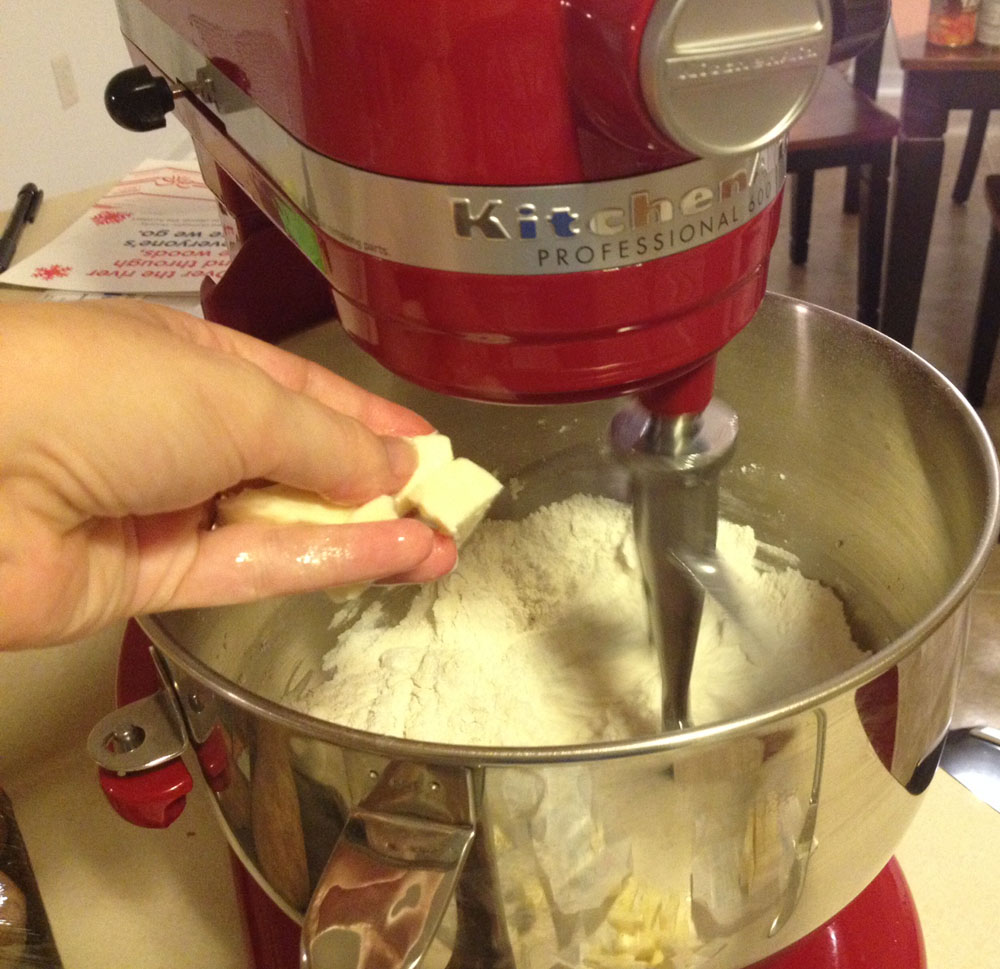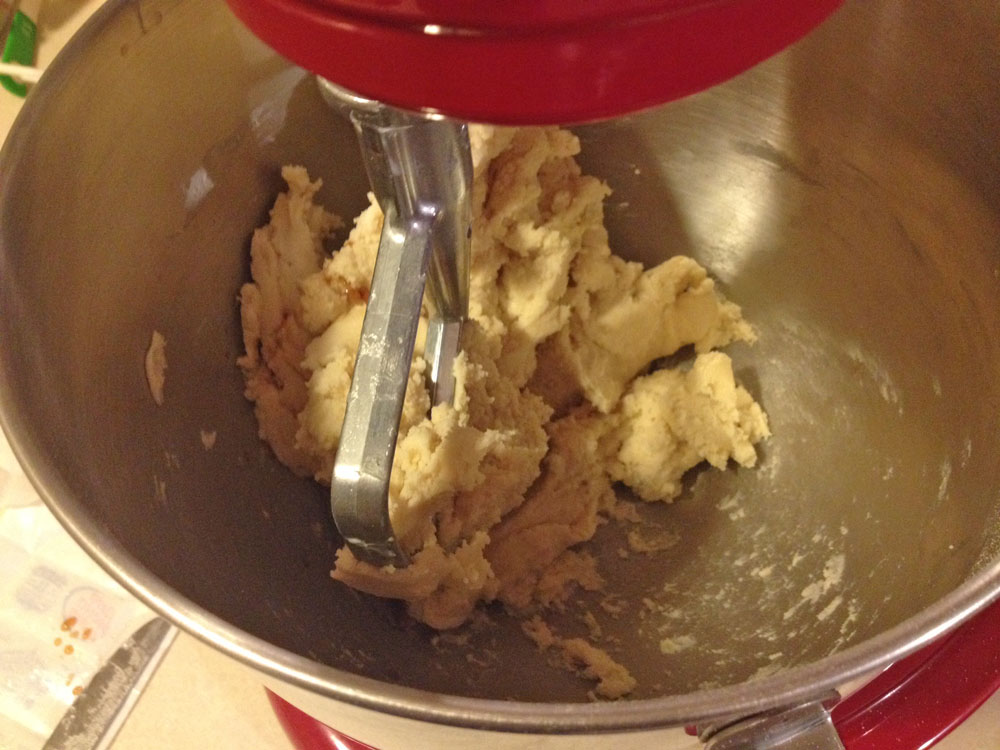 Take out half the dough. Set that dough aside on a piece of wax paper.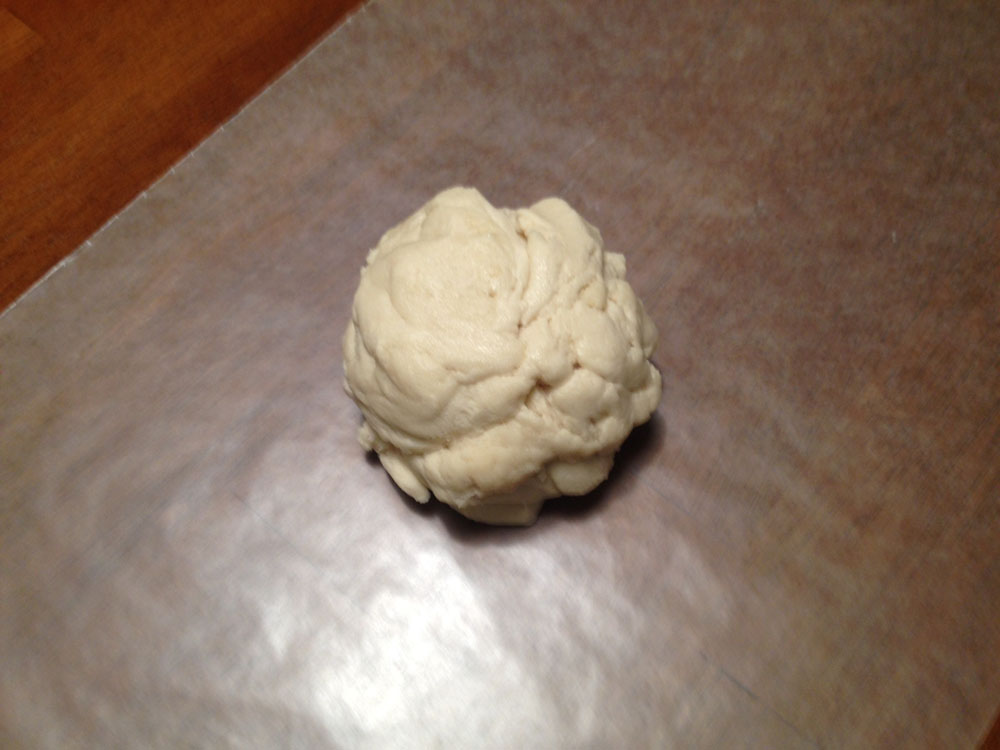 To the other half of the dough still in the mixer, add in the green food coloring. Mix it together well until you have the color you want. Take that dough out and set it on it's on wax paper.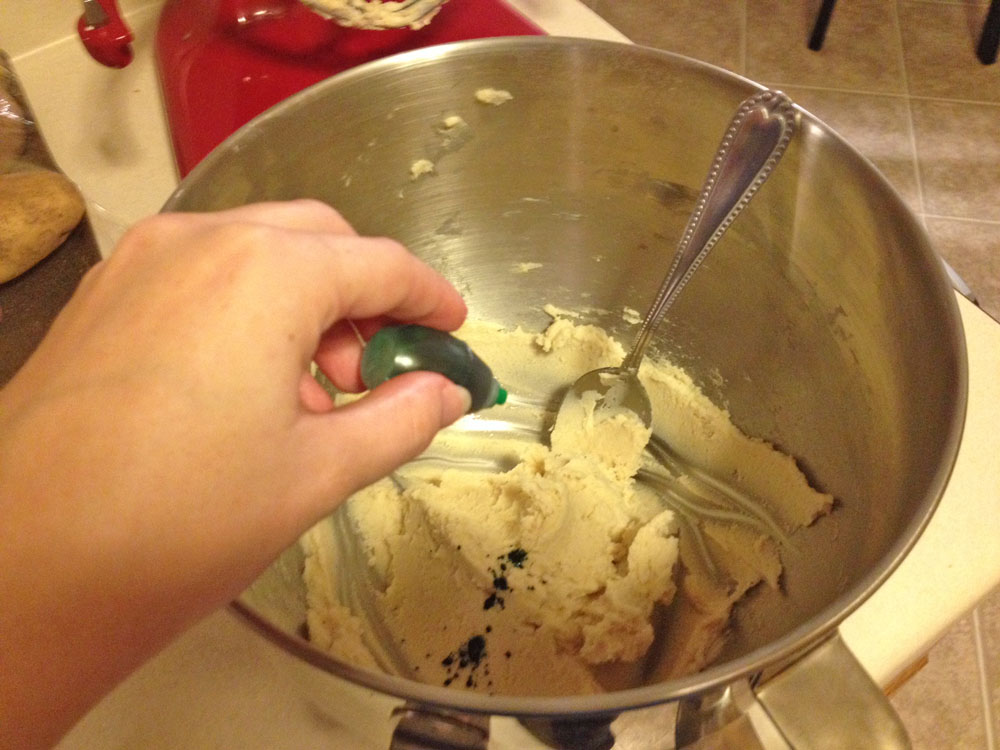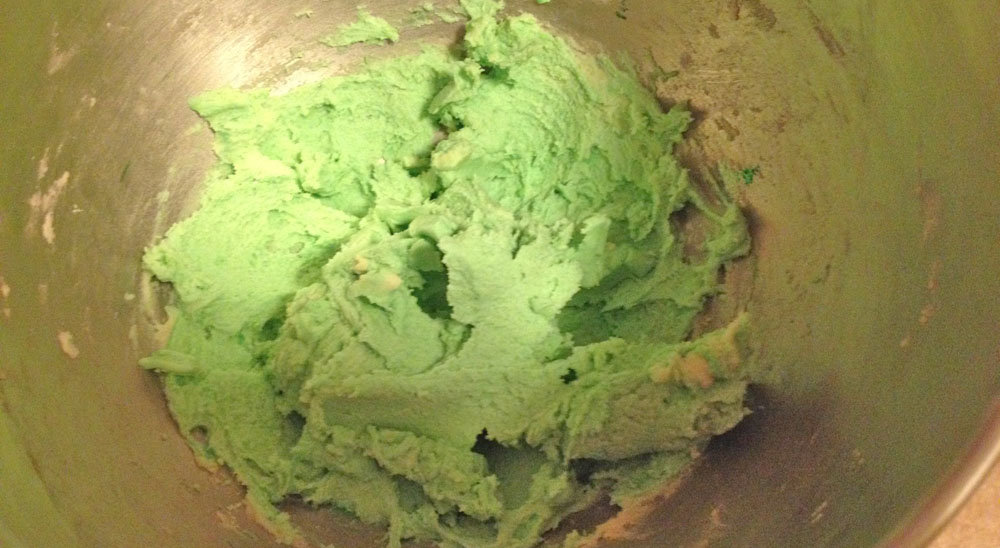 Now comes the more difficult part. You are going to put a piece of wax paper over the top of the dough and roll it out flat. Do that to both sets of dough. You're going to want to add a little flour to keep it from getting too sticky.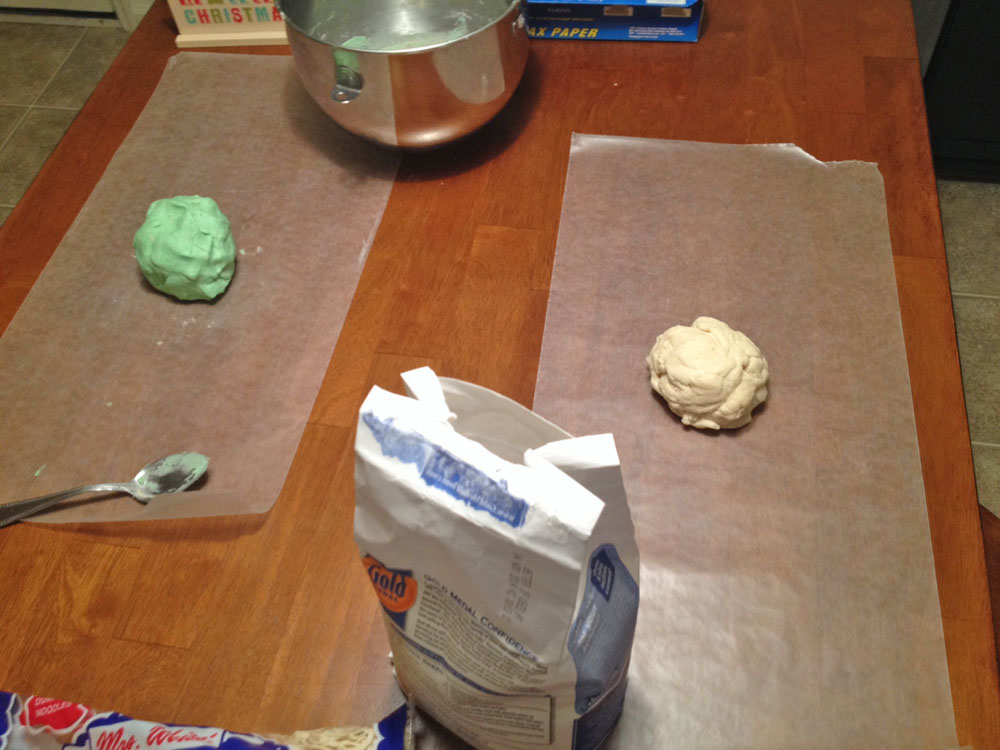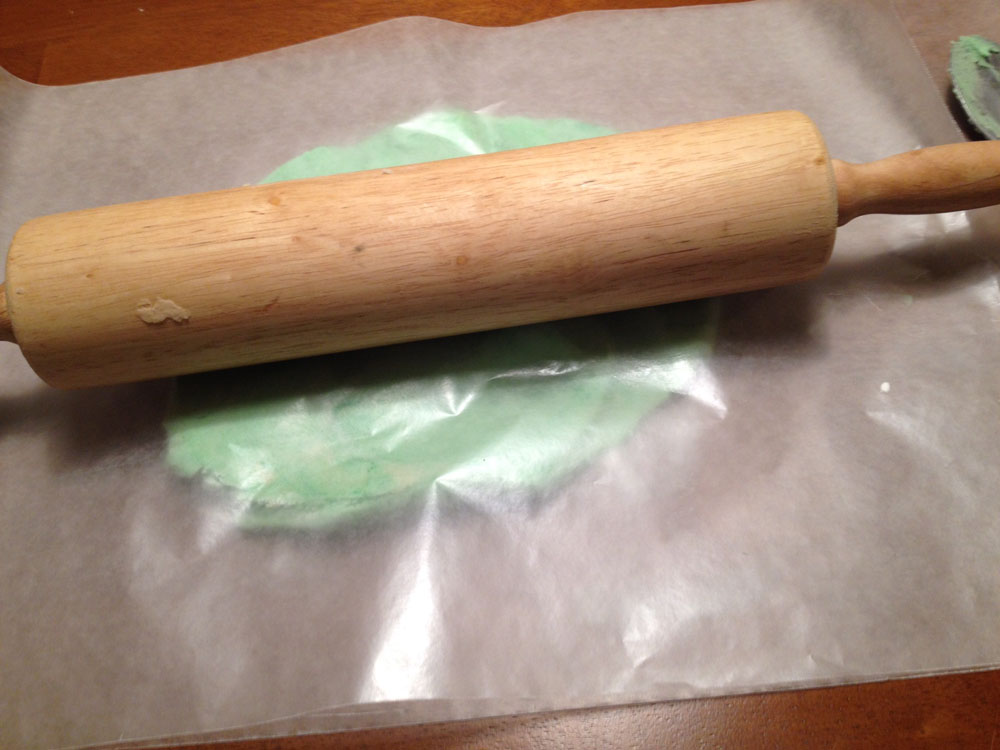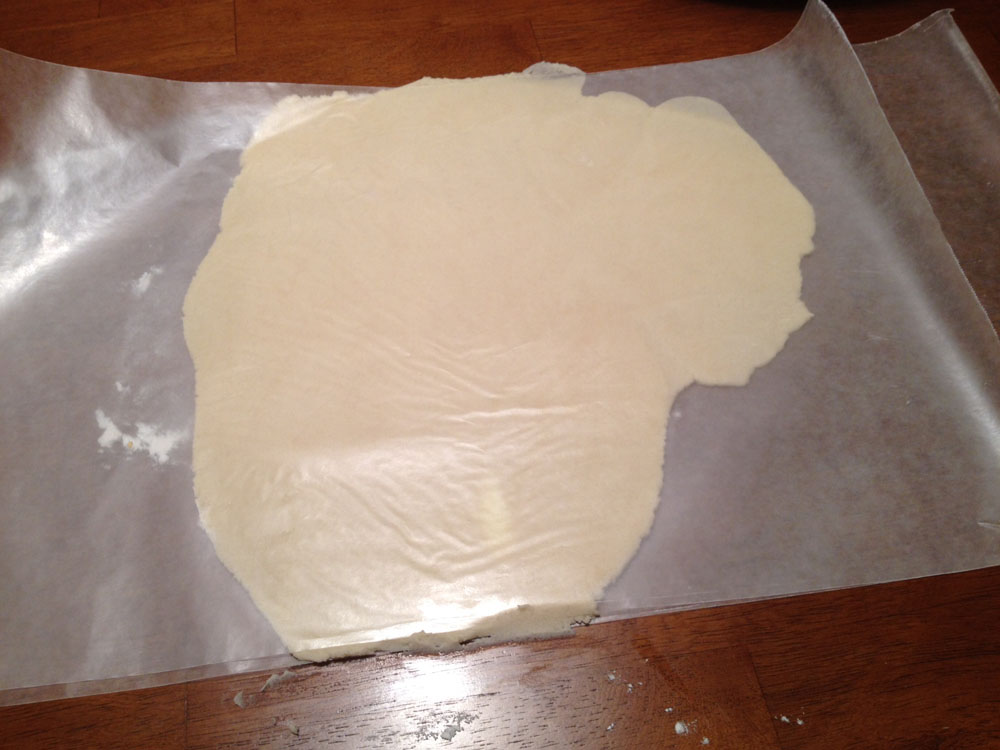 Place the dough inside the wax paper onto a baking sheet and place them in your fridge. This will help them set up so that they are easier to mold together later. I left them in the fridge for about 20-30 minutes.
Take them out and take off the top piece of wax paper on each. Now, you are going to place the green dough on top of the white dough. Take off the top piece of wax paper. Use your fingers to mold any cracked dough back to smooth. You can cut around the edges to make it all match up. My dough didn't all match up in some spots so some of my cookies don't have a swirl, but I was OK with that.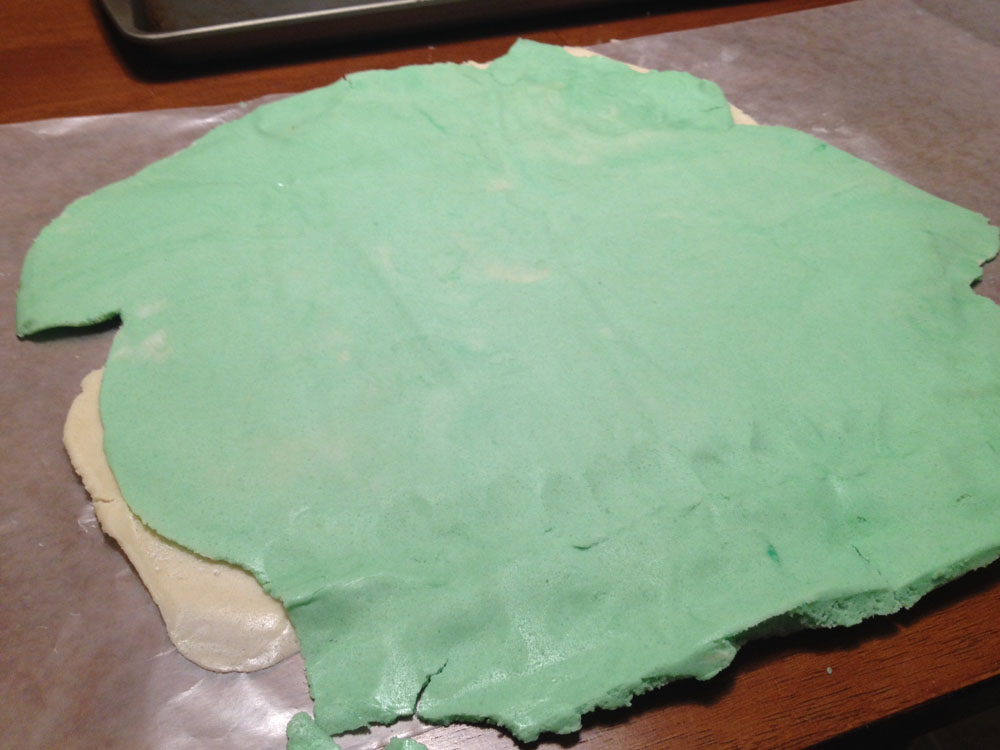 Then slowly roll the dough using the bottom piece of wax paper. This is the tricky part, but if I can do it so can you! Just go slow and don't freak out if it starts cracking or sticking. Use your fingers to mold it all back together.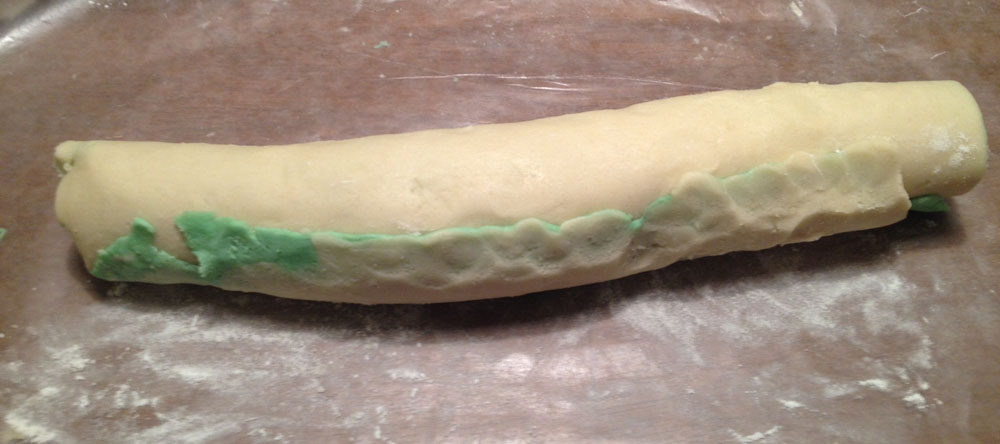 Once it is all rolled up, stick it in your freezer for about one hour. Then all you do is cut slices — not too thin or they will burn easily — and bake them at 350 degrees for 10 minutes. Let them cool before taking them off the baking sheet.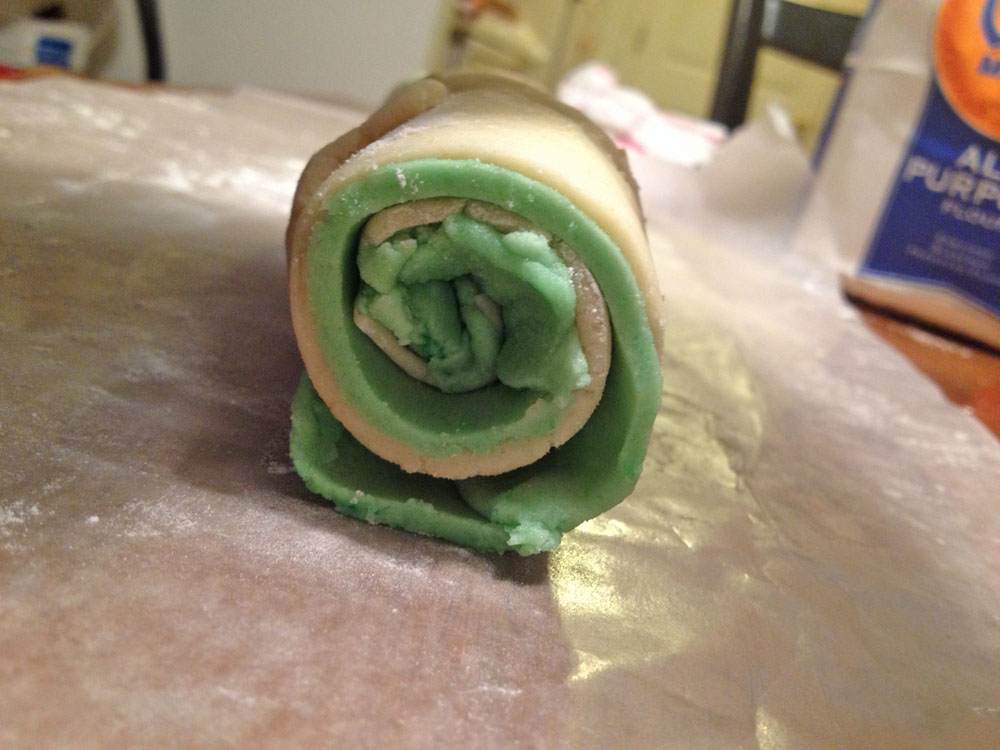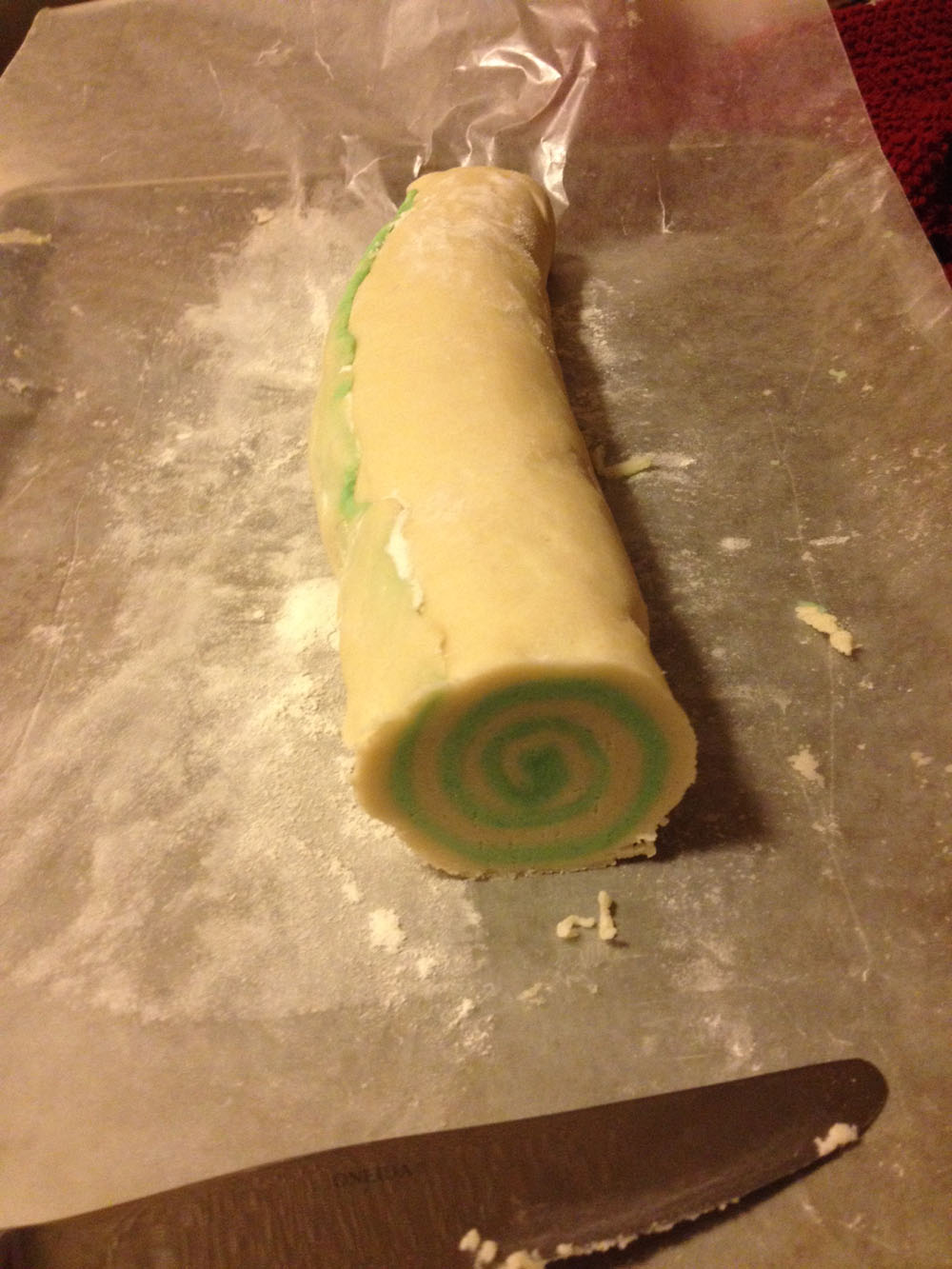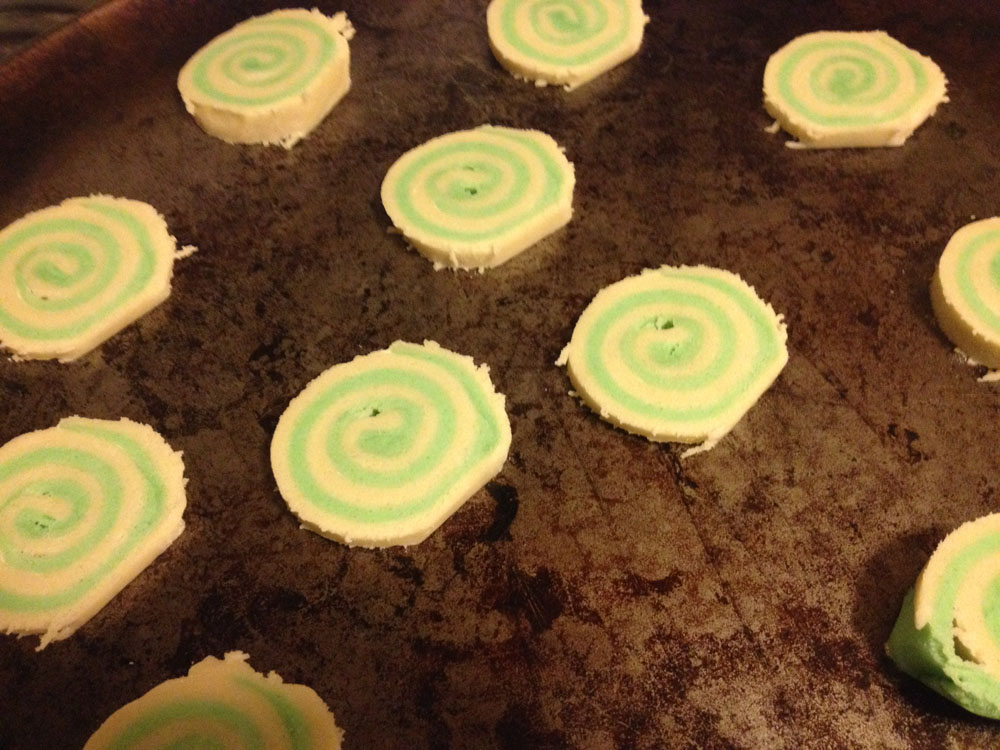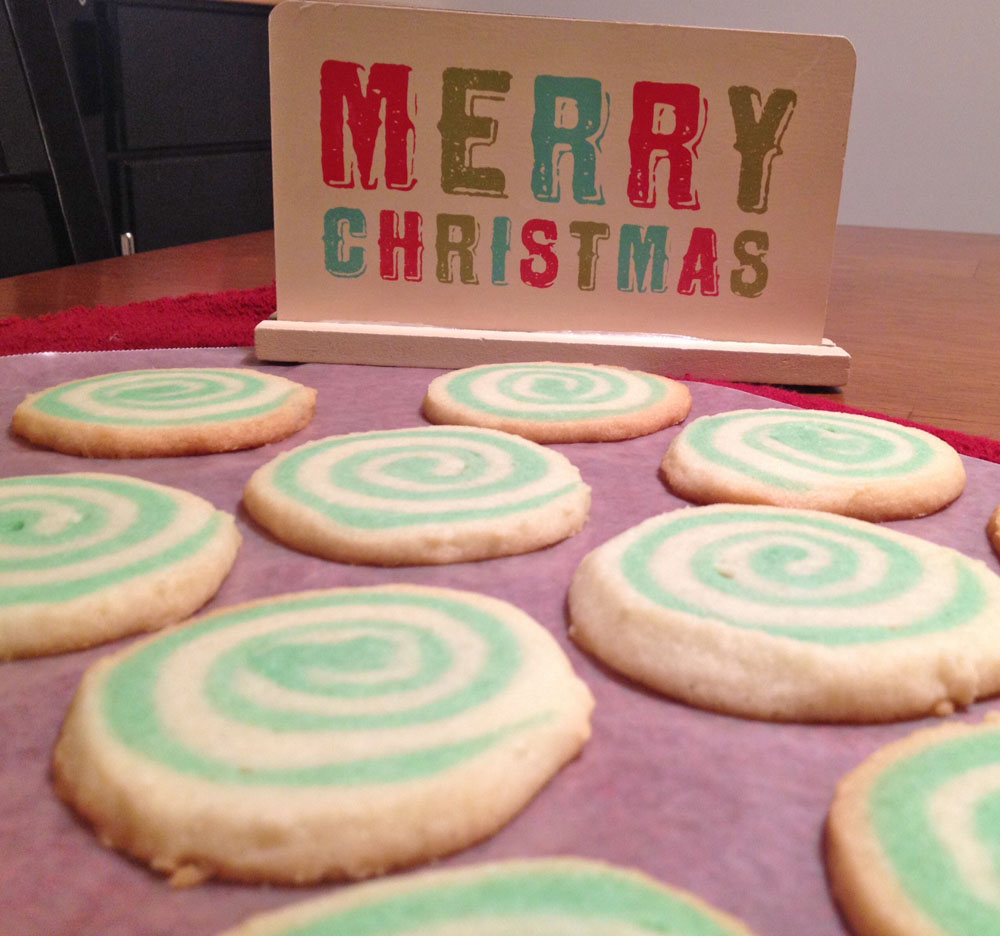 Holiday Cookies: Swirl Butter Cookies
Ingredients
2 cups flour
½ tsp baking powder
⅛ tsp salt
⅔ cup powdered sugar
¼ cup granulated sugar
2½ sticks butter, softened and cut into chunks
1 tsp vanilla
10 drops green food coloring
Instructions
Preheat oven to 350 degrees
Mix together flour, baking powder, salt, and sugars
Soften butter and cut into chunks
Gradually add butter chunks to dry mixture while mixing
Add in vanilla
Divide dough into two parts, set one on wax paper
Add green food coloring to second batch of dough, mix well
With wax paper on both sides of the dough, roll it out -- do this to both sets of dough
Let the dough chill in the fridge for about 20-30 minutes
Take off wax paper and put green dough on top of white
Cut around the edges to make dough match up
Using bottom piece of wax paper, roll the dough
Chill the roll of dough for one hour
Slice dough
Bake at 350 for 10 minutes