Tears came to my eyes. I could feel my heart breaking. It all felt so overwhelming.
We got back in the car, glad to be away from the constant gnats in our faces. It was quiet. I think we were processing. I was praying. Over and over. Help Brittany and Megan. Please God. Be with Brittany and Megan.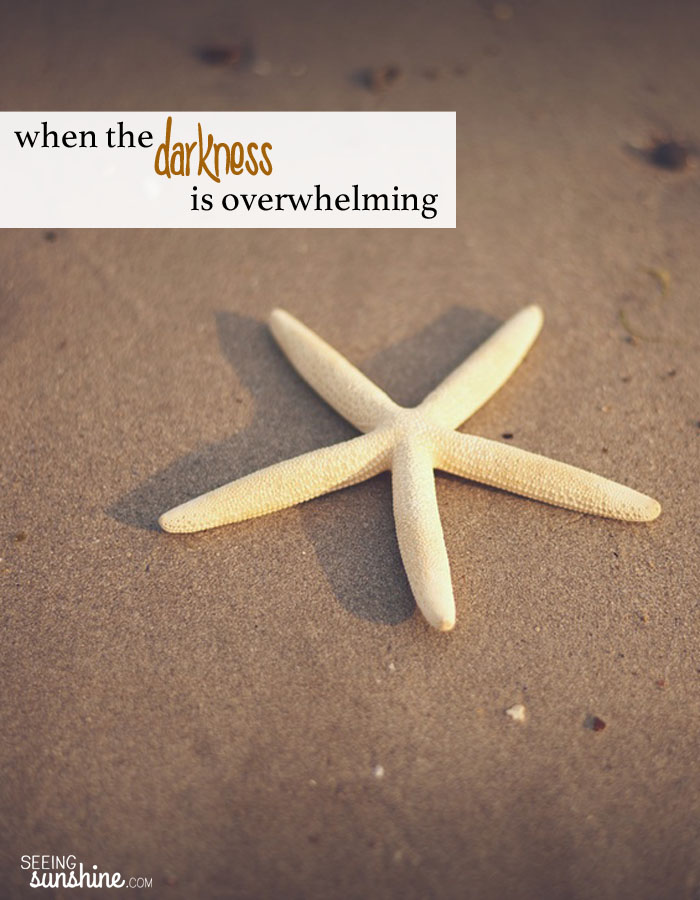 A few weeks ago, I went with three other women from my small group out to downtown Savannah. We followed a police officer, the homeless liaison, out to a homeless camp. We had brought some clothes, blankets, and bags filled with toiletries to give to the people living there. I didn't know what to expect at all. And situations where I don't know what to expect … well, it makes me so nervous and uncomfortable that I'd rather not go at all. At one point, I finally realized that God was probably going to do something awesome with this experience and perhaps Satan was feeding me lies in hopes that I would back out. And I almost did. But thankfully, I didn't. I went.
We walked into a bamboo jungle, which reminded me of the TV show Lost. But instead of being a deserted island, I saw tents, paths created by countless footsteps, clothes hanging from a line, a fire with only embers left. And people. Lots of people — some not too sure about us and others excited to show us their "homes."
It was an eye-opening experience. After talking with the people living there and handing out our supplies to those in need everyone, the police officer stood in the field and talked to us about the living conditions and different people in the camp. He goes to visit them each day — to fight crime, protect them, and create relationships. He knew each of them by name, knew which tent or makeshift shelter was who's, and knew what each person needed most.
As we stood in the field, swatting gnats from our faces and trying to remember not to complain because soon we would be home out of the heat, not living there like the others … well, that's when the officer told us about them. The two new women of the camp. The young women whose stories broke my heart.
It's taken me awhile to write this post. I wasn't sure what to say. I can't tell you the story of Megan and Brittany, as it's too graphic, too personal, too tragic. But I can tell you my story in relation to hearing their story. I needed time to process, but now I'm ready.
After hearing about these young women and what they have been going through, I couldn't imagine it was reality. My heart sank for them. When I finally got to my own car, leaving the women from my small group, I sat gripping my steering wheel. Tears turned to sobs and I cried out to God. I was overwhelmed by the way they all lived. Overwhelmed at the situations and lives they faced.
"There's so much God. How can I possibly save them? How can I make any difference? Please help them God. Please save them. I don't know what to do." I spoke aloud in my car through sobs.
After wiping the tears and calming down, I called my mom. I needed to speak about what I had seen and heard. I needed to share my sorrows and burdens for these people. My mother and I cried together for Brittany and Megan. Women neither of us have ever met. Women we probably never will meet. Women who desperately need a Savior.
And then my mother reminded me of a story I once told to others. A story I want to share with you, because sometimes this world's sorrows and evils can be so overwhelming that we feel there's nothing we can do to make any amount of difference.
A Story for When the Darkness is Overwhelming
A young man is walking along the ocean and sees a beach on which thousands and thousands of starfish have washed ashore. Further along he sees an old man, walking slowly and stooping often, picking up one starfish after another and tossing each one gently into the ocean.

"Why are you throwing starfish into the ocean?" he asks.

"Because the sun is up and the tide is going out and if I don't throw them further in they will die."

"But, old man, don't you realize there are miles and miles of beach and starfish all along it!  You can't possibly save them all, you can't even save one-tenth of them. In fact, even if you work all day, your efforts won't make any difference at all."

The old man listened calmly and then bent down to pick up another starfish and threw it into the sea.

"It made a difference to that one."
My mom reminded me of this story and how even the simplest act can make a difference to someone. The pair of underwear I handed to the woman who only had two pairs — that seemed so small, but perhaps to her it made all the difference. No, I wasn't pulling her out of poverty. I wasn't praying a prayer of salvation with her. I wasn't baptizing her in a pond. But I was making a difference. Even if it was in the smallest of ways.
Let us not become weary in doing good, for at the proper time we will reap a harvest if we do not give up. — Galatians 6:9
God did do something awesome during my time with the homeless that day. He told me about two of His precious daughters, desperately in need of my prayers. And ever since that day, I have been doing as He's asked. I have been lifting them up in prayer, asking for their protection, healing and salvation. Asking that they may find a way out of their lifestyle and into God's loving arms. Asking that God will send people into their darkness to spread some sunshine.
Perhaps you too have felt overwhelmed by the world's darkness. Please know that the smallest light can pierce that darkness — that you can make a difference. Even if just to one starfish.
Have you ever felt weighed down and unsure you can make a difference?
Follow my Pinterest boards Encouragement and Faith: Christian Living for more uplifting posts.