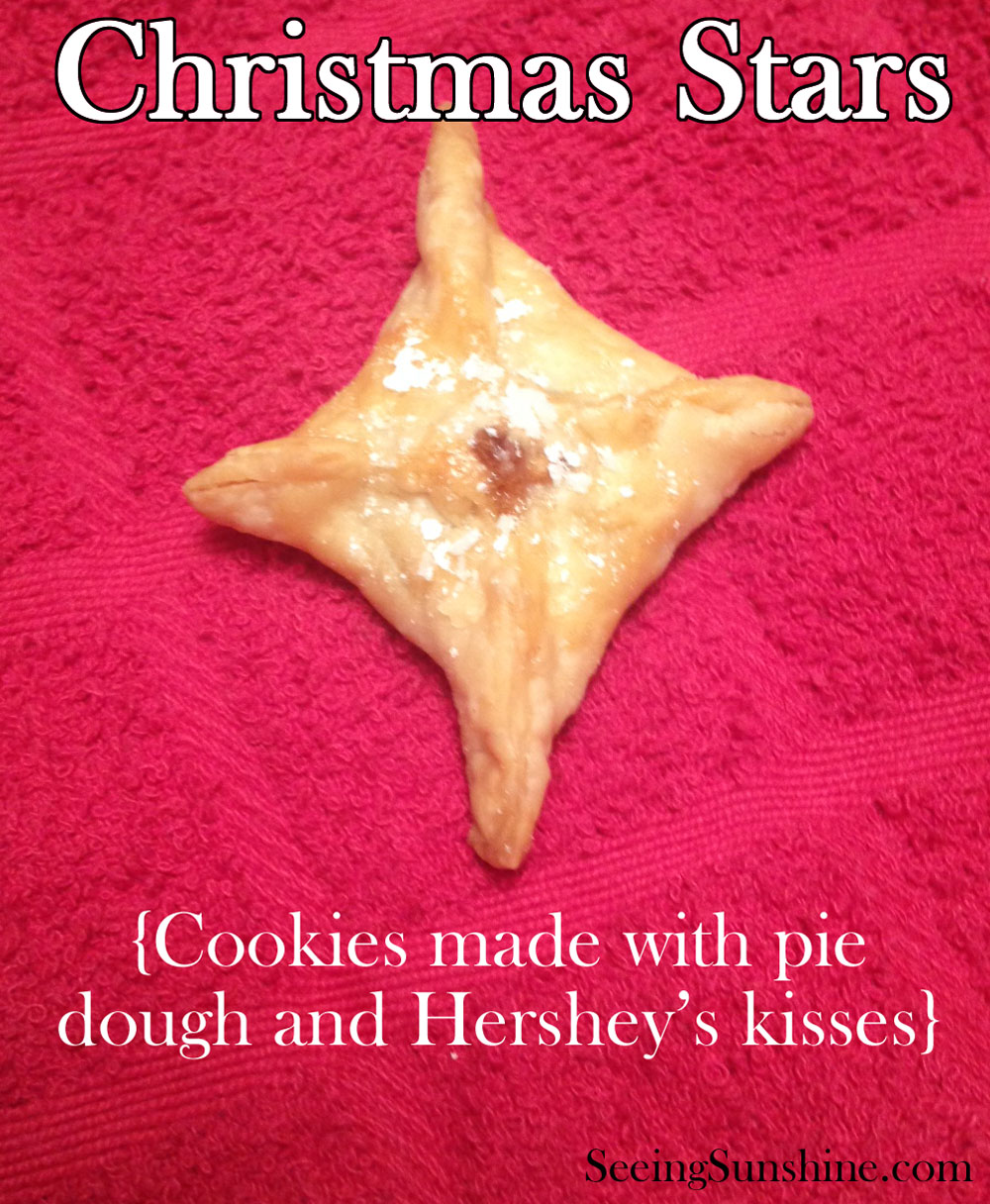 I've made these holiday treats several times because they are one of my mom's favorites. They are simple to make and look so dainty and sweet — perfect for a holiday party.
Here's what you'll need:
Pie dough (refrigerated and thawed)
Hershey's Kisses (I used Hugs, but you can use whichever you like best!)
Egg white
Sugar
Powdered sugar
Roll the pie dough out on your lightly floured table. You can make your own dough, but I buy the pre-made kind to make it easier. Place a kiss on the dough, and cut a circle around it. You want the circle to be about 2.5 inches around the kiss.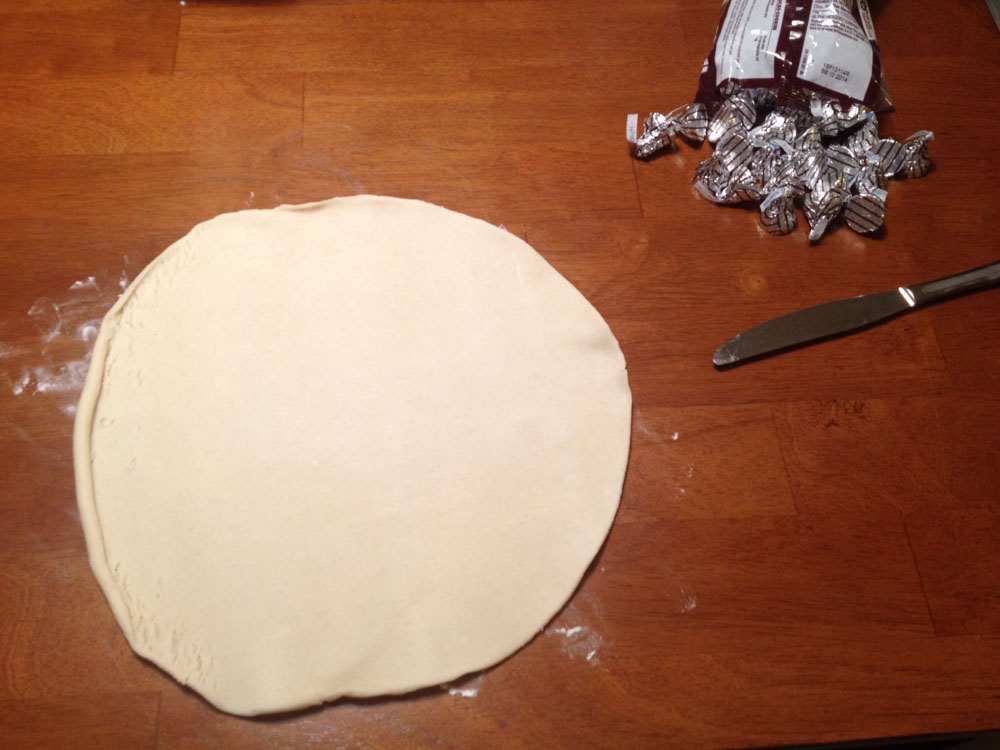 To make the most of my dough, I don't always do a perfect circle. Plus, I can't really make a perfect one anyways! As long as the dough can fit around the kiss, it doesn't necessarily have to be a circle. See this sorta circle? And this definitely wasn't even close to my worst one.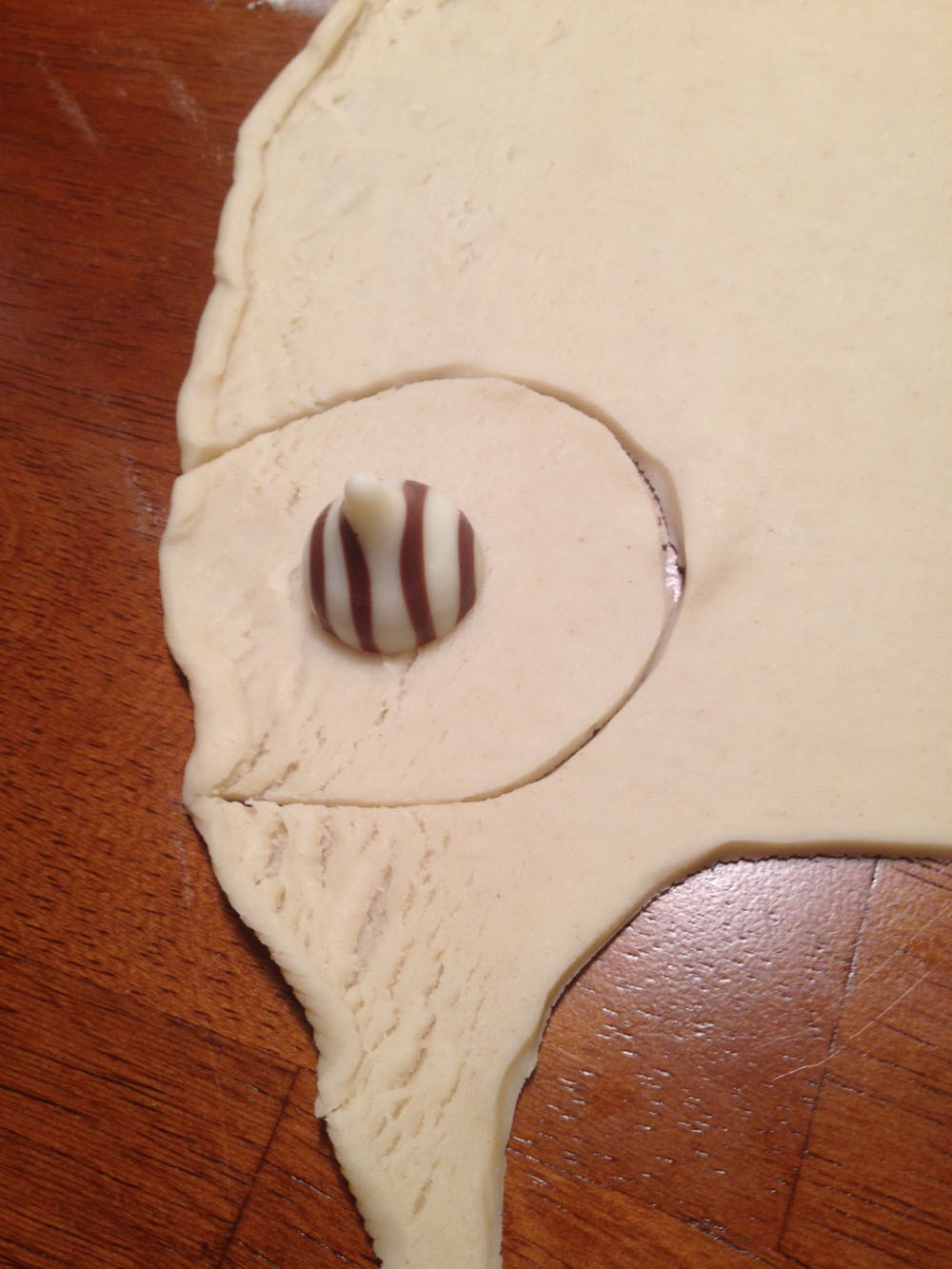 Fold the circle of dough around the kiss. Fold it up in half, then another half, pinching the sides together. It's hard to explain, but follow along with the pictures and you should get it! When you press all the sides together and pinch the top, it should look like a criss-cross.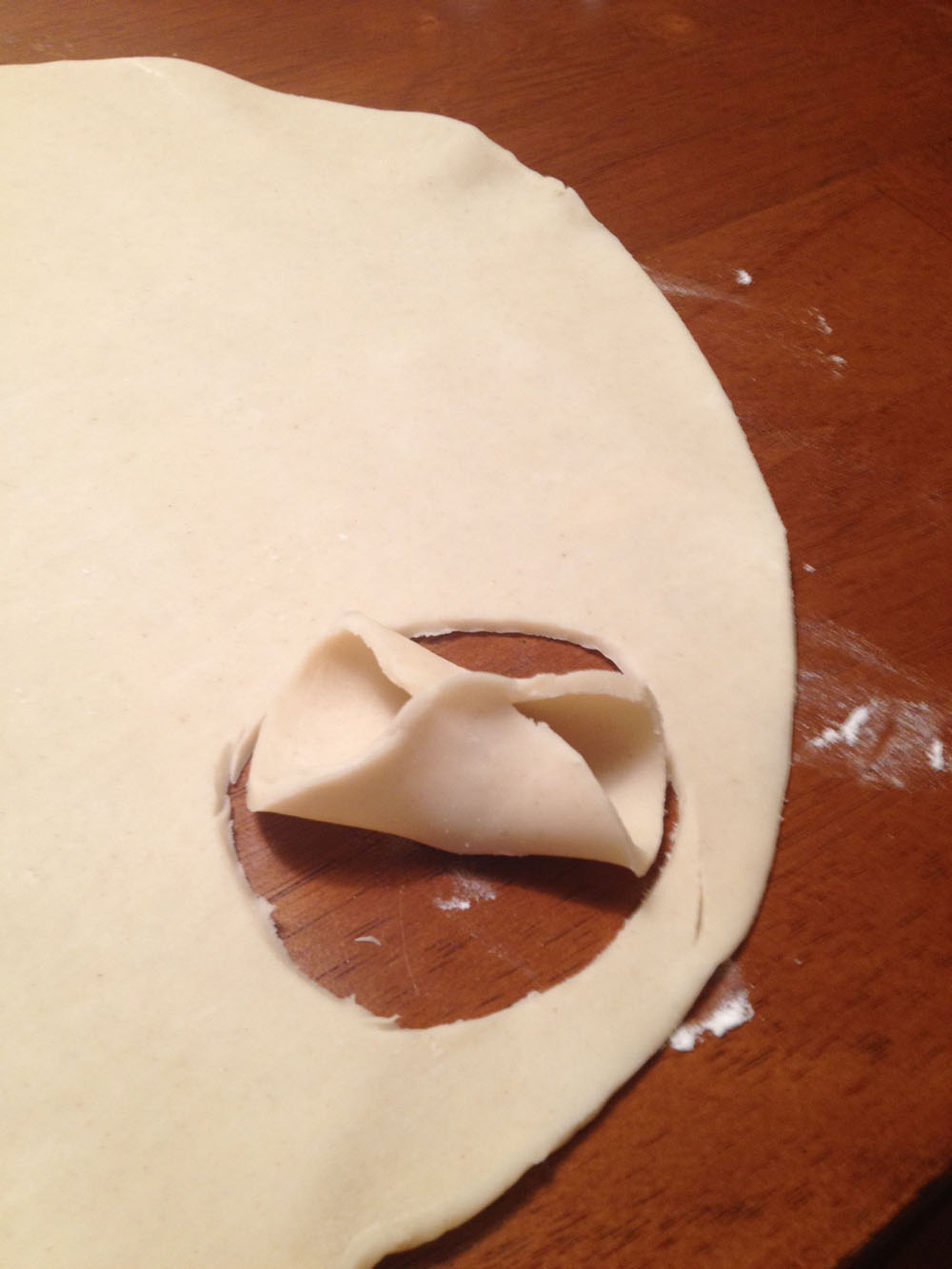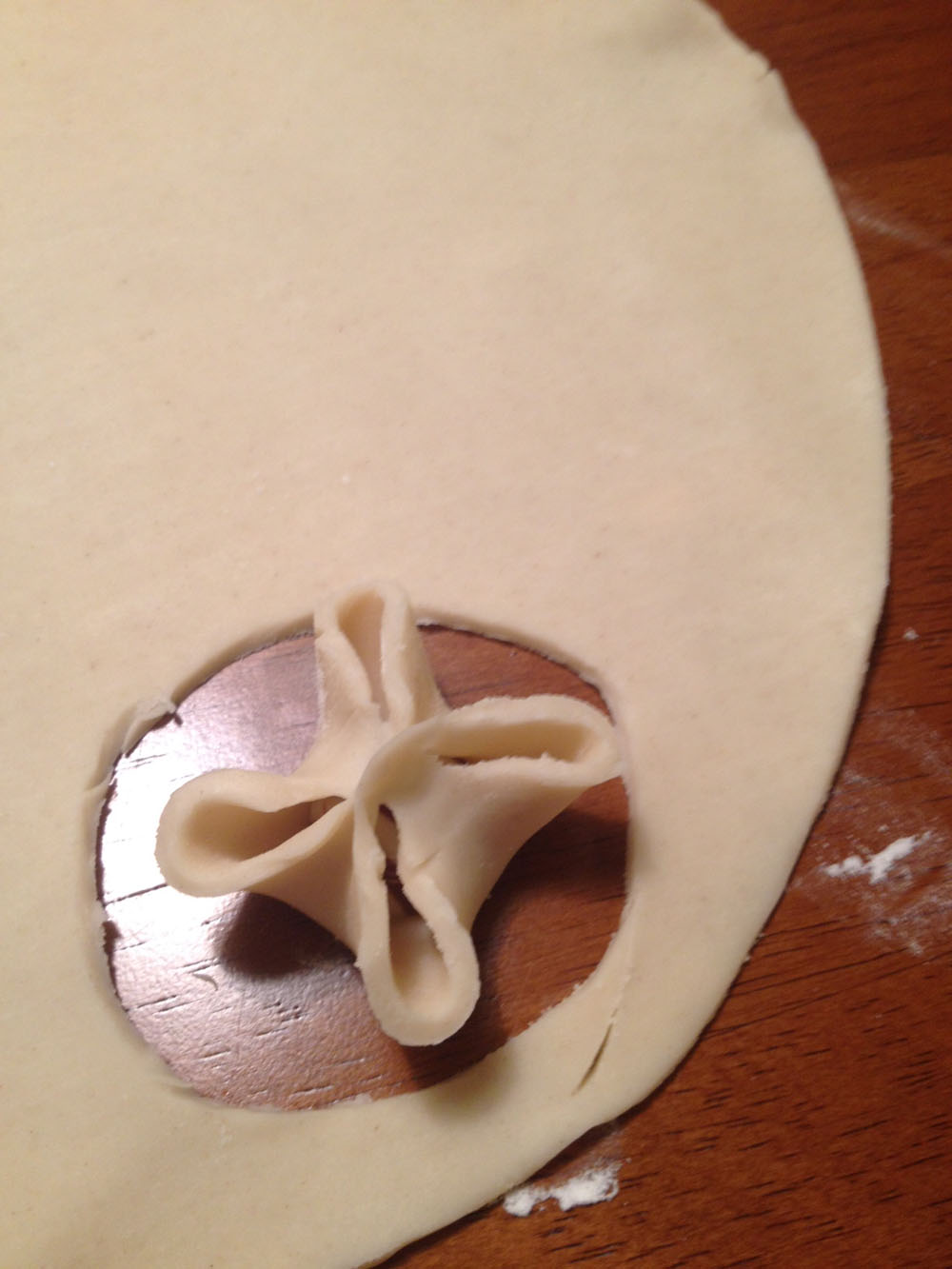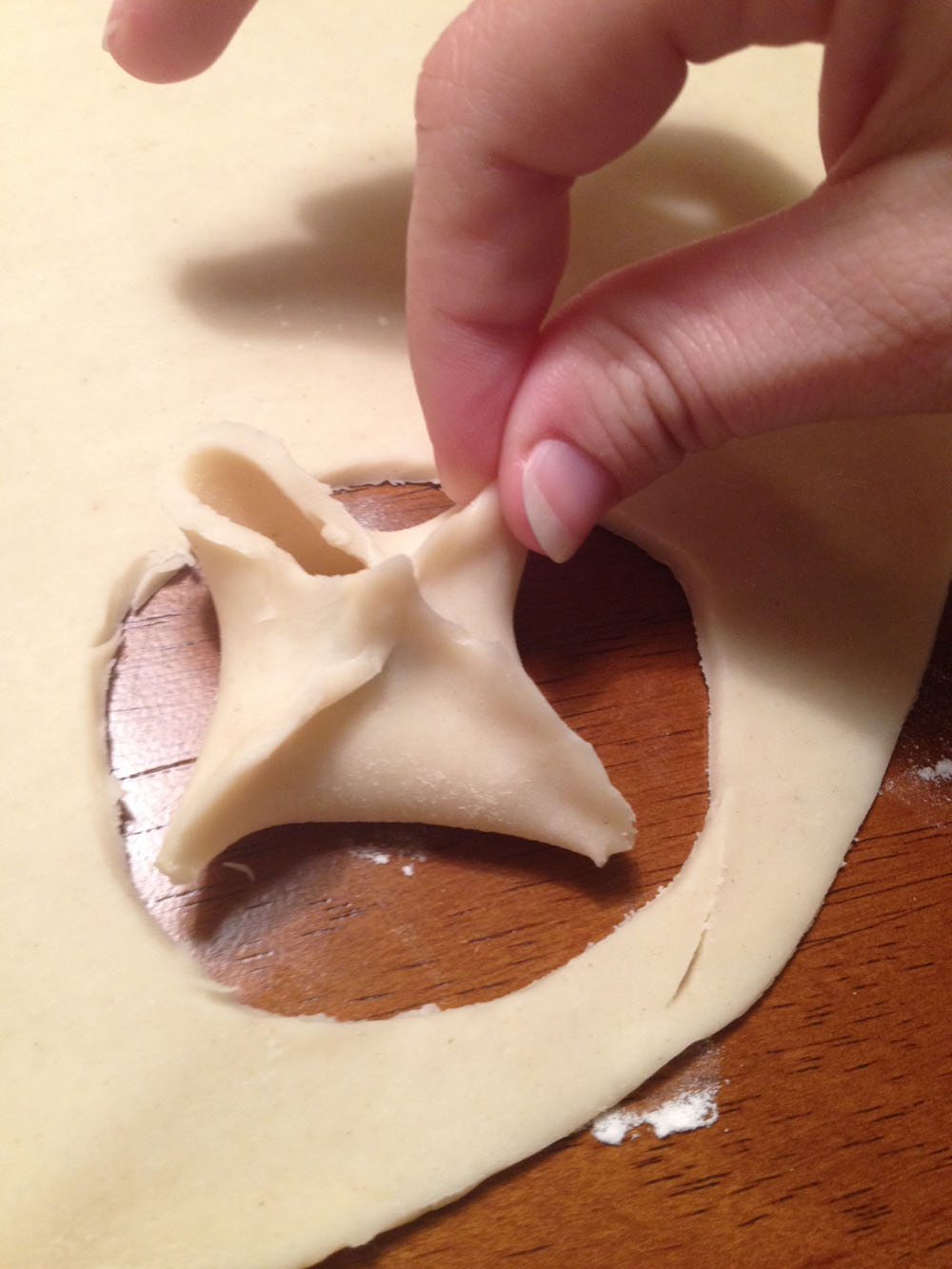 Do these steps over and over until you've used up all your dough. Place the little stars onto a baking sheet.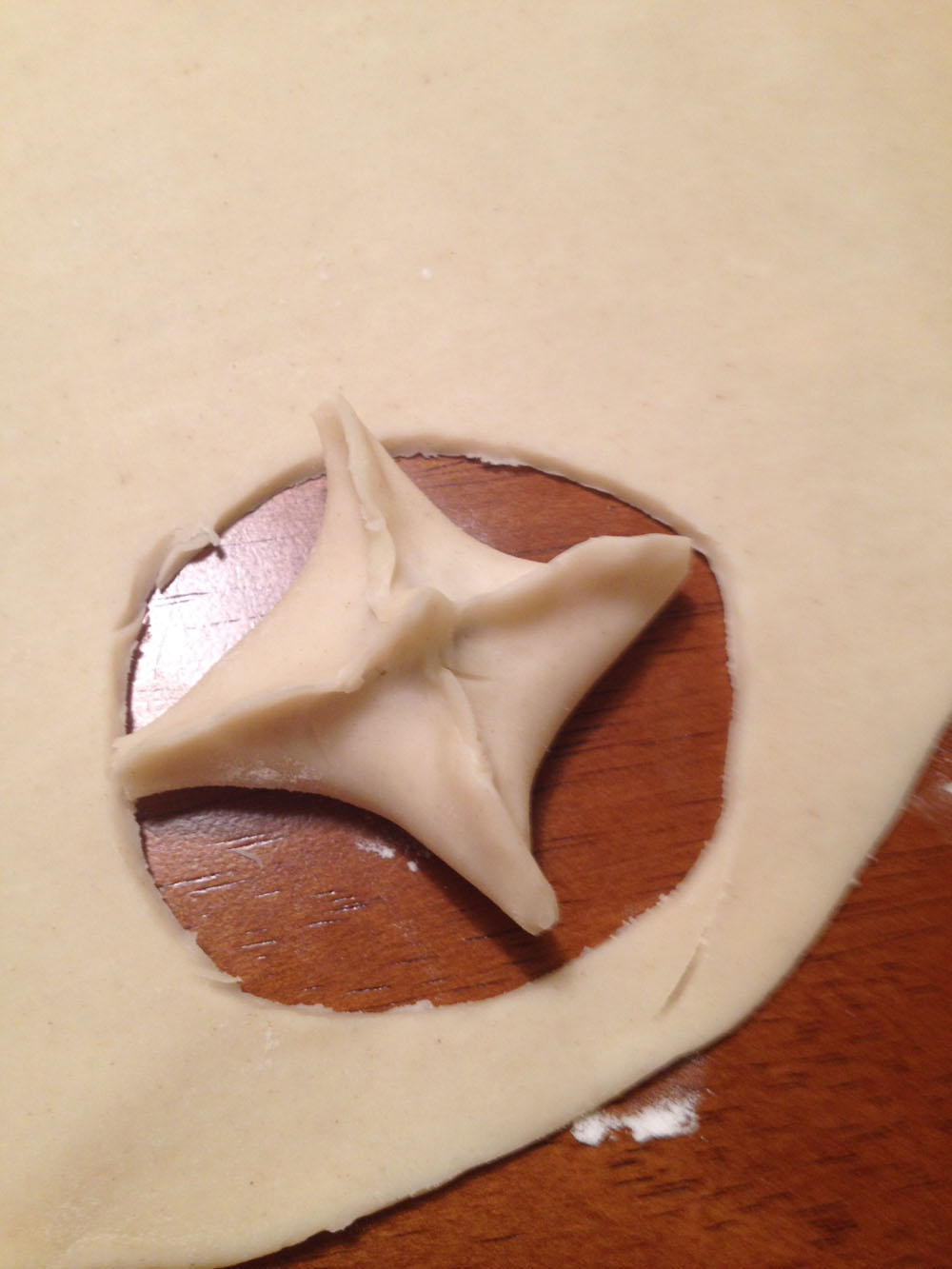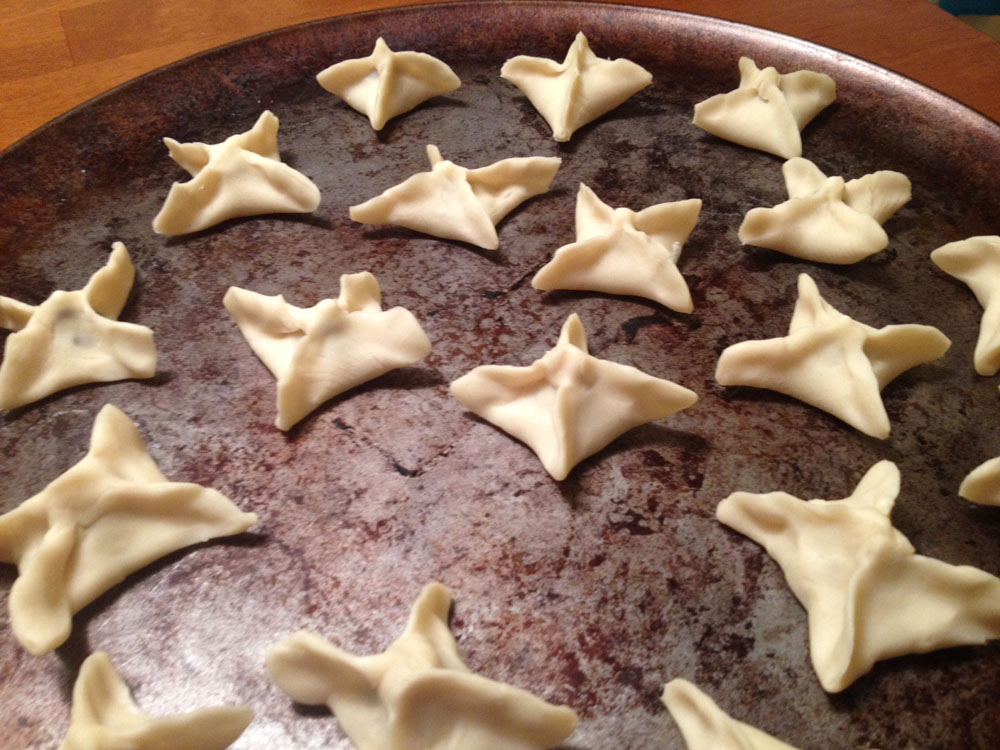 Now, create an egg wash. Whisk together one egg white and 1 Tbs of water. Brush the egg wash over each star. Sprinkle a little granulated sugar over each one.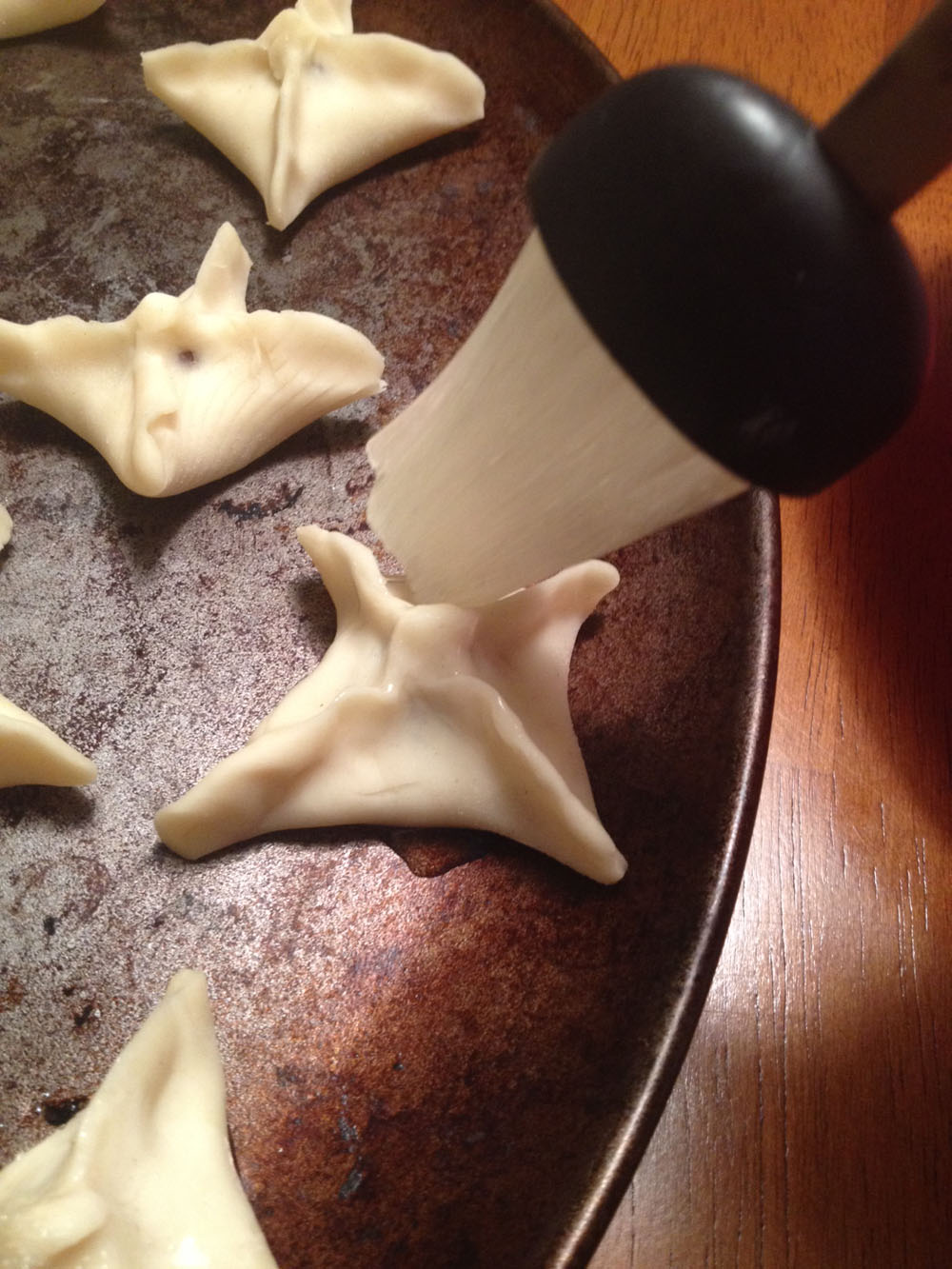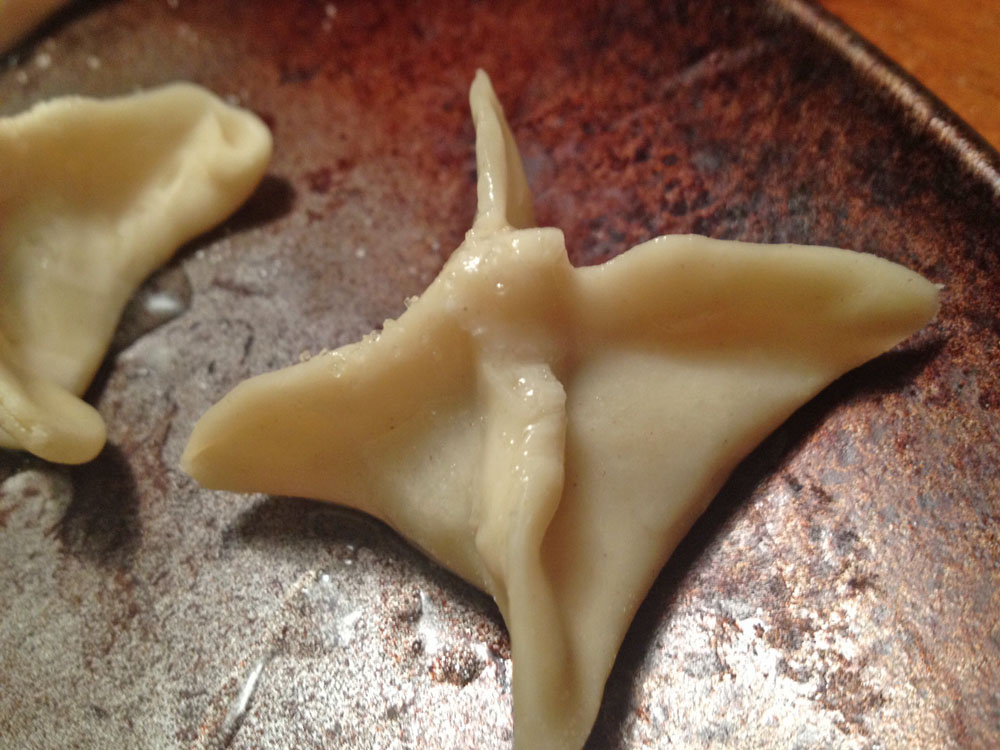 Bake at 350 degrees for 20 minutes, or until they are golden brown. Once the stars have cooled, sprinkle each with powdered sugar. Enjoy! (I was able to make about 18 stars with this recipe).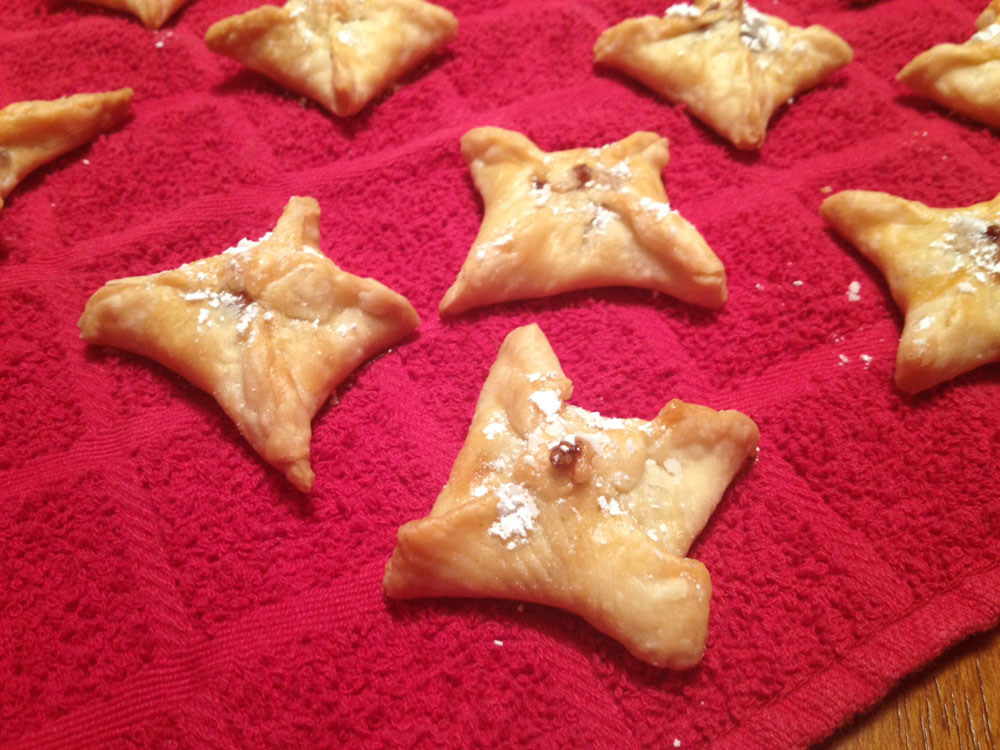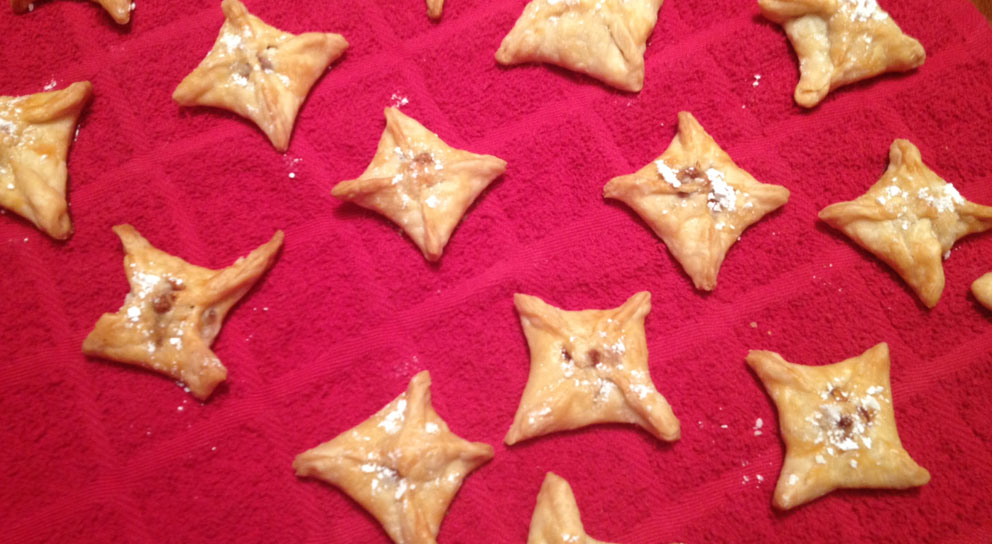 Holiday Cookies: Christmas Stars
Prep time:
Cook time:
Total time:
Ingredients
1 pie crust dough, refrigerated and thawed
Hershey's Kisses (whatever flavor you like)
1 egg white
1 Tbs water
Granulated sugar (to sprinkle on top before baking)
Powdered sugar (to sprinkle on top after baking)
Instructions
Preheat oven to 350 degrees
Roll out pie crust dough
Cut circles in dough around each Hershey's kiss, around 2.5 inches
Fold dough in half around the kiss, pinch at top
Fold other sides up around kiss, pinching all the sides together
Whisk egg white and water together
Brush egg wash over each star
Sprinkle each star with granulated sugar
Bake at 350 degrees for 25 minutes
Once cooled, sprinkle each star with powdered sugar
I adapted this recipe from Picky Palate.