Travis and I have been married for eight months this February. I think we are definitely still in the newlywed stage. We haven't had any big arguments yet — nothing we couldn't solve within an hour. We are so in love, and we both enjoy finding ways to show our love to one another.
But no matter how happy or healthy our marriage is, I believe there is always room for growth and improvement. Why not work on our relationship now while it's great rather than wait until we have problems? I believe it's important to work on your relationship from the very beginning to prevent future problems. And that's exactly what we've been doing.
Today, I'm sharing with you some great books to help you grow as a couple — whether dating or married. It's never too early to start strengthening your relationship!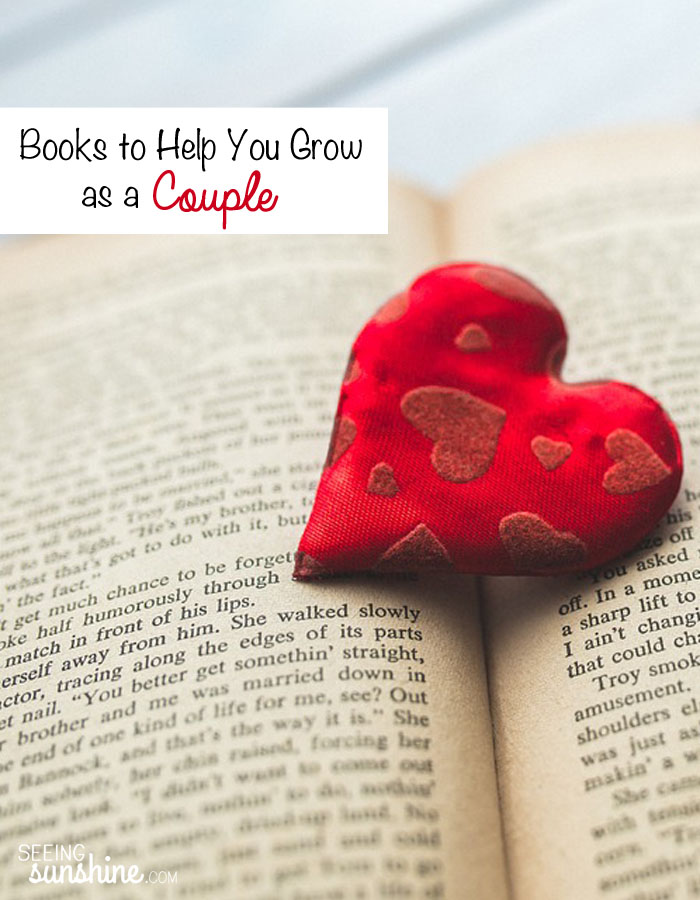 Let's start with the books we read before we were married. Travis and I read two books together before we got engaged and both opened up great discussion between us. These books helped us learn what our expectations for our future marriage and roles were.
Pre-Marriage Books
Before the Ring: Questions Worth Asking by William L. Coleman
We read this book early in our dating days. Although we weren't ready to be engaged yet, it was a book that gave us topics to think about and discuss before getting too serious.
101 Questions to Ask Before You Get Engaged by H. Norman Wright
This book was awesome! We started this book once we were more serious as a couple. We would take a couple questions at a time — a great thing to take in the car when you are on your way to the movies, etc. — we would take turns being the first to answer the question, but both of us would answer. This book asks questions about chore expectations, future children, fears, beliefs about baptism and communion, pet peeves and more. So many questions you wouldn't think to ask. In fact, as premarital counseling our pastor gave us a long questionnaire to fill out separately and then come together and share our answers. We had already answered most of the questions thanks to this book so there were no surprises. I highly recommend reading this book before putting a ring on it! 🙂 In fact, I recommend it so much I wrote an entire post about it!
Post-Marriage Books
The Language of Love and Respect: Cracking the Communication Code with Your Mate by Emerson Eggerichs

We received this book as a wedding present, and it is awesome. I loved reading this book and taking in so much knowledge about men, women, and our wacky relationships. This book explains why it can be so hard to communicate as a couple and how to make that communication better. I read this book and then shared different parts with Travis. This is another book I highly recommend. 
The 5 Love Languages: The Secret to Love That Lasts by Gary Chapman
Many of you have probably heard of this book as it is pretty popular. It talks about five different love languages that we all have — some stronger than others — for how we give and receive love best. This is a book Travis and I are currently reading through after taking the test to see what our top love language is. I love seeing how each of us has been intentionally speaking in each other's love language. When you are aware of what you and your mate's love language is, it's much easier to give and receive love. This book gives you specific examples and ideas for showing love in your mate's language. It's a great book for all couples — you don't have to be married to read this one. Plus, this concept works for all relationships from friends to children to parents — so it's a great read no matter what.
Quiet Times for Couples by H. Norman Wright
This is another book we received as a wedding gift, and we are currently reading through it together. This is a daily devotional with one-page devotionals, which means it's really easy to find the time to read it together. Travis and I will read one each day either before bed or in the morning, depending on our schedules. And if for some reason you get behind (which we did!), it is really easy to get caught back up because each passage is really short. I've really enjoyed this. This book has great insights and includes a Bible verse to go with each day. I highly recommend this book for married couples. I will probably use it as a wedding gift for some people I know.
Sacred Marriage by Gary Thomas (This post has been updated as I have now read this book.)
What if God designed marriage to make us holy more than to make us happy?  That is the question this book is all about. It is full of some really great insights into marriage. In fact, it inspired many of my marriage blog posts. Sacred Marriage makes you realize your marriage isn't about you and your spouse as much as it's about you and God. Check out one of my most popular posts inspired from this book: My Marriage Makes Me Feel Ugly.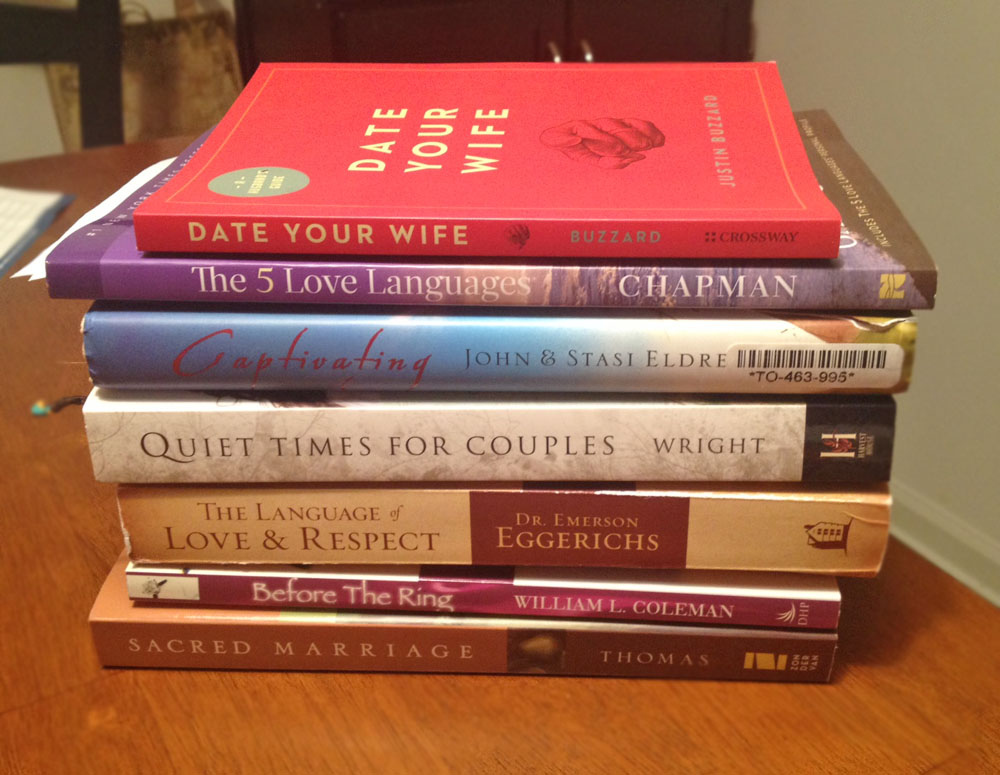 Other Books I Recommend
I also recommend reading Captivating: Unveiling the Mystery of a Woman's Soul and Wild at Heart: Discovering the Secret of a Man's Soul (both by John and Stasi Eldredge) together. Captivating is for women and Wild at Heart is for men. (Update: After a few years of marriage, Travis and I have both read these books. We each read our own book, highlighting the parts that really resonated with us. Then we exchanged books and read them, noting the highlighted parts. It really helped us understand each other better!)
Travis has read Date Your Wife by Justin Buzzard, and he said he would recommend it to other husbands.
Other books we plan to read in the future or that I've heard are awesome and we should read include:
There are so many great resources out there for couples. And there's no better time to start improving your relationship than right now. Marriage is an awesome commitment with so many benefits, but it also takes a lot of work by both partners.
Share with us: What other books on relationships do you recommend?
Check out my other marriage posts here and be sure to follow my Pinterest board Loving My Hubby and Good Reads.
You may also like: