Travis and I have been married for almost 9 months now. We enjoy talking about the future. Having a forever home, future careers, and starting a family… As fun as it is to think about getting pregnant or having our first baby, we are not ready for that stage in our lives. Not ready at all. There are so many things we want to do before we change our lives forever. And a baby will definitely change things!
For those of you out there wondering if it's time for you to start expanding your family, here's a list of things you should do before you consider starting a family.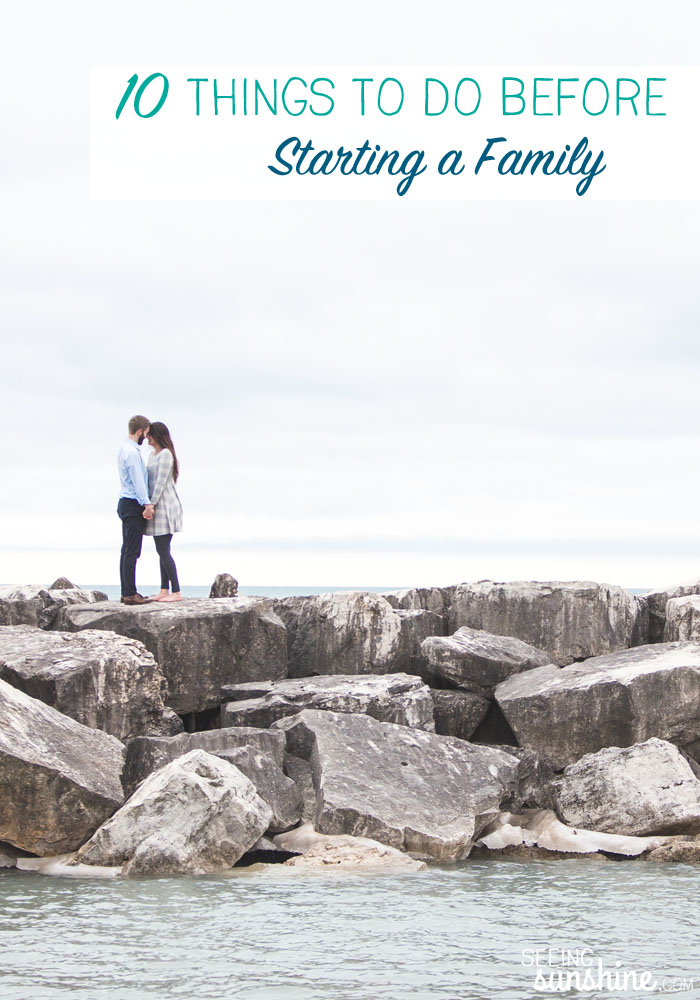 10 Things to Do Before Starting a Family
1. Strengthen Your Marriage
This is the most important thing you should do before expanding your family. You and your spouse should be strong in your marriage before adding someone else into the mix, don't ya think? This is the time to read books to help you grow as a couple, go on a marriage retreat, work out any problems you have or have had in the past, and if needed go to marriage counseling.
2. Travel
This one is my favorite! Traveling is the main thing keeping me from having a baby right now … well, that and just feeling not ready. at. all. You and your spouse both have certain places you've always wanted to travel. Make it happen now — when you don't have to take a kid with you or worry about finding a babysitter. Make a goal to go to at least one place you both want to visit before getting prego. And it doesn't have to be some place across the world, it can just be a small road trip to somewhere nearby. Travis and I want to take a trip to California and go on a cruise before we start a family.
3. Save Money
Let's get responsible. Being financially responsible and saving as much money as possible is so important before you have to start handing out cash like an ATM. Yes, having a baby means spending money. And it never stops. So prepare yourselves by paying off as much debt as possible and building up your savings. Travis and I have savings for retirement and a forever home, as well as regular savings and investments.
4. Talk about Expectations
Adding a child to your family can be stressful. If you both have different expectations about parenting, it can cause even more stress. That and the lack of sleep can cause havoc on your marriage. To prevent that, talk about your roles as parents, discipline, chores like feeding and changing diapers, etc. If you both are going in with the same expectations, things will run much smoother.
5. Have Breakfast in Bed
Sleep in, have breakfast in bed, cuddle, make love, cuddle some more. Once you have a bunch of little kids running around, you'll probably never get this chance again. Well, not until your kids are all grown up and have houses of their own.
6. Go to an Amusement Park
Yeah, you will probably take your kids to amusement parks, but it's such a different experience when you don't have to push around a stroller or explain why you can't buy that toy at the gift shop. Going to an amusement park as a couple can be so much fun and a great way to bring out your kid at heart. Travis and I went to Disney World together, and it was awesome!
7. Make a Date Night Routine
There are so many restaurants Travis and I want to try — that's why we made a food passport! Making a routine to have a date night together gives you a chance to try out new restaurants. It's important to make sure you take time for just the two of you to connect, so making that routine means you're more likely to keep it up once you have children.
8. Get in Shape
You have a lot more time when you are childless than when you have a bunch of toddlers to take care of. So this is the perfect time to hit the gym or take up a hobby like bicycling or tennis. Get in the best shape of your life and do it together as a couple. Travis and I are running in a 5K together soon. It will be my first one!
9. Do Something Wild
Do you have a bucket list? Now is the time to mark off some of those crazy, wild or dangerous items. Swim with sharks, go bungee jumping, go white water rafting or learn scuba diving. For me, I want to ride on the back of a motorcycle. Travis went sky diving and he's getting ready to take scuba diving lessons.
10. Pray for Them
If you know that someday you both want to have children, then it's never too early to be praying for them. Together as a couple, as well as separately, pray for your future children. Pray for the pregnancy, pray for the right timing, pray for provision and good health. Pray for yourselves as parents. You can even pray for your children's future spouses.
If you can check all of these items off your to-do list and you're ready to start a family, check out my Pinterest board Future Mommy Ideas.