Are the save-the-dates hanging on your refrigerator? Have the invitations been coming in the mail? Wedding season is just around the corner, which means it may be time for you to send in your RSVP and buy your wedding gift.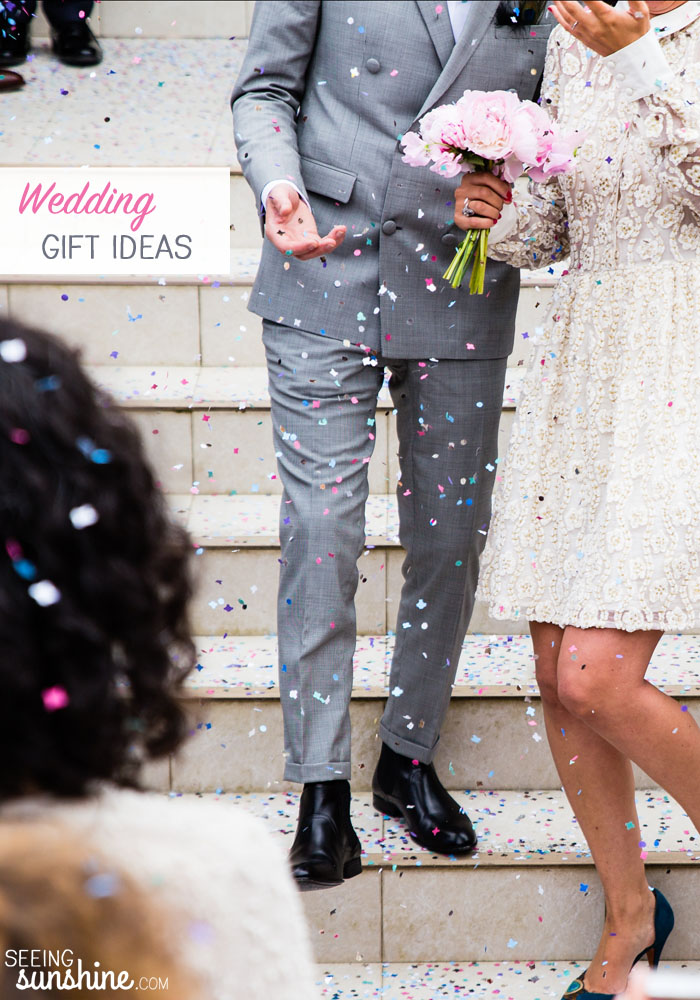 I love getting couples a great wedding gift. It's so fun shopping for cute things to give them as they start this marriage journey. I think gifts are becoming a top love language for me! Or maybe I just love shopping, who knows! Here are some great wedding gift ideas for all those lovely bride and groom couples.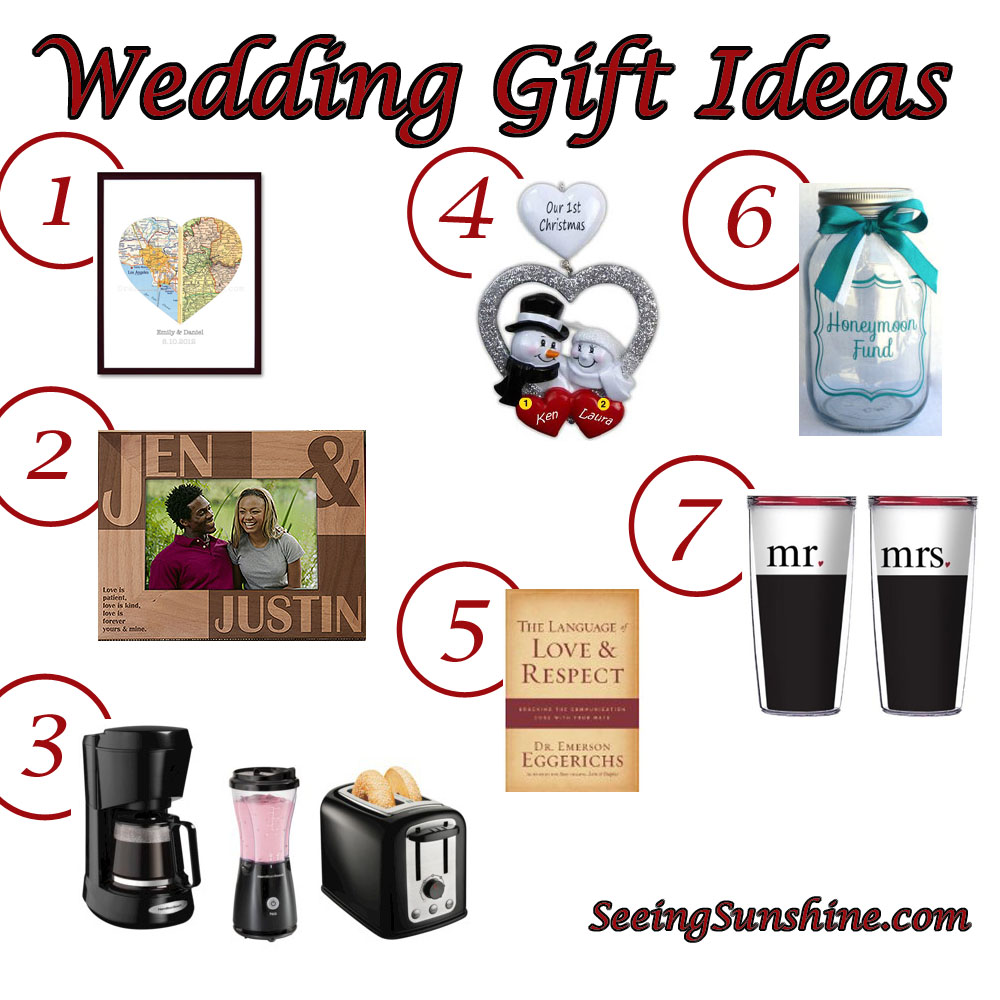 Gift Ideas for the Bride & Groom
1. Personalized Home Decor. Etsy has all sorts of gorgeous handmade decor pieces for the new couple's home. Giving the bride and groom something personalized is extra special. Check out the wooden blocks, the engraved cutting boards, the family name signs (we have one of these and I love it!), the wedding date art, or map art.
2. Personalized Picture Frames. This website has lots of other personalized wedding gift options like the beautiful frames that can include the couple's names and their wedding date. They also have personalized things like a family Bible, pillows, cookie jars, or welcome mats.
3. Registry Items. The bride and groom register for a reason — these are the things they want, things you can guarantee they will like and use. We were so happy whenever we opened an item off our registry, and we are still using all of them. We used a lot of the cash we received toward the items on our registry that we didn't get. Ask the couple where they are registered.
4. Christmas Ornaments. As a new couple in a new home with your first Christmas tree, you don't have a lot of Christmas ornaments. This is such a neat gift because it's something they can pull out every Christmas to remember their special day.
5. Couple's Books. We received a couple different books as wedding gifts, and I loved them. Books about marriage, couple's devotionals and books about love are all great options. Check out my favorite couple's books here.
6. Honeymoon Fund. Depending where the couple is planning to go for their honeymoon, some resorts have a honeymoon fund where people can give a certain amount of money to the couple as a wedding gift for their honeymoon. The money goes toward excursions such as snorkeling, horseback riding, swimming with dolphins, or ziplining. These excursions were my favorite part of our honeymoon! You can send the money online, so it's really easy. And it gives the couple a memory they will never forget. Check with the couple to see if they have this option for you! (Or you can always write them a check with the orders to use it toward the honeymoon!)
7. Honeymoon Goodie Bag. Create your own honeymoon kit by adding lots of fun items for the bride and groom to use on their honeymoon. Depending on the destination, you can add in items for the plane ride, the beach, the long drive or the cozy cabin. Items can include snacks, magazines, sunblock, his and her tumblers,Tylenol, flip flops, playing cards, beach towels, champagne, chapstick, gum, a packing list, travel games, or even lingerie.
Share with us: What was one of your favorite wedding gifts?
You may want to check out these other posts:
You should also follow my Pinterest boards Wedding Ideas or Party & Gift Ideas.