As a military family, there are going to be many weeks or months or years where my husband is away.
This week my husband has been in the field for training. Next month, he'll be gone a little longer. The month after that he'll be gone longer still. And a few months from now, he'll be gone for a whole month.
I just keep telling myself that's nothing — this isn't a deployment. But since we haven't been through a deployment yet, this kind of sucks. No matter how long your husband will be gone, it's totally OK to wear one of his shirts, eat cereal for supper, and wallow a little in your loneliness. Missing him is a good thing. It means you love him. As they say, absence makes the heart grow fonder. However, you don't want to spend every single day in his dirty sweatpants, stuffing your face with pints of ice cream.
So I've come up with a list of things to do while hubby is away — whether that be for training, because he's out in the field, he's deployed, or maybe he's off on a business trip. This list works best for wives who don't have children yet or for those moms who can get a babysitter. So let's get started!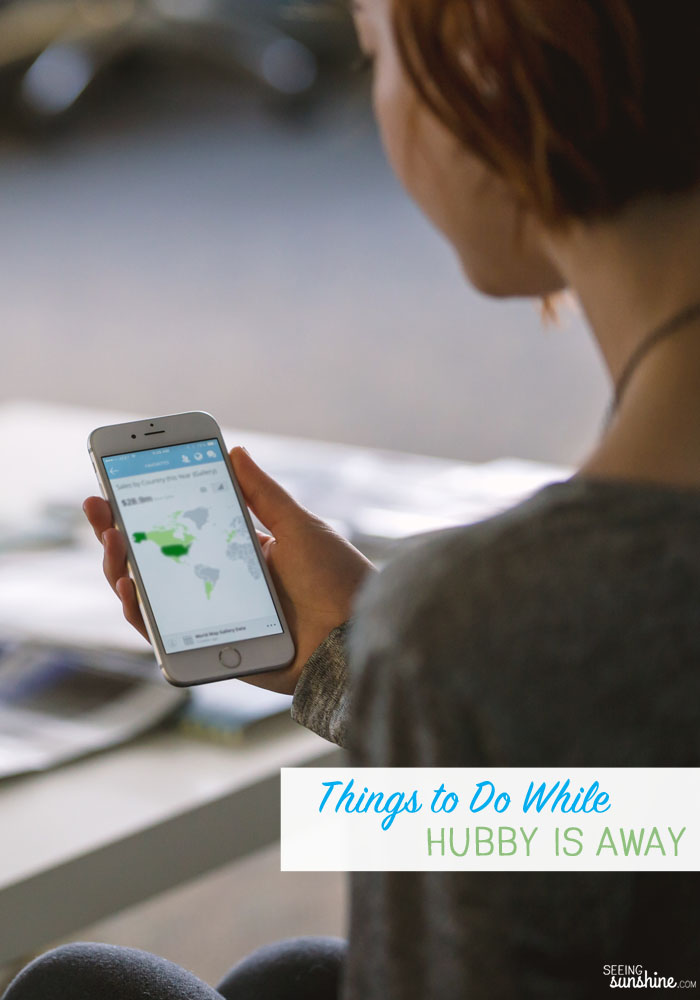 What to Do While He's Away
Work Extra
OK, I know this doesn't sound fun. Not all of these are going to be fun, but they are things to keep your mind off of the empty bed you'll crawl into that night. Since you don't need to get home right away to make supper, work some overtime. Rack up the dough! Or if you are like me and work from home, I've been using this time to get ahead on all my stories. I love being ahead — it takes the stress away later (You know when I'm wanting to spend time with my hubby)!
Pamper Yourself
Choose a day to focus on yourself (especially after all that work). You need to relax and rejuvenate. If hubby is gone for a long time, you can have a Pamper Yourself Day once a month! Go get a facial, a massage, and a mani/pedi. Or if you're looking for something less expensive, create your own. Light some candles, put on some soft music, and use bath salts while soaking away your stress in the bathtub. Use a facial mask — you can get cheap ones at Walmart for just a couple bucks. You can even go all out and chop up a cucumber to put on your eyes! Paint your nails and toenails yourself. Relax and enjoy.
Visit Family
Whether you live close or far, this could be a great time to go home and visit family. Drive, fly, take a train, take a bus, take a boat — just get home! If you don't have the money to travel, Skype or face time or just talk on the phone. You can call someone new each evening and catch up.
Have a Girls Night
Get all your friends together and go out for dinner and drinks. Or have them over to your house for dessert and wine. Or go out for brunch one morning. So many options! This one is especially great if your friends' husbands are gone too!
Work Out
Depending how long your husband is gone, you can focus on a work out regime to get into your best shape. When your husband comes back, you'll be the hottest you yet! What a welcome home present! Even though my husband was gone for just a week this time, I was still strict about making sure I worked out every day. And since I knew there was no one home, I spent as much time as I wanted at the gym.
Read a Book
Start a book you've been wanting to read. I have a hard time falling asleep sometimes without my hubby next to me, so having a book to read before falling asleep helps me grow tired. You get to fall into a character's life and forget about your own for awhile.
Eat Breakfast for Dinner
A friend of mine recently said she was excited to have breakfast for dinner. Her husband doesn't like breakfast for dinner, but since he'll be gone she can make it all she wants. If there's some food you love and your husband hates, now is the time to eat it! Go to that restaurant he doesn't like, make the meal you can't make while he's home. Here's your chance!
Watch That Show
Do you have a guilty pleasure show? Or maybe it's not a guilty pleasure but you love it and your hubby can't stand it? Pop some popcorn and watch it until your heart's content!
Deep Clean and De-Clutter
Without the one making the messes around, it can be easier to spend some time cleaning. Put on some upbeat music and work from room-to-room deep cleaning or de-cluttering. This is also your best chance for throwing out that disgusting old T-shirt he always wears. "I don't know where it is honey … did you look in the bottom drawer? I haven't seen it…"
And last but certainly not least …
Don't Shave Your Legs!
Enough said.
If you have other ideas for things to do while hubby is away, I'd love to hear them in the comments!
You may also want to read:
Be sure to check out my Pinterest boards Loving my Hubby and Military Life.