If you just got your orders and you're wondering what Fort Stewart has to offer, this post is for you. This is the ultimate guide of things to do and places to eat when stationed at Fort Stewart. When you've finally unpacked your last box, you don't have to sit around wondering what there is to do in your area. Fort Stewart is a great location. It's just a few hours from some awesome places to explore and have fun. Check it out and get excited about this move!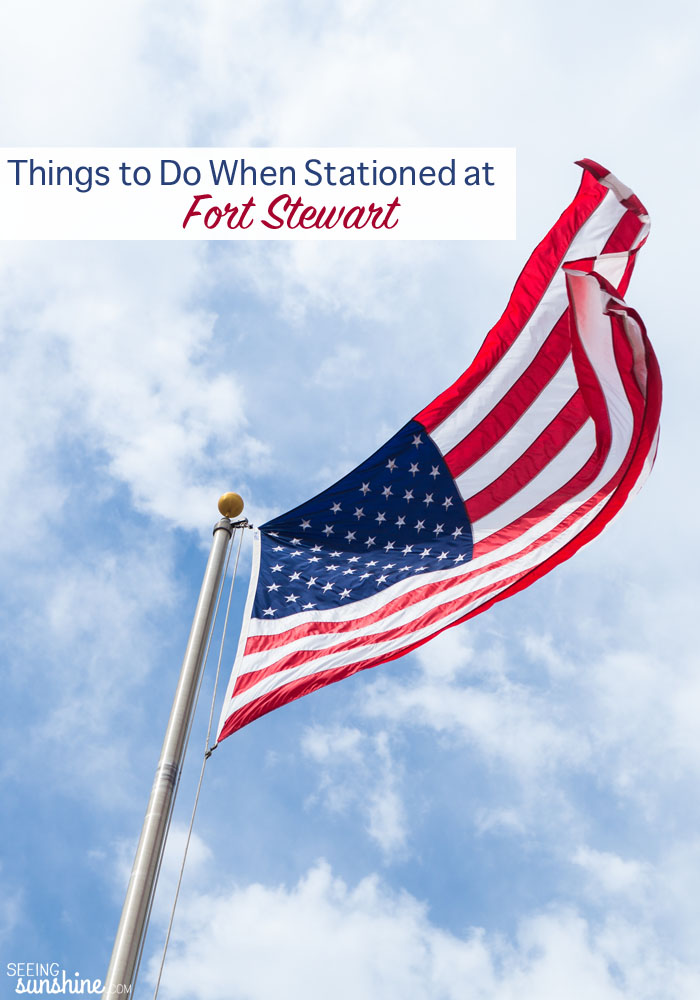 Best Things to Do Near Fort Stewart
Visit Savannah, which has tons of things to do and see and so many great restaurants to try. Read my post all about Savannah for more info! (around 45 minute to one hour drive)
Visit Tybee Island for a day at the beach. Read my post about Savannah to see some great restaurants Tybee has to offer. (a little over one hour drive)
Visit Jekyll Island for beaches, biking, a sea turtle hospital, and more. Great place to take your doggies! (a little over one hour drive)
Visit Cumberland Island for a day of hiking and viewing wildlife. This island is known for the horses that roam freely. So awesome! (a little over one hour drive, plus ferry ride)
Participate in MWR activities such as tournaments, trips, games, and more.
Watch a movie at The Ice Cream Stop's movie nights every Friday and Saturday for free in Richmond Hill. What a great evening with the whole family. They always play outdoor family-friendly movies for free every Friday and Saturday. Friday is a PG-rated movie, and Saturday is a G-rated movie. To find out what movie is playing, you have to check out their Facebook page. (a 30 minute drive)
Go Bowling at one of the two bowling alleys on post.
Watch a movie at the Jesup Drive-In movie theater. They have really delicious snacks to enjoy too! Another great family night for cheap! (a 30 minute drive)
Paint pottery at Midnight Star Pottery in Richmond Hill. This place is so cute and can be a great family event for the kids or a fun night out with friends. You choose what piece of pottery you want to paint (prices depend on what item you choose to paint), you choose your paint colors and paint away! A week later you pick up your piece after it's been glazed and fired. (a 30 minute drive)
Paint canvas at a Wine and Canvas event in various locations. What a fun night out with your new friends or a fun date idea for you and your spouse. They instruct you on how to paint a beautiful picture. You can also enjoy a glass of wine and refreshments too.
Visit Orlando to experience Disney World, Sea World, or Universal Studios. This is a great little trip when you have a four-day weekend. Military families can get into Sea World for free by the way! (a four hour drive)
Let the kids play at Jumpin' Jacks in Richmond Hill, which has bounce houses and arcade games or at Star Castle in Savannah for arcade games, roller skating, and lazer tag. Both places have cheap rates.
Go shopping at Oglethorpe Mall or Savannah Mall. Savannah Mall, which is closest to post, has a Target, Burlington Coat Factory, and Bass Pro Shop, as well as a few other stores. Oglethorpe Mall, which is a farther drive, has tons of stores and restaurants.
Visit Charleston, S.C. for a weekend getaway that will include history, shopping, and more. (2.5 hour drive)
Best Places to Eat Near Fort Stewart
Rodeo Mexican Restaurant (Hinesville) — for that night you just don't want to cook, really good food and great service too.
Jalepenos Mexican Restaurant (Richmond Hill) — great for a date night.
Zaxby's (Hinesville) — the best fast food place there is if you ask me!
The Ice Cream Stop (Richmond Hill) — a cute local place with lots of ice cream flavors and charming decor.
Chris' Curbside Grill (Hinesville) — burgers and more — be sure to try their sweet potato fries!
Sunbury Crab Company (Midway) — breathtaking views and delicious food!
Captain Joe's (Midway) — a huge soup and salad bar comes with every meal, one of those hometown type places.
The Shellhouse (Richmond Hill) — best seafood for a short drive!
Love's (Richmond Hill) — right on the water.
All Things Chocolate (Richmond Hill) — desserts galore!
Fish Tales Restaurant (Richmond Hill) — delicious seafood and a great view of the marina, live music some nights too.
Do you know of other great things to do or places to eat near Fort Stewart? Share with us in the comments!
You may also want to check out:
Be sure to follow my Pinterest boards Military Life and Travel for other great posts!