Remember that time we picked fresh blueberries and froze part of them? Well, I figured out what to use some of those frozen berries for. My husband loves cobbler. It's possibly his favorite dessert. So I wanted to make him some when he came home after a month of training. I knew his belly needed some real home cooking from his wife! I think he was pleased!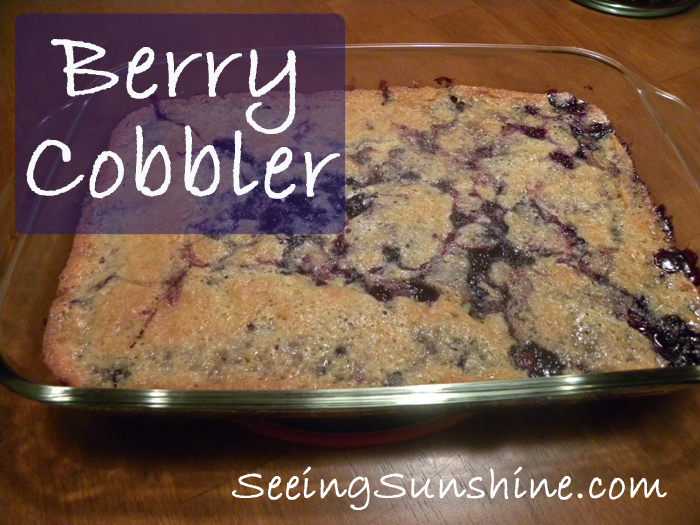 Here's what you'll need:
Berries (whatever kind you want, it can be a mixture)
Sugar
Butter
Flour
Baking Powder
Salt
Milk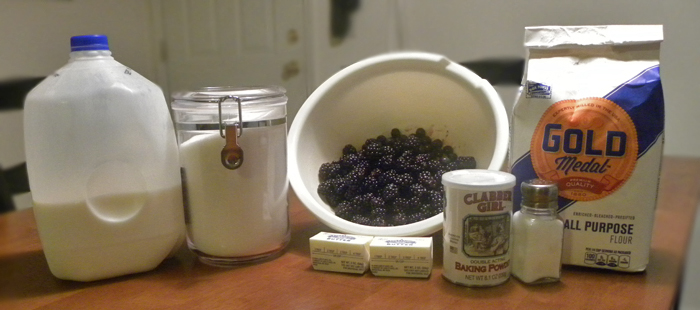 This recipe is so easy! I had to let my frozen blueberries thaw, so it you are using frozen fruit be sure to do that.
First, mix the berries with 1/2 cup of the sugar. I used blueberries and blackberries. Set that mixture aside.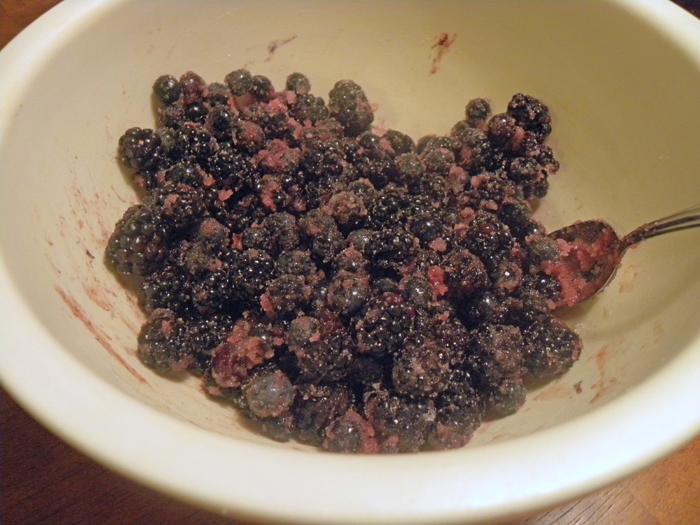 Preheat your oven to 325 degrees. While it's preheating, put the butter in your 9×13 dish and set it in the oven to melt. Time saver! You can do three things at once!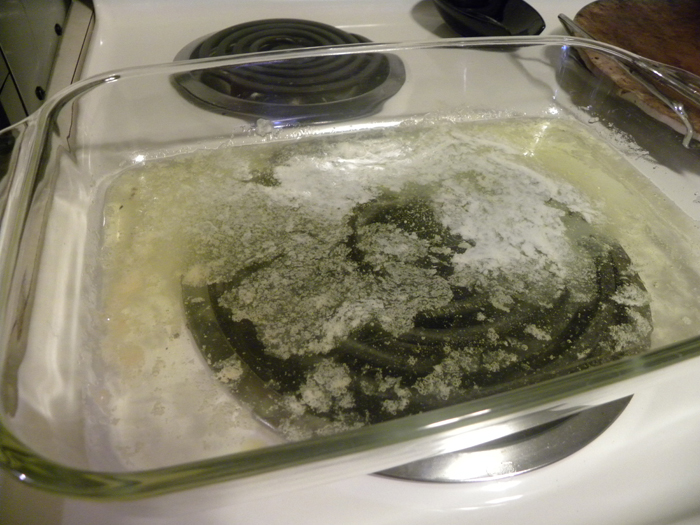 While the butter is melting and the oven is preheating, you can mix the remaining sugar with the flour, baking powder, salt and milk. Mix it up real good so there are no lumps left.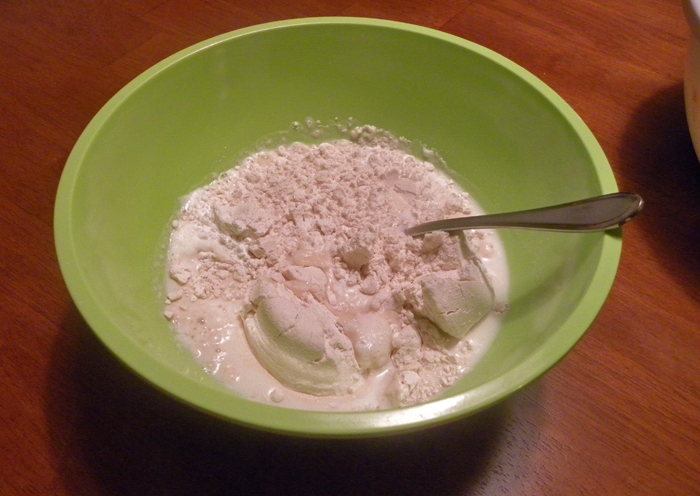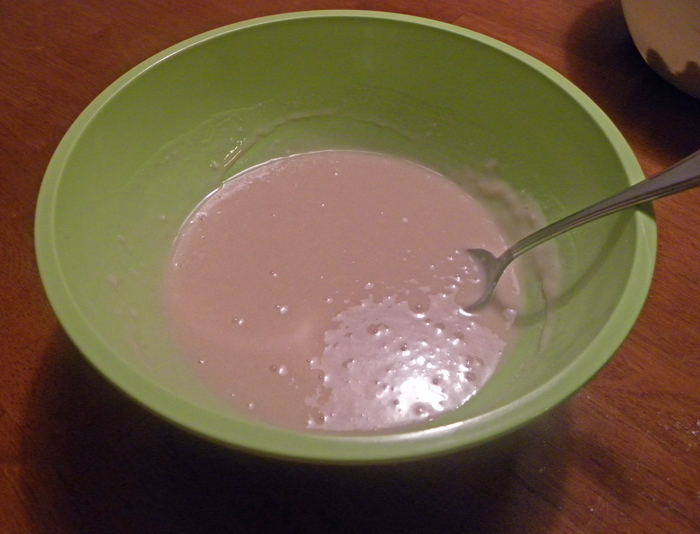 Once your butter is melted, pour the batter on top.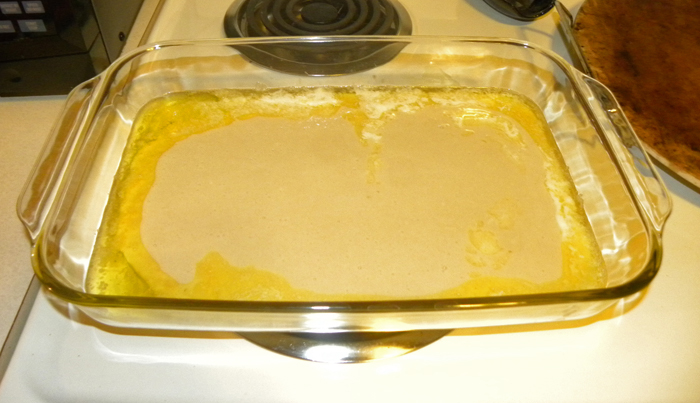 Spoon the fruit mixture on top. Bake for 50-60 minutes.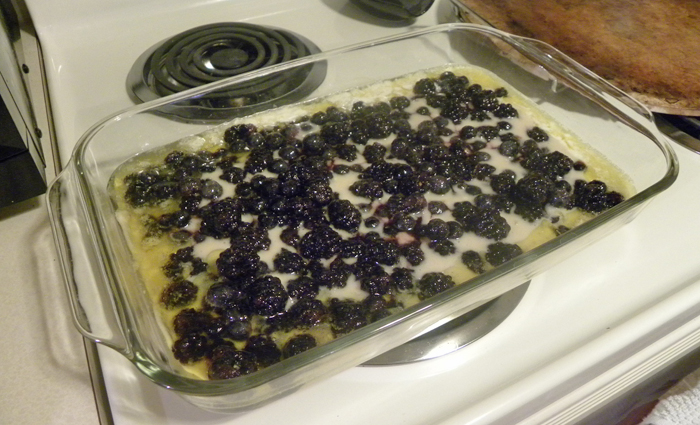 When I first made this, I was thinking but the batter should be at the top! I was very confused! But when the delicious dish bakes, the fruit sinks to the bottom and the batter rises as it bakes — leaving you with one yummy cobbler!
Berry Cobbler
Prep time:
Cook time:
Total time:
Ingredients
4 cups berries (blueberries, blackberries, strawberries, raspberries -- whatever you want)
1½ cups sugar, divided
1 stick butter
1 cup flour
2 tsp baking powder
½ tsp salt
¾ cup milk
Instructions
Mix the berries and ½ cup sugar
Set mixture aside
Melt butter in a 9x13 dish while preheating oven to 325 degrees
Combine remaining sugar with flour, baking powder, salt and milk
Mix until lumps are gone
Once butter is melted, pour batter over butter in dish
Spoon the fruit mixture on top
Bake at 325 degrees for 50 minutes
For more of my recipes, visit my Pinterest board
My Recipes.