When my husband was gone for a month of training, I spent a lot of time with family in other states. But the days I did spend at home alone, I had the hardest time sleeping. It wasn't just that I missed my husband laying next to me, it was also the fear of having no one to protect me. In fact, I'm not sure I've ever felt so much fear before — which was silly because I was safe in my locked house. I honestly believe Satan was throwing his flaming arrows toward me (Ephesians 6:16) to prevent me from receiving God's peace and getting a good night's sleep. Fortunately, I had many ways to help me fall asleep and stay asleep through the night. But what helped me most was prayer. Prayers of friends and family, as well as my own prayers.
Today, I'd like to share with you my tips for getting a good night's sleep, as well as a prayer I've prayed many times while laying in that scary darkness.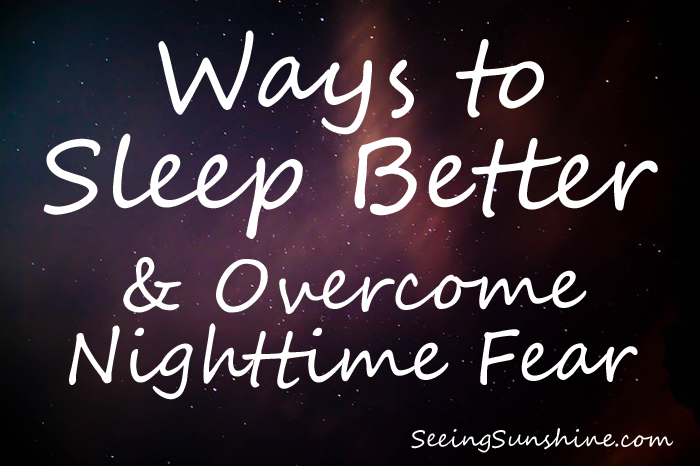 Lock up
If one of the reasons you can't sleep is because of fear, walk around your house making sure all windows and doors are locked. Close blinds or curtains. Lock your bedroom door too.
Make noise
For me, I could hear noises in the night — random noises that made me even more scared and let my mind wander into "what if" scenarios. Drown out those normal night noises by turning on a fan or using a sleep machine to play white noise. I use a sleep app called "Sleep Pillow" on my phone that can play a variety of sounds such as a fire crackling, a thunder storm, beach waves, and more. Personally, I prefer the sound of rain. I turn on my fan and my sleep app with the sound of rain to help me sleep.
Power down
For many people, it's just hard to relax. If that's the case, try doing something other than playing on your phone or computer the hour before you go to bed. Looking at those bright screens can make you alert and awake and keep you from being able to wind down.
Work out
I noticed the days I worked out I slept better. Working out during the day is great way to help yourself get better sleep that night — even if it's just going for a walk around the neighborhood.
Drink up
Another way to help yourself relax is to have a glass of wine or a mug of hot tea before bed. If you choose hot tea, make sure you drink decaffeinated! I hear chamomile tea is the best to drink before bed.
Breath in
Lavender Essential Oil. Oh man, I love this stuff. It really does help me relax! I put a few drops on my pillow and rub some on my forehead and the back of my neck. Then I lay there and breath it in. You can also diffuse the oil into your room or put a few drops in a warm bath before bed.
Read up
One of the things that helped me sleep most during those nights alone was reading God's Word. I got out my Bible and read out loud until I was too tired to keep reading. Some of the scriptures I read over and over I'm sharing with you below:
No disaster can overtake you, no plaque can come near your tent. He has given His angels orders about you, to guard you wherever you go. — Psalm 91:10-11

So do not fear, for I am with you; do not be dismayed, for I am your God. I will strengthen you and help you; I will uphold you with my righteous right hand. All who rage against you will surely be ashamed and disgraced; those who oppose you will be as nothing and perish. Though you search for your enemies, you will not find them. Those who wage war against you will be as nothing at all. For I am the Lord your God who takes hold of your right hand and says to you, Do not fear; I will help you. — Isaiah 41:10-13

Whoever dwells in the shelter of the Most High will rest in the shadow of the Almighty. I will say of the Lord, "He is my refuge and my fortress, my God, in whom I trust." Surely he will save you from the fowler's snare and from the deadly pestilence. He will cover you with his feathers, and under his wings you will find refuge; his faithfulness will be your shield and rampart. You will not fear the terror of night, nor the arrow that flies by day, nor the pestilence that stalks in the darkness, nor the plague that destroys at midday. A thousand may fall at your side, ten thousand at your right hand, but it will not come near you. You will only observe with your eyes and see the punishment of the wicked. If you say, "The Lord is my refuge," and you make the Most High your dwelling, no harm will overtake you, no disaster will come near your tent. For he will command his angels concerning you to guard you in all your ways; they will lift you up in their hands, so that you will not strike your foot against a stone. You will tread on the lion and the cobra; you will trample the great lion and the serpent.  "Because he loves me," says the Lord, "I will rescue him; I will protect him, for he acknowledges my name. He will call on me, and I will answer him; I will be with him in trouble, I will deliver him and honor him. With long life I will satisfy him and show him my salvation." — Psalm 91
Lift it up
Like I said earlier, prayer was the number one thing that helped me sleep at night. I often prayed the same thing each night. I'd like to share that prayer with you in case you aren't sure what to pray.

Dear God,

You see me laying here in bed and know the struggle I am facing with being scared and unable to relax. I pray that You will watch over me and protect me tonight. I ask that You shield me from all the flaming arrows of the enemy and kick out any evil spirits from this room. Send angels to guard me tonight. I pray that they will surround my bed on all sides and that I will feel Your presence and know that I am safe. Take away my fears.

Lord, please clear my mind and give me peace. Help my body to relax knowing that You will take care of me. You are my refuge and my fortress. Give me rest tonight. Take away the noises of the night and help me to fall asleep. I pray that You will help me to stay asleep so my body can get rest and I can be prepared for tomorrow when morning comes.

Thank You for taking care of me and watching over me. Thank You for helping me sleep tonight. Help me to dream of only good things — of joy and love, of Your grace and mercy. I love you Lord.

In Jesus' name,

Amen.