I have shared a recipe for chili before, but it was more Chili Mac than Chili Soup. This recipe is more of a soup. It's the way I like chili best. It's my mom's recipe. You know how moms and grandmas often don't have recipes? Like they just know them by heart and throw things in without measuring and it turns out great every time? That's how my mom makes her delicious chili. So it took me several trial runs before I got this recipe right.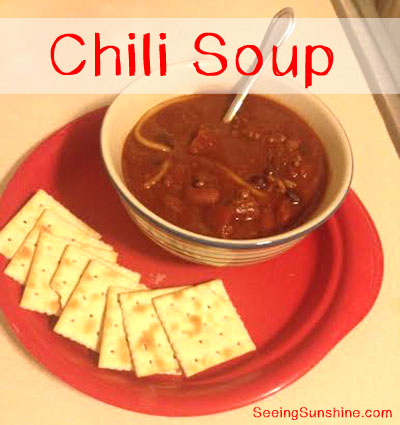 Here's what you'll need:
Tomato juice
Diced tomatoes (chili ready with onions)
Tomato paste
Black beans
Kidney beans
Chili seasoning mix
Garlic powder
Onion powder
Spaghetti
Ground beef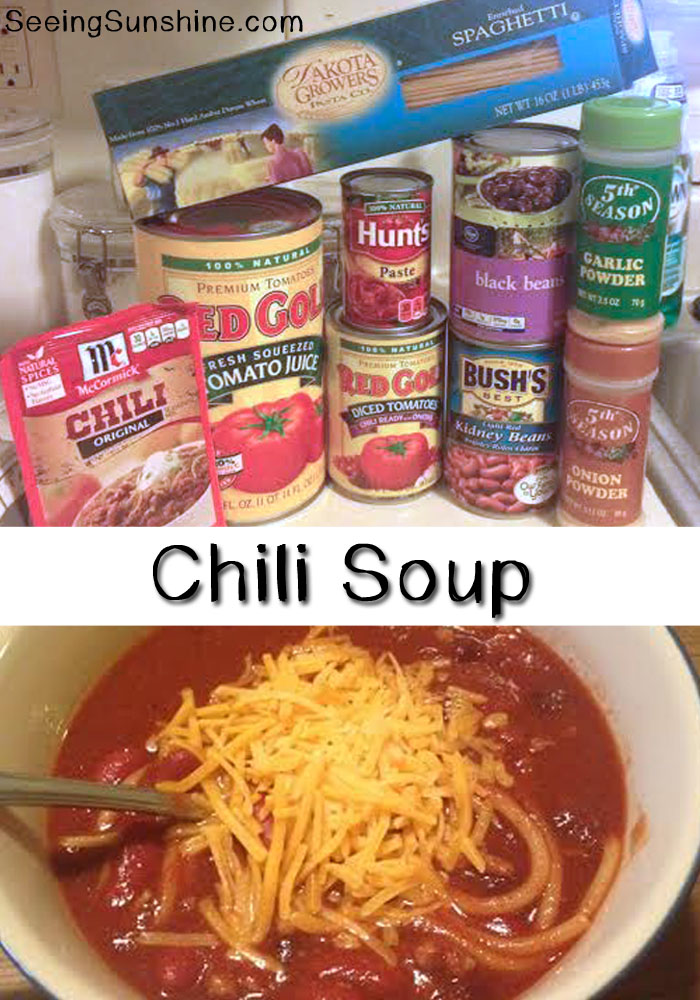 Start by browning your hamburger. Drain any grease out of it.
Then, it's really simple — put all your ingredients into one pot. Everything except the spaghetti. Turn it on low-medium heat. Let it simmer uncovered for 20 minutes, stirring occasionally.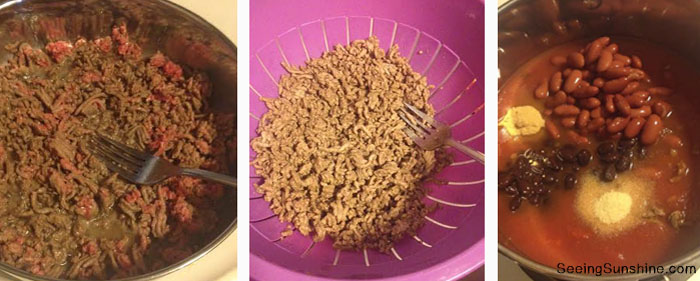 Add in a hand-full of spaghetti, breaking it into smaller pieces. I break the spaghetti into thirds. Add that in and let it continue to cook on medium until the noodles are soft.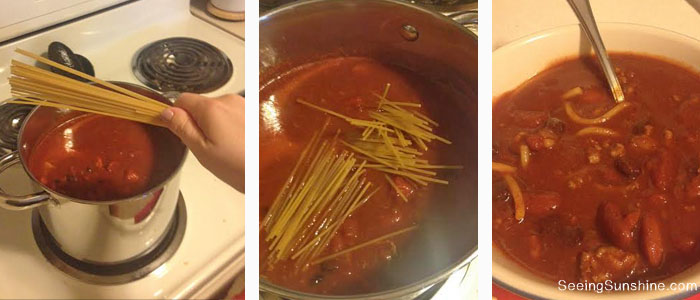 Serve with Tabasco sauce, shredded cheddar cheese, crackers, chopped green onions, and sour cream — whatever your family likes.

Chili Soup
Ingredients
1 large can tomato juice (46 oz)
1 lb ground beef
1 can (chili ready with onions) diced tomatoes (14.5 oz)
1 can tomato paste (6 oz)
1 can kidney beans (15 oz)
1 can black beans (15 oz)
1 McCormick chili seasoning mix
2 tsp garlic powder
2 tsp onion powder
1 hand full spaghetti
Instructions
Brown ground beef
Drain beef
Combine tomato juice, tomatoes, paste, beef, beans, and seasonings into one pot
Cook on low for 20 min
Break spaghetti into thirds and add in pot
Cook for another 10-20 min on medium
Serve with crackers, cheese, or other toppings
If you are looking for
Chili Mac, check this post out
. Or maybe you'd rather have
White Chicken Chili — then click here
!
For more recipes, check out my Pinterest board!