Like I told you last week, I got to plan and host my first bridal shower a couple weeks ago. It was really fun deciding how I wanted to decorate. I went with a purple and grey bridal shower theme — the bride's favorite color is purple. And so is mine! I loved how it turned out.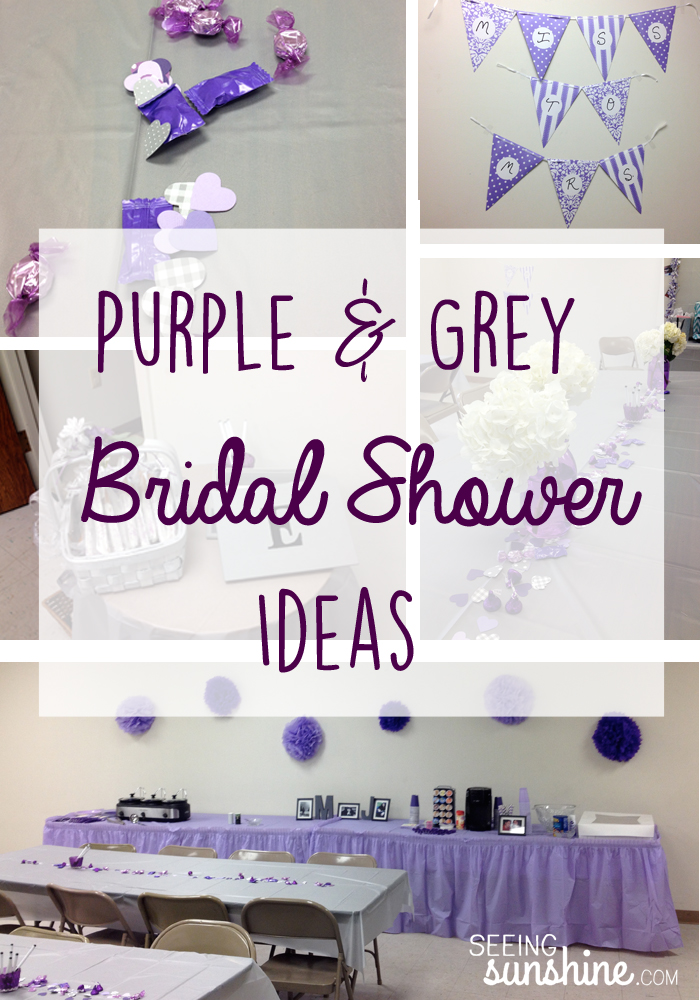 This post contains affiliate links. View my disclosure policy here.
We did a Bridal Brunch complete with breakfast foods! Our menu consisted of sausage links, biscuits and gravy, scrambled eggs, fruit kabobs with dip, hash brown casserole, chicken salad sandwiches, cheese cubes, and muffins. We also had cupcakes arranged like a wedding cake for dessert. To drink, we had a purple punch or coffees and hot chocolates from a Keurig machine. Lots of choices and so delicious! When having a bridal brunch, I love the idea of having a mimosa bar with different fruit juices to choose from. We used purple plates, purple plastic silverware, purple cups, and purple and grey striped paper straws.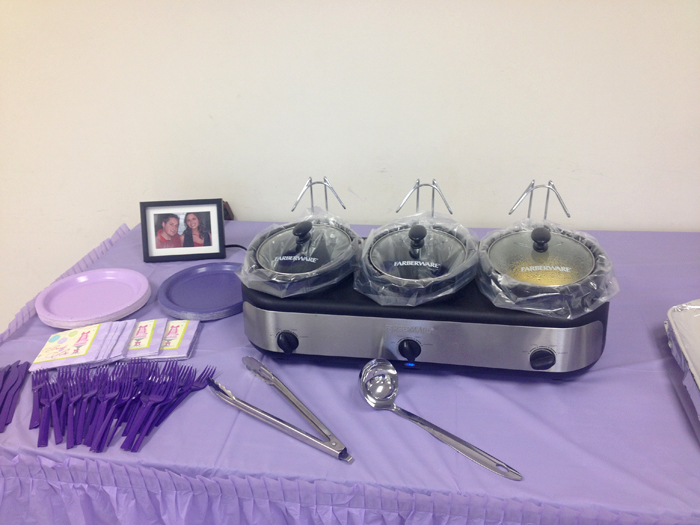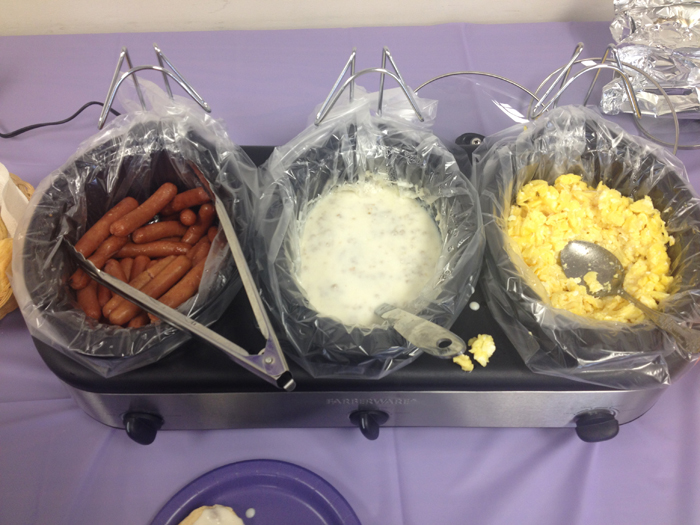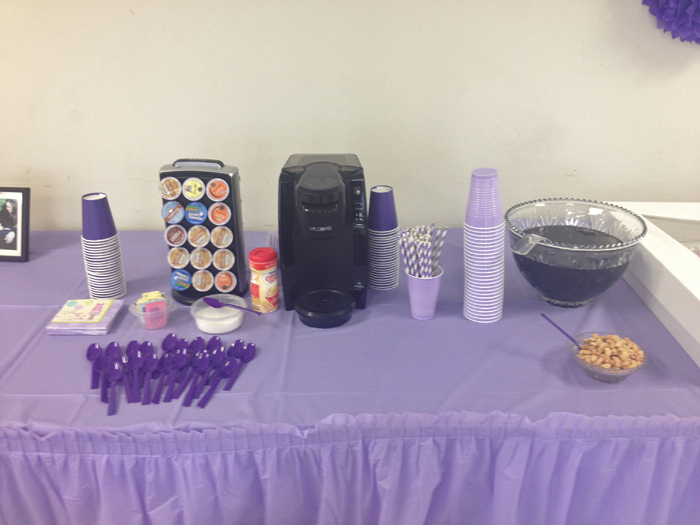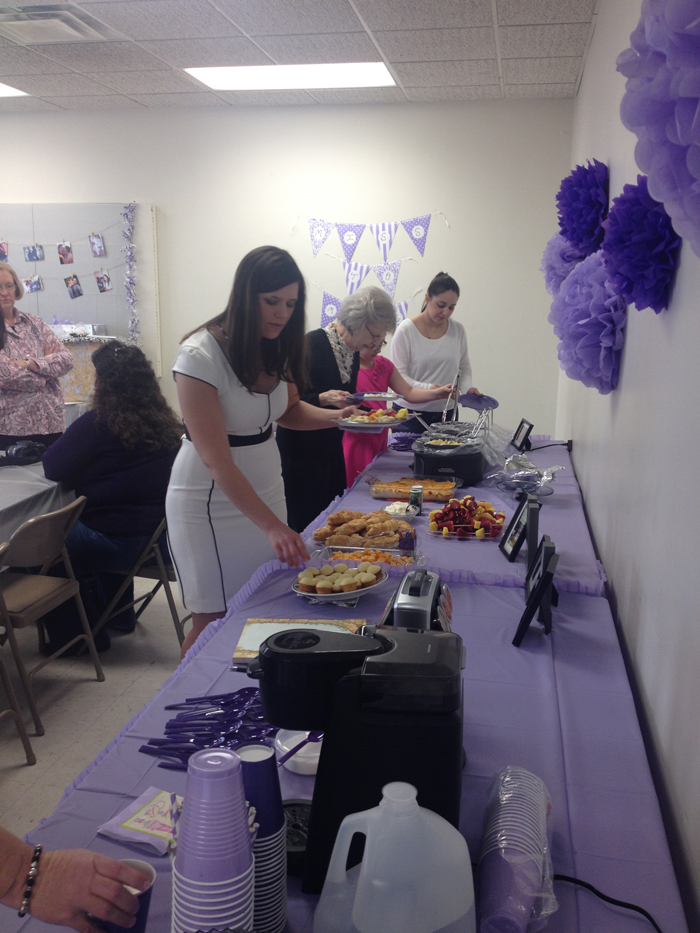 Here are some of the decorations. I was so nervous that I wouldn't have enough table clothes or something, but I ended up loving it all!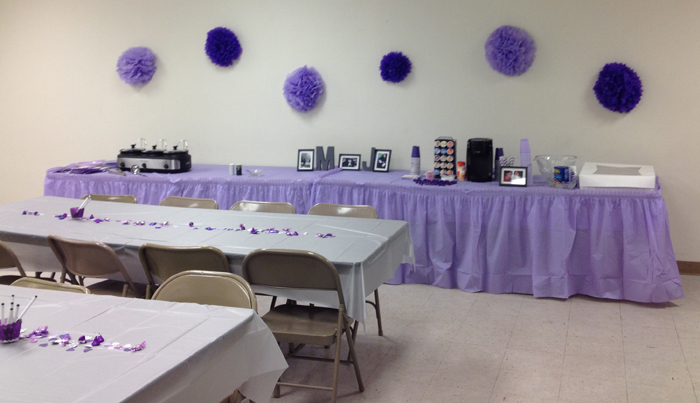 I love how those purple poms turned out on the wall! I decorated the food tables with framed photos of the couple and these wooden letters that I painted grey. I gave these letters, as well as the framed photos, to the bride as a gift.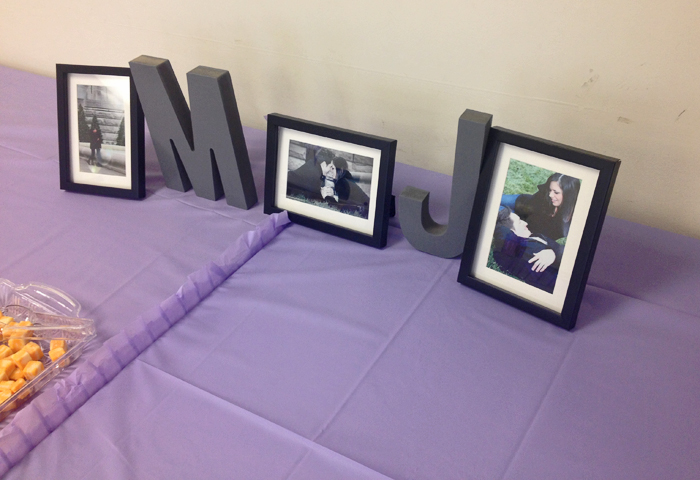 I found a personalized pennant banner at a party store. It came with sticker letters, but we decided to use a marker instead because there weren't enough stickers. I wanted to use all the banners and really get my moneys worth.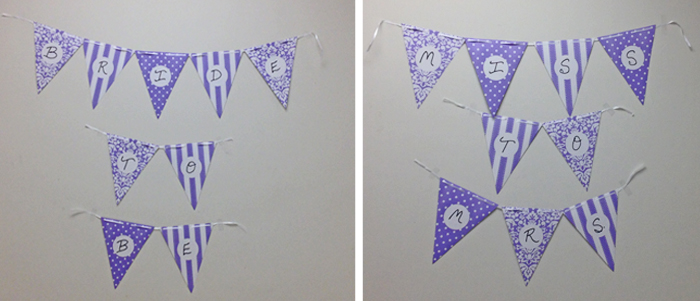 I also used twine and mini clothespins to hang up photos of the bride and groom.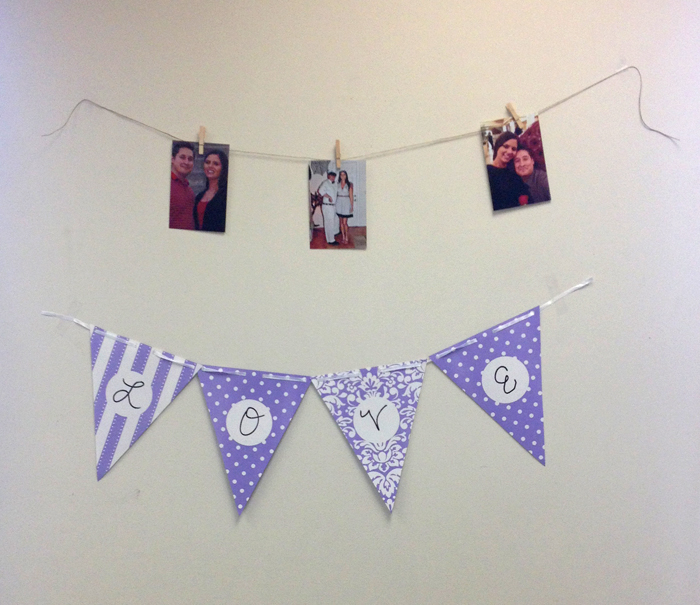 For the gift table, we used an extra tablecloth to cover part of the wall, and hung up the twine and photos. I also used some fabric garland that I made to line the edges of the tablecloth.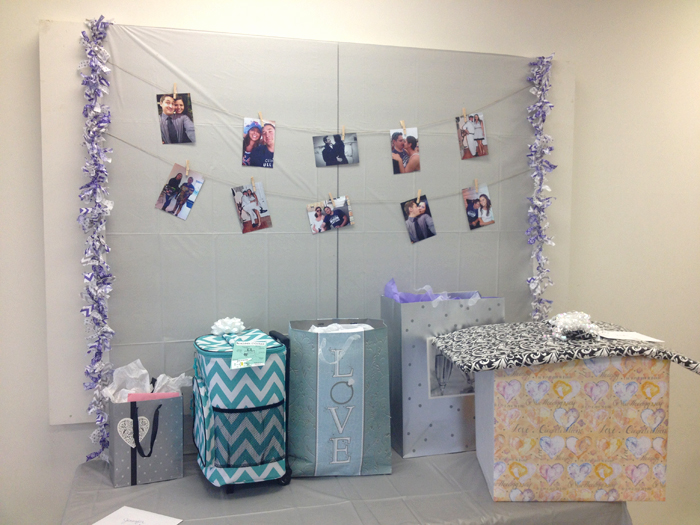 We used grey table clothes for the guest tables. We sprinkled heart-shaped confetti down the middle of the tables. I made this confetti out of double-sided scrapbook paper and a heart-shaped hole punch.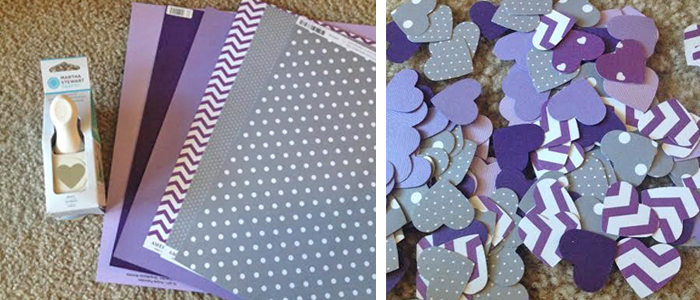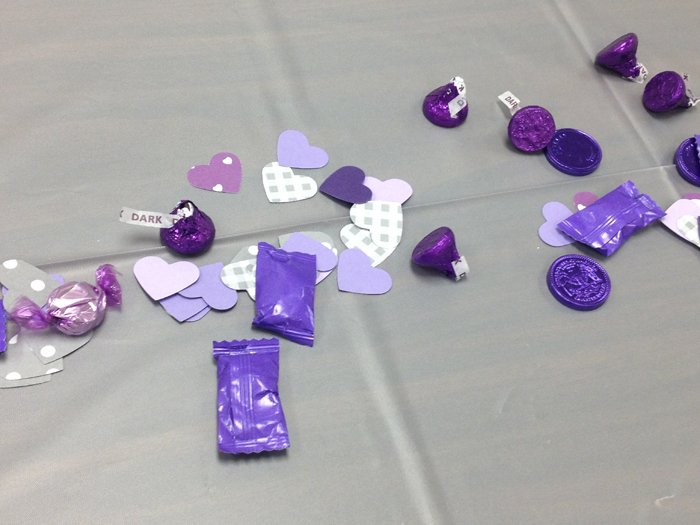 We also scattered purple-wrapped chocolates down the tables for the guests to enjoy. I bought various shapes and sizes of purple vases to use on the tables. The small candle holders held pens for the games, and the vases held beautiful white flowers I had bought the day before. I highly recommend getting fresh flowers for your tables — everyone said they loved the flowers! I got them at Kroger, and the florist there even told me you can pre-order if you call a week in advance. It was a lot cheaper than going to a florist too. If you buy them a day or two in advance, keep them in water in the refrigerator so they don't start to wilt.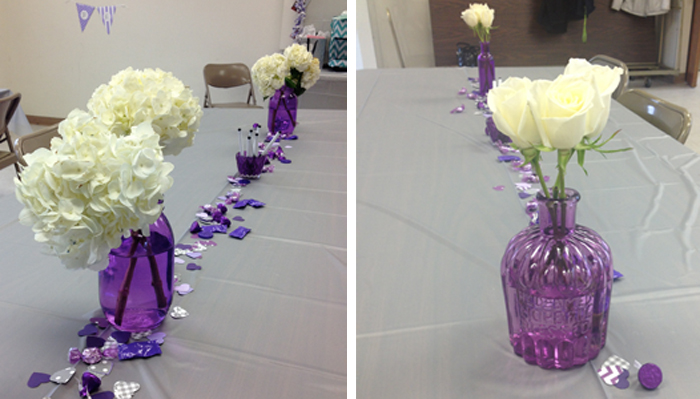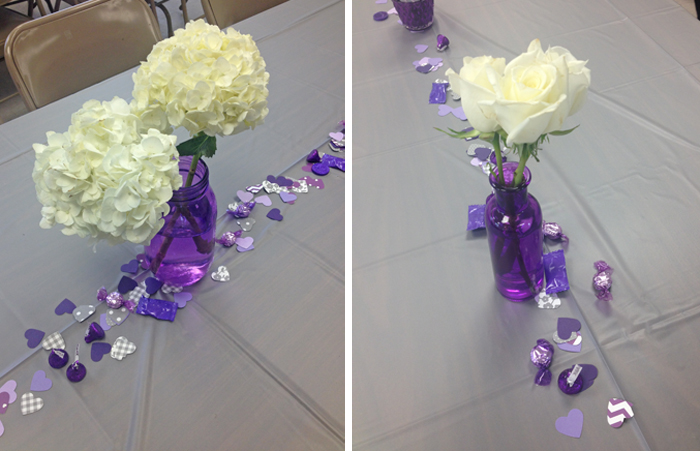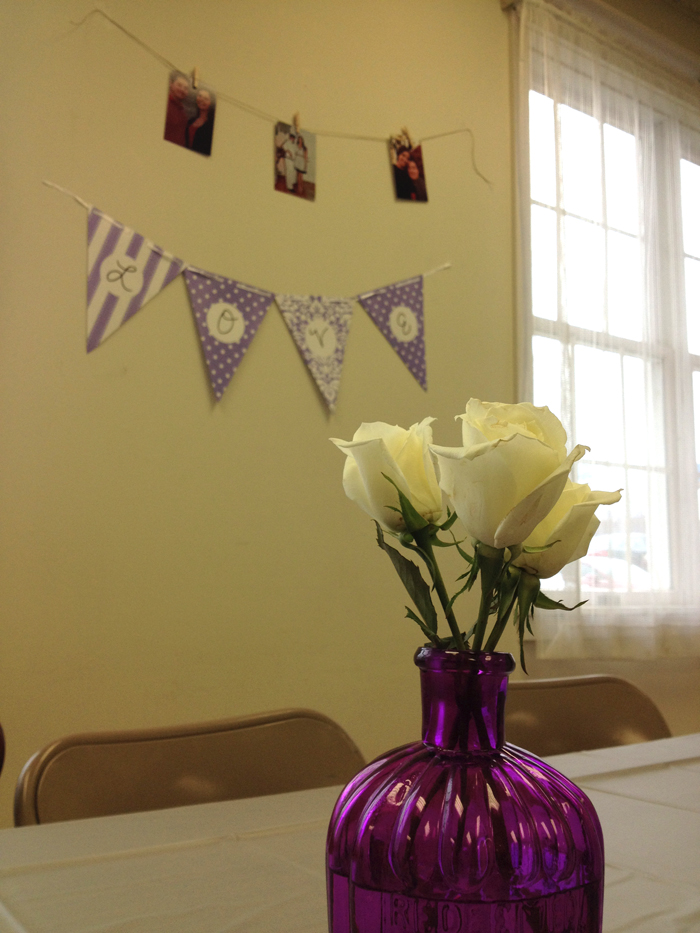 We played three different fun games, and I bought a variety of prizes for the guests who won the games.
At the end of the shower, I presented the bride with a wooden box I had painted grey with a black E on the front (for her new last name). Inside the box, everyone had put notes, letters, photos, and cards for her to open in one year. When making the time capsule, I really wanted to use something that she could reuse in her house someday. We also had chocolate covered pretzels for guests to take home with them. The bride's mom made these, and they were so cute. They were dipped in white chocolate with purple sprinkles, individually wrapped with a little "Thank You" note tied to them.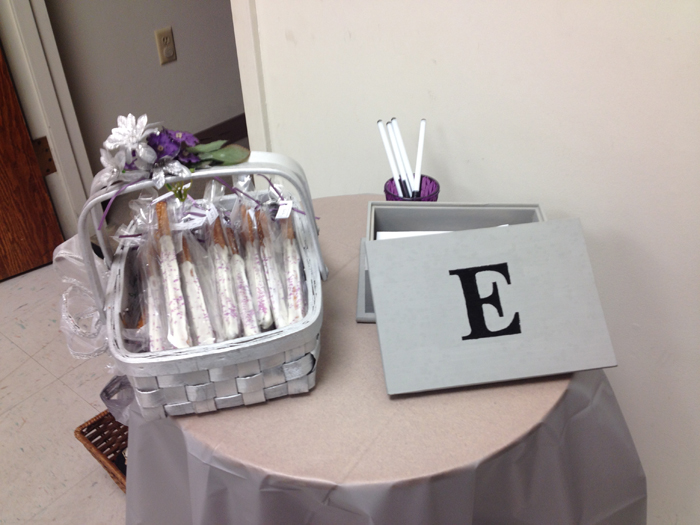 I was so happy with how the shower turned out, and I think the bride really enjoyed it. I hope this gives you some ideas if you are planning a shower. Here I am with the Bride-To-Be!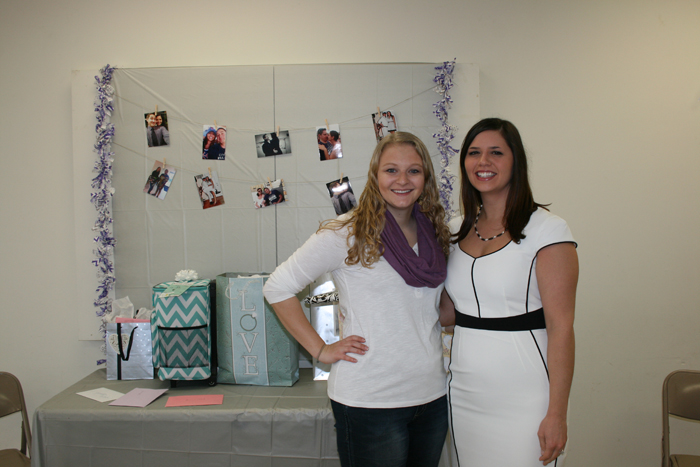 Check out my Pinterest boards Party & Gift Ideas and Wedding Ideas.
You may also like: