I had never had buckeyes until I started dating Travis, and that goof ball loves them despite the fact that he hates chocolate. It makes no sense people, but I love the man. So when he left for South Korea, I made him a batch to take with him. Unfortunately, he got food poisoning before his flight and the last thing he wanted to do was stuff himself with peanut butter balls dipped in chocolate.
This week, I decided to make another batch. This time I was going to take them to my new neighbors who I've never met. I wanted to introduce myself and let them know who was living next door now. I wanted to show hospitality, and buckeyes seemed like the right way to do that.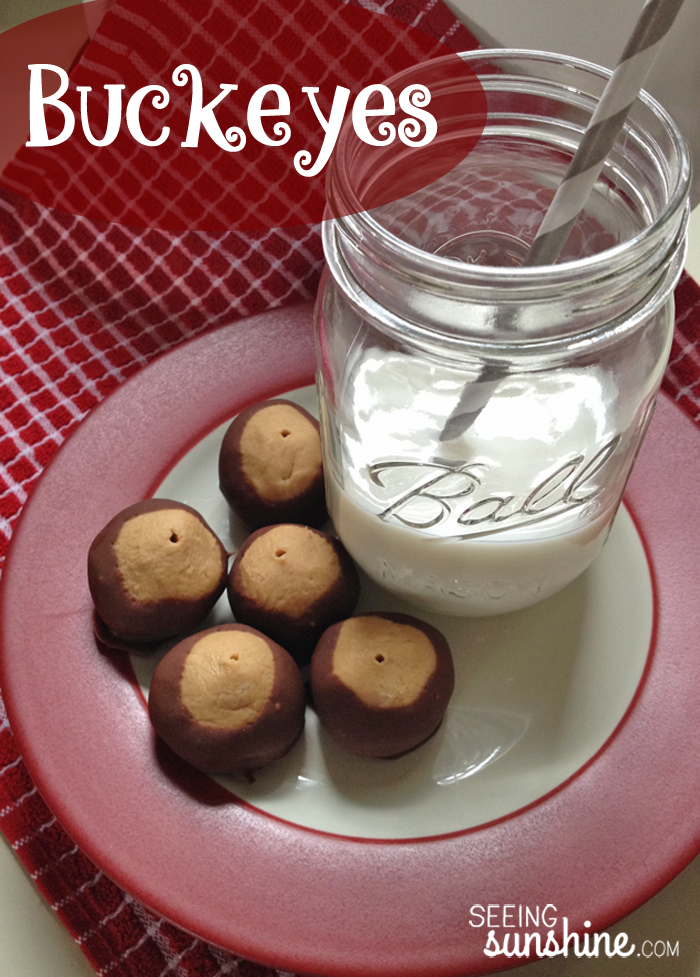 Here's what you'll need:
Butter
Peanut butter
Vanilla
Salt
Powdered sugar
Chocolate chips
Shortening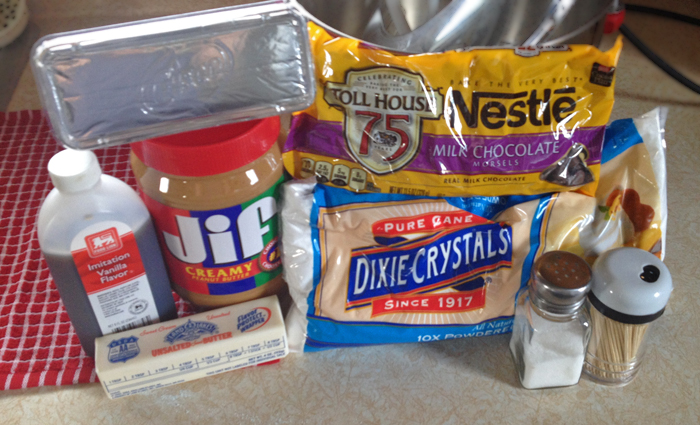 Start by creaming together the peanut butter and softened butter.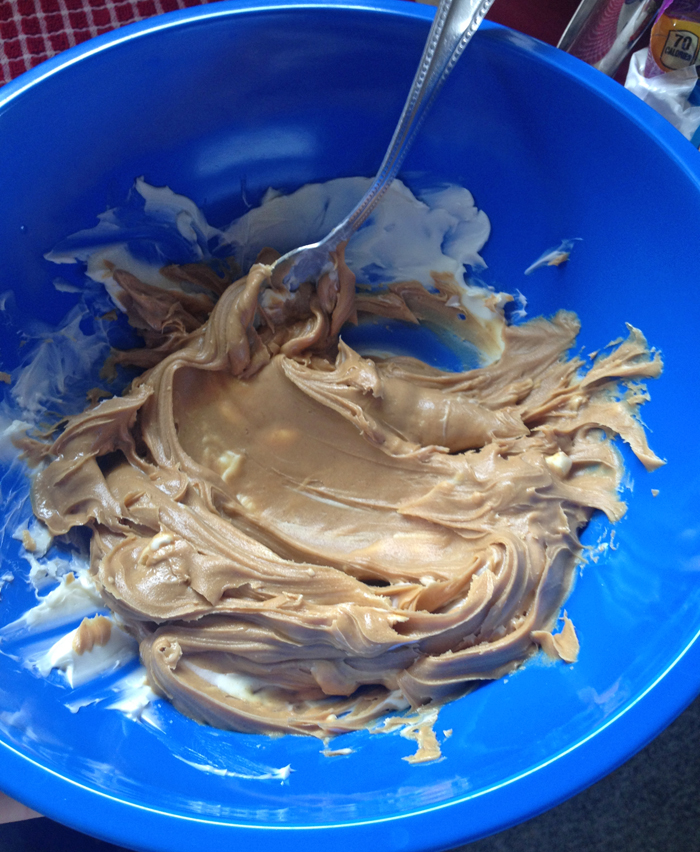 Add in the vanilla, salt, and powdered sugar.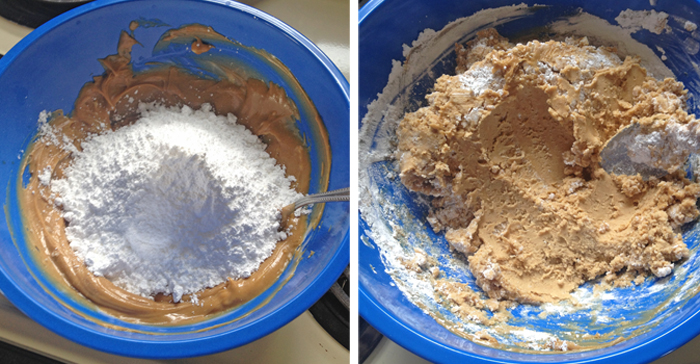 Here's the trick — you have to get just the right consistency. If it's too sticky, add more powdered sugar. If it's too powdery, add more peanut butter. The first time I made these, they were too powdery. The second time, too sticky. But this time, I think I finally got the ingredients measured right. But if you find it too sticky or powdery, just add what you need to.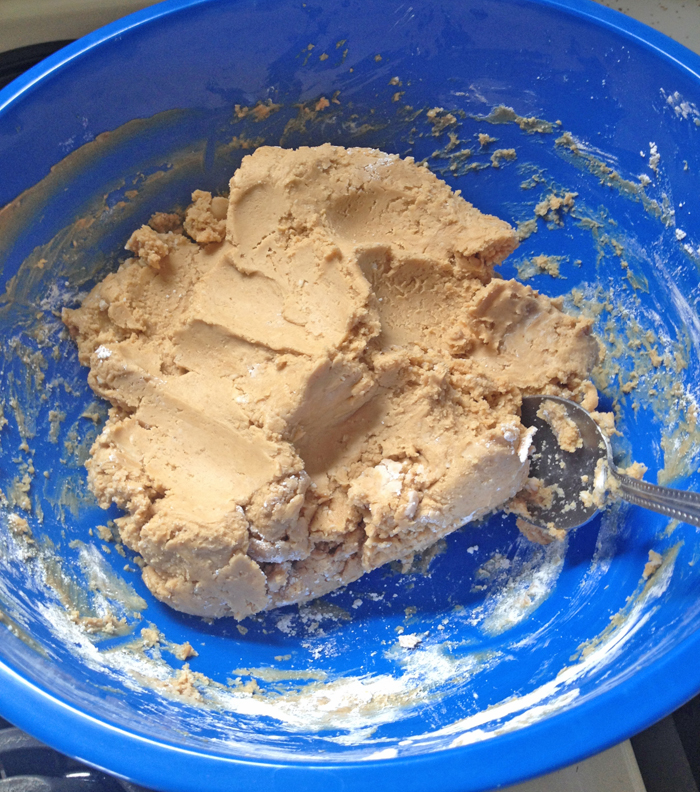 Roll the mixture into balls and set on a baking sheet covered in wax paper. Put them in a freezer for 10 minutes.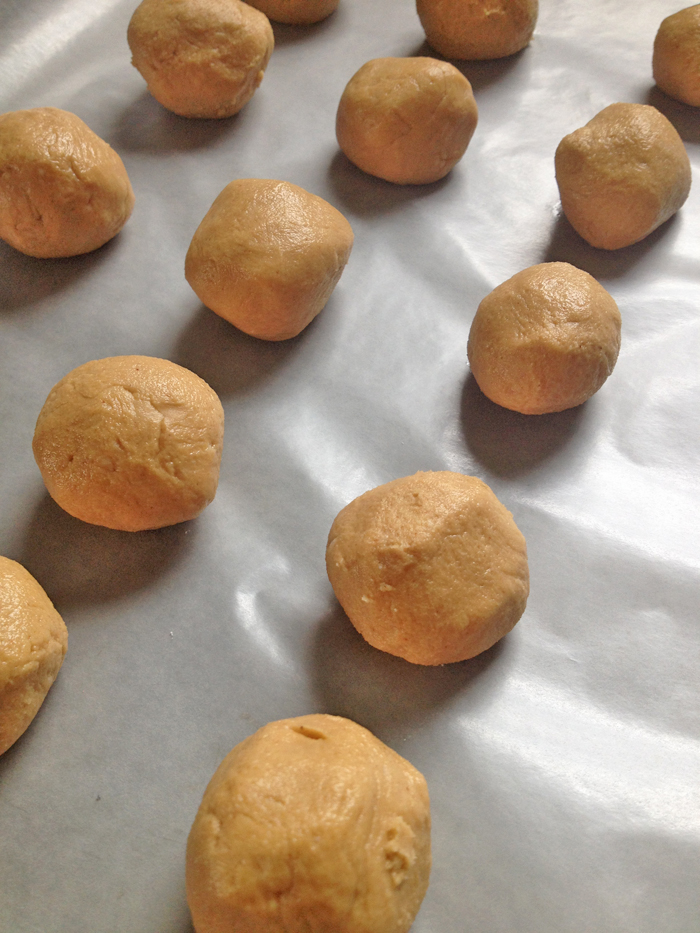 Melt the chocolate chips and shortening together. I just pop them in the microwave for 15 second intervals, stirring between each heating, until they are melted. You don't want to heat them for too long or it will scorch.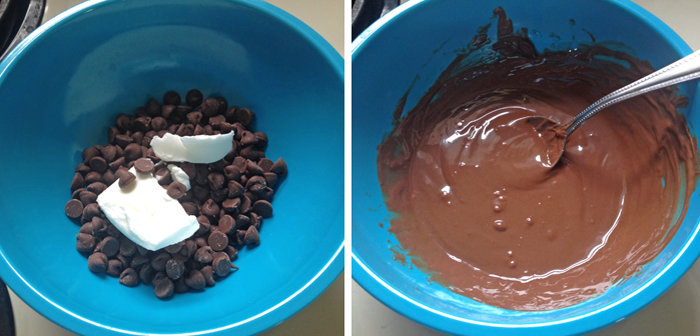 Using a toothpick,  dip the balls into the melted chocolate almost covering them. Place back on the wax paper to dry. I stick them back in the freezer once they have all been dipped so the chocolate can harden. You can serve them room temperature or cold.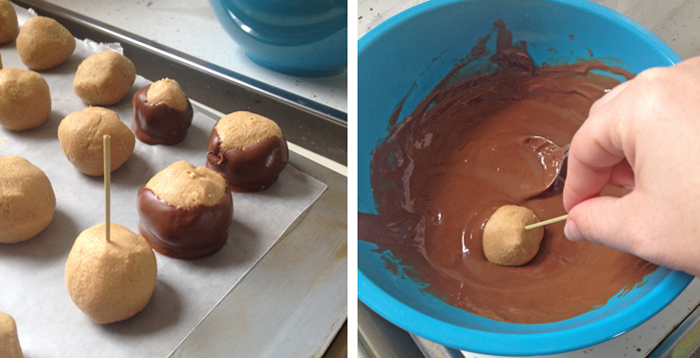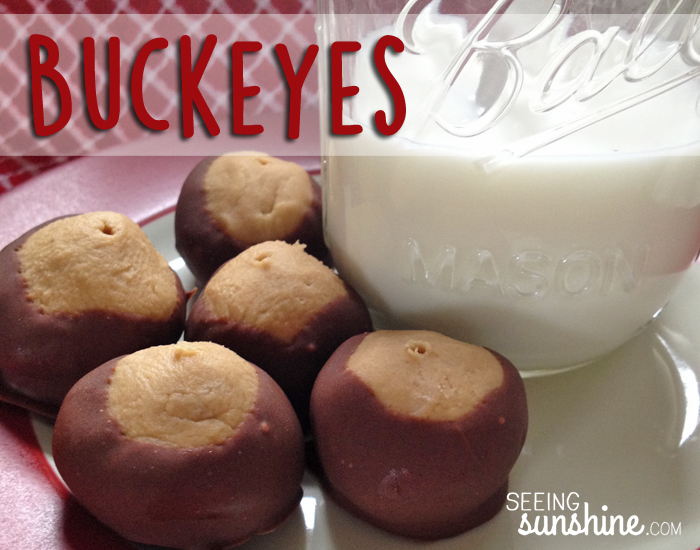 Buckeyes
Ingredients
1 stick butter, softened
20 oz peanut butter
1 tsp vanilla
½ tsp salt
16 oz powdered sugar
11.5 oz bag chocolate chips
2 tsp shortening
Instructions
Cream the softened butter and peanut butter together
Add in vanilla, salt, and powdered sugar
Mix well by hand
Roll into balls
Freeze for 10 min
Melt chocolate chips and shortening together at 15 sec intervals in microwave
Using a toothpick, dip peanut butter balls into melted chocolate, covering all but the tops
Freeze until ready to serve
For more recipes,
click here!