This year for Easter, I brought my first dish to our family get-together. No one had signed up for deviled eggs, and you can't not have eggs for Easter. So I decided to try my hand at making deviled eggs for the first time! I knew I didn't want just any deviled eggs. You see, my sister-in-law made the best deviled eggs I'd ever had at Thanksgiving last year. And well, I just had to give my family a chance to try them too!
Deviled Eggs with Bacon.
Deviled Eggs with Bacon and Green Onion.
Now that's what I'm talking about!
(This post contains affiliate links. View my disclosure policy here.)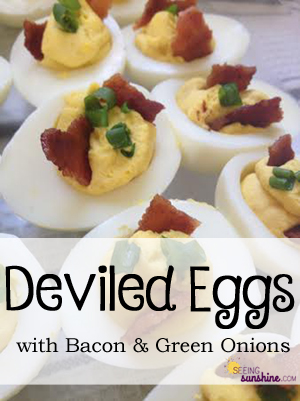 Here's what you'll need:
Eggs, boiled and peeled
Mayo
Mustard
White vinegar
Paprika
Green onions, chopped
Bacon
First of all, let me share these tips with you. Thank you to my grandma for passing them on to me!
The older the eggs the easier it will be to peel them. Try to buy your eggs 1-2 weeks before making them.
Get the eggs to a rolling boil and then turn the burner off, cover your pot, and let them sit on the burner for 10-12 minutes.
Run cold water over the egg while peeling to help get all the shell off.
Remember that the eggs will be cut in half. So if you use six eggs, you'll have 12 deviled eggs. If you use a dozen eggs, you will have 24 deviled eggs.
Boil more eggs than you need in case any of them don't peel well and end up falling apart. If they all turn out, you can always keep some to eat later for a healthy snack.
To begin, boil your eggs following the instructions above.
Next, peel the eggs. Cut each one in half.

Take out the yolk of the egg and put them in a separate bowl. Some of these come out really easy and others may need some work. I just used a knife to pull them out.

Mash up the yolks using a spoon. Add in the mayo, mustard, and vinegar. I also added in a dash of paprika. Stir the mixture all together.

Next, use a cake decorating set or icing bag to squeeze the yolk mixture back into each egg. I don't have a cake decorating set (yet — I would like one!) so I just put all my yolk mixture into a Ziplock bag and cut a small hole at the end.
Pipe the yolk mixture into each egg. Chop up green onions and sprinkle a few on top of each egg.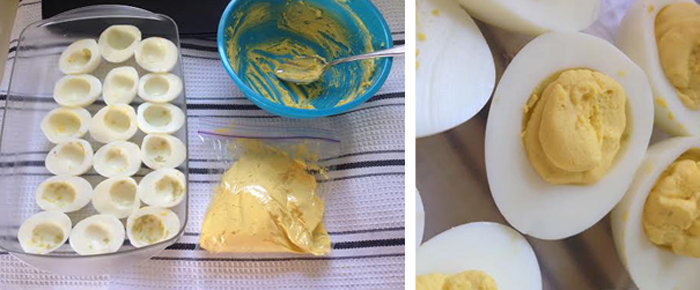 And now for the best part! Cook some bacon until it's crisp. Break up into small pieces and stick 1-2 pieces in each egg.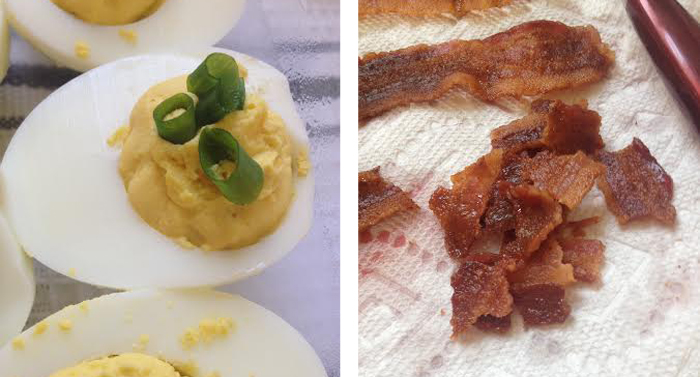 Ta-da! Gourmet Deviled Eggs! I'm going to have to get me one of these deviled egg carriers — I like how this one can hold up to 24 eggs!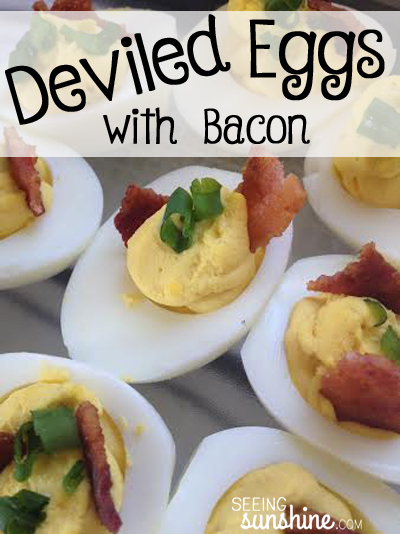 Deviled Eggs with Bacon
Ingredients
12 Eggs
½ cup mayonnaise
2 tsp yellow mustard
2 tsp white vinegar
dash of paprika
3 Tbs green onion, chopped
2 slices crisp bacon, chopped
Instructions
Boil and peel your eggs.
Cut each egg in half and take out the yolk, separating them in a bowl
Mash up the yolks
Mix in the mayo, mustard, vinegar, and paprika
Pipe the yolk mixture back into each half egg
Sprinkle chopped green onions on top of each egg
Add 1-2 small pieces of crisp bacon to each egg
For more recipes, check out this
page
and be sure to follow me on
Pinterest
!