One of the first rooms finished in my house was surprisingly the bathroom. I guess it got done first because I need the bathroom. I need a toilet and a shower — that's important to me. Now that it's done, I'm so excited to share it with ya'll! Check out my bathroom makeover!
Here's what the bathroom looked like before we did anything.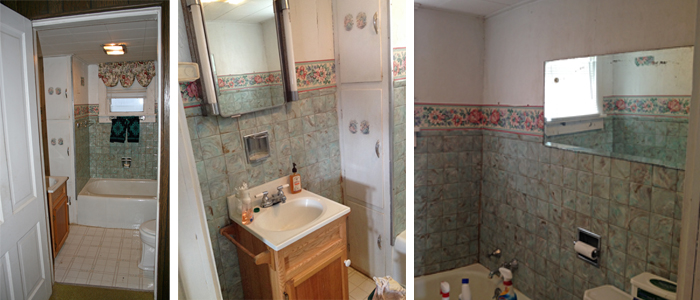 There was a window above the bathtub. Complete with old lady curtains. There were two towel racks above the bathtub. Teal and brown tile. A big clashing flower border. An old small mirror with lights that don't work. A big long mirror above the toilet.
And swans. Yes, there were swans on the cabinets.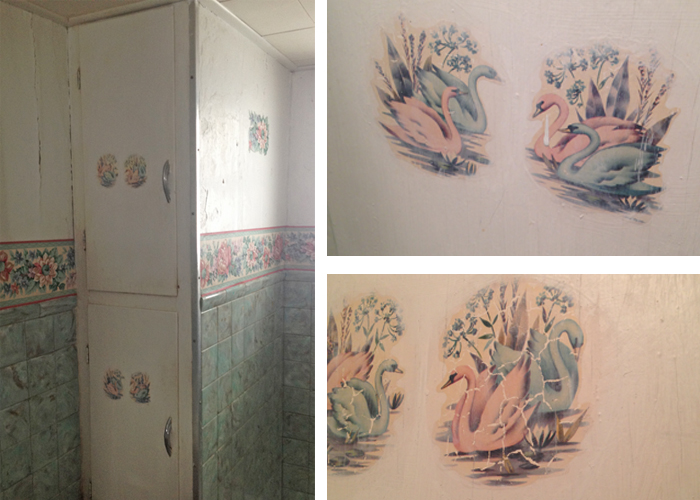 One of the first things to be done was to take out the window. I didn't want anyone seeing me while I'm in the shower! We did a sort of temporary fix because from the outside there's still a window. But inside it's gone! My dad put insulation inside and covered it up. Then, we had to buy waterproof wall paneling to put along the walls. It covered the window up! We left the bottom shelf so we wouldn't have to pull off any tile and so I can have a shelf in the shower.
We decided to keep the tile, because it's actually pretty once you take away everything clashing with it. Plus, it matches the color scheme I was going for. We ended up putting up the waterproof wall paneling along all the walls. I originally planned to paint it, but once I saw it I really liked it. It looked clean and white and made the tile pop more. Plus, the more white made the bathroom look bigger.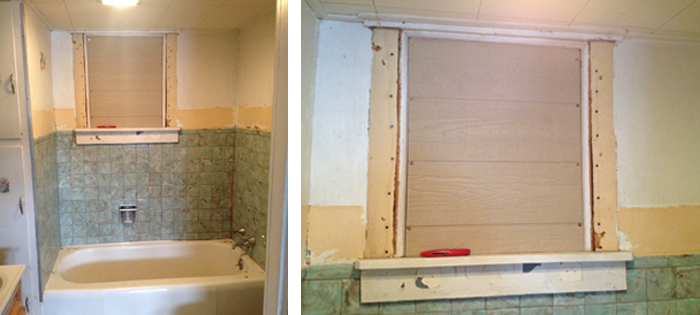 Once the wall paneling was up, we installed a shower head and new faucet. I repainted the shelf and trim around the shower with a white outdoor paint. We put up a new shower curtain rod and up went my beautiful shower curtain that we got in Georgia.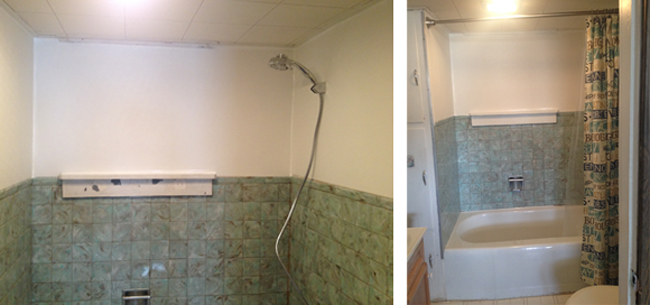 Next, we worked on the mirror. We took down the little old mirror. It was actually a medicine cabinet, so we added insulation inside before covering it with the waterproof wall paneling. My dad started to peel off the wallpaper and guess what. There were layers and layers of wallpaper under there!!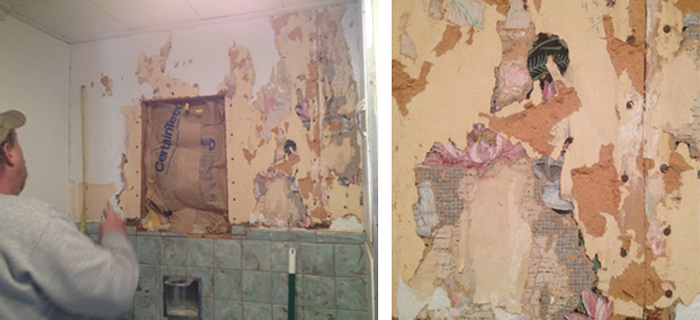 I bought an Ove Malibu mirror — it was a lot bigger than the original mirror, which is nice! My dad put it up, and he also installed lights above the mirror. He was able to put up a light switch and a new outlet — perfect in case I want to straighten my hair! Those new lights are amazing too!

Then it was time for my favorite part — saying goodbye to those swans! Yes, I repainted. I painted over the cabinets, some of the trim, the door, and the baseboards. I painted everything Valspar's Fresh Cotton. It made a huge difference.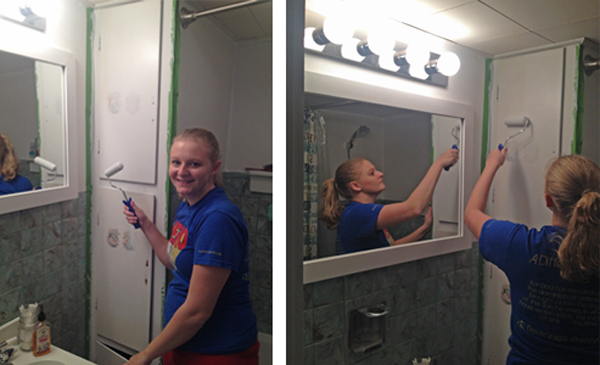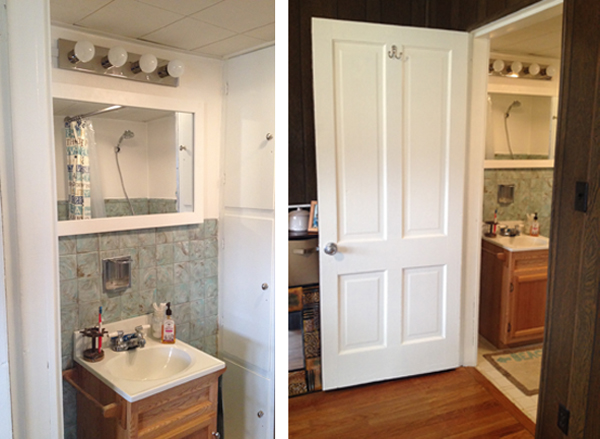 Other things we did to finish this bathroom included:
My dad made an extra shelf out of wood we already had to give me more counter space.
My dad changed out the outlet near the floor to a white one.
We installed a large cabinet above the toilet for more storage. I love how some of my decor fits on the top shelf since there isn't enough wall space to put up any of my photos.
I changed out all the hardware on all the cabinets to match. I used a brushed nickel hardware that I love.
I added in all our bathroom accessories like our rugs. I also put a scripture card on the mirror that even matches our beach theme.
I replaced the register on the floor with a white one — huge difference! Before it looked rusty and old and dirty and gross.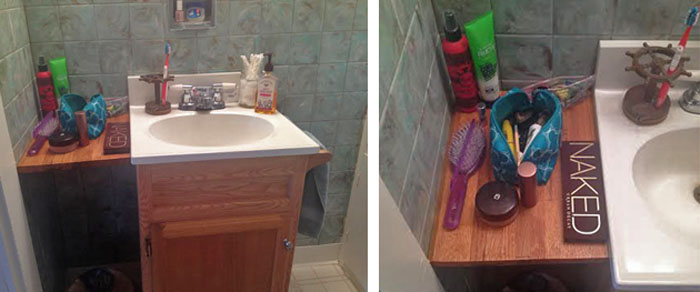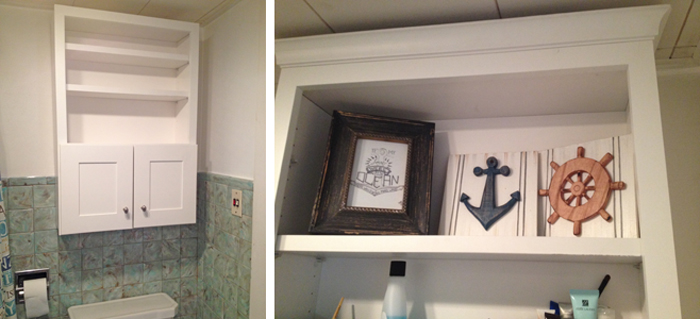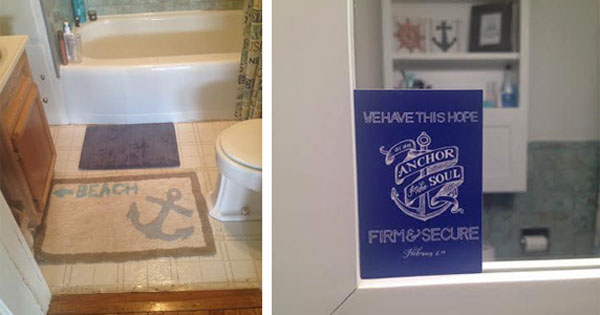 So what do you think? I'm happy with it!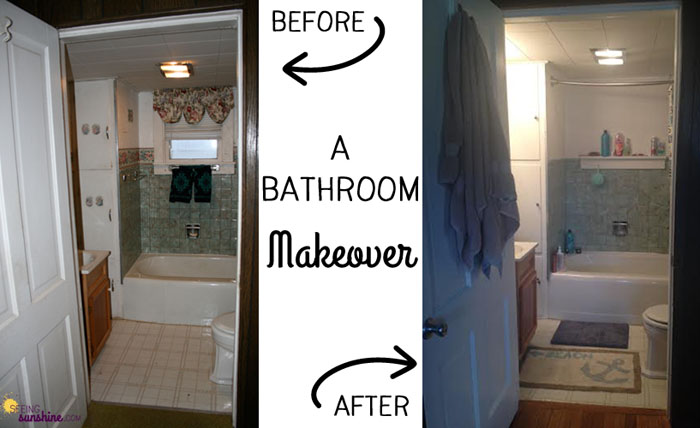 Check out my other home projects here. And be sure to follow my DIY Pinterest board.