Looking for ideas on how to show kindness to a military spouse? Well, you've come to the right place.
As a military spouse myself, I have always been so thankful to those friends, family, and even strangers who have blessed me, especially when my husband is away. It means so much to know we are supported and cared for. Some of these ideas are my own, and I've asked other military spouses to chime in with their ideas too.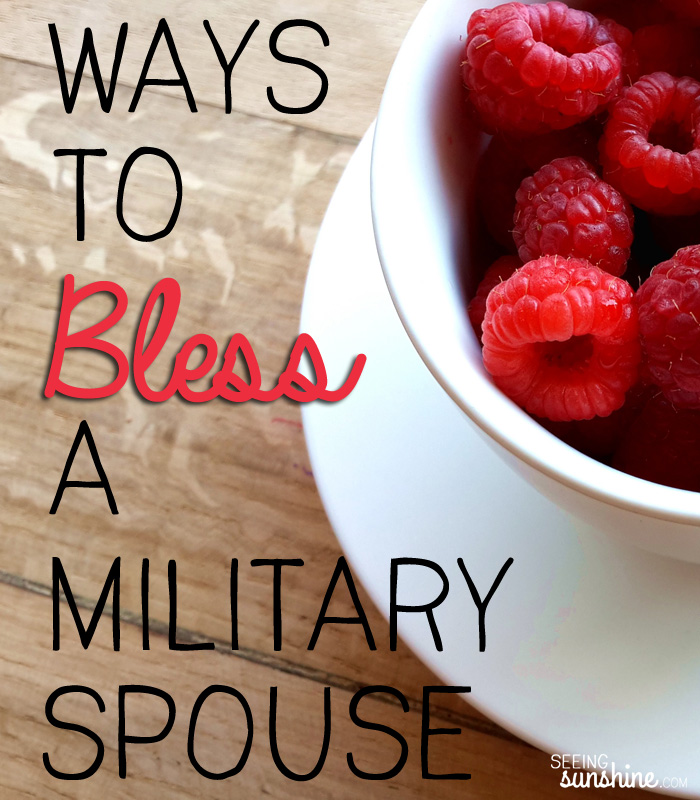 Here are 10 ways to bless a military spouse.
1. Invite me over. It can be for dinner or just to watch TV and hang out — I just want some company. Especially since I don't have children, I get lonely without my husband. And even those spouses who do have children could probably use some adult company.
2. Pray for me. You can even ask to pray with me in person out loud — now that's a blessing!
3. Just do it. Instead of asking the family member if they need X, Y, or Z, just do it. My husband has been gone since January and people always ask me if I need anything. I always say no because I feel like I'm imposing even though they offered. If someone flat out told me one afternoon that they were bringing me and my children dinner, I would love that. It takes the guilt off of me. – Maryann from Coming to Light
4. Care packages. Sending a box full of goodies for me and my children. We had some friends do this for us during our deployments in Germany, and it was so very nice. – Julie from Soldier's Wife, Crazy Life
5. Babysit. During a PCS, watch the kids for free so they don't have have to worry about finding a CDC or in home care for the kids. During our last PCS one of my friends just stopped by while the packers were there and picked up my kids without me asking. After the movers left, hubby and I went to pick them up and when we got there she told us she would feed them dinner and we needed to go have a date night! That is after she had already watched them for 8 hours! – Emma from Of Sparrows & Butterflies
6. Be there. A friend invited me to anything and everything while our husbands were gone on the same deployment. We ended up becoming closer than family. There were nights that I'd just go home to sleep and I'd be back the next day! We'd cook dinner together, I'd give her kids baths, and then we'd have a glass of wine and read on the couch or chat or watch a movie! She was always just there, no matter what. – Tiffany from I Take Naps
7. Send a card. As my husband's time to leave got closer, I received a card in the mail that I still keep. In the card, my cousin reminded me that I am strong and brave and that I can get through this separation. She told me I was like "a seasoned warrior" and I'll never forget it. Words of encouragement are a blessing, and sometimes having those words in writing where we can go back and read them over and over is so important.
8. Dinner invitation. When moving to a new place, you are stressed. You may have been eating out a lot already and know you will continue to do so until your items arrive, or if you moved yourself, until you get the kitchen unpacked. For both of our moves, we were blessed by random families on base having us over for dinner and letting our kids play with their kids. Going to a new place and having people reach out like that to your whole family goes a long way! – Emma from Of Sparrows & Butterflies
9. Introduce yourself. When moving to a new place where I don't know anyone, I am so nervous and insecure about meeting new people. I'm one of those people who tends to clam up around new people, so each PCS is difficult and making new friends is even harder. If you take the first move and introduce yourself, it would make it so much easier on me.
10. Step in. I had a neighbor once who noticed I was forgetting to take the trash to the curb and started doing it for me. It was one of the nicest gestures ever done for me during a deployment. It's the simple things. Just noticing where I'm struggling and without a word stepping in and helping. – Hope from Hope N. Griffin
Do you have an idea to add? Let me know in the comments!
Check out my other Military Life posts and follow my boards Military Life, Party & Gift Ideas, and Hospitality & Kindness.