Today is our anniversary. Travis and I have been married for two years. It feels like it's been longer than that to me.
In our two years of marriage, we've already learned a lot about each other and ourselves. Travis and I really don't fight — at least yet — but we have had a few disagreements. Just two months ago, we had our biggest disagreement. I am really proud of us for how we handled this disagreement and worked through it.
Every single married couple has disagreements. There's really no way around it. But there are ways to handle disagreements in a healthy way. 
I've asked some friends to give me all their best marriage advice to share with ya'll.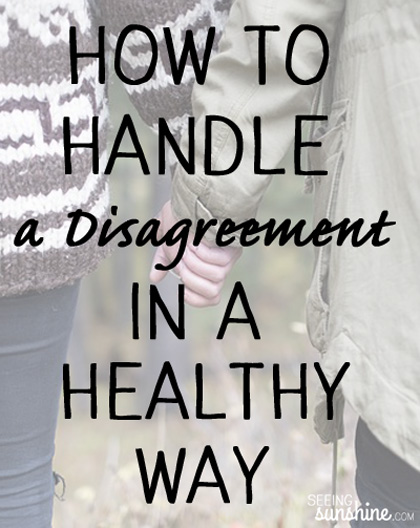 Tips on Handling Disagreements in Healthy Ways
Susannah from Simple Moments Stick: Communicate with grace. Be willing to actually listen to what your spouse is saying and be willing to change your view if you realize your spouse is right. Learn how your spouse emotionally handles conflict and show him or her the room to handle it that way. You may not understand why your husband needs to go for a walk before discussing a negative issue but be OK with it, since it will allow him to come back ready to actually discuss the issue. (married four years)
Chris: Be willing to compromise. Listen to each other and then decide together what's best. Be willing to meet in the middle. (20 years)
Samantha: My aunt and uncle almost divorced because they couldn't agree on where the toothpaste should go. I've only been married a year but I've learned to choose your battles and try to avoid conflict-stubbornness. Toothpaste is a stupid reason for an argument. You are bound to argue at some point, but I've learned to let go of the small stuff and compromise. (one year)
Amberly from A Prioritized Marriage: Any disagreement, no matter what the subject matter should be kept between you and your husband and not broadcast for the world to weigh in on. By posting things like that on social media, you not only make yourself look bad and make a lot of people feel uncomfortable, but you give the world reasons to doubt your marriage, doubt your love for your spouse, and you show everyone your selfish side. It's not pretty, it's not loving, and it definitely isn't making your marriage a priority. (four years)
Sabra from Becoming A Gilbert: One thing we always tell engaged couples is to just get a dishwasher because fighting over whose turn it is to do the dishes is just not worth it!(one year)
Chandelle from The Whimsical Penguin: Forgive, forgive, forgive! My husband was raised very differently than I was, and I have to remember that before I tell him that's the wrong way to do things. (two years)
Kristel from Glowing Light: I always try to remember that we are on the same team! I think sometimes we forget that we are on the same team and are FOR each other. Especially after we had children, we would sometimes get into these crazy arguments (children are stressful sometimes) and would wind up at each other's throats instead of giving each other grace and cheering each other on. (seven years)
Brittany from The Nested Nomad: Even though we've all heard it over and over, I think open and gracious communication is key. Speak up gently before an issue festers, but after you've noticed it's become a pattern (you don't need to bring up every little thing). And when your spouse is the one coming to you with an issue, practice gracious listening and empathy the way you would hope and expect him to react to you. It's so simple, but so tough to remember in those touchy moments. (two years)
Tiffany from Simply for One: Remember their heart. Husbands are called to love and guard ours as Christ would (to die for it) and we are called to give theirs the respect that covering is due. Words spoken in frustration can cloud heart intentions and usually we aren't out to hurt each other, we just want to be heard. So is it more important to be right or honor God? Sometimes you just have to be the bigger person, swallow the pride, say sorry, and take care of that heart God has chosen just for you. (16 years)
Ally from A Home Called Shalom: Figure out what you're actually upset about before you bring it up. Are you really angry about the socks on the floor, or are you angry because he's not pitching in around the house? Are you upset about something he said, or about the fact that he said it in front of a group of people? The more specific you can be about why you're actually feeling something, the better you'll be able to communicate your feelings and needs for the future. (three years)
Abby from Little City Adventures: During our pre-marital counseling, our pastor had us list household chores and then we talked about each one and agreed on who would do each one. This has prevented many would-be arguments because expectations have already been set. Now this doesn't mean you can say, "I'm not folding the laundry. That's your job." You both still need to be gracious and loving and help one another, assigning tasks from the beginning just helps you get started a little more smoothly. (two years)
What's your advice for handling disagreements?
If you are looking for more marriage advice, check out my post Books to Help You Grow as a Couple. I share some of the best marriage books out there for you to read and strengthen your marriage.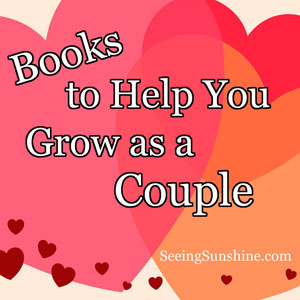 You may also like these posts:
Read all my marriage posts here, and be sure to follow my Pinterest board Loving My Hubby.