My husband and I wrote our own vows for our wedding. It was something I really wanted to do, and I think we are both so glad that we did it. I love that they were written from the heart and very personal. We wrote our vows separately and didn't hear each other's until our wedding ceremony. It made it even more special!
After our wedding, I knew I wanted to create something with our wedding vows to display in our home. I wanted to be reminded of those vows often. I also loved our wedding photos. We had a great photographer, and I figured I could display our wedding vows using our wedding photos.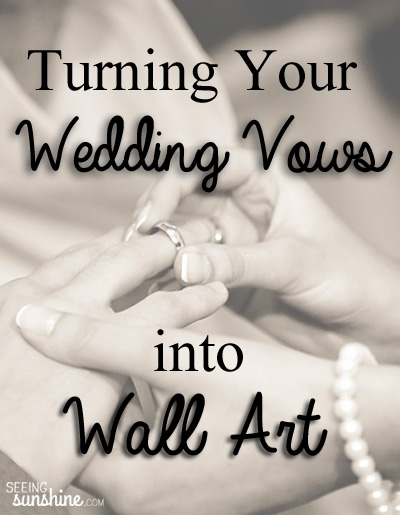 Using Photoshop Elements, I added our wedding vows to two of our wedding photos. It wasn't too hard to do other than making sure the photos were cropped right and the right measurements for a large frame.
I wanted these photos to be big so that you could actually read the vows. I had the photos — 16 x 20 prints in black and white– printed through Shutterfly and sent to me by mail. When I got them, I was so excited! They turned out great!
Next, I went to Hobby Lobby and had the photos custom framed. I chose which frames I wanted, which was a very hard decision! I went with a small grey frame, overlapped by a large classy black frame. I love how they turned out. I'm so glad I chose neutral colors for my frames so that these pictures can move from room to room throughout our lives and always match our decor.
Here is what the wedding vow art looks like finished.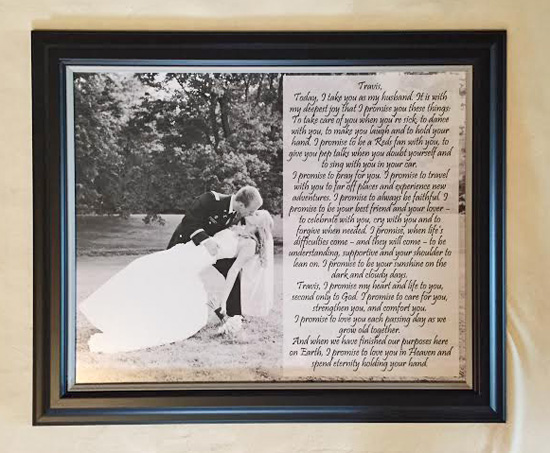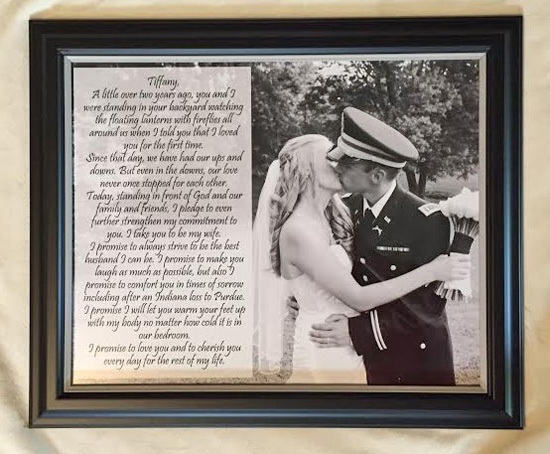 Here are some closer up images of our vows.
These frames are going to hang in our bedroom. I have a couple other pieces of art I'm going to hang in the same room. One is a small piece of art I got from Khols, and the other is something I painted myself on canvas. I like how it turned out and that it includes the color scheme for our bedroom. Plus, it was super easy to make!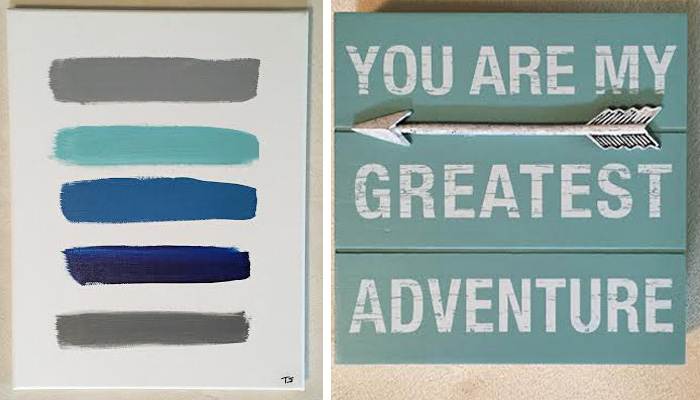 I can't wait for my bedroom to be finished. We are about to start installing dry wall, and then I will paint the room and hang my art. I'm looking forward to giving ya'll a bedroom reveal!
For more wedding ideas, check out these posts:
Be sure to follow my Pinterest boards DIY and Wedding Ideas.