As bloggers, writers, and Christians in general, we tend to tell our stories once we have a happy ending. We tell how hard it was and how God got us through. We got to the other side, found our way through the valley. We're basking in the sunshine on top of the mountain. Those are inspiring and encouraging stories, and I've got my fair share of them.
But today, I don't have one of those stories to share. Today, I'm just going to be totally honest in this post.
I'm right in the midst of it.
In the hard.
In the struggle.
In the valley.
This past month has been difficult, and it honestly feels like it just keeps getting harder. Some days I just feel like the waves won't stop breaking over me. I find it hard to catch my breath and keep my head above the water. Some days it feels like I'm choking on the saltwater, wiping my eyes, and trying to stand up. And I'm getting tired and weak from those pounding waves.
I haven't been asking God to calm those seas. Although I know He's a God of miracles, I also know changing my circumstances is not in His plan. So instead, I've been asking Him to make me a stronger swimmer.
It's a hard prayer. I'd much rather ask Him to send me a raft or better yet a good looking lifeguard. I'd rather be swimming in calm water with a mask and a snorkel and some pretty fish to look at. How I would love to not be in the water at all — just let me lay out on the sand with a good book and drink in my hand.
But that's not where I am. Not right now.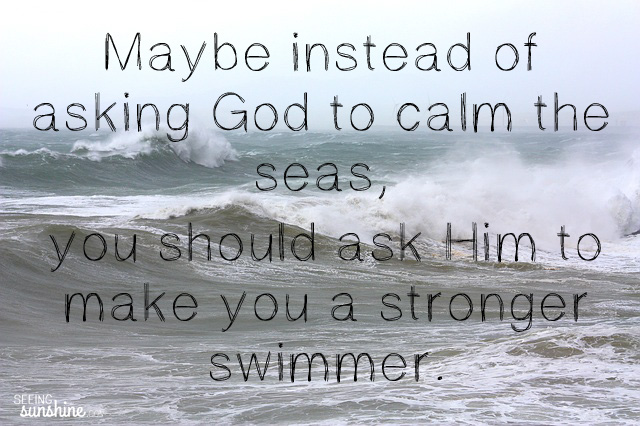 I'm right in the midst of it. Maybe you are too?
And that's OK. It's OK to be right in the middle of the hard. We have to be there at some point before we can get to the other side. We are learning to be stronger swimmers. We learn to close our mouths when the wave strikes so we don't swallow the water. We are becoming stronger.
We are becoming. We are in progress.
When you talk about what you're going through while it's raw, you open the door for others to do the same—while dissipating any shame that you might feel. The beauty of technology now is that we can document these things as they happen, so there is never a beginning, middle, and end to our stories. They, like life, are ongoing. They, like us, are works in progress. – Jane Pratt
You and I are works in progress. We are not finished. We will not drown. We learn to kick harder and hold our breath longer.
And we will survive.
And the waters will calm. Eventually, they will.
I know how hard it is to see that. I wanted to write, "I hope the waters will calm." But the fact is, they will. And I know that, no matter how hard it is to see or how far off it seems — things will get better. And we will be stronger.
Dear friends, if you are one of those swimming in the calm waters or sitting on the beach, will you pray for those of us trying not to drown? Would you take a moment and lift us up?
And to my struggling swimmers … dear one, you are not alone. God is our life vest — so hang on tight to Him and kick your feet with everything you have. We will get through this.
You may also want to read: