Popeye knew what he was doing when he was eating all that spinach! It nourishes our eyes, builds our bones, and helps with our digestive system. Spinach is full of vitamins and minerals.
Did you know that research studies suggest that spinach in juice form is one of the healthiest ways to consume the green goodness? It's true!
Of course, I wouldn't want to drink straight spinach juice. That sounds gross. But I love this secret spinach smoothie — it's full of spinach but you can't even taste it. Instead, it tastes like a chocolate, peanut butter, banana smoothie! Perfect to give those kids who won't eat vegetables!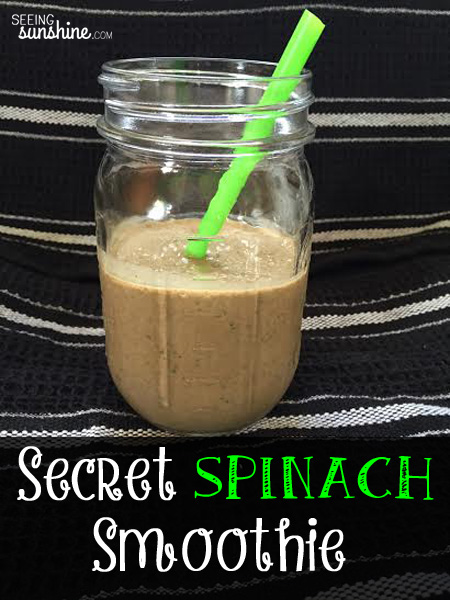 Here's what you'll need:
Frozen bananas
Peanut butter
Cocoa powder
Milk
Spinach
Put all the ingredients in a blender and blend. You need a good blender for this so that the spinach gets completely liquefied. Vitamix is probably the best brand out there for blenders, but I use a Ninja — it's a great brand too and less expensive.
Enjoy!

Secret Spinach Smoothie
Ingredients
2 frozen bananas
1 cup milk
2 Tbs cocoa powder
2 Tbs peanut butter
2 cups spinach
Instructions
Add all ingredients to blender
Blend until smooth
Check out my other
recipes here
and follow my
Recipe board
on Pinterst.
You may also like: