This is my first time away from Travis for so long. It's been hard for sure. Although, this isn't technically a deployment — the separation and lack of communication makes it feel like one sometimes.
One of the ways I am getting through these months is through uplifting and strengthening music. Listening to certain music can change my mood and attitude. I think this playlist for deployment can help you overcome and feel strong.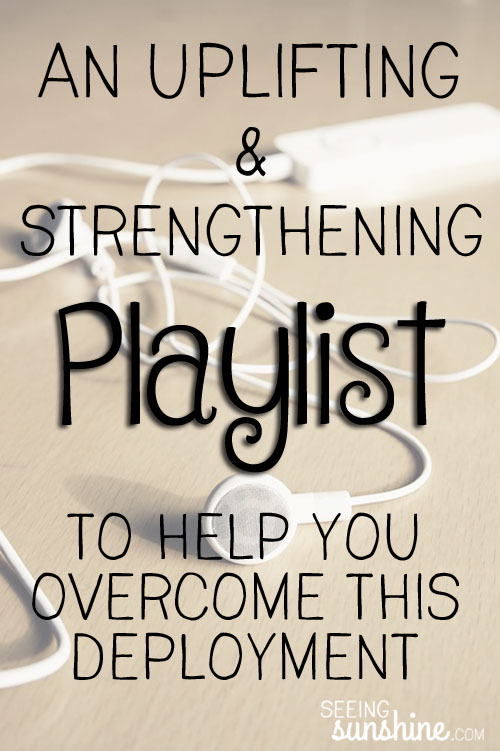 This list of more than 60 songs has many different genres of music, so you are sure to find something you like! Add these songs to your playlist for deployment!
Shake Senora by Pitbull
Girl on Fire by Alicia Keys
Fight Song by Rachel Platten
Stronger by Mandisa
Up! by Shania Twain
Get Your Shine On by Florida Georgia Line
I Know You Want Me (Calle Ocho) by Pitbull
We Live by Superchick
Feelin' So Fly by TobyMac
We Are Young by Fun
Listen by Beyonce
My Hope is in You by Aaron Shust
Outta My Mind by Anthem Lights
Remind Me Who I Am by Jason Gray
Mama Said by The Shirelles
Titanium/Bulletproof by Pitch Perfect Soundtrack
Overcomer by Mandisa
Stronger by Kelly Clarkson
Life Rolls On by Little Big Town
All About that Bass by Meghan Trainor
Honey, I'm Good by Andy Grammer
Fighter by Christina Aguilera
Move by MercyMe
Stronger by Kanye West
Count on Me by Mat Kearney
Waiting for Tomorrow by Mandisa
Get Back Up by TobyMac
Eye Candy by Josh Turner
Bon, Bon by Pitbull
He Said by Group 1 Crew
Dance, Dance, Dance by Mandisa
I Smile by Kirk Franklin
Set the World on Fire by Britt Nicole
Let's Go by Calvin Harris
I Won't Give Up by Jason Mraz
The Longer the Waiting by Josh Turner
Headphones by Britt Nicole
Feeling Good by Michael Buble
Giants Fall by Francesca Battistelli
Sound of the Saints by Audio Adrenaline
Waka Waka by Shakira
Man in the Mirror by Michael Jackson
Stompa by Serena Ryder
Marilyn Monroe by Nicki Minaj
Shake Me Down by Cage the Elephant
Sweetest Girl by Wyclef Jean
Shake it Off by Taylor Swift
Bulletproof by La Roux
Geronimo by Sheppard
Sooner or Later by Mat Kearney
Pause by Pitbull
We Run the Night by Havana Brown
Sugar by Maroon 5
Play Hard by David Guetta
I'm a Survivor by Reba McEntire
Shut Up and Dance by Walk the Moon
Cheerleader by OMI
Hip to My Heart by The Band Perry
Stuck Like Glue by Sugarland
Centerfold by The J. Geils Band
What's your favorite song to listen to during a deployment?
You may also like: