My bedroom renovation included drywall. And drywall means dust. A lot of it. Like piles of dust covering everything.
I walked into my room after the drywall was complete and the sanding was finished. I was overwhelmed by the amount of dust. And I seriously was not sure how to clean it. Along the way, I learned some things.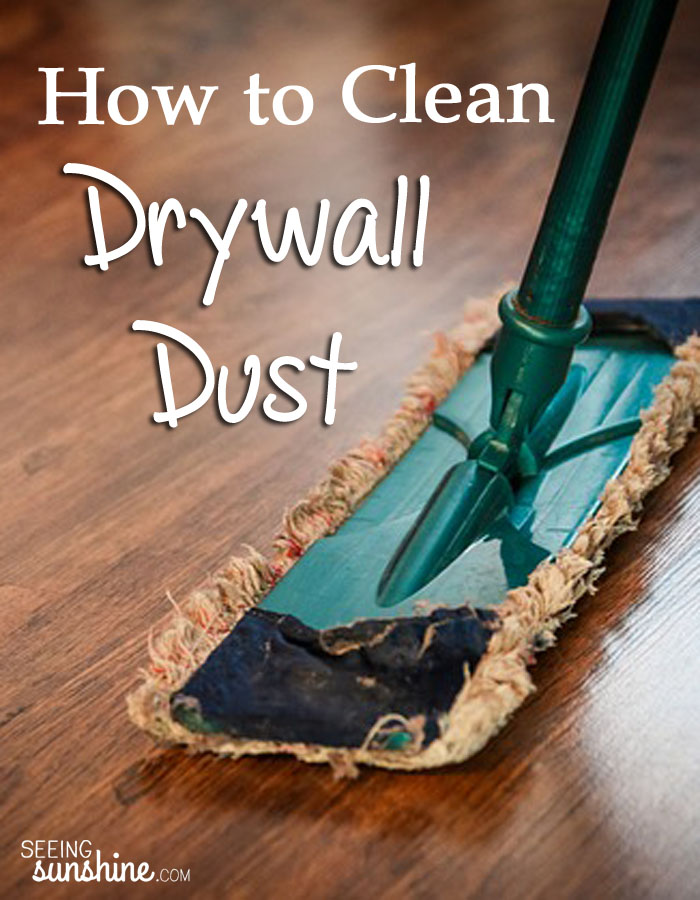 Tips for Cleaning Drywall Dust
While cleaning, be sure to wear a mask over your nose and mouth. Breathing in the dust is not good for you.
Be sure to keep the room closed off from other rooms or you'll have dust everywhere.
Keep registers or vents closed or keep air conditioning/heating off to keep the dust from circulating throughout the whole house.
Wipe down all the walls with a damp (very lightly damp) cloth. I did this twice.
Wipe down all doors and windows and any surface that dust could settle on. Don't forget about your light fixture too.
Sweep the dust into piles. This will cause some of the dust to go into the air.
You can buy a sweeping compound to sprinkle over the floors before cleaning. This helps keep the dust from going into the air and makes it easier to sweep up. I didn't use this, so it's not necessary but I'm sure it would be very helpful. If you use this compound, be sure to read the directions. A lot of them say you should wait 24 hours before sweeping.
Use a shop vac to sweep up the piles of dust or any areas you missed. Make sure to go around all the baseboards and corners too. I also used the shop vac for the window sills and around electrical outlets.
Open a window and stick a fan facing outward in it. This could help the dust in the air escape and go outside.
Do not use a regular vacuum cleaner. The dust can end up breaking your vacuum. I started to use ours but I think I stopped before I broke my vacuum — thank goodness.
Because the dust can get in the air, you have to clean the floors about a thousand times. I swept with the shop vac but after the dust settles, it almost feels like you never cleaned in the first place. It will take many times before you start to see a difference.
After using the shop vac, use a mop to clean the floors. I mopped the floor probably 10 times. Mop and then wait awhile to let the dust settle, then mop again. Over and over.
Once all the dust is clean, you are ready to start priming your walls! What tips do you have for cleaning drywall dust?
Be sure to follow my Pinterest boards DIY and Home.
You may also want to check out: