What do we say when someone is grieving? How do we help when a friend is in pain? Are you wondering how to help a grieving friend?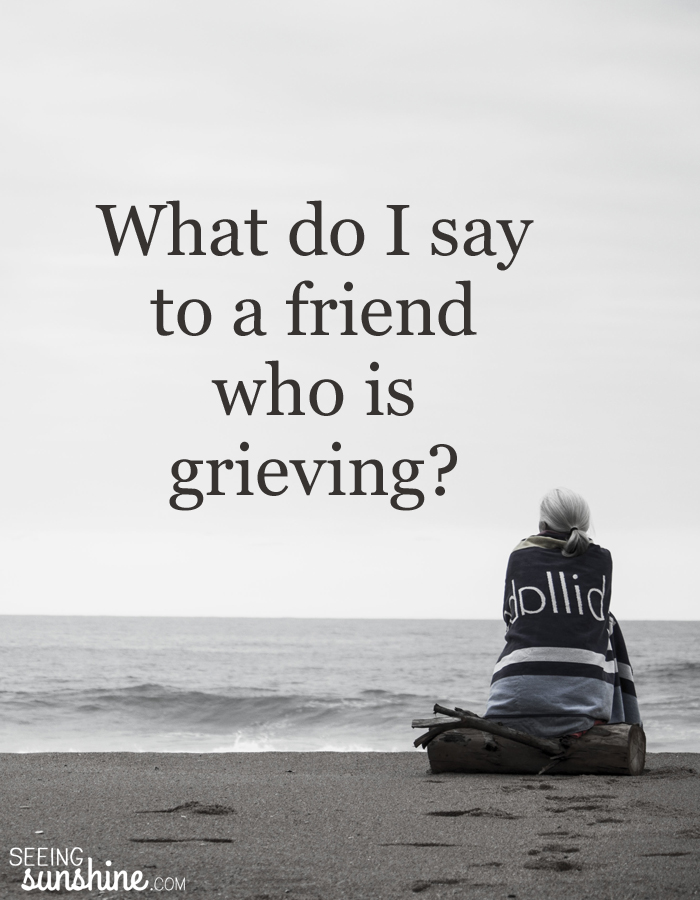 This topic has been on my heart lately. I've been told the saying, "God won't give you more than you can handle" during my own times of grief. In fact, it's a saying I believed and said to others.
But not anymore.
There are a lot of things in this world that God doesn't hand out. I believe most of the time, God is not the one causing our pain. Yes, He allows it, but He doesn't cause it or give it to us like some angry, punishing God. A lot of times the pain in our lives is caused by something of this world. A fallen world. People hurt us. And it can be painful.
"God doesn't give you more than you can handle" is a statement I don't think we should be saying to comfort others. Because I don't believe it's true.
I think this world is full of experiences that we cannot handle. And God allows those things to happen for two reasons.
We have freedom of choice. He gave us the freedom to choose and make decisions, and unfortunately a lot of time we make the wrong decision.
He allows those things to happen, knowing we cannot handle them on our own, so that we can grow closer to Him. In those times where we are grieving, in pain, unable to handle our situations, we have the chance to turn to the One who can handle it. The One who can comfort and heal and protect. And through these situations, His glory can be revealed.
Trials come in all shapes and sizes, but they don't come to show how much we can take or how we have it all together. Overwhelming suffering will come our way because we live in a broken world with broken people. And when it comes, let's be clear ahead of time that we don't have what it takes. God will give us more than we can handle — but not more than He can. — Mitch Chase in God Will Give You More Than You Can Handle
So what can we say when a friend is grieving? What do we say to those who are hurting?
Perhaps the answer is nothing at all.
Jason Gray has a beautiful song called Not Right Now. Read some of the lyrics below.
You could see the smoke from a mile away

And trouble always draws a crowd

They wanna tell me that it'll be OK

But that's not what I need right now

Not while my house is burning down
I recently heard the story behind that song. Jason was on tour with a friend and was going through a very painful time. He opened up to his friend and shared some things, bracing himself for the scripture or cliches his friend was going to answer back with. But instead, his friend Andy said, "I'm going to hug you. And I'm going to hug you for two minutes, I'm going to time it. And you have to let me."
They began hugging and Jason says that it was awkward. He was laughing at first. Two grown men hugging.
But the laughter faded as his friend held him, and soon tears came. Jason went from crying to weeping, until Andy was basically holding Jason up. Jason said it was the most healing experience he's had. His friend didn't offer answers, correction, or wisdom, he just offered his presence. (Listen to the full story here.)
Don't tell me when I'm grieving

That this happened for a reason

Maybe one day we'll talk about the dreams that had to die

For new ones to come alive

But not right now
I think sometimes in the pain and grief that is exactly what we need. Not words, but presence. You don't have to offer some piece of advice or word of encouragement, sometimes you just need to sit and be.
While I wait for the smoke to clear

You don't even have to speak

Just sit with me in the ashes here

And together we can pray for peace

To the one acquainted with our grief
I just love this song so much. I love how Jason reminds us that God is acquainted with our grief. He feels our grief as we feel it because He loves us so much that when we hurt, He hurts. And maybe that's all we need in those moments of deep pain, is just to know that someone else feels our pain too. That we aren't alone in our suffering.
So just sit. You don't have to say anything.