While my husband, Travis, has been living in South Korea, he has been able to visit a few new places. One of those places was Bali, Indonesia where he spent a few days exploring. He has given me a list of places he went and things he did, so I can share with you a great list of things to do in Bali.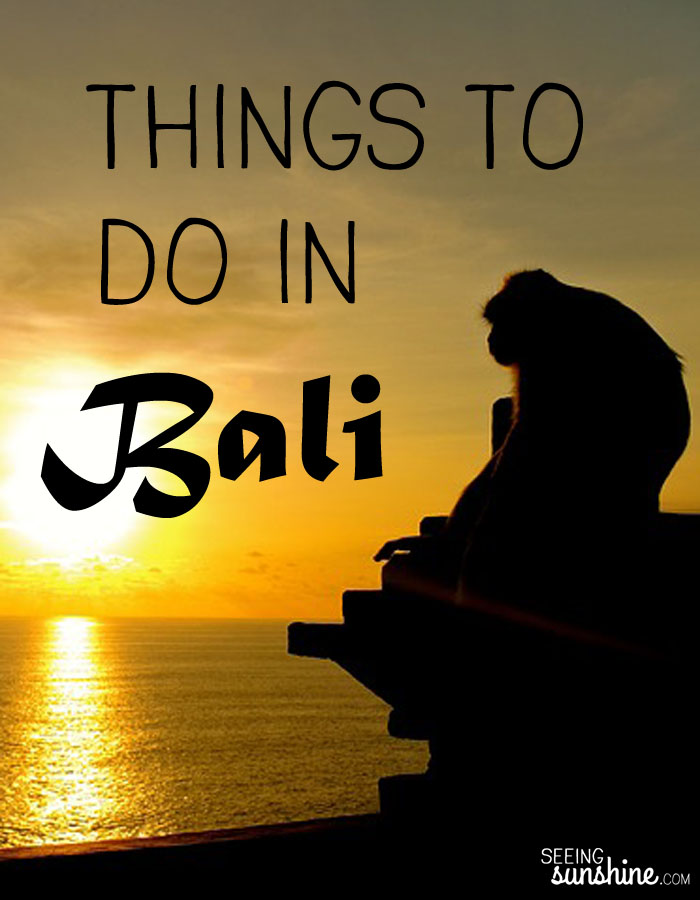 Travis' Recommendations
Lumbung Sari House of Coffee
Sit in your own personal bungalow right on the water as they bring you 15 different flavors of coffee and tea.
I am not a huge coffee and tea drinker, but these were so good! Plus, after I finished drinking them all, I felt like I could run about five marathons!
Sacred Monkey Forest Sanctuary 
Visit this huge forest with thousands of monkeys running around, playing on trees, and even trying to steal people's hats and cameras. So hold on tight to your belongings! There are monkeys of all ages, even small babies, here. Travis said it was so fun watching them in their natural habitat.
Atlantis International Bali Dive Shop
My husband loves scuba diving, and here he was able to take a 2-hour drive to the north side of the island called Tulamben. This is where the USS Liberty, a cargo ship that was sunk during WWII, is shipwrecked. There is lots of marine life and the visibility is great in this area.
There is a breathtaking drop  off and a coral garden. I was able to see groupers, eels, sea turtles, clown fish, sea anemones, and various reef fish. The water here is warm all year round, so you could drive here anytime.
Bali Theater
Check out music and dance shows.
Nadias Gold and Silver Factory
Watch the factory workers melt and mold gold and silver into jewelry. They make everything by hand and are very skilled. Visit the gift shop to purchase some of the jewelry.
(Bali is predominantly made up of the Hinduism religion and the Swastika is a sacred symbol in that religion.) For $40 a night, you can stay here in a very spacious room with a nice pool, spa, restaurant, and souvenir shop. The only downside to this hotel was there was no A/C unit, so it does get warm at night.
I would definitely recommend this place. The staff was very friendly and would go out their way to get you anything you needed.
Other Things to Do in Bali
Check out the Sekumpul Waterfalls
Play at a Water Park
Try out Circus Waterpark Bali, Flowrider Waterbom Bali, or New Kuta Green Park.
Go Scuba Diving or Snorkeling
Take a Private Tour or Cultural Tour
Go on a Bike Tour
Take a Cooking Class
Learn how to make the yummy dishes you eat in Indonesia. Try the Paon Bali Cooking Class or the Lobong Culinary Experience.
Visit a Spa
Visit Menjanga Island
Visit Tanah Lot Temple
Is Bali a place you'd like to visit someday?