The military comes with its pros and cons. Being separated is definitely a con.
But even being separated has its own pros and cons (few pros, but still). One of the pros to being separated is being able to send fun mail to each other. I love gift giving and being creative. I love searching for little things I know my husband will enjoy.
I've only been able to make Travis a few care packages in our time separated, but that doesn't mean I'm not always collecting ideas in case we need them for the future.
Plus, even if it's not for someone in the military, care packages are super fun for everyone! Heck, I would definitely love to open my mailbox to a box full of goodies! Who wouldn't?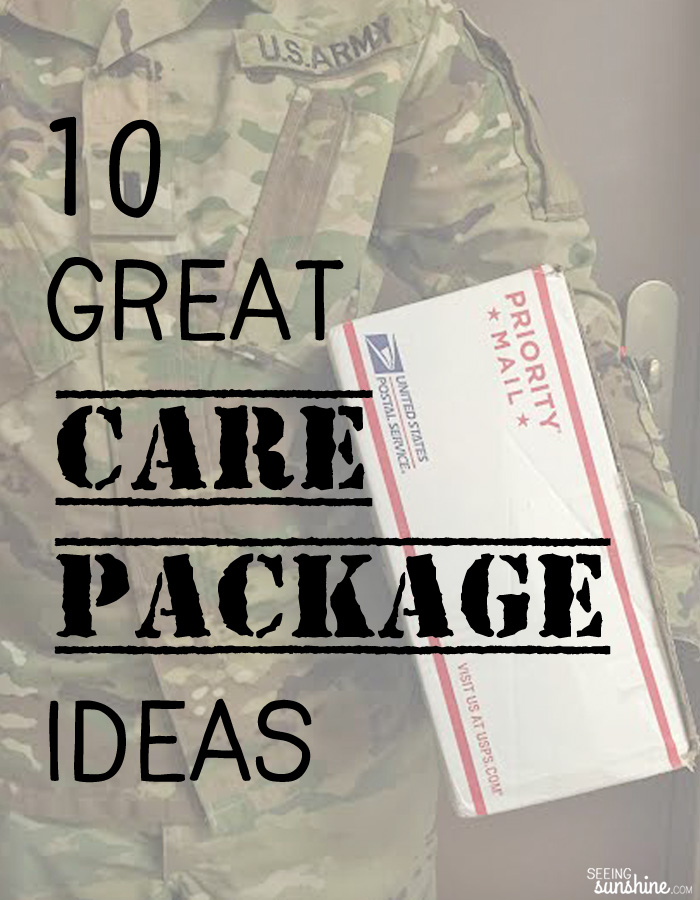 Check Out These 10 Care Package Ideas
HEY HOT STUFF
From @jade912 and featured on Creative Care Packages, this HOT box. What a great way to remind your hunny how good looking he is! I love this idea because Travis loves spicy foods, so I could fill it full of spicy treats for him. I love that the box looks pretty easy to decorate too. I bet I could find some scrapbook paper with flames already on it.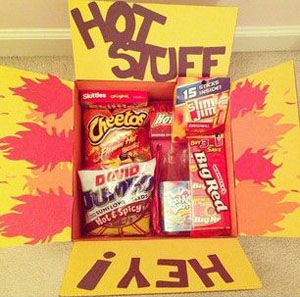 TO MY SWEET POTATO
I found this idea on Pinterest, but I can't for the life of me find the source. So if you designed this box, please let me know so I can give you credit. This is one of the cutest boxes I've ever seen. The decorations are on point! What a cute box for Thanksgiving time. You could fill it with all of his/her favorite Thanksgiving dishes — bought or homemade.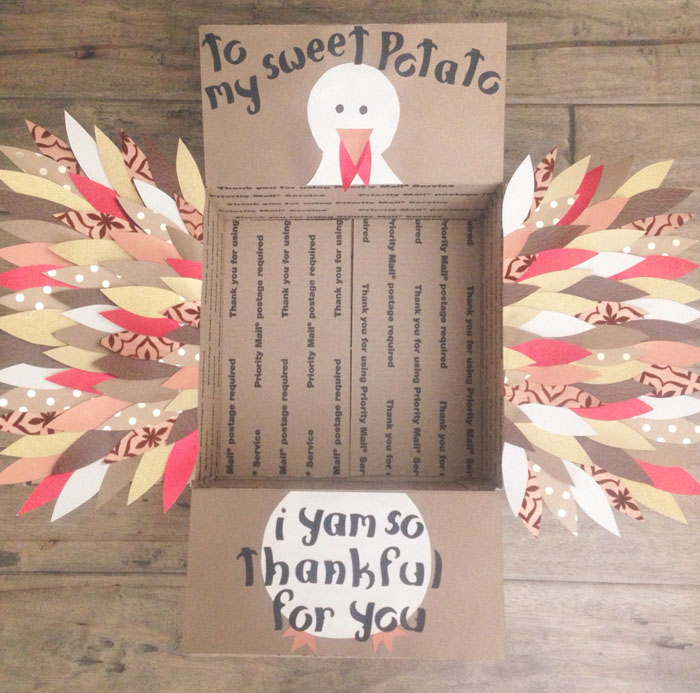 I'M NUTS ABOUT YOU
I found this idea on Athletes Abroad, but I'm not sure the original picture came from them. The decorations are super cute, but I love that I could easily fill this box with snacks that have nuts in them. Plus, Travis loves trail mix so I could include all sorts of different mixes. You could even throw in a cute squirrel stuffed animal!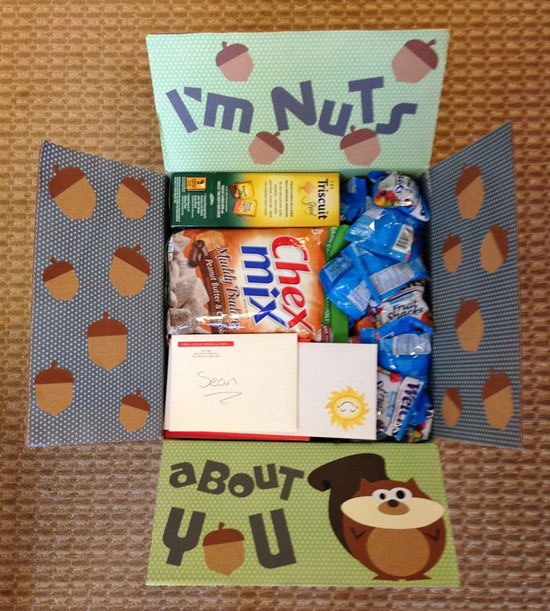 SORRY I'M CHEESY
This one is so easy to make and fill! It comes from Jennifer Call (@jkaycall and featured on Creative Care Packages). All you need for this one is some yellow/orange scrapbook paper. You can just use a marker to write the words or get some sticker letters. Travis loves his cheese, so I would definitely use this idea at some point. Fill this box full of all those yummy cheese snacks!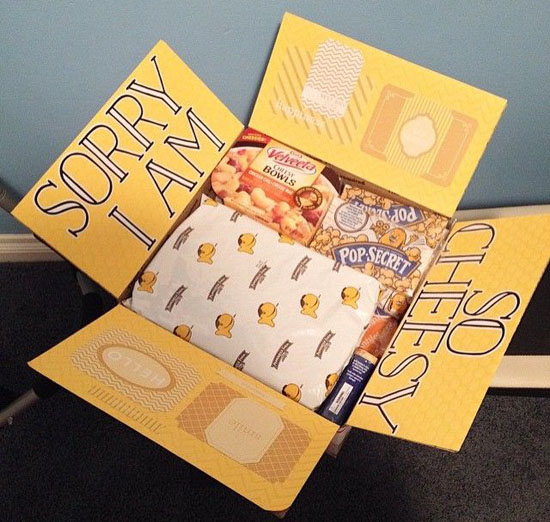 HAPPY 4TH OF JULY
I had to include this one because Independence Day is my husband's favorite holiday. This is a care package I've made and sent him, and it was the one I had the most fun creating. You can see more photos and even get some great ideas for how to fill this box by reading this post.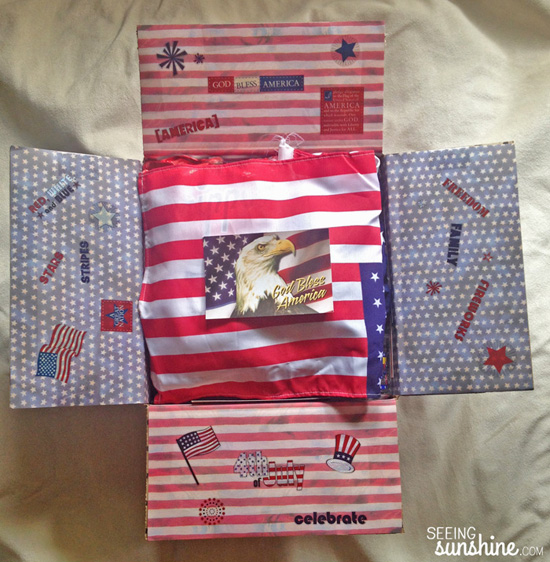 MOVIE NIGHT
Here's another one I've found on Pinterest but can't find the source. I love the whole theme of this care package. It would be so fun to fill with favorite movies on DVD, popcorn, popcorn toppings, candy, pop, and whatever else you love at the movies. You can even find popcorn scrapbook paper!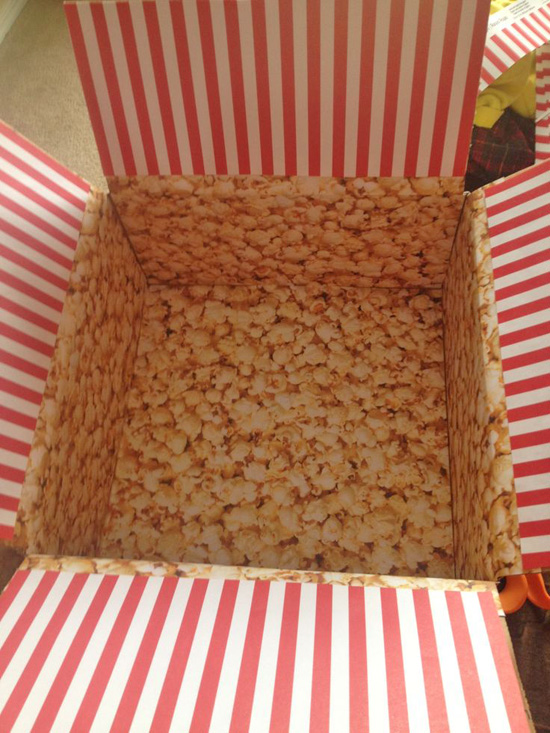 HEY THERE SLUGGER
If you know someone who loves baseball, this is a great idea — especially in the spring! My husband is a big baseball fan, so I made this package for him. It was the first care package I ever sent him, and I know he really loved it. It was right during his softball season too, so he was able to use all the stuff I got him. See what I included in the box here.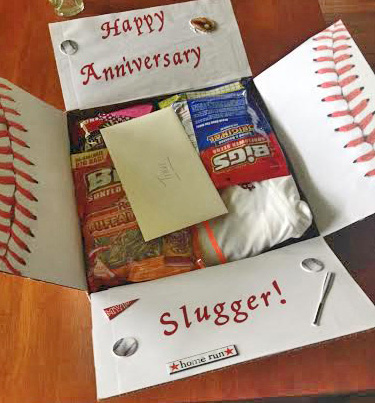 RISE & SHINE
This box idea comes from Meagan at Army Wife Life. She sent her husband this box full of breakfast goodies, and she even decorated the box so cute. I love anything that has to do with sunshine!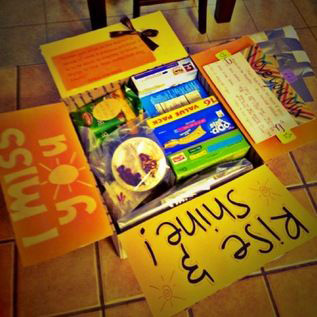 SO GLAD I HOOKED YOU
Ashley from Love From Home came up with this cute fishing themed care package. Travis' two favorite pastimes are probably baseball and fishing. So of course a fishing care package is appropriate! I love how you can fill this box with actual fishing stuff plus fun snacks like Goldfish or sour gummy worms.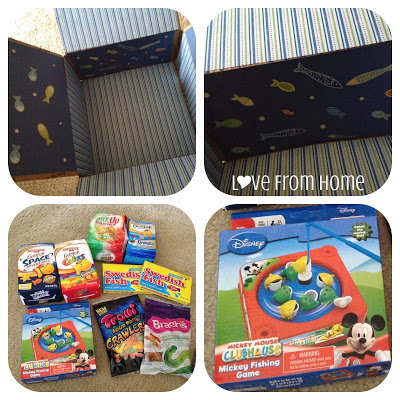 BOX OF SUNSHINE
Well of course I had to include this idea! I love how Little Miss Suzy Q decorated this box. How cute is that? Plus, how easy to fill it full of anything yellow and orange. I love the idea of sending someone a box full of sunshine, especially considering what sunshine means to me.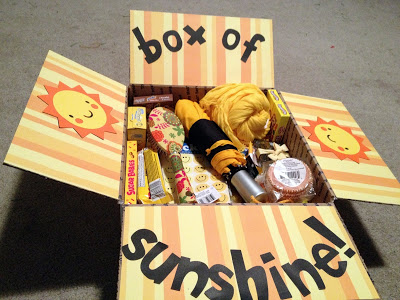 What are your favorite care package ideas?
I recommend following Creative Care Packages on Instagram for tons of ideas! You can also follow my Pinterest boards Military Life and Party & Gift Ideas.
Check out these other posts: