I decided to give these little treats a try. After I finished them, my mom was so excited because her grandmother used to always make them. I took them to my mom's house and she got out the old antique candy dish our Grandma Thompson used for her cinnamon sugar pecans. I know it warmed my mama's heart to have these treats sitting in that dish.
These are yummy! I wanted to share this recipe if not for anyone else at least for my mom.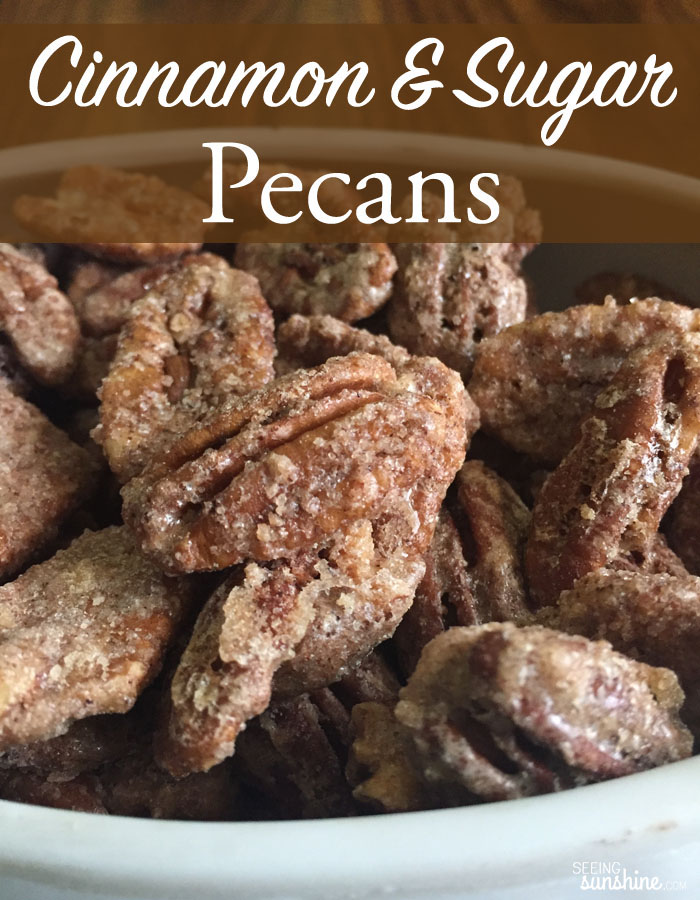 Here's what you'll need:
Pecan halves
Egg white
Water
Vanilla extract
Sugar
Cinnamon
Salt
Preheat your oven to 250 degrees and spray a baking sheet down with cooking spray.
Mix the sugar, cinnamon, and salt into a large Ziplock bag.
Whisk together the egg white, water, and vanilla into a large bowl. Throw the pecans in and stir until the mixture is covering all the pecans.
Pour the pecans into the Ziplock bag and shake until the pecans are covered. Spread them out onto the greased baking sheet. Bake them for one hour — taking them out to stir every 20 minutes.

Cinnamon Sugar Pecans
Ingredients
1 lb pecan halves
1 egg white
2 tsp water
2 tsp vanilla
1 cup sugar
1 Tbs cinnamon
½ tsp salt
Instructions
Preheat oven to 250 degrees
Spray rimmed baking sheet with cooking spray
Whisk together the egg white, water, and vanilla in large bowl
Add pecans to wet mixture and stir until pecans are coated
Mix together sugar, cinnamon, and salt in large Ziplock bag
Pour pecans into dry mixture and shake until pecans are covered
Spread the pecans onto the baking sheet
Bake for 1 hour, stirring every 20 min
For more recipes,
click here.
Follow my Pinterest board
My Recipes.