So I was just craving chocolate one day and came up with this recipe. It was my dream — a chocolate dream filled with heavenly flavors. This dessert is basically like dirt pudding minus the cream cheese with the added surprise of brownies! You heard me right! Who wants to go to chocolate heaven with me?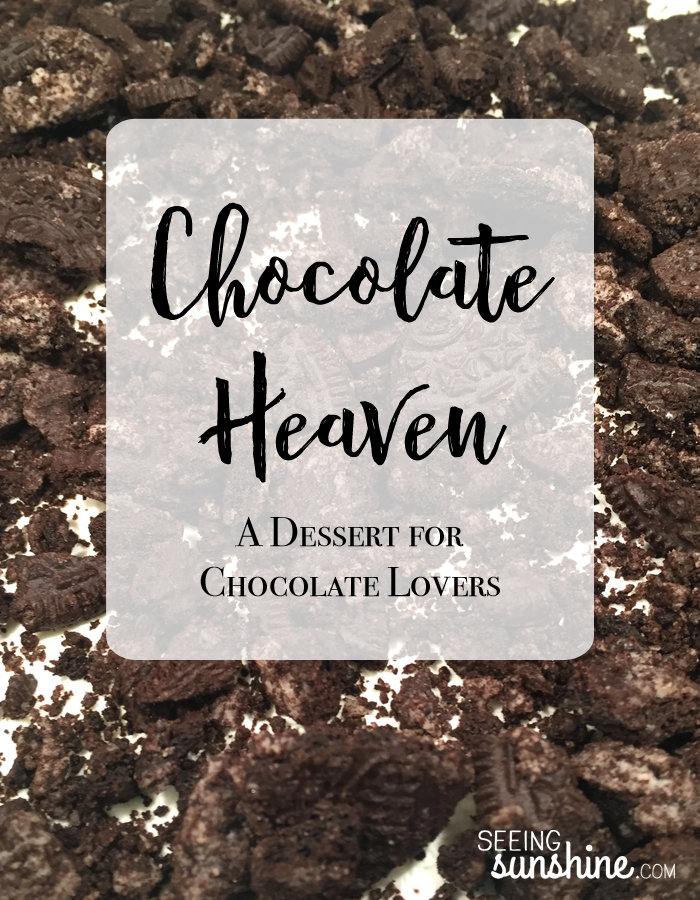 Here's what you'll need:
Oreos (1 whole package!)
Chocolate pudding (mix + 3 cups of milk)
Brownie mix (mix + eggs + water + oil)
Whipped cream (sugar + heavy whipping cream)
Crush all the Oreos in a large Ziplock bag. Spray a 9×13 pan with cooking spray. Layer 2/3 of the crushed Oreos in the bottom of a 9×13 dish.
Make your large box of instant chocolate pudding. You'll need 3 cups of cold milk. Whisk it together and then layer it on top of the Oreos.
Place the dish in the fridge.
Bake your brownies. You can make homemade, but I love Duncan Hines Double Fudge box mix. They are amazing! I make them using the fudge-like brownie recipe on the back of the box. Once they have cooled, cut them up into small pieces and spread them out over the pudding.
Next, add the whipped cream on top. I like homemade whipped cream the best. It's easy to make. Just use 4 Tbs sugar and 2 cups heavy cream. I put it in my Kitchen Aid mixer and use the whisk attachment. I whisk on high until it looks like whipped cream. Spread that over the brownie pieces.
Finally, I add the remaining crushed Oreos to the top. And just like that you are in Heaven! Be sure to keep the dessert in the fridge until you are ready to serve.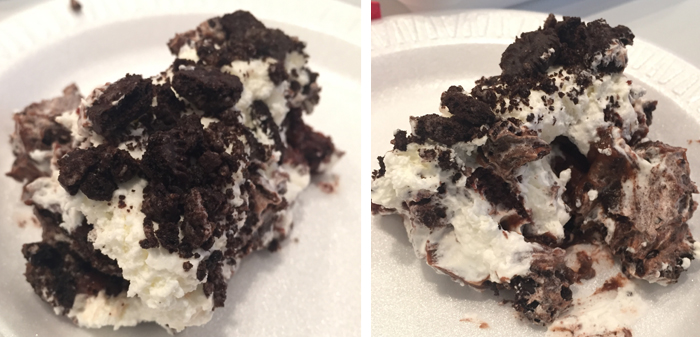 Chocolate Heaven
Ingredients
1 package Oreos
1 large box instant chocolate pudding (+ 3 cups milk)
1 box brownies (+eggs, oil, and water)*
4 Tbs sugar
2 cups heavy whipping cream
*I use Duncan Hines Double Fudge brownie box mix! So good!
Instructions
Crush all the Oreos
Grease a 9x13 glass dish with cooking spray
Layer ¾ of the crushed Oreos on the bottom of the dish
Make the pudding based on back of box directions
Layer pudding on top of Oreos
Make brownies based on back of box directions
Once brownies are cool, cut into small pieces and top the pudding with them
Make whipped cream with the sugar and heavy cream (whisk together on high)
Layer that on top of brownies
Add the remaining crushed Oreos to the top
Refrigerate until ready to serve
Check out
more recipes here
! And follow my
Pinterest boards
!