I knew a few people who had experienced one or more miscarriages, but most of them never talked about it. I honestly didn't know much about miscarriage — until I had one. There are so many things I didn't realize, and I know there are others out there who have never experienced such a loss. I want people to have a better understanding of what happens and how the woman feels. I want it to be OK for me to talk about my experience, to be open about the heartbreak and the physical toll this miscarriage caused. Be warned — this post is real and raw and totally honest.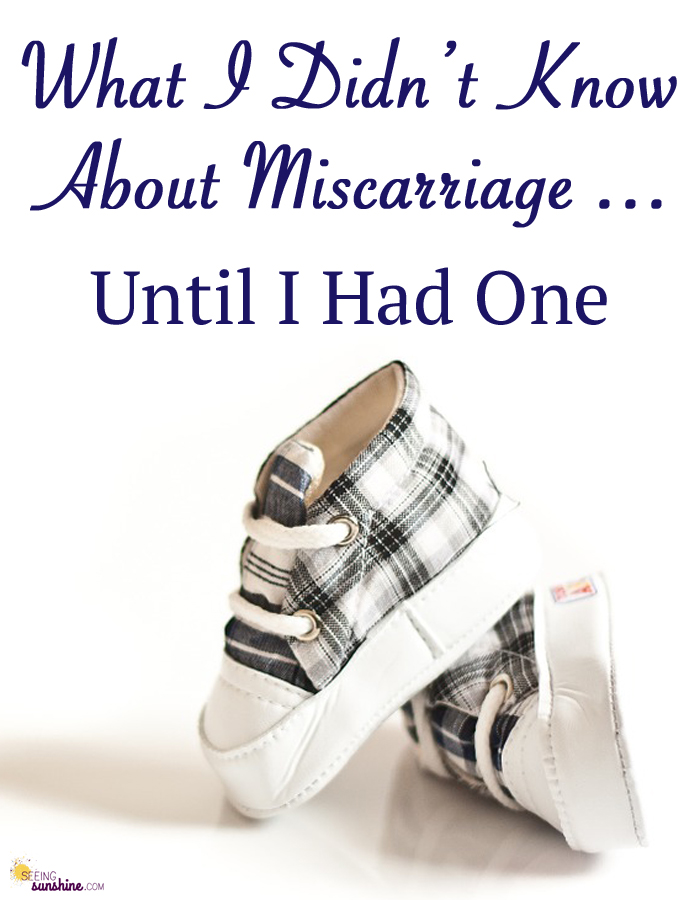 Things I Learned About Miscarriage After Having One
1. It's a Process
I always assumed when a woman had a miscarriage it meant she started bleeding a lot, went to the hospital, found out she lost the baby, and that was it. I thought it was physcially all over within one day. Perhaps that is the case for some, but for me and for most everyone else I've talked to, it's a process. Your body has to expel everything inside your uterus. This could take longer for those who are farther along in their pregnancy. This means a lot of bleeding and a lot of cramping. For some, their bodies can't physically do it on their own. Some people have to take medicine that makes them bleed and cramp even worse. Others have to have a surgical procedure called a D&C. Some even experience labor. Each person's experience is different, but just know if your friend just had a miscarriage most likely she is having a miscarriage and the process isn't even over. Most women experience bleeding for at least a week.
2. Desire to Shower
You may think that bleeding and cramping is normal for a woman because she's used to having a period every month. Please understand that this is not a period. I was surprised at how much I desperately wanted to shower sometimes. There was one day in particular where we were stuck at the hospital for much longer than we planned and all I wanted to do was shower. I was crying and telling Travis, "I just want to shower. Please let me shower." It wasn't because I wanted to look pretty or have my hair done. It was because I had been bleeding so much and that blood, to me, was my baby. That blood was the life I wouldn't get to care for. I desperately wanted to shower to wash away the blood that was a constant reminder that I would not have someone calling me "mommy."
3. Vaginal Ultrasounds
My idea of an ultrasound was what I had seen on TV and in movies my whole life. The nurse moves a wand around your belly while your husband holds your hand. You hear the heartbeat and see a little spec on a screen and everything is beautiful and magical and perfect. You cry in gratefulness of the miracle you can actually see and hear. This was not my experience at all. I had two ultrasounds with the wand on my belly, but neither one showed anything and it wasn't because of the miscarriage. It was because my uterus is tilted, which is actually very common. This makes it very hard to see anything. Because of that I had four different vaginal ultrasounds. If you thought a pap smear was bad, sorry but this is worse. It is uncomfortable and even painful sometimes when they are moving that giant wand around inside you. These ultrasounds caused me to bleed and cramp even more than normal. You definitely don't see any of that on TV!
4. Ultrasound Techs
No one told me during my first ultrasound that the technician is actually not allowed to tell me anything or give me any results. Having a silent ultrasound tech left me in tears. If the doctor or radiologist is the one doing the ultrasound, they can tell you what's going on and what they are seeing. But if you have an ultrasound technician, they are legally not allowed to tell you about anything. It makes the whole thing very nerve-wrecking and scary. Please know if your ultrasound tech doesn't say anything it doesn't necessarily mean that anything is wrong.
5. Heightened Awareness of Pregnancy
One awful part of having a miscarriage is that you still have to keep going to the OBGYN for follow-ups until your HCG levels are completely down. This means sitting in a waiting room full of women with growing bellies while yours remains flat. I've never noticed so many pregnant women and newborn babies as I have since losing my baby. It can be hard to be around those who have what you lost, especially while you are still experiencing the miscarriage. Personally, I'm just trying to steer clear of those triggers until I have time to process and grieve more. I know that it will get better with time.
6. Fear of Pregnancy
I've always thought of getting pregnant as such a joyful moment. Sharing the news, making plans, buying maternity clothes — it all sounds so wonderful. After losing my first baby, I feel like I've also lost the joy of pregnancy. I know that the next time I get pregnant, it will be a time of fear. I will be haunted by my loss and all the possibilities of what could happen. The excitement will still be there, I'm sure, but it will never be the same. I imagine it will feel like a race to hit week 20 — when your chances of miscarriage drastically decrease. My next pregnancy will definitely be a time of leaning on God and trying to trust Him.
7. Waiting to Share
I couldn't wait to share my news with the world. We began telling family as soon as Travis was home from Korea. I didn't fully understand why people waited until week 12 to share their wonderful news. I understand much better now. The reason I would wait now is because if I did lose the baby, I would be able to share the news in my own time. Because we had just shared the good news with our families right before the miscarriage, we had to turn around and immediately tell everyone the bad news. Do you realize how difficult it is to say out loud that you lost your baby? It makes it real. And the last thing you want is for it to be real. By waiting to share the good news, you are saving yourself the possibility of having to share the bad news before you're ready.
8. It's Common
As I was experiencing miscarriage in the hospitals, the doctors and nurses kept telling us how common it is. I knew it was common, but I didn't realize how common. Since sharing the news of losing our baby, so many people have opened up with me about their own miscarriages. Even people in my own family have shared that they too have had one or more miscarriages — and I had no idea. I don't understand why this is something that many people don't talk about. Why suffer in silence all alone? There are so many women and couples who have been through this. Does that make it any easier? Definitely not. Do not tell a woman how common it is as a way to ease her pain. However, knowing others who have been where you are does help. You know you are not alone and can have others to talk to who truly understand.
Have you had a miscarriage? What things did you learn through the experience?
For more posts on this topic, take a look at my Pinterest board Miscarriage.
You may also want to read:
Are you currently going through a miscarriage? I'm so sorry for your loss. Consider ordering my eBook Miscarriage & Mourning. It's my hope that this book will be an encouragement to you and help you see that you are not alone in your grief.