After having a miscarriage, at first I thought I could pretend that I was never pregnant at all. Perhaps, if I could make myself believe that there never even was a baby then the loss wouldn't be so hard. I could quickly move on and be happy again.
That idea didn't last long. As the reality set in, and my grief began, I knew there was no way I could ever forget.
Would it be easier to forget it all? Yes. But that is most definitely not the best option. Instead, I know that I need to remember. I need to grieve the loss so I can heal and move forward. But even in moving forward, I don't ever want to forget. I don't want others to forget either. I need people to recognize that I didn't "just have a miscarriage," I lost my baby — a baby that did exist (even at 10 weeks) and was very loved.
It seems it is easy for some to think of this as "just a miscarriage." But the fact is, I had a baby. I had life inside me. Even without hearing the heartbeat of that precious life, I still knew there was life. And the second you know there is life inside you, the dreams begin. I want to remember my baby, and I want you to too.
When we began telling our families about the pregnancy, I recorded the reactions. I couldn't wait to put all the videos together so everyone could see the happy and shocked reactions. I couldn't wait to someday show my little one how happy everyone was when they found out about him/her. I wanted our baby to know he/she was loved from the very beginning.
After the miscarriage, I decided I still wanted to put all the reaction videos together. I wanted to do it in remembrance of our baby, to show that this baby was loved from the very beginning. I stayed up late, not able to sleep, coming up with ideas on how to reveal the news to my loved ones. I didn't want those sleepless nights to go in vain.
Today, I'm sharing that video with you all. This is a happy video full of love for a new life.
There are other ways to remember my baby. Travis and I have talked about different ways we plan to remember our Little Dumplin.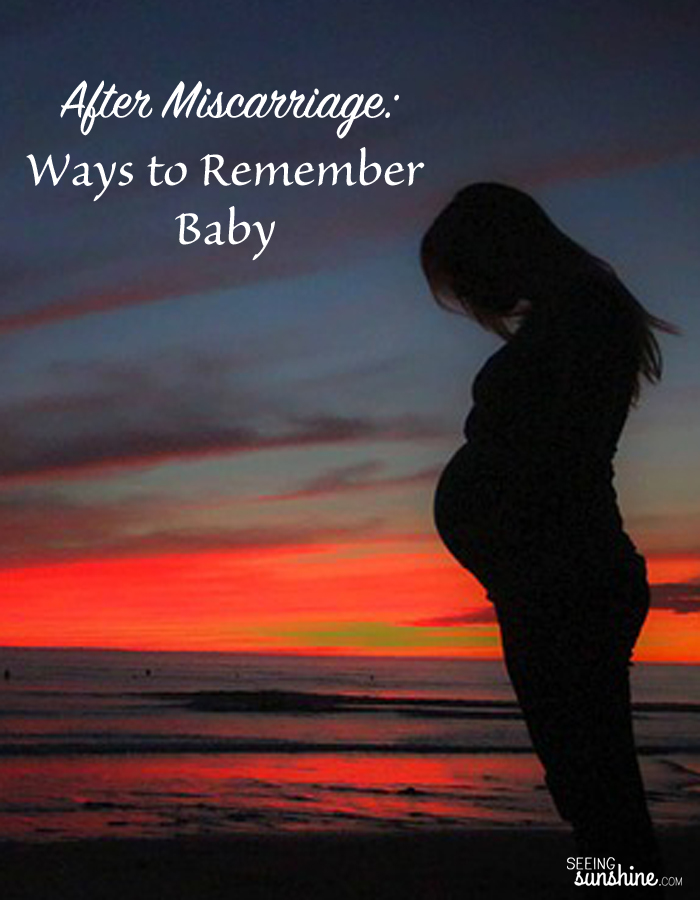 After Miscarriage: Ways to Remember a Lost Baby
Plant a tree in remembrance in your yard (We plan to do this at some point.)
Get a piece of jewelry to wear (I really like this necklace.)
Get or make a printable with a quote or scripture and frame it in your house (I'm working on a piece to frame in our home right now.)
Make a video of your photos or videos to keep (Like I did above.)
Make a scrapbook
Write in a journal or on a blog
Frame your sonogram and put it somewhere special
Purchase one of these special pieces of artwork from The Seashore of Remembrance
Release a floating lantern into the sky (We plan to do this.)
Have a balloon release on your due date
Write a letter to your baby
Order a Molly Bear (this is such a neat idea!)
Order Certificate of Life to keep
Those are just a few of things we have thought of or plan to do. What other ideas do you have?
You can read my miscarriage story here. Or read my post Things I Didn't Know About Miscarriage … Until I Had One.
You can also follow my Pinterest board Miscarriage for more posts about this topic.
If you found this post helpful as you navigate through the grief of miscarriage, I encourage you to check out my eBook Miscarriage & Mourning: Encouragement after Pregnancy Loss.