It's Friday. Today would have been the first day of my second trimester. The worries would have decreased. My belly would have began showing. My baby should have tiny fingernails and functioning kidneys.
Instead, today is Friday. Just another day of the week.
As I've been writing about this loss, I've said many times that I HAD a miscarriage. But the fact is I AM miscarrying — present tense. The physical part of this loss isn't over as much as I wish it was. It's really hard to grieve and move forward when you are still bleeding, still passing parts of the life you long to hold. Today is what I hope will be my last doctor's appointment, but we won't know until we get there.
One thing I have learned during this is that people grieve differently. Some like to keep it to themselves, some like to avoid it, others like to talk about it with just close loved ones, and still others like to talk about it with anyone. I also think that you can grieve differently through different losses. The way I grieve through this may be completely different than the way I grieve about another loss.
Here's what I've come to realize about grieving through this loss. I want to immerse myself in it. I want to feel all the feelings. I want to cry as I read other's stories and realize I feel the same thing they are describing. I want to do everything I can to remember this baby and memorialize him they way every lost life deserves.
I want to get through it, but not over it. Whether I like it or not, moments from these last three weeks play on repeat in my mind. Just the other night, all I dreamed about was the baby and the miscarriage — like a broken record playing over and over in my subconscious.
Some people do not grieve openly or publicly, and for some things I don't either. But for this loss, I am choosing to grieve openly and publicly. I'm writing about this loss as a way to grieve. I'm writing about my baby as a way to heal. And I'm writing about miscarriage to help others.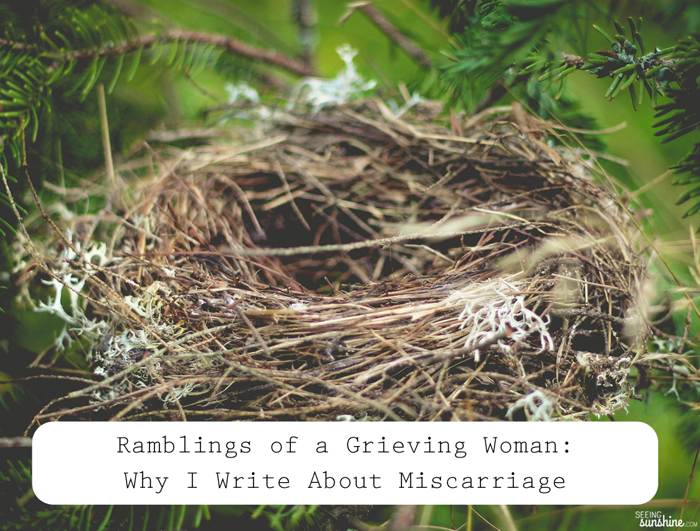 I am stunned about the outpouring of love and support Travis and I have received since sharing our story. At least a hundred people have reached out to us — and many of those people have shared their own loss. Some have experienced this same type of loss even as recent as a few months ago.
Do you realize that approximately 600,000 – 800,000 pregnancies end in miscarriage every year in the United States alone? That's more than half a million mommies and another half a million daddies grieving.
I know how many times I have googled things about miscarriage during these weeks of experiencing it. The word miscarriage is googled 165,000 times per month — that's almost 2 million times each year.
If my blog, my openness about my loss and what I'm feeling can help even just one of those half a million, then writing about this is worth it. I want others to see they are not alone. I want those mommies who are googling and trying to find someone else who shares their feelings to find me and know they aren't crazy. I feel that way too. I'm hurting too.
Let's grieve together. Let's remember our babies together. Let's cry. Let's laugh. Let's be open and honest and real and raw.
Here is the truth stripped down to its barest reality: I am a woman. I had life inside me. My baby died. I'm sad. I'm trying to figure out how to survive this and move forward.
If that's you too, let's walk this journey together.
Read my other posts on miscarriage here and follow my Pinterest board Miscarriage.
If you are currently going through a miscarriage, I encourage you to check out my eBook. Miscarriage & Mourning is a book about my own pregnancy loss and aims to encourage you during your own loss.