Music can be healing for many people. Certain songs can be easily qualified as healing music. As I've been processing the loss of our baby, music has been incredibly helpful. A friend of mine even sent me a card with an iTunes gift card inside. She understands how healing music can be.
I've been collecting songs for a long time now, and I've added more in the past few weeks. I wanted to share this list of healing music — songs for miscarriage survivors, or really anyone experiencing loss or heartache.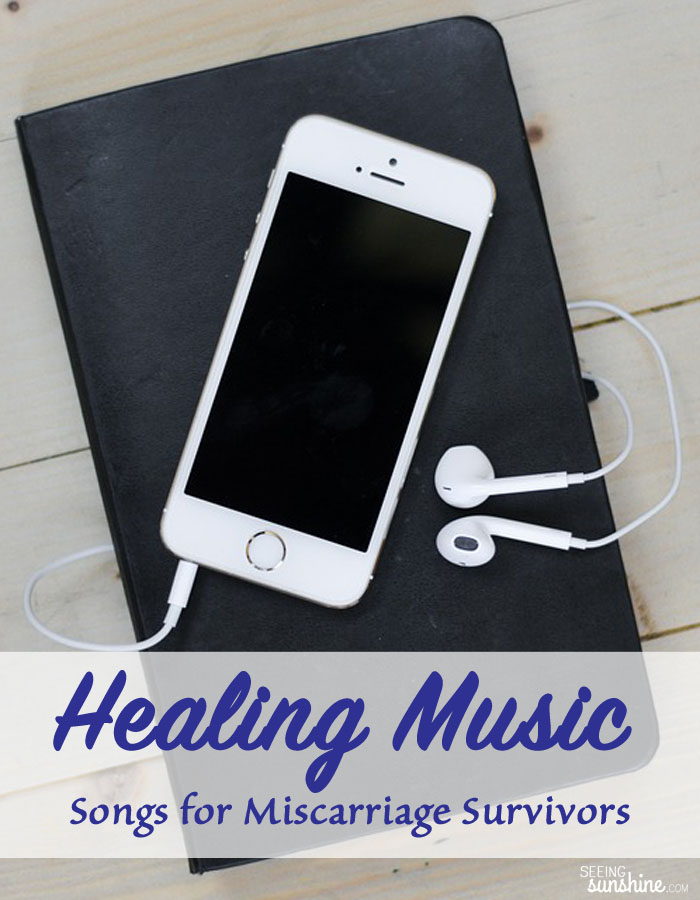 Learn How Healing Music Can Be With These Songs
Check out these songs and add them to your playlist. Let the words wash over you as healing begins.
Held by Natalie Grant
I Will Carry You by Selah
Not Right Now by Jason Gray
Remind Me Who I Am by Jason Gray
Steady my Heart by Kari Jobe
Come as You Are by Crowder
Lord, I Need You by Matt Maher
The Hurt & The Healer by MercyMe
Bring the Rain by MercyMe
Homesick by MercyMe
Hold On by TobyMac
Keep My Heart Alive by Sanctus Real
Rescue Me by Kerrie Roberts
Keep Breathing by Kerrie Roberts
Healing Begins by Tenth Avenue North
Hold my Heart by Tenth Avenue North
Worn by Tenth Avenue North
Busted Heart by King & Country
Broken Hallelujah by The Afters
Keep my Heart Alive by Sanctus Real
I'm Not Alright by Sanctus Real
Strong Enough by Matthew West
Save a Place for Me by Matthew West
The Sun is Rising by Britt Nicole
Your Hands by JJ Heller
Who You Are by JJ Heller
Blessings by Laura Story
My Hope is in You by Aaron Shust
I Want You Here by Plumb
Need You Now by Plumb
Borrowed Angels by Kristin Chenoweth
Gone Too Soon by Daughtry
A Thousand Years by Christina Perri
Never Alone by Barlow Girl
Fly by Celine Dion
Who You'd Be Today by Kenny Chesney
See You Again by Carrie Underwood
There You'll Be by Faith Hill
One More Day by Diamond Rio
Hello, Goodbye by Michael W. Smith
Welcome Home by Michael W. Smith
With Hope by Steven Curtis Chapman
Still by Gerrit Hofsink
Precious Child by Karen Taylor Good
Alright by Calvin Nowell
Slipped Away by Avril Lavigne
Hug Him Once For Me by Erica McClure
In the Arms of an Angel by Sarah McLachlan
Smallest Wingless by Craig Cardiff
I'll See You Again by Westlife
Footprints in the Sand by Leona Lewis
One More Day by Rocket Club
Dancing in the Sky by Dani and Lizzy
I know that's a long list, so if you don't check out all of them here are top three favorites right now: Worn by Tenth Avenue North, Not Right Now by Jason Gray, and Held by Natalie Grant.
What songs would you add to this list?