Travis and I were stationed at Fort Stewart for two years. We are the type of people who can't just sit at home every weekend. We love to get out to explore the area. Being in the military means you know you won't be living in an area permanently. Knowing that, we try to make the most of each place where we are stationed.
We loved visiting the surrounding areas of Fort Stewart — islands, beaches, Savannah, and even going to Florida and South Carolina were all things we enjoyed during those two years in Georgia.
Travis and I also consider ourselves foodies. We love eating. And we love trying new restaurants. We even made a food passport during our time at Fort Stewart so we could try lots of restaurants! During our two years living in Hinesville, we found four best restaurants that we would love to go back and eat at.
These are the four restaurants we would recommend to friends or family who are visiting or moving to the Fort Stewart area.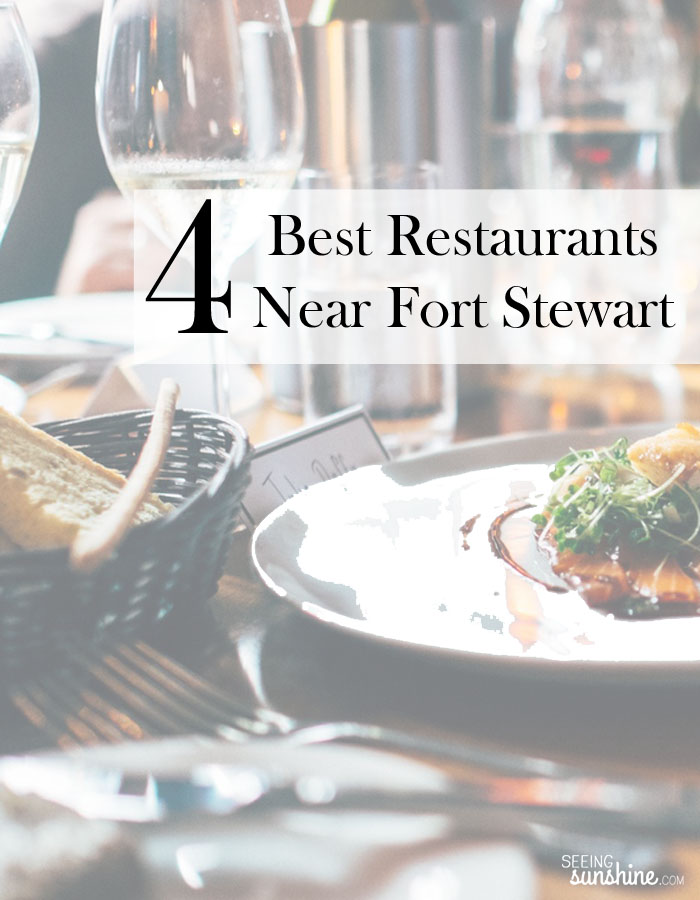 Our Choice for Best Restaurants
1. The Olde Pink House in Savannah
This is my all-time favorite restaurant that I've ever been to — ever. Travis and I went here for a date night and sat in the basement with low lighting and a candle at our table to see our menus. The food was delicious, the atmosphere was so romantic and cozy. We recommend you try the Pink Lady (a drink) from the bar. We also recommend you go here as often as possible and try the whole menu. We wish we could have!
2. Sunbury Crab Company in Sunbury
Off the beaten path is definitely how I would describe this restaurant. You keep driving and driving, farther and farther until there it is — at the water's edge under the big live oak trees. This is one of those locals'  favorites kind of restaurants. It's not fancy at all, especially compared to the Olde Pink House. We loved sitting in the open restaurant, watching the sun set over the water and seeing the boats drive by. We highly recommend the blackened swordfish if they have it as a special. You can also walk down the dock before or after dinner to get a great view of the water.
3. Fish Tales in Richmond Hill
This place is very well-known in Richmond Hill, probably because it's so dang good. I love that it's right on the river, overlooking all the boats in McAllister Marina. They have outdoor seating, which we highly recommend in the spring, summer, and fall. Most weekends they have live music, which just adds to the atmosphere. If you get a chance to meet the owners, you'll love them. They are very nice and very involved in the community. The restaurant even hosts events like fishing tournaments and boat poker runs.
4. The Shell House in Savannah
Looking for some seafood? This is the place to go! We loved this restaurant enough that we made sure we visited it again before we had to move away. It's a casual restaurant that honestly has all your favorite seafood dishes. Travis loved getting oysters, and I was all about the crab legs. You'll fill up on so much seafood that you'll forget you even got side dishes. They even have really good sweet tea, which is vital for a southern restaurant. We also liked that this restaurant is about 15 minutes outside of downtown Savannah, which makes it closer to Fort Stewart.
What would you recommend as the best restaurants near Fort Stewart?
You might also like these posts: