After having several people ask me how I started my blog and how they can start their own, I decided to write a couple posts about how to start a blog. You can read Part 1 and my first six steps to starting a blog.
Now, let's get down to the nitty-gritty. If you know anything about blogging, you know you need a self-hosted WordPress site to be taken seriously in the blogging world. WordPress.org is one of the most common and probably the easiest to use websites. WordPress wins, and if you want to be a winner then you need to hop on board.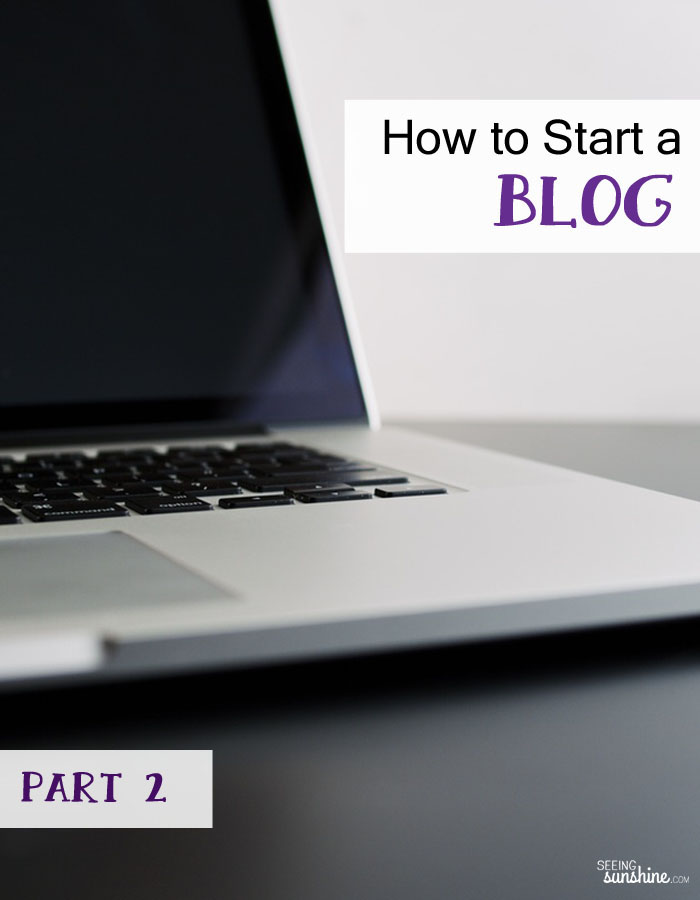 How to Start a Blog: The Next Steps
1. Get a web host.
If you want a blog, you're going to need a server — a space in the big wide world of the internet specifically for your website. This is where people want to take the free and easy way and go with Blogger or WordPress.com (don't confuse that with .org — I used to all the time!). But like I said before, if you want a successful blog, easier use in the long-term, and to be taken seriously in this big world of blogging, you need a self-hosted WordPress.org site from a hosting company.
I use Bluehost for my hosting company. This is not who I started with. I switched over a couple years into my blog because Bluehost is better and I was not happy with my current hosting company. I haven't had a single problem with Bluehost since I switched over. Get started with them and choose whichever plan works best for your goals and your budget.
2. Get a domain.
Your domain or URL is like your mailing address. It is your home on the internet. My domain is SeeingSunshine.com. You can use your own personal name or the name of your blog. You can't easily change this, so make sure you definitely want that name. With Bluehost, you can get a brand new domain or if you've already purchased one, you can enter your existing domain name. You can even choose between a .com, .net, or other options. I personally prefer a .com for any and all websites. Also, be sure your domain is easy to say and spell or it will be hard for people to find your website.
You'll have to make sure your domain name isn't already taken, so this can get a little tricky. I originally wanted the domain FindingSunshine.com, but it wasn't available — thus, Seeing Sunshine was born. (I like the alliteration now better anyway!)
You'll then finish getting your hosting package. Fill out all the info they need, and then check your email for your login info. Be sure to save this email so you never lose this info.
3. Install WordPress.
Login to your Bluehost cpanel. Under website builders, click install WordPress. Enter your domain name, if it isn't already in there and start the install.
You'll want to enter your information into the Advanced Options settings. Enter your username and password — these will be what you use to login to WordPress every day for the rest of your blog's life. (They can be changed later, but why not go ahead and make them good now?) Do not use admin for your name and do not use password for your password.
Once WordPress is installed, you'll get a welcome email. And just like that, you have a website!
4. Write your about page.
Once your website is up and running, there are lots of different things you could do next. The first thing I suggest is to write your about page. On the sidebar of your WordPress site, click Pages — Add New. Here you can write about yourself, why you are blogging, the purpose of your blog, etc. I recommend adding your blog's mission statement to this page. You can also include photos by clicking Add Media at the top. Once that's done, click publish.
5. Design your website.
One of the best things you can do for your blog is to get a really good design. People want to come back to a website if it looks good, is easy to read, and easy to navigate. Unless you are familiar with coding, HTML, WordPress, and graphic design, I suggest you hire a professional website designer. The designer I used is no longer working with bloggers (she's focusing on her 3 beautiful babies!), so I don't have anyone to recommend to you.
Give yourself a budget and start looking at other blogs to see what types of designs, fonts, and colors you like best. This isn't a necessity, but it is a big help in growing your blog. You don't have to do it right away though, but start saving your pennies because I bet you'll want to do it at some point.
6. Start writing.
Once that site is up, it's time to start writing! It's smart to have several blog posts up before you "launch" your blog — otherwise known as sharing it with the world. You want really good content with photos. Be sure you write at least 1-2 posts for each of your categories.
I encourage you to follow my Pinterest board Writing/Blogging for lots of great posts about blogging and creating a successful blog.
Do you know someone who is wondering how to start a blog? Share this post with them!