How many of you are bloggers or are beginning your own blog? I've shared the six steps you should take before even buying a domain, and I've also shared the next steps you should take when starting a blog. One of the best parts of having a self-hosted WordPress website is having access to thousands of tools to make blogging easier. These tools are called plugins.
You install the plugins on your website and then customize them to fit what you want. A lot of things you see on this blog are actually plugins I've installed. For instance, see that box at the beginning of this post? The one that says welcome and warns you that this post could have affiliate links in it? That's a plugin!
Check out my seven favorite plugins that I use on my blog on a regular basis.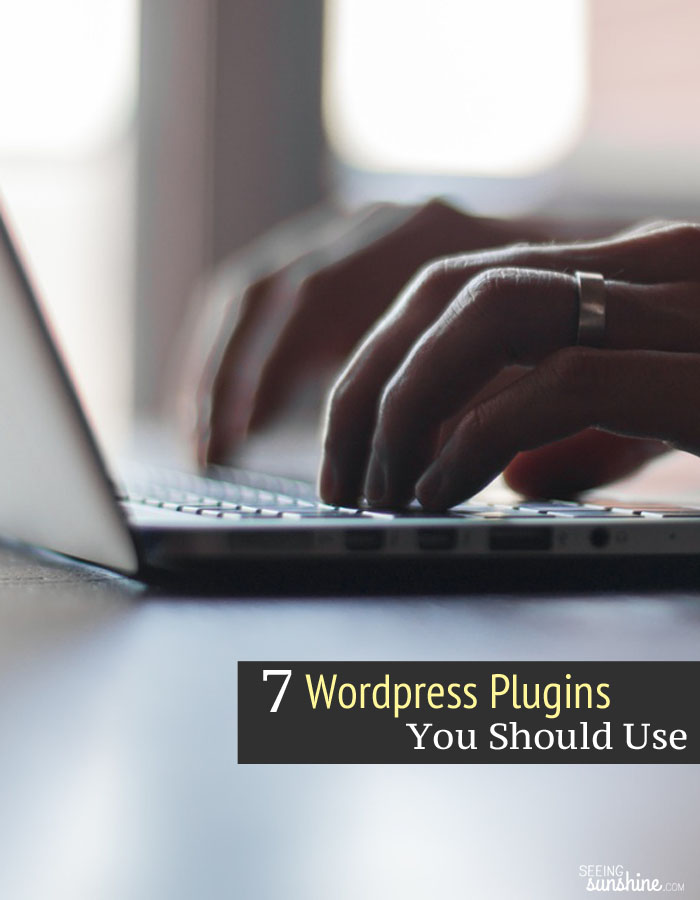 Making Your Life Easier with WordPress Plugins
1. Shareaholic
One of the best ways to grow your traffic and get more followers is to allow your readers to share your posts with their own friends and family. Having a way for them to easily click a share button to whatever social media they want is important. Shareaholic makes this easy! At the bottom of every post it gives your readers the option to share that post with whatever social media account they have. You can see what it looks like at the bottom of this post!
2. CommentLuv
I love reading comments from my readers. I love being able to interact with you! I think CommentLuv makes leaving a comment on my blog really easy. But what I really love about this plugin is if you are a blogger, you can leave your URL and the comment will automatically include a link to your latest blog post. That means others may click over to see your blog after reading your comment. It also means I can go check out your blog and share the comment love as well. I'm more likely to comment on other blogs if I see they use CommentLuv.
3. What Would Seth Godin Do
This plugin leaves a box above each blog post that you can customize. You can make it say whatever you want! This is where I include my disclosure statement letting my readers know that the post may include affiliate links. When using affiliate links, you MUST disclose AT THE TOP OF THE POST that you are using affiliate links. Rather than writing it at the top of every post, which is bad for SEO, I use this plugin to make sure it's disclosed.
This plugin also allows you to write two separate messages — one for returning readers and one for new readers. That makes it more custom. What a great way to invite them to subscribe to your blog!
4. WordPress Editorial Calendar
This plugin has saved me! I am a very organized person. I'm a planner. I love getting ahead in work. That's why this plugin is so great — it helps you organize and plan and get ahead. This plugin adds a calendar to your WordPress site under Posts. Here, you can schedule your posts for certain days and certain times. You can drag and drop them onto any day. It makes it great for realizing which days you still need a post for and what not.
5. Yoast SEO
Learning how to manage SEO is difficult. I'm just starting to really get the hang of it thank to my job as a virtual assistant. This plugin is a great way to make this difficult task easy. You choose a keyword, put it in the plugin at the bottom of the post and they show you what else you need to do to improve your SEO. If you get a green light, you're good to go! I honestly believe my traffic has increased a lot because of this one plugin.
6. JQuery Pin It Button for Images
Pinterest is one of the biggest traffic sources for probably all bloggers. It is huge, and I am so thankful for it. To make it easy for my readers to pin my posts, I've got this plugin. It adds a Pin It button to my images when you hover over each one.
7. Bottom of Every Post
I love this plugin because it's a great way to incorporate an ad to every post without being too in your face. I get really annoyed at websites who are so covered in advertisements that I can barely read the content. This plugin allows me to include whatever I want at the bottom of every post. I use this space to include an affiliate banner or advertisement. But you can use it for whatever you want!
What are your favorite WordPress plugins?
Follow my Pinterest board Writing/Blogging for other great tips!