I love living near Springfield while here at Fort Leonard Wood. Springfield has everything I could want. Target, anyone? And my all-time favorite — Hobby Lobby! There is a ton of shopping in Springfield, but there is also lots of other fun things to do there.
Today, I'm sharing some of the fun things available to do in Springfield, Missouri.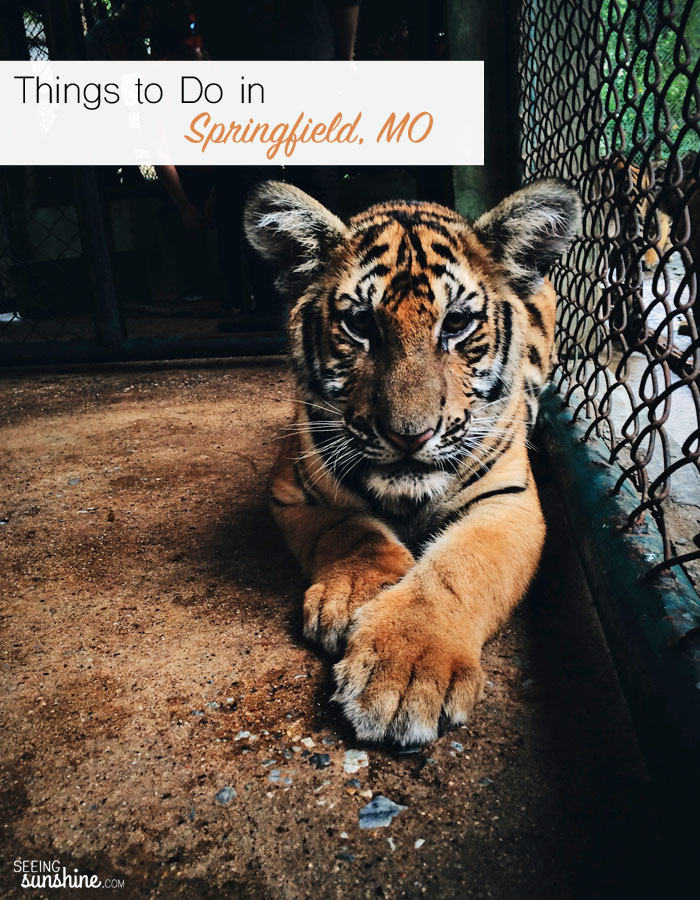 Things to Do in Springfield
We went to the Wild Animal Safari with some friends and had so much fun. We took the bus tour so that we could feed the animals. The bus driver was really great at making sure everyone got a chance to feed the animals. We fed camels, zebras, and bison, as well as cows, deer, and even an ostrich!
They also have a walk through zoo area where you can feed monkeys through a tube in their cage. You can see lots of animals in this section including tigers, ligers, monkeys, a kangaroo, and goats. You can pet the goats and sheep.
My favorite part of this place was feeding the giraffe named Sheldon. I had never petted a giraffe before!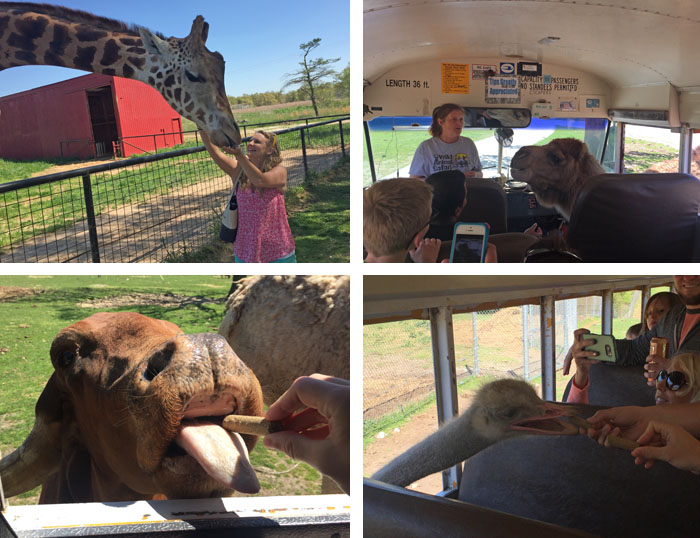 Bass Pro Shop
Springfield may be most known for their giant Bass Pro Shop. I believe it's the largest one in the world. If you love hunting, fishing, camping, or anything outdoors you're probably going to enjoy walking around this huge place.
They have an archery museum and gun museum inside. They have a shooting range inside. They even have a restaurant in there, which we definitely recommend. It was really neat eating next to a giant saltwater aquarium and watching all the neat fish inside.
My favorite part of walking around this giant store was just seeing all the details in the design and decorating of the place. A lot of work went into making that place what it is.
If you haven't heard of Lambert's before, prepare to get hungry. This place is very famous because it has a great atmosphere and amazing food. If you love southern food and you have a big stomach, you've got to try this. They throw the rolls across the restaurant to you! They are known for their throwed rolls, but all of their food is so good. And you get a lot of it! There are two things to be aware of: they only take cash, but they do have an ATM at the restaurant. They also are most likely going to have a long wait to get in. Even if you have to wait an hour or more, it's worth it.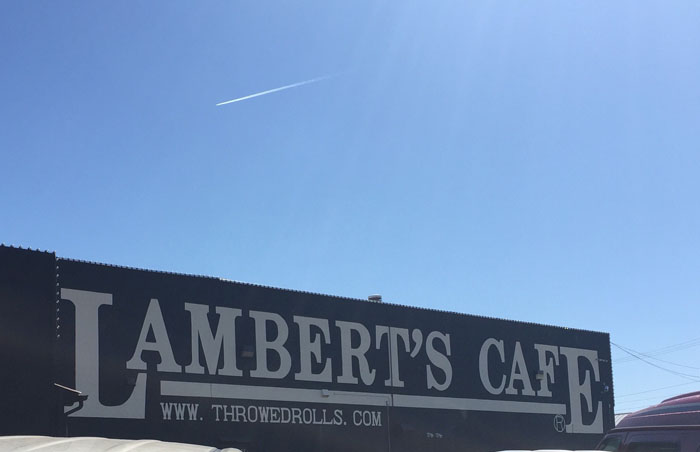 This is such a fun place for active adults or kids. It's an indoor trampoline park! That means floors made of trampolines and huge foam pits to jump in! Basketball goals so you can use the trampoline to slam dunk! Trampoline courts to play dodgeball. Who wouldn't have fun here? Plus, it's a great way to get a good workout in! (Sorry for the fuzzy photo. It's hard to take a good picture when you're bouncing up and down!)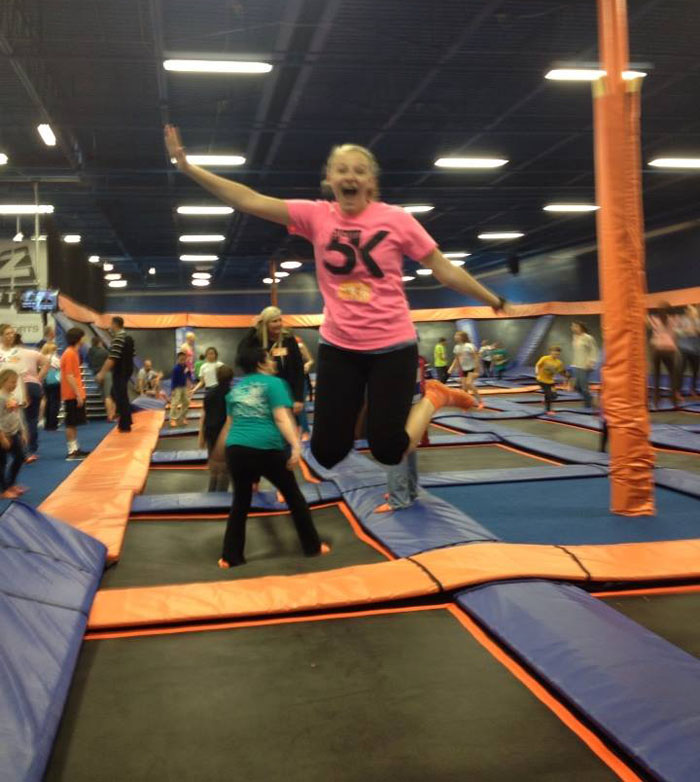 Farmer's Market & Other Festivals
Every Saturday, Springfield has a farmer's market in the mall parking lot. We went to this to check it out. They had lots of plants and vegetables, meats and amish goodies. If we hadn't been planning to spend all day in Springfield, we would have definitely bought some vegetables and flowers. But we knew they wouldn't make it all day in a hot truck.
Springfield has tons of events and festivals year-round. The First Friday Art Walk takes place the first Friday of every month in downtown Springfield. They have art, music, food, and more.
In February, they have a beer, wine, cheese, and chocolate festival. Um, yes please! In March, they have the Ozark Empire PRCA Pro Rodeo, which I think would be really fun to see. In April, they have a Cherry Blossom Kite and Piñata Festival and the Sippin N Sawin Chainsaw Carving Festival, which could be very interesting!
In July and August, get ready for the Ozark Empire Fair for all kinds of food and fun. There's also a big car show in August. In October, try out 7C's Octoberfest or how about the Pets and Pumpkins Festival and Parade. They also have a Festival of Lights and Christmas parade in December.
Other things to do in Springfield:
Askinosie Chocolate — Take a tour through this bean-to-bar chocolate maker.
Jefferson Avenue Footbridge — Walk this 562 foot bridge, one of the longest bridges in the country. You can see the double decker trains below.
Battle of Springfield Tour — Walk through and see the 12 markers that show key events when Union forces defended Springfield territory in January 1863.
Rutledge-Wilson Farm Community Park — Check out this 207-acre farm park where you can learn about animals, crops, and farm life. There are demonstrations, a native prairie, pasture, a trail, a playground, and Wilson's Creek.
Botanical Gardens at Nathanael Greene — View this 113 acres, which includes 26 themed gardens, Butterfly House, and the Gray/Campbell Farmstead.
Andy B's Entertainment Center — Go play laser tag or win some bowling games.
Big Sugar Creek State Park — Go hiking on their 3-mile trail.
National Tiger Sanctuary — See the big cats up close like lions, tigers, and leopards. This is just outside of Springfield.
Sequiota Bike Shop — Rent bicycles for a fun day of riding. Plus, this place is known for their gourmet sandwiches, salads, soups, and cheese boards. They also have 13 craft beers.
Clue Pursuit — This would be great for a group of friends! You get locked in a themed-room and have to solve clues to try to get out.
Shopping — Like I said above, they have basically every store your heart could desire. Check out the mall, check out the many strip malls, or google a store you are looking for.
What are other fun things you like to do in Springfield, Missouri? 
Be sure to check out The Crazy Tourist's post 15 Best Things to Do in Springfield. You might also like this post Best Restaurants Near Fort Leonard Wood.