This post is written in partnership with DaySpring for their 21-Day Encouragement Campaign. All opinions are my own.
When I was a kid, my mom took file folders and taped them to our bedroom doors, taping the sides of the folders closed. These little folders taped to our doors became our mailboxes. When we would come in from playing outside, my mom would say in a sing-song voice, "You never can tell when you might get some mail!" My brother and I would take off running to our bedrooms to see what special surprise was in our mailboxes. I remember coming home from school and seeing a big piece of paper taped to the kitchen cabinets — "You never can tell … when you might get some mail!" My mom would put cards or hand written notes inside our little mailboxes. Sometimes we'd have candy or a small gift inside. It was always a surprise and always unexpected. And I think that's where my love for snail mail came from.
To this day, I love checking the mail. I love opening cards or packages to see what I got — even if it's something I've ordered. I also love sending mail, especially unexpected mail. My mom and I both have an obsession with greeting cards. I have more than I can count, and I could still spend hours in the greeting card section of a store.
Do you love receiving or sending snail mail? It seems like snail mail may have gotten a bit lost in this big world of email and texting. Not too many people write hand written letters anymore. But what a special surprise when you do receive one. Another thing that seems to have gotten lost is encouraging and lifting others up. In our worlds of social media, it's much more common to see people tearing others down rather than building them up, especially around election time.
Do not let any unwholesome talk come out of your mouths, but only what is helpful for building others up according to their needs, that it may benefit those who listen. – Ephesians 5:29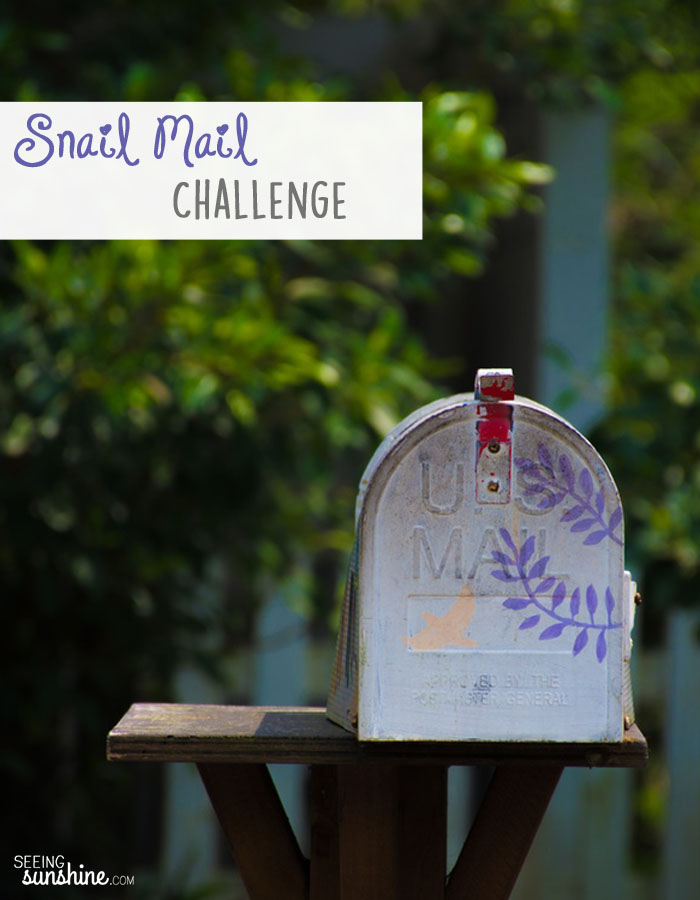 The Snail Mail Challenge
Today, I'm partnering with DaySpring. Together, we are challenging you to 21 days of encouragement. Starting today, and every day for the next 21 days, I challenge you to send encouragement to someone — anyone — a friend, a family member, a co-worker, or even perhaps a stranger. It doesn't necessarily have to be through snail mail, but I encourage you to try. Write a letter or short note. Send a greeting card. Send a small treat or gift. Or if you can't make it to the mailbox every day, send out an encouraging email or Facebook message. Or better yet, speak encouragement into someone face-to-face!
You may be wondering why 21 days. It may seem like a strange number, but studies have shown that it takes 21 days to form a habit. Wouldn't it be great if one of our habits is encouraging others? That's way better than biting our fingernails!
So, who's in? Who's joining me on this challenge? Share your encouragement on social media by using #1Thes511, #DaySpring, and #LiveYourFaith. I can't wait to see how you plan to spread sunshine for 21 days straight.
Personally, my all-time favorite greeting cards come from DaySpring. I love that you can order boxes of cards, which ends up saving you a lot of money. Cards these days run in the $5 range in most stores! So it's a big deal when you can get 12 cards for $6 delivered to your own mailbox! Plus, my secret is to check the clearance section for marked down boxed cards — now that's a real deal! Some of these cards end up being close to a quarter a piece!
Right now, DaySpring is having a sale where you can get two sets of boxed cards for $10. That's a total of 24 greeting cards full of encouragement and scripture-based inspiration. They also have Ecards now too, if you aren't a snail mail gal like myself.
Want Some Sunshine?
As a special surprise, I've decided for the next few months I would love to fill your mailboxes with sunshine. Could you use some encouragement? Or perhaps you just love getting mail like me? Either way all you have to do is sign up below, and I'll be sending out snail mail to you! I want to spread sunshine and fill your mailboxes full of His light.
The sign up form has now been closed. Thanks to everyone who signed up to participate. I can't wait to send lots of sunshine to fill your mailboxes!
Be sure to follow my Pinterest boards Encouragement and Faith: Christian Living for lots of inspiring posts. You may also want to read: