I thought I'd do a post just updating ya'll on our life lately. We've had a couple big things happening here in our military life.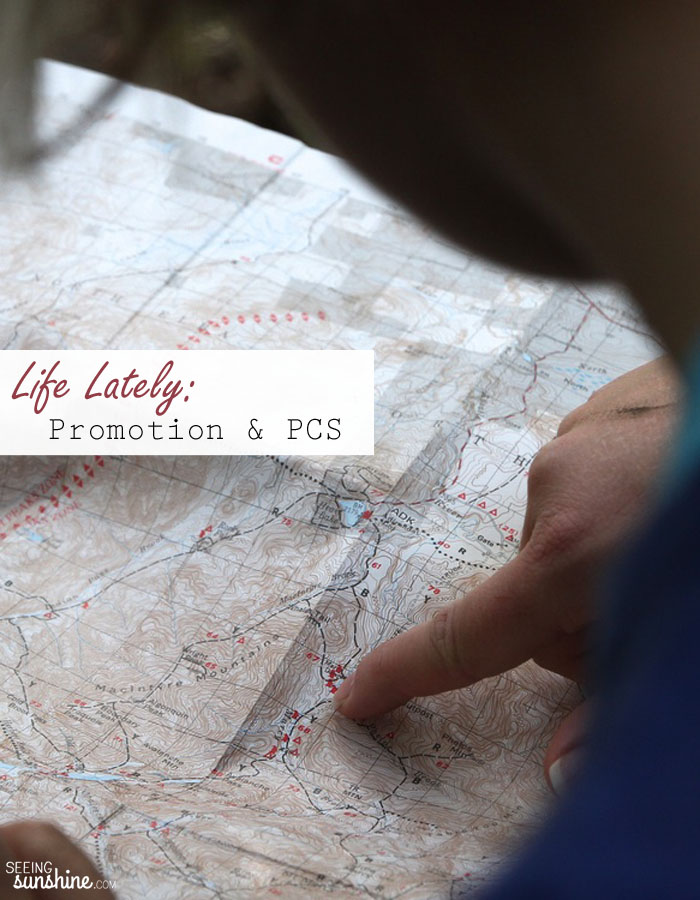 First of all, my husband was recently promoted. I was so proud standing up there with him during the ceremony. He works hard and definitely deserves this promotion.
It's a little strange that Travis is now a captain. I remember when we first got married and I would meet a captain or his wife. Travis' boss was a captain. I needed to call him sir and his wife ma'am. And now I'm the ma'am. And that's weird. I still feel like a total newbie, to be honest.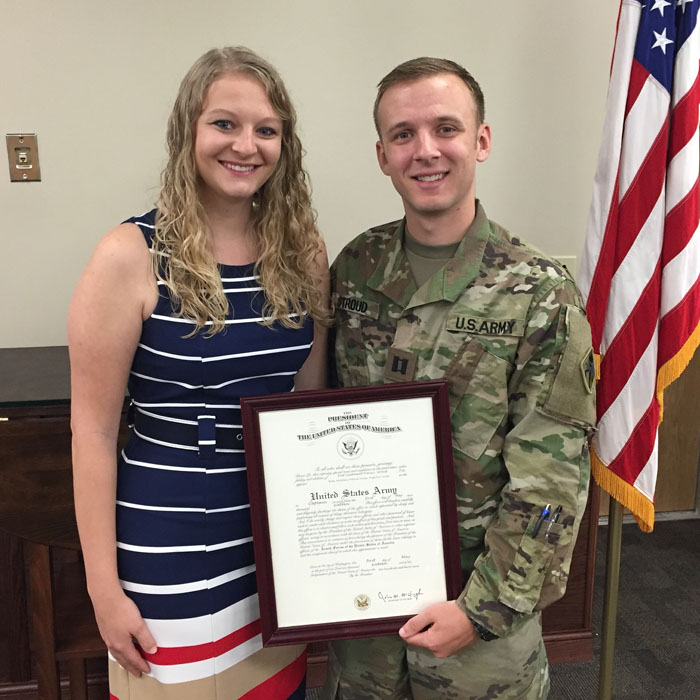 In other news…
We're PCSing!
For you civilian readers, that means we're moving. PCS stands for Permanent Change of Station. It's been a great almost-four months here at Fort Leonard Wood. I honestly have loved it. I love our house. I love how Travis usually gets home early. I love the views and the sunshine. I love the friends I've made. I love all the activities I've found here. Fort Leonard Wood has been good to us, and I kind of wish we could stay.
But alas, the Army calls. In July, we will be hitting the road. Travis got orders to Fort Drum, New York. Let me start by saying we are not moving to New York City. Anyone we have told this news to automatically thinks NYC. Fort Drum is not near the city. It is north, very north. Like Canada north. In fact, New York City is more than five hours away. So I just wanted to clarify that before I get a bunch of comments about the Big Apple.
To be honest with you, I was really upset when we were given Fort Drum. I felt like the Army betrayed us. Here my husband had just spent a year in Korea, away from his wife and family, serving his country. Everyone, and I do mean everyone, had told us that we would get one of our top choices for our next duty station due to his time in Korea. They gave us 26 options to choose from. We were allowed to make a list, order them from one to 26. Then we were told we would get something in our top five. We were even more sure we'd get something in our top five because our choices weren't the normal ones everyone wants. We didn't want Hawaii or Germany or any of the "cool places." We just wanted something close to family.
Fort Drum was number 19 our list. So when I found out, I was mad. There were a lot of tears. And that's Army life for you. You can't plan. You can't have expectations. You don't get what you want. Actually, I guess that's just life for you. Not necessarily Army life, just life in general.
Now, I've had a few months to accept our new duty station. I've had time to come to terms with it. Yes, I hate cold. Yes, I hate snow. Yes, I wish we were closer to family. But there are positives, and I'm choosing to focus on those.
We hear it's beautiful there. I'm definitely up for seeing more of God's creation. We want to plan a road trip through the northeastern states that I've never been to, which is basically all of them. I will get to visit Canada — it's like 20 minutes away! Maybe I'll do my grocery shopping there! 🙂 And it's not as far from family as some other places like, say, Japan. So I'll take it.
So New York, here we come.
Have you read my other posts about military life? I even have some Pinterest boards about military life, PCS tips, and more — go check it out!